A curry shop called Indian curry…If you search online, you'll find shops with the same name in Obihiro, Hokkaido, and Kanazawa City, Ishikawa Prefecture, but when you think of Indian curry in Osaka, it refers to the restaurant known as the originator of the Osaka's specialty sweet and spicy curry. it's called Osaka's specialty, sweet and spicy curry. The impact that this sweet and syicy curry had on curry fans in Osaka was immeasurably great, and it is now available at Madras curry, Hakugintei, and Fukushima Joto curry, etc., which are specialized in sweet and spicy curry called "inspired by Indian curry".
This time we will be introducing Indian Curry Third Avenue branch, one of the Indian curry chain stores. It is a popular curry stand that is conveniently located close to major stations such as JR Osaka Station and Umeda Station on the Midosuji Subway Line, and it is no exaggeration to say that it attracts the most customers in Osaka…
A highly convenient curry shop located in one of Osaka's best gourmet areas…Indian Curry Sanbangai branch is like this
Indian Curry Sanbangai store is located on the gourmet floor on the second basement floor of Hankyu Sanbangai, which is directly connected to Hankyu Osaka Umeda Station. There are more than 100 restaurants in the south and north buildings, and it is crowded with customers both on weekdays and holidays. The beef specialty restaurant Honmiyake, which I previously introduced on this blog, is also located on this floor, making it an area that cannot be ignored by Osaka's food lovers. When you don't know what you want to eat, coming here has the great benefit of not being disappointed.
Located in one of Osaka's leading gourmet areas, Indian Curry Sanbangai branch is open every day, making full use of its privilege as a curry shop, with an overwhelmingly short waiting time. The restaurant has 21 seats, including counter seats only. When I visited, almost all the seats were occupied, and customers continued to come in after that, but the customers who finished their curry and left were also leaving at the same pace. It's like, I don't even have time to wait in line." If you're a quick eater, you'll be able to walk in and finish your meal in just 5 minutes before leaving.This convenient curry shop is a must-see for businessmen.
Hayashi Rice: Indian Curry Another food menu available at the Sanbangai branch, what do you think of it?
This time I ordered Hayashi Rice (730 yen including tax), another food item that can be ordered at Indian Curry Sanbangai branch. As soon as you finish your order…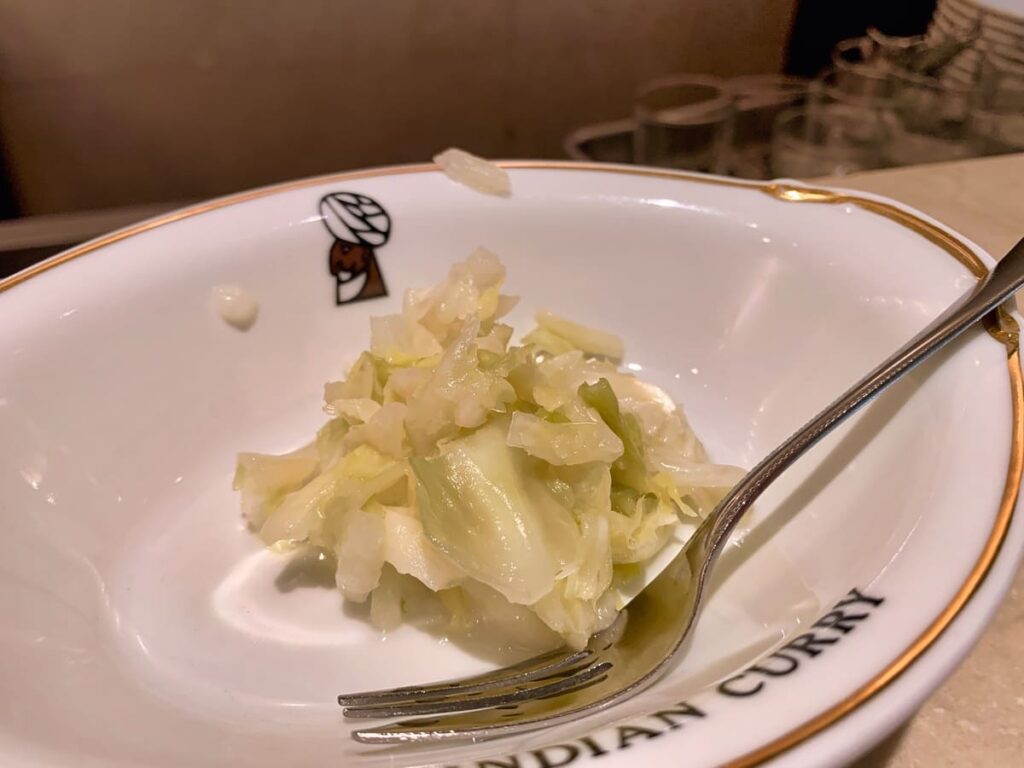 In a sense, pickled cabbage, which can be said to be the specialty behind Indian curry, was served in front of me, and about a minute later…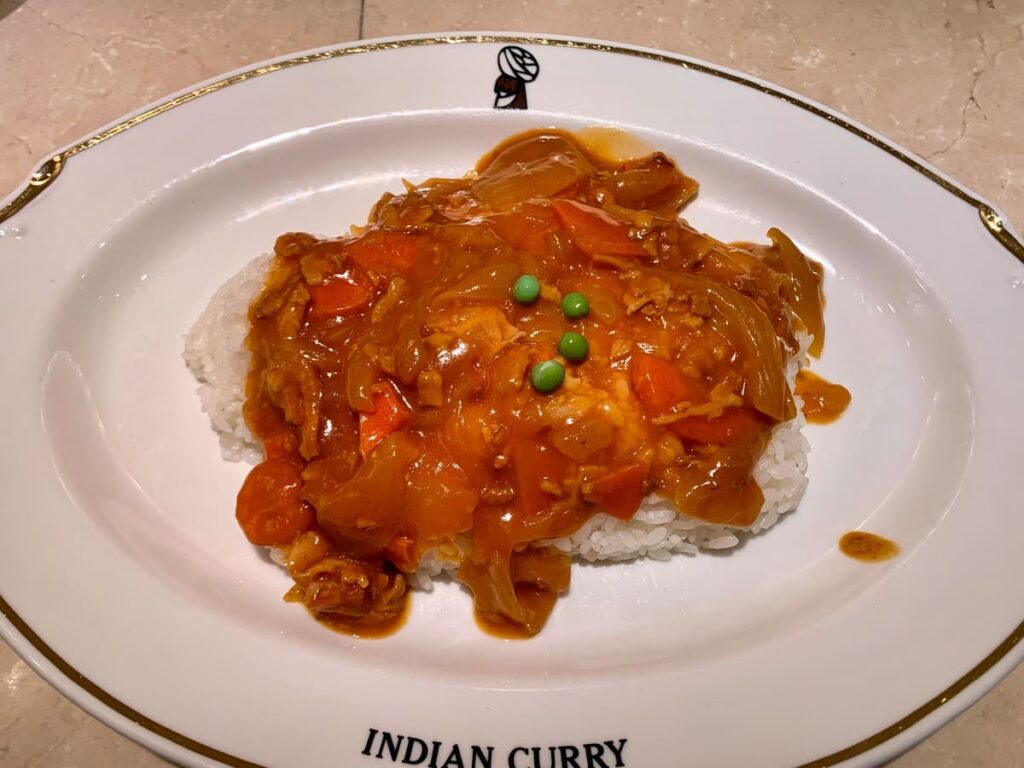 Hayashi rice is served on a large flat plate…but at first glance, it looks a little different from the hayashi rice that we are used to eating. The color of the roux seems to be quite reddish…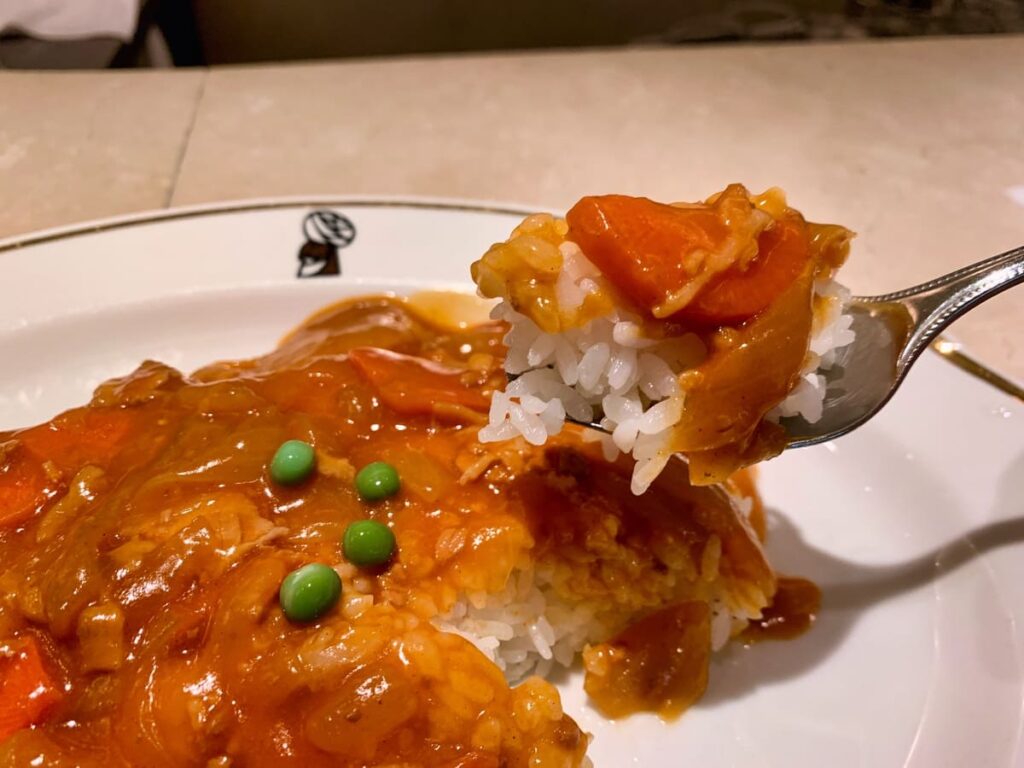 Anyway, let's go ahead and eat it… The hayashi sauce on top of the rice is quite thick and sticks to your tongue, releasing the sourness of the tomatoes in a sustained manner. As for the taste, the sourness of the tomato really stands out, and on the contrary, the other flavors are not noticeable. There's almost no fat in the meat, and the toppings are full of vegetables such as carrots and onions, so it feels fresh and healthy when you eat it.
On the other hand, this sauce is so thick that it doesn't penetrate between the rice grains at all. Therefore, you can hardly feel any sense of unity between the rice and sauce. Even if you put the rice and sauce in your mouth together, each flavor tastes independent of the other, and the texture is completely different from the hayashi rice we are familiar with. Honestly, I feel like this is going to be very controversial.
Also, it seems to be related to the viscosity of the sauce, but it seemed like the amount of hayashi sauce was quite small compared to the amount of rice. Intuitively, I feel like even if I doubled the amount of roux, it wouldn't be able to keep up with the amount of rice. If I recall correctly, Indian curry is very particular about the process of applying the roux to the rice, and it is said that this process is only entrusted to those who have been well trained…The impression of the taste changes depending on how you apply the roux. To be honest, I never thought I'd be able to experience the fact that it's going away in this way.
Indian curry with hayashi rice like this looks and tastes very different from the style that is commonly imagined, so if you order it with the same feeling, you may end up regretting it. However, it is full of vegetables and feels healthy, so if you think of it as a nutritional supplement when you don't have much time, it may be a good food.
Indian Curry Sanbangai store's full menu (prices include tax)
ndian curry 830 yen
Hayashi rice 730 yen
Large serving of roux 200 yen
Rou double 500 yen
Large bowl of rice 50 yen
Large serving of pickles 70 yen
With egg 50 yen
Beer 300 yen
Cola 200 yen
Oolong tea 200 yen
A total of 10 stores in Osaka, Hyogo, and Tokyo…To access Indian Curry Sanbangai store, it is a 1-minute walk from the nearest station, Hankyu Corporation Osaka-Umeda Station.
In addition to the Sanbangai store introduced this time, Indian Curry operates a total of 10 stores in Osaka, Hyogo, and Tokyo. If you have a store near you, please stop by. One of the characteristics of Indian curry is that the menu differs depending on the store. I think it's an interesting way to visit affiliated stores and sample menu items that aren't available at other stores.
Now, here are the store details. Click here for store data…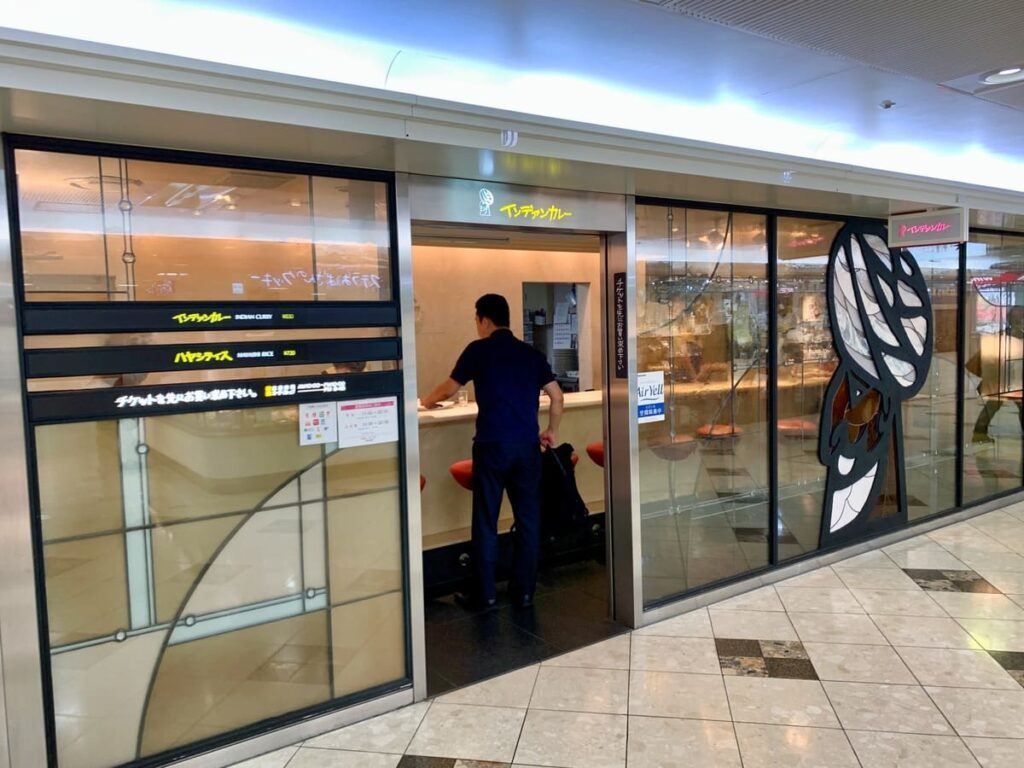 Indian Curry Sanbangai Branch Out of 5
Address: Hankyu Sanbangai B2F, 1-1-3 Shibata, Kita-ku, Osaka, Osaka 530-0012
Phone number: 06-6372-8813
Business hours: 11:00-22:00 (Opens at 10:00 on Saturdays and Sundays)
Regular holidays: Irregular holidays
Parking: None
Credit card payment: Not possible (some electronic money is supported)
It is a 2-minute walk from JR Osaka Station or Umeda Station on the Osaka Metro Midosuji Line.
P.S. If you are looking for delicious curry in Osaka, please stop by this article…
(Visited 6 times, 1 visits today)