When I go to Sapporo for business, I always stop by the Hokkaido Ramen Dojo in New Chitose Airport…I'm secretly planning to conquer all the ramen shops in this area, but this time I decided to stop by. The restaurant is called Menya Kaikou. When I look at it, I always get the impression that it's being crowded out by Ebisoba Ichigen and Teshikaga Ramen near the entrance…but since it's a ramen shop that can open in such a prime location, there must be something there, right?
Founded in the Tokachi region and expanding worldwide… Menya Kaiko New Chitose Airport store is like this
To be honest, I have never heard of this restaurant in Kansai, but according to the restaurant's website, it was originally opened in Obihiro, the central city of the Tokachi region, in 2001. It looks like a ramen shop that was founded. Then, in July 2004, the second store in Obihiro was closed and the New Chitose Airport store was opened… So, it's almost 20 years since the New Chitose Airport store opened.
During this time, it seems that the Obihiro main store has closed, but on the other hand, they have expanded into the city center with the Sapporo TV Tower store and the new Sapporo store, and have expanded internationally by opening a store in Singapore, so the main store will never close. I don't think it has a negative image, but rather a positive one that says, "From now on, we're going to compete in the city!"
The Menya Kaiko New Chitose Airport store has a total of 43 seats, but perhaps because it was just before 10am, the number of customers was sparse. However, according to official information from New Chitose Airport, this shop is open from 8:30 in the morning (note: actual business hours may differ). If they're open that early in the morning, you can also do morning ramen. It's actually a pretty nice shop, isn't it?
Crab dashi miso ramen: What does the limited menu at Kaiko New Chitose Airport store that uses high-quality ingredients crab taste like? I've tried
This time, I ordered the Crab Dashi Miso Ramen (price: 1300 yen including tax) from Menya Kaiko's New Chitose Airport branch, which is a limited menu item that can only be eaten at this restaurant. After ordering and waiting for more than 5 minutes, the ramen that was served was like this…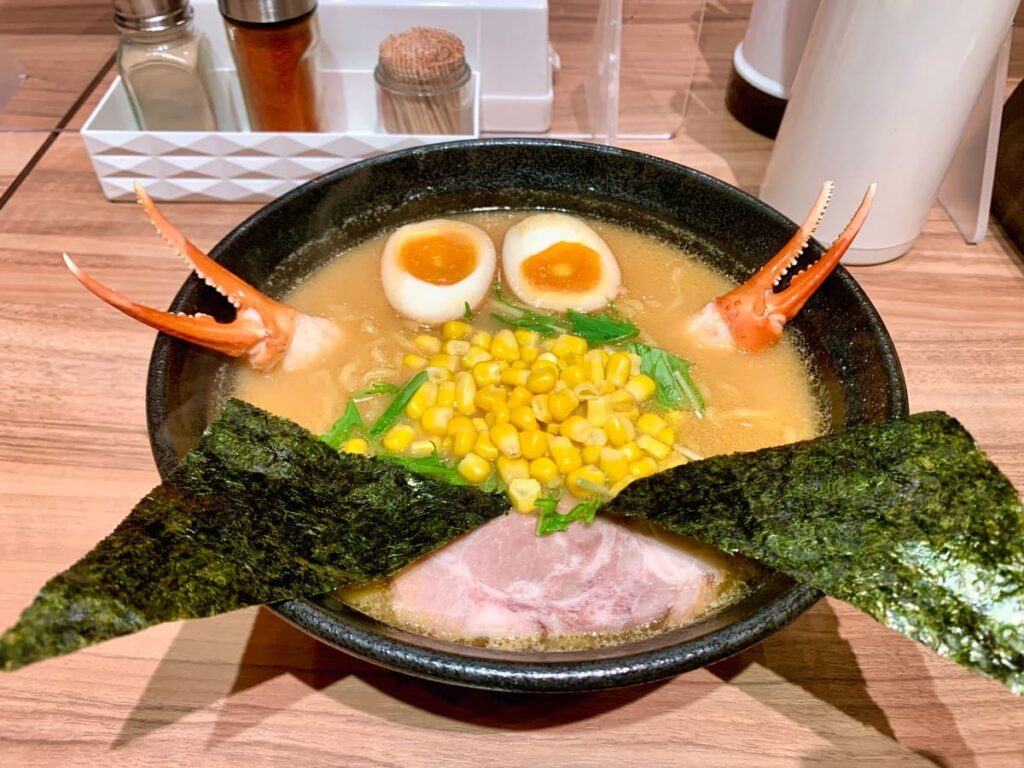 It had a unique visual, with boiled eggs shaped like crab eyes and triangular pieces of grilled seaweed like crab legs. Is the cone in the center a crab bubble? It's quite playful, and I like that kind of thing.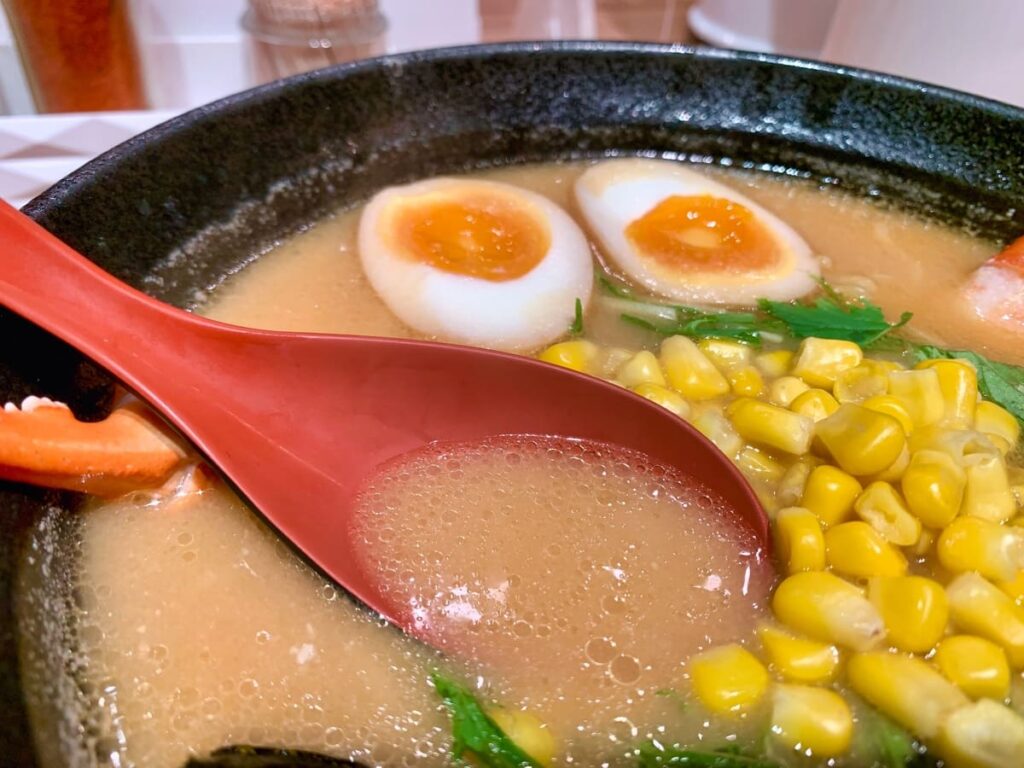 Now, let's start with the soup…The soup is lighter than I expected. No, I don't think it's as good as Shirakaba Sanso's miso ramen because you can really feel the crab soup…It doesn't have the complex soup taste like a seafood hotpot, but it's simply crab and miso tonkotsu. Once your tongue and nose get used to the crab soup in the second half, the impact of the soup will drop, but at least you can taste the crab flavor enough that it would be difficult to eat ramen with this much crab flavor in the city center. can do.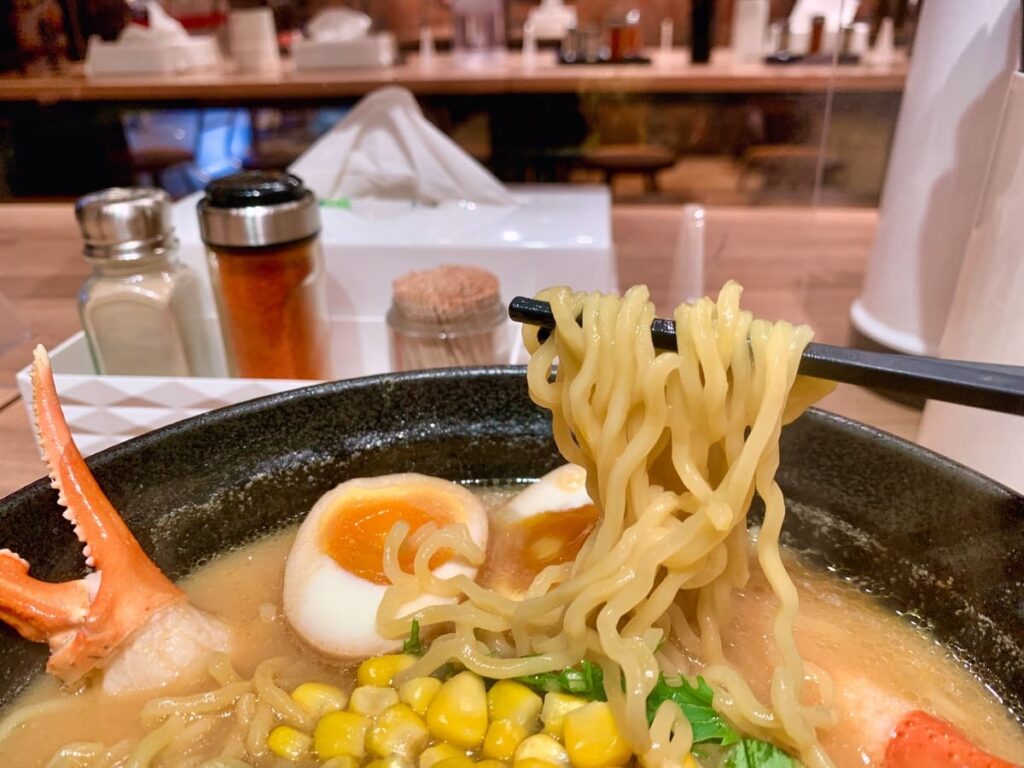 The noodles for this are medium-thick noodles with a slight curl. As with other stores, it is cooked a little hard, so you can enjoy its firm texture and simmering feeling in your mouth. By the way, many miso ramen eaten in Hokkaido use medium-thick curly noodles. I wonder if people in Hokkaido like it?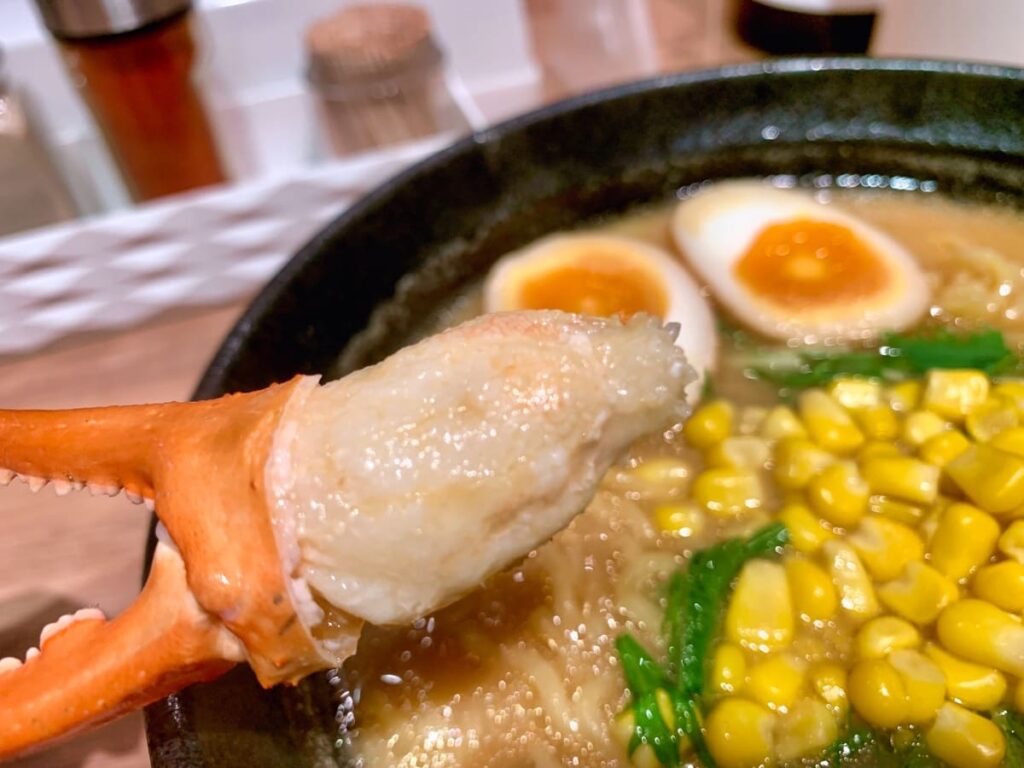 Now, let's move on to the toppings. First, a pair of crab claws on the left and right. The shell is cut in advance to make the crab meat easier to eat. The portion is big enough that even a child can eat it in one bite, but I can feel the restaurant's conscience in the fact that they add crab meat in addition to the dashi soup.
The chashu pork, which was served separately from the crab meat, was characterized by its firm, ham-like texture. It is low in fat and allows you to fully enjoy the flavor of red meat.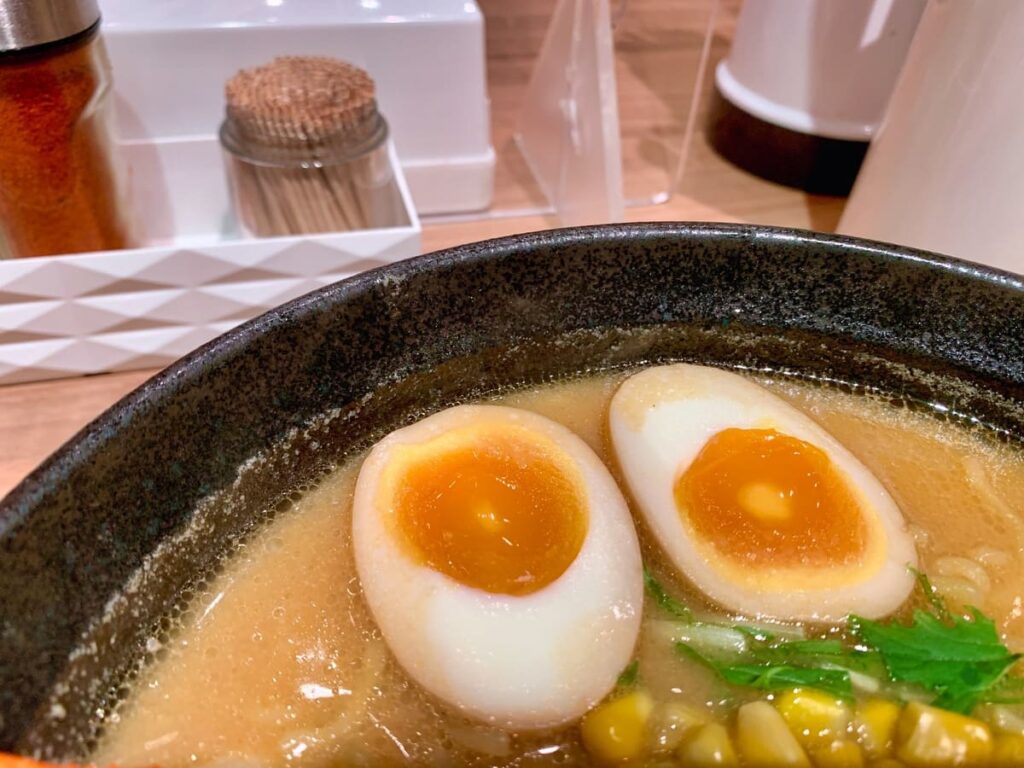 And the flavored eggs, which correspond to crab eyes, are perfectly boiled so that the yolk is runny but doesn't run into the soup. The flavor of the broth is light and you can eat it as is. Of course, you can also blend the yolk with the soup to enjoy a different taste. There are two half-sized eggs, so be sure to enjoy both.
This crab soup miso ramen from Menya Kaiko New Chitose Airport branch has a crab flavor that makes you think, "This must be difficult to make unless you're from a crab-producing area…" did. Crab dashi ramen is something you don't often see all over the country, and the price of 1,300 yen is quite reasonable, so unless you're allergic to crab, I think it's worth a try. .
Other ramen menus at Menya Kaiko New Chitose Airport branch (prices include tax)
Ramen 900 yen
Spicy miso ramen 1050 yen
Green onion ramen 1200 yen
Char siu noodles 1200 yen
Tokachi whey pork noodles 1300 yen
Note: For these menus, you can choose between white miso soup and red miso soup.
You can also enjoy Obihiro's specialty pork bowl…Menya Kaiko New Chitose Airport branch is located in the Hokkaido Ramen Dojo on the 3rd floor of New Chitose Airport.
One of the great things about Menya Kaiko New Chitose Airport branch is that you can also enjoy Obihiro's specialty pork bowl. Moreover, the pork used is Tokachi whey pork, a Hokkaido brand pork. Isn't this a local gourmet dish that you should try if you go to Hokkaido again? The pork bowl made with Tokachi whey pork costs 1,300 yen including tax. Although it's a bit pricey, you can get it as a set menu with ramen for a good deal, so if you have some space in your stomach, we recommend enjoying Tokachi gourmet food as well.
Now, here are the store details. Check here for store data…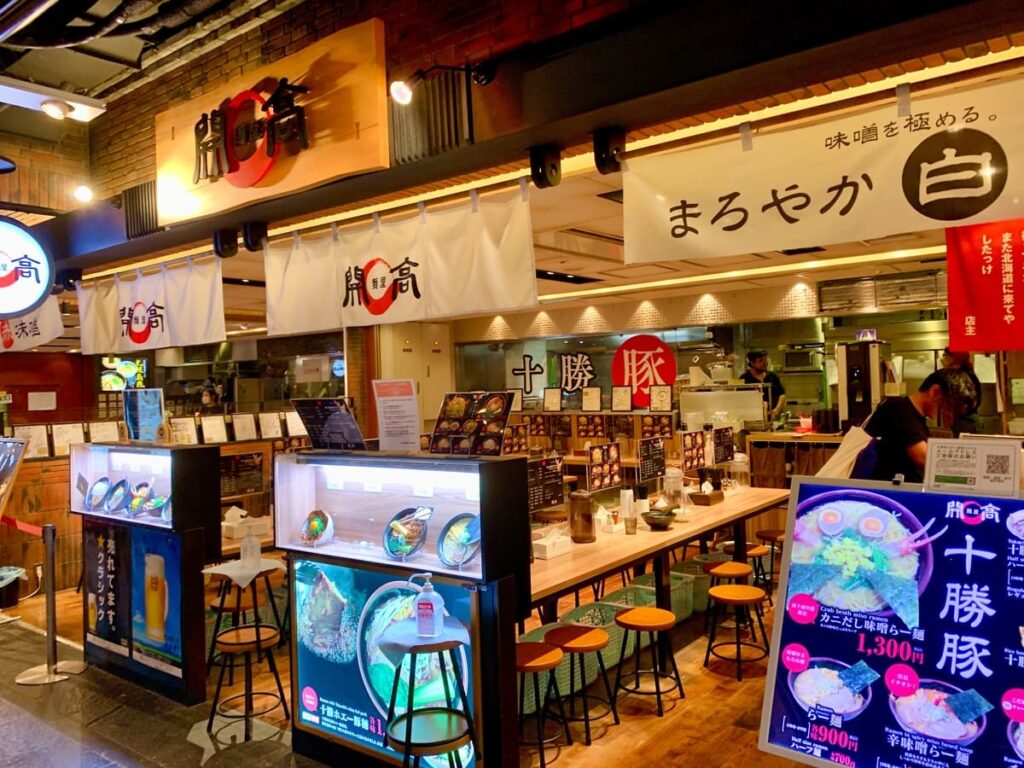 Menya Kaiko New Chitose Airport Branch 
Out of 5
Address: 3F, New Chitose Airport Domestic Terminal Building, 987 Bibi, Chitose City, Hokkaido 066-0012
Phone number: 0123-45-8787
Business hours: 8:30-20:00 LO
Regular holiday: No holidays
Parking: Use the airport parking lot
Credit card payment: Possible (also compatible with various electronic money and transportation ICs)
(Visited 5 times, 1 visits today)