Izuju, the prestigious restaurant that has been serving Kyoto's famous mackerel sushi since the Edo period, opened its doors in 1908 after being allowed to share the noren curtain with it. This store is a truly long-established store with a history of over 110 years since its establishment, and currently operates from two stores: the main store opposite Yasaka Shrine and the north store located south of the imperial palace.
In an era without refrigeration technology, how can we eat delicious and safe fish in Kyoto City, which is far from the sea? Kyoto's specialty mackerel sushi was devised as one answer. One day, I suddenly remembered the existence of mackerel sushi and thought, Come to think of it, I haven't eaten mackerel sushi lately… " In fact, the last time I ate mackerel sushi was when I visited Hashitate" in JR Kyoto Isetan, so I haven't eaten it in almost three years.
When I thought, "Where should I eat mackerel sushi?", the first thing that came to my mind was Izuju. So, one weekday afternoon in the afternoon, I visited Izuju before the original Izu. When I actually went to the store, I didn't feel the high barrier of being a long-established store in Kyoto, and it was more relaxing than I expected…
Enjoy Kyoto sushi while relaxing in a newly renovated store…This is what Izuju is like, a long-established sushi restaurant in Gion
Izuju, a long-established Kyoto sushi restaurant, is located on the north corner, across Higashioji Dori from Yasaka Shrine. This area, called Gion Sekidanshita, is crowded with people on both weekdays and holidays, but the store is located a little inside from the street, so you can spend a quiet and calm time here.
The store just reopened in February 2020 and has a very clean feel. There is seating at the back of the store, and according to Tabelog information, the total number of seats at Izushige is 22. It's further back from the entrance, so you won't hear any noise from cars passing by. The interior is purely Japanese-style, and in addition to table seats, there are raised tatami mat seats, giving it the feel of an old-fashioned Japanese restaurant! I think it's the perfect environment to take a break while sightseeing in Gion and have lunch while looking out at the courtyard.
When I visited the restaurant, almost all the seats were occupied, and about half of the customers were foreigners. Although the store doesn't actively promote its English support, I was impressed by how friendly the staff were in responding to my various requests. There are quite a few long-established stores in Kyoto that have difficult customer service, but you don't have to worry about that when it comes to Izuju. Even first-time users can use it without feeling intimidated.
Mackerel Sushi: Izuju's signature menu that has been around for over 100 years since the Meiji era, how does it taste?
Now, let me introduce Izuju's signature dish, mackerel sushi (price per serving: 3,102 yen including tax). Click here for the image…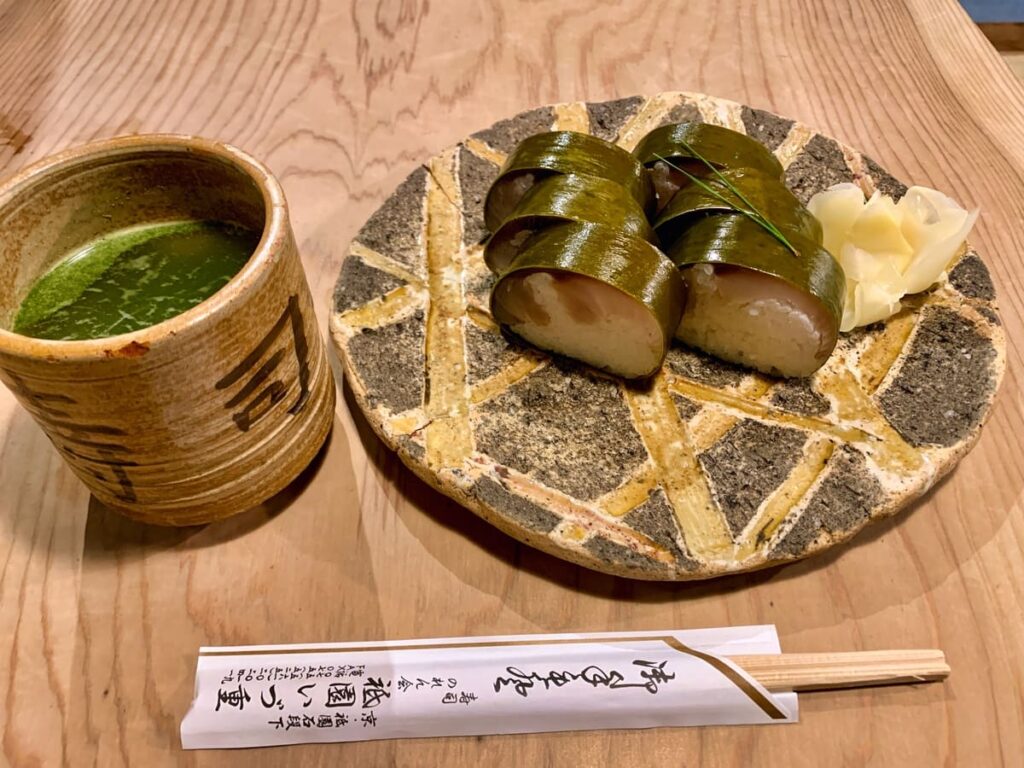 A total of 6 pieces of mackerel sushi wrapped in kelp. If you look at the cross section, you can see that almost half of the total is mackerel, and the mackerel used is quite thick (apparently they use red mackerel caught off the coast of Tsushima in the Sea of Japan). The size of each slice is also quite large, giving it a relatively voluminous feel. I think this is enough even for an adult male when he wants to have a light lunch.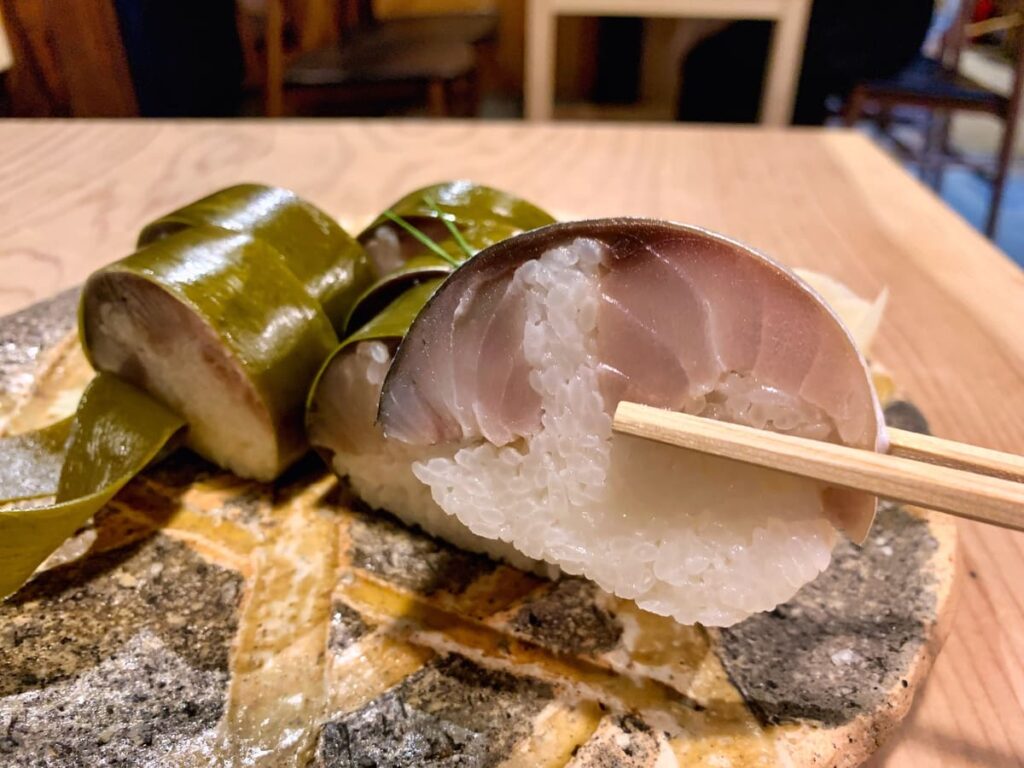 Now, except for the kelp wrapped around the surface (note: kelp is also edible), I picked it up with my chopsticks, and as soon as I picked it up, the vinegared rice fell apart due to gravity. From the looks of it, you might think it's packed tightly together like pressed sushi, but Izuju's mackerel sushi is rolled quite softly. The acidity of the vinegared rice is modest, and it feels like you can easily cut the rice by lightly touching it with your teeth, like a soft rice ball. The rice grains are not sticky and can be eaten easily.
The mackerel on this vinegared rice has been seasoned with kelp to remove moisture, making it firmer and firmer, giving you a pleasant elasticity when you put your teeth into it. Further, as I passed it through my teeth, I could feel the faint scent of kelp, and the flavor of the mackerel meat as well as the fat gradually oozed out, but it wasn't as fatty as I had imagined. It was surprisingly refreshing.
On the other hand, the salt sprinkled on the mackerel has a nice effect, and the salt's stimulation makes me want more mackerel sushi. The suction power of the salty taste that I got hooked on with Donpisha is unbelievable. These 6 pieces of mackerel sushi were delicious in no time.
Izuju's signature mackerel sushi looks like this. Personally, I felt like I wanted to feel the mackerel's fat a little more, but I thoroughly enjoyed the texture of the thick mackerel. My desire to eat sushi was fully satisfied. Even compared to the freshly made mackerel sushi I had three years ago, the mackerel at Izuju is definitely thicker. On the other hand, freshly made mackerel sushi also includes grilled mackerel sushi, so if you want to feel the uniqueness of mackerel, freshly made mackerel sushi is better. The prices may have changed now, but they are still reasonably priced, so if you feel that Izuju's mackerel sushi is too expensive, we recommend freshly made mackerel sushi at Hashitate.
However, in addition to mackerel sushi, Izuju is also famous for chirashi sushi and inari sushi, which are much more reasonably priced than mackerel sushi. If you're looking for a place to eat lunch near Yasaka Shrine, why not consider Izuju, where you can have a relaxing time?
Other menu examples from Izuju (prices include tax)
Guji figure sushi 5,676 yen
Upper box sushi 2376 yen
Kyo Chirashi 1716 yen
Aji sushi 1650 yen
Ayu sushi 1210 yen
Inari sushi 990 yen
Millet wheat roll 660 yen
We also recommend take-out as a souvenir…To access Izuju, it is an 8-minute walk from the nearest station, Keihan Electric Railway Gion-Shijo Station.
Now, if you like Izushige's Kyoto sushi, how about taking it out as a souvenir from your Kyoto sightseeing? You can purchase it at Kyoto Takashimaya or on the Shinkansen, or you can order it online, but the menu is quite limited, so we recommend going to the store and choosing your favorite items to take home. You can do without a reservation, but if you make a reservation in advance, there will be no waiting time and the transaction will be smoother. However, in any case, the expiration date is only 2 to 3 days if stored in a cool place, so please be careful when handling the product after purchase.
Now, here are the store details. Check here for store data…
Out of 5
Address: 292-1 North Gion-cho, Higashiyama-ku, Kyoto-shi, Kyoto 605-0073
Phone number: 075-561-0019
Business hours: 10:30-18:00
Closed: Wednesdays, Thursdays (other holidays may be irregular.Please check
the store's Instagram
)
Parking: None
Credit card payment: Possible (also compatible with electronic money and transportation IC)
From JR Kyoto Station, take Kyoto City Bus No. 206 bound for Kitaoji Bus Terminal and get off at Gion bus stop, then walk for 1 minute.
P.S. If you are looking for delicious Japanese food in Kyoto, please stop by this article…
(Visited 8 times, 1 visits today)