Tsukiji Market in Tokyo used to attract a huge number of tourists on weekends. It's been almost five years since it moved to Toyosu Market in October 2018, and you might think that the area around the remaining Tsukiji Market ruins is quiet, but that's not actually the case.
For example, there is a shop called Kitsuneya along Monzeki Street in Tsukiji Outer Market. Founded in 1945, after the war. In the 75 years since then, the restaurant has overcome many difficulties, including the relocation of the market and a fire in 2017, and has continued to operate in a traditional style, but when I read blog articles online, Anyway, it seems like there's always a huge line of people at this store. Some reviews say, "This is the restaurant with the longest waiting time in Tsukiji."
I myself never went to Tsukiji after Sushi Dai and Daiwa Zushi moved to Toyosu, but after learning about this restaurant, I decided to go to Tsukiji for the first time in a while. The targets are Kitsuneya's two most popular menu items, "Hormone bowl" and "Meat tofu." Don't you get excited just thinking about eating at the market early in the morning when many people are still in bed?
I lined up before 6 a.m., but what are the queues and crowds at Kitsuneya, a super popular restaurant in Tsukiji Outer Market?
I visited Kitsuneya around 5:45am on a Saturday morning, much earlier than the store's opening time of 6:30am. After this, I had something to attend to that I couldn't be late for, so I really wanted to secure a spot in the first round, but thanks to you I was able to secure pole position. It seemed like I had arrived earlier than usual for the store staff, and they were quite surprised, thinking, "Wow, at such an hour…" As a result, a strange atmosphere arose, with people saying, "I'm so sorry for being so early in the morning." and "No, no, I'm sorry that I'm not ready yet."
As I was waiting and watching the shop's preparations and preparations so as not to disturb the staff, I noticed that customers started arriving around 6 o'clock that day. Kitsune-ya has a rule of lining up in two lines, one on the store side and one on the road side, and after a few people formed on the store side with me at the front…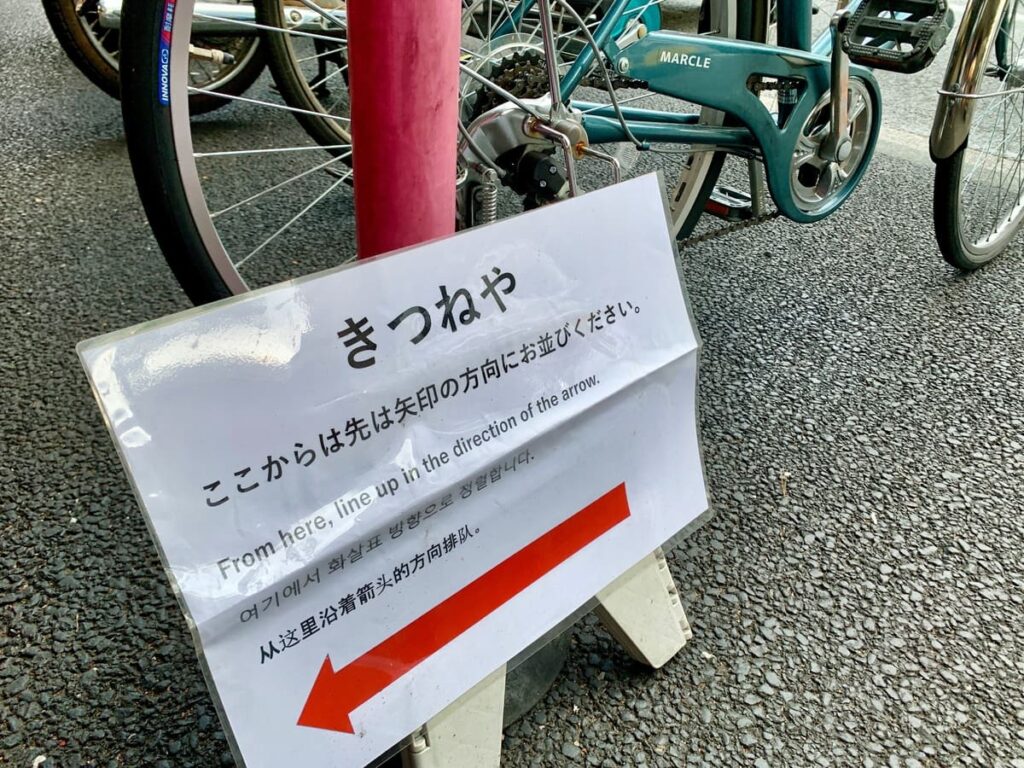 Use this guide as a guide to form a line on the side of the road. And the line just grew from there. By the time I arrived at the store's opening time, I was shown to one of Kitsuneya's five counter seats…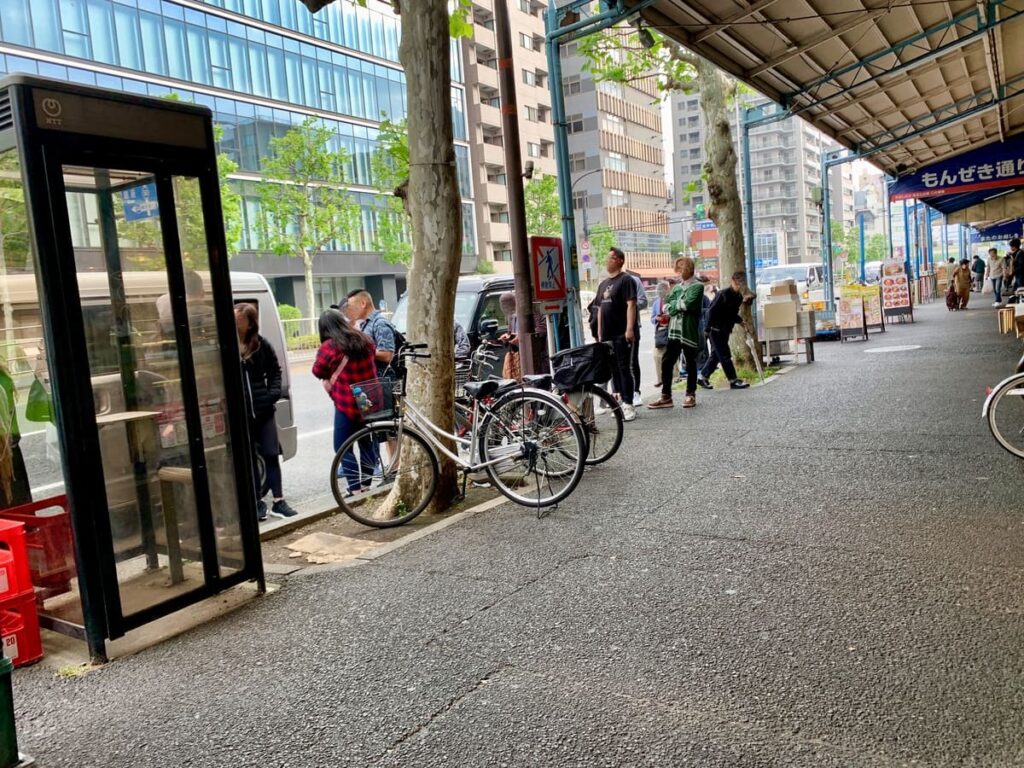 There was a long line that stretched quite far away from the store…I haven't counted exactly, but I think by this time there were about 50 people in line. Normally, you would have to be prepared to wait for over an hour when there is a line this long, but luckily Kitsuneya has counter seats as well as standing seats, and the food is served immediately after ordering. It doesn't seem like the wait time will be that long. That's why when visiting Kitsune-ya, it may be important to have a positive attitude and just wait in line without being intimidated by how crowded it looks.
Is it worth waiting in long lines in the morning? Try Kitsuneya's two most popular menu items…
Now, let me introduce you to Kitsuneya's two most popular menu items that I ordered this time: the horumon bowl and the meat tofu. There were 50 people waiting from 6:30 in the morning for these… I'll write my impressions without any bias as to whether or not it's worth it to endure such an ordeal in the morning…
Hormone bowl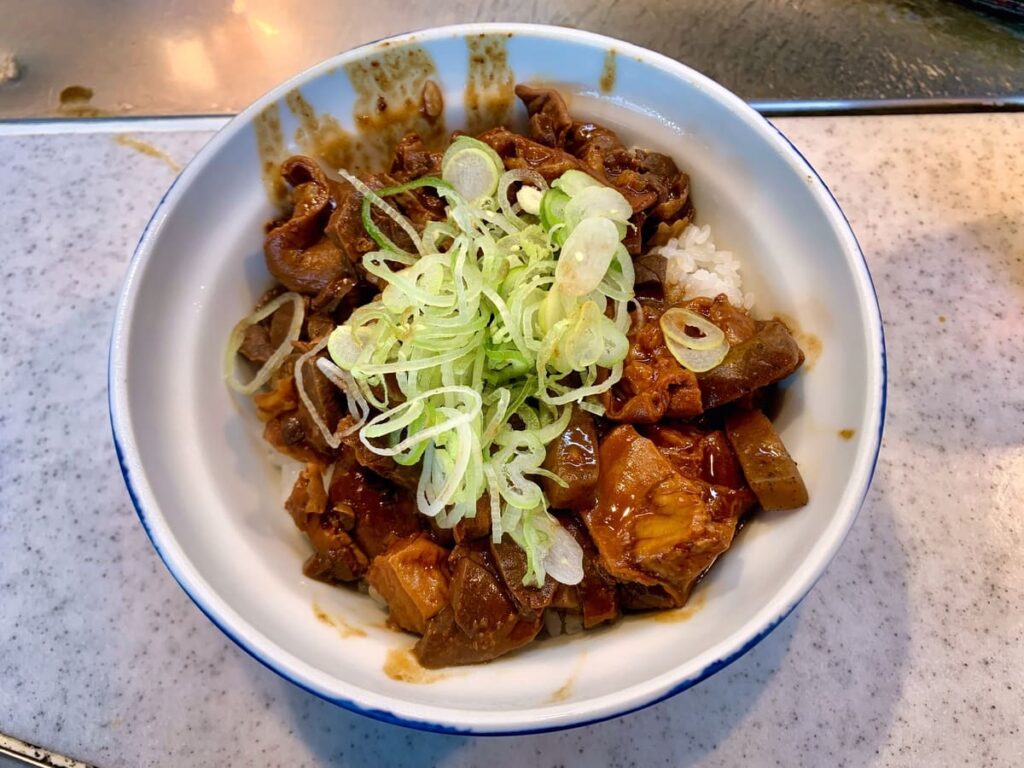 First up is the Hormone Bowl (price: 900 yen including tax), which is the first thing you should try when you come to Kitsuneya. It's a popular menu item that has been recreated on YouTube, and on this day, most people seemed to be ordering the hormone bowl.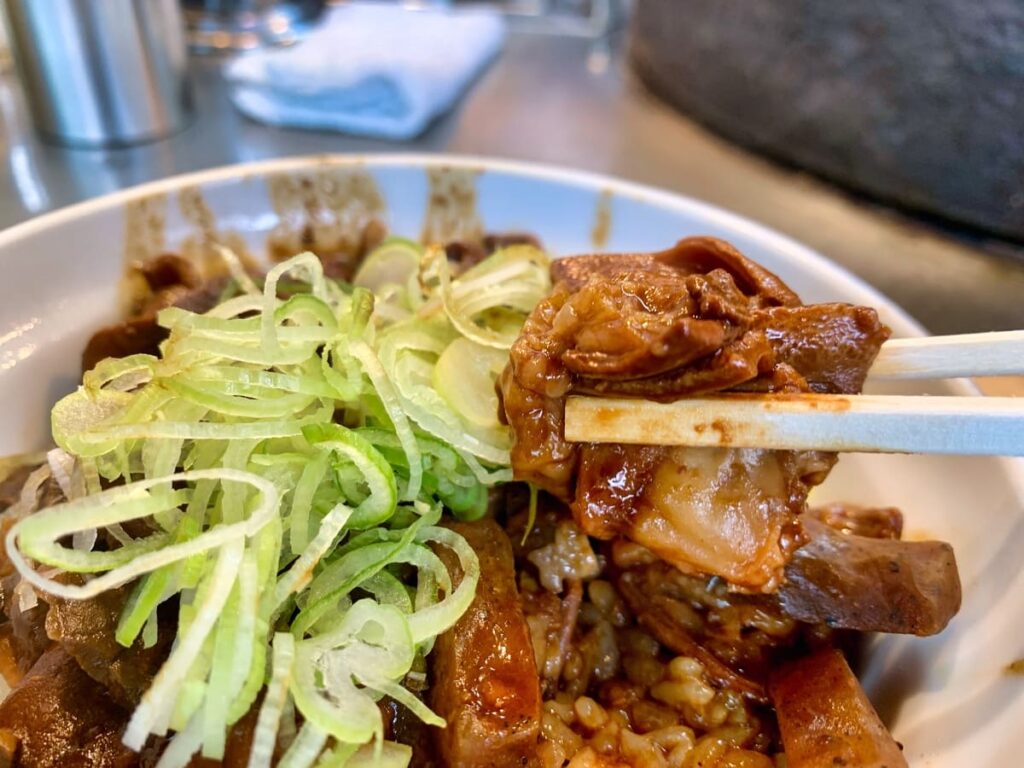 I immediately put this hormone in my mouth and was surprised. The flavor and fat of the beef melts into the special Hatcho miso-based sauce that has been used since the restaurant's founding, creating a sticky, rich beef stew. In fact, I was at the store during the preparation time that day, and before it was heated, the stewed hormones had solidified in the bowl like curdling…until it reached that state, the meat extracts were packed in. Unless you are a fan of Takitsune-ya's offal stew, you won't be able to say that it's "tasty."
Of course, the offal stew that has been thoroughly simmered in the sauce is melty and melts on your tongue without even chewing, releasing the flavor of the offal and sauce all at once. What's more, the flavor isn't just limited to the stew, but permeates into the white rice underneath. If you eat beef stew over rice at a Western restaurant, it would be seen as vulgar, but at Kitsune-ya, you can enjoy "stew on rice" which is officially recognized by the restaurant. Even so, the price is 900 yen, which is much cheaper than beef stew…I would like French people in particular to try this hormone bowl (or hormone stew without rice) as a Japanese-style beef stew and compare it with the beef stew from their home country.
Meat tofu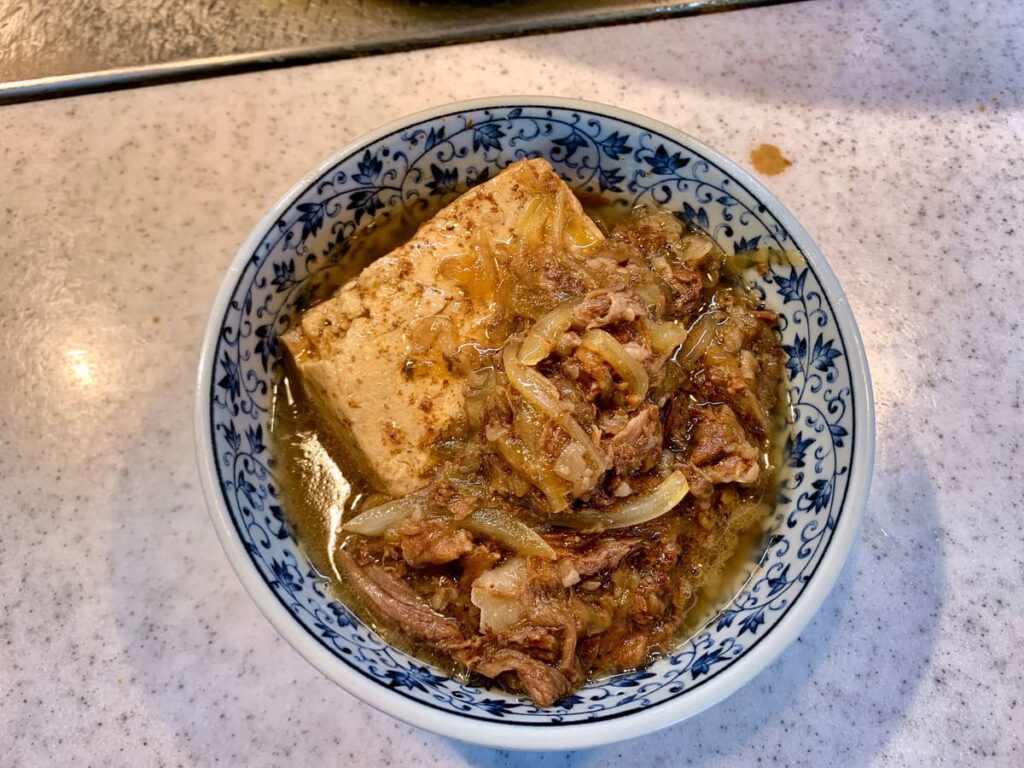 And Kitsuneya's other specialty, meat tofu (price: 800 yen including tax), came out almost at the same time as the hormone bowl. Please note that this menu cannot be ordered separately and must be ordered with rice, rice bowl, or alcohol.
I think it's hard to convey this in the image, but it has quite a sense of volume. I guess it would be fair to say that this tofu is about half the size of commercially available tofu… If you compare it to that, you'll see that the amount of beef is quite large.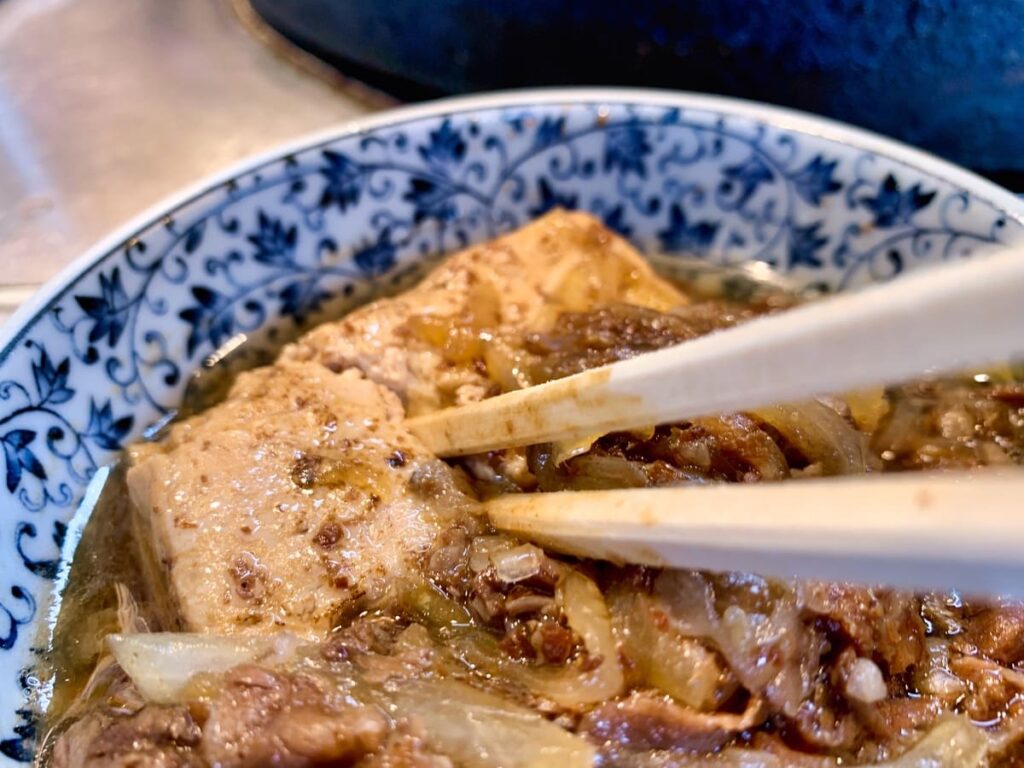 The soup stock for meat and tofu is different from the sticky and rich Hatcho miso sauce used in hormone bowls, but is a sukiyaki-style sweet soy sauce soup. The beef simmered in the sweet soy sauce broth is more tender than I expected, and makes you wonder if they're using high-quality beef. The tofu on the other hand is silken tofu, and the sensation of it melting in your mouth along with the soup stock is irresistible. The only downside is that as you eat more and more, you end up wanting something more. Although this menu originally cannot be ordered separately, we recommend pairing it with white rice or beer from the beginning.
With this feeling, I enjoyed two of Kitsuneya's most popular dishes and left the store. I was able to get on the subway safely and on time for my next important appointment. Both the hormone bowl and the meat tofu are of such quality that you'll definitely get rave reviews, so I think it's well worth waiting in line even if there are 50 people waiting. Next time I go, I'd like to have a drink here in the morning. But I can't drink at my own pace because staying too long is a nuisance to the customers after me, so…
Although it is such an amazing restaurant, it is strange that it has not been selected for the Tabelog 100 Famous Restaurants or Michelin's Bib Gourmand…In fact, I would rather it continue as a hidden gem and not receive any awards from famous media. I guess I'm happy about that. This is a store that I would like to remain unchanged for future generations, with its Showa-era style and no decorations. If you have read this article so far, if you have a chance to go to Tokyo, please go to Kitsuneya at least once…
Kitsuneya's other menus (prices include tax)
Beef bowl 800 yen
Boiled hormones (cannot be ordered separately) 700 yen
Grilled tofu 300 yen
Regular rice 200 yen (large 300 yen)
Oshinko 150 yen
Raw egg/soft-boiled egg 100 yen
Beer (medium) 670 yen
Sake 450 yen
Hormone bowl and Meat bowl are also available for take-out…To access Kitsuneya, it is a 3-minute walk from Tsukiji-shijo Station on the Toei Oedo Line, the nearest station.
At Kitsuneya, we also offer take-out of Hormone Bowl and Beef Bowl…
Hormone bowl bento 950 yen
Beef bowl bento 850 yen
The price will be 50 yen more expensive than eating in, but taking out may save you time in line. If you don't have much time to wait, feel free to ask the staff, "I'd like to order takeout."
Now, here are the store details. Check here for store data…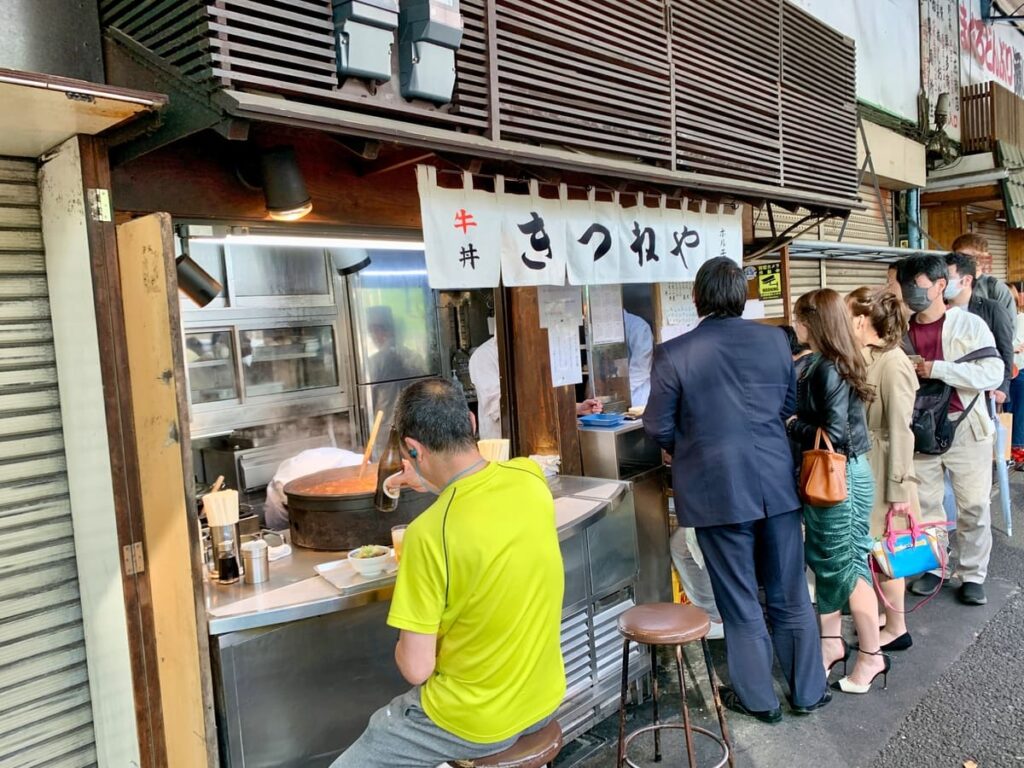 Out of 5
Address: 4-9-12 Tsukiji, Chuo-ku, Tokyo 104-0045
Phone number: 03-3545-3902 (reservations not possible)
Business hours: 6:30-13:30 (closed as soon as the food runs out)
Closed: Wednesdays, Sundays, holidays, etc. (Temporary closures will be announced on
the store's Twitter account
)
Parking: None
Credit card payment: Not possible (cash payment only)
It is a 4-minute walk from Tsukiji Station on the Tokyo Metro Hibiya Line.
P.S. If you are looking for delicious Japanese food in Tokyo, be sure to check out this article…
(Visited 11 times, 1 visits today)