There is a restaurant called Gyoza Restaurant Man-en Sannomiya located between JR Sannomiya and Motomachi Stations. This popular restaurant has been awarded a prize in the "100 Best Chinese Restaurants" of the "Tabelog", and is selected in the Kobe Gyoza Ranking. Although the name of the restaurant is "Gyoza-ya," it has a reputation for Chinese cuisine other than gyoza.
One evening, on my way home from visiting another restaurant without a reservation, I passed by Man-en Sannomiya Branch and entered the restaurant because there happened to be an empty seat. It is a restaurant so crowded that it is said that reservations are essential. I guess I was lucky in a sense. But…
An exotic atmosphere with Chinese language… Gyoza Restaurant Man-en Sannomiya is like this restaurant.
I was told that seating at the Sannomiya branch of Gyoza Restaurant Man-en is on an hourly basis. As soon as I entered the restaurant and took a seat, the waiter told me so. Well, an hour is enough for a normal meal, but an hour is the shortest among the restaurants I know. I guess this is an unspoken message from the restaurant saying, "Don't drink! Is this an unspoken message from the restaurant?
The atmosphere of Man-en Sannomiya is quite Asian. Although the restaurant is located in Sannomiya, the center of Kobe, it looks just like a local restaurant in Southeast Asia. The restaurant is divided into two spaces: the kitchen and six tables for two in the narrower space, and four tables for four in the larger space, as well as terrace seats that extend out onto the sidewalk. The restaurant is a small space with tables arranged in such a way as to squeeze in, and to be honest, the feeling of being squeezed in is quite oppressive.
The small restaurant is managed by a few young staff members, but the conversation among the employees is in Chinese. This makes the restaurant a place where you can dine in a local Asian atmosphere even though you are in the downtown area. However, orders are taken in Japanese, so there is no need to worry that you may not be able to understand the language.
What did you think of the three specialties you tried at Gyoza Restaurant Man-en Sannomiya, to be honest?
Let me introduce the three items I ordered at Gyoza Restaurant Man-en Sannomiya in this order. I ordered two kinds of gyoza (yaki-gyoza and mizugyoza), which are on the signature menu, and steamed chicken, which is the restaurant's top menu item and has received rave reviews on several food blogs. Of course we are interested in the gyoza, which are regulars in the rankings, but what kind of taste is the steamed chicken that has even better reviews…?
Steamed chicken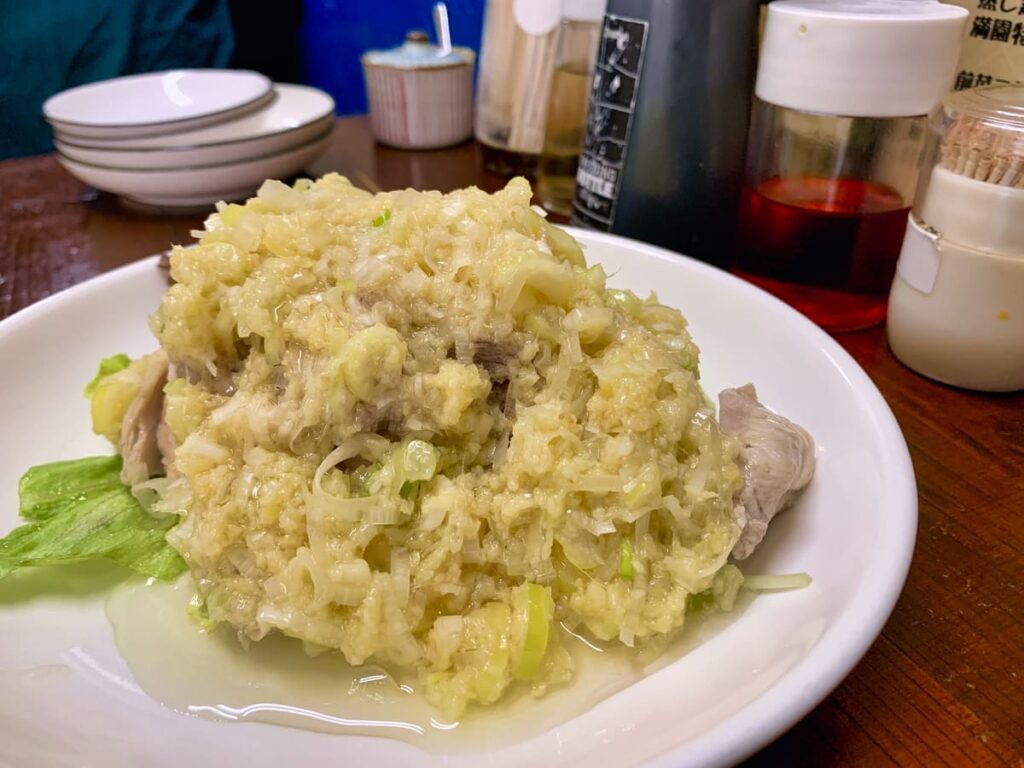 The first thing that was brought to me after I finished ordering was this steamed chicken. Can you tell from this image? It has a very three-dimensional effect. When I saw it, I thought, "Is he using green onions to increase the volume of the chicken? (Even if that were the case, it would be the volume that would make the green onion lovers rejoice…). But I was wrong. In this pile of green onions, there was a chicken breast that looked as if it contained the breast meat of a whole chicken.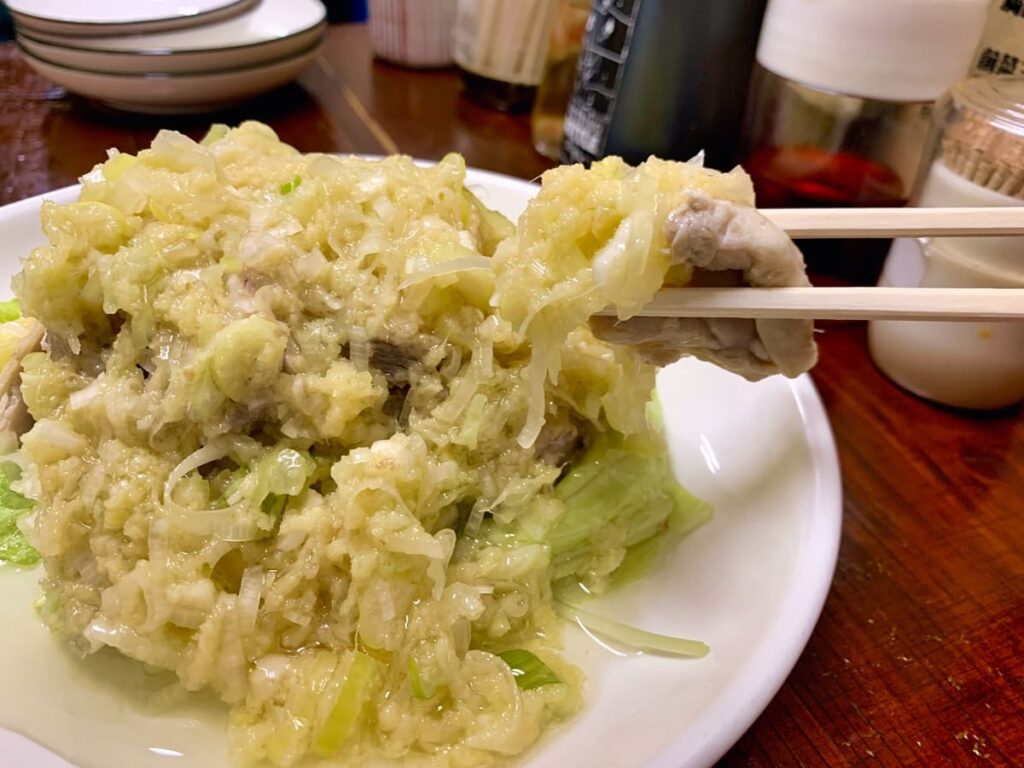 To begin with, isn't the price tag 610 yen including tax for such a large portion? If you order it as a snack with beer, it is probably the right size for 4 to 5 people. The taste is basically salty and refreshing. It is oily with a lot of sesame oil, but the ginger is very effective, so you can easily eat it without feeling it too strong.
This steamed chicken is a must-try when you come to Gyoza Restaurant Man-En. If you don't mind chicken and green onions, I highly recommend it. I can be satisfied with just this one dish and white rice. Well, I think I would be overloaded with calories if I ate this dish all by myself…
Boiled gyoza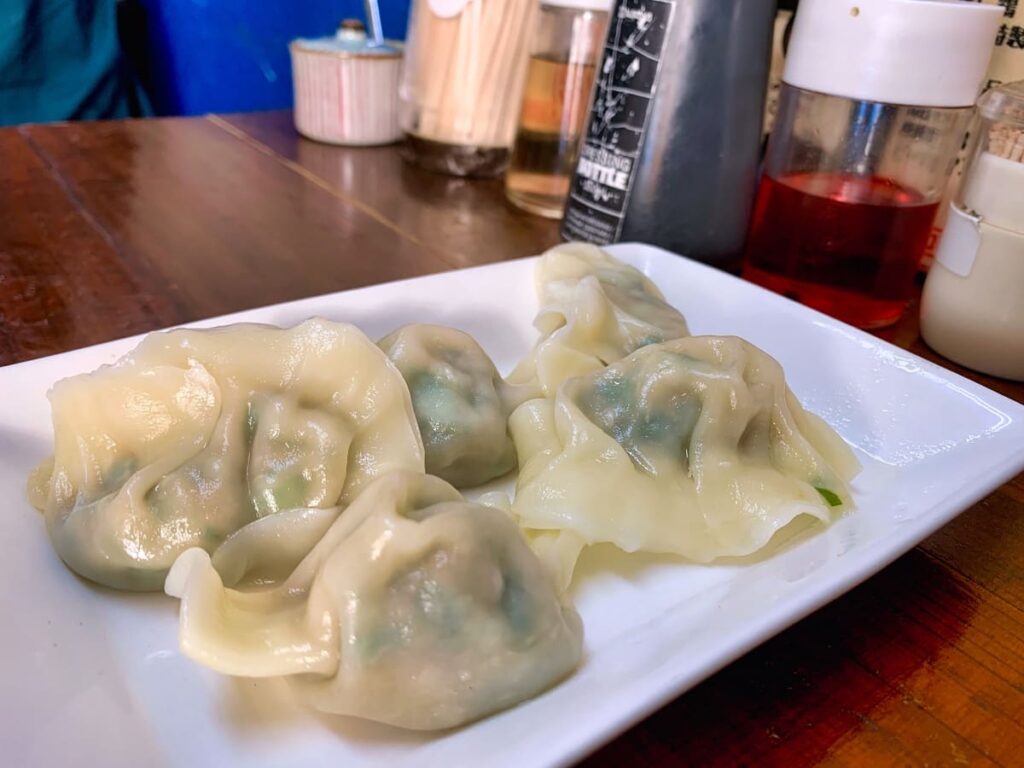 Next, the sui-gyoza (dumplings) were brought in front of us, and although the size of each dumpling is a little smaller than those of other restaurants (such as the Ganso Gyoza-En), the price for five is 300 yen including tax, so I think it is a good choice in terms of cost performance.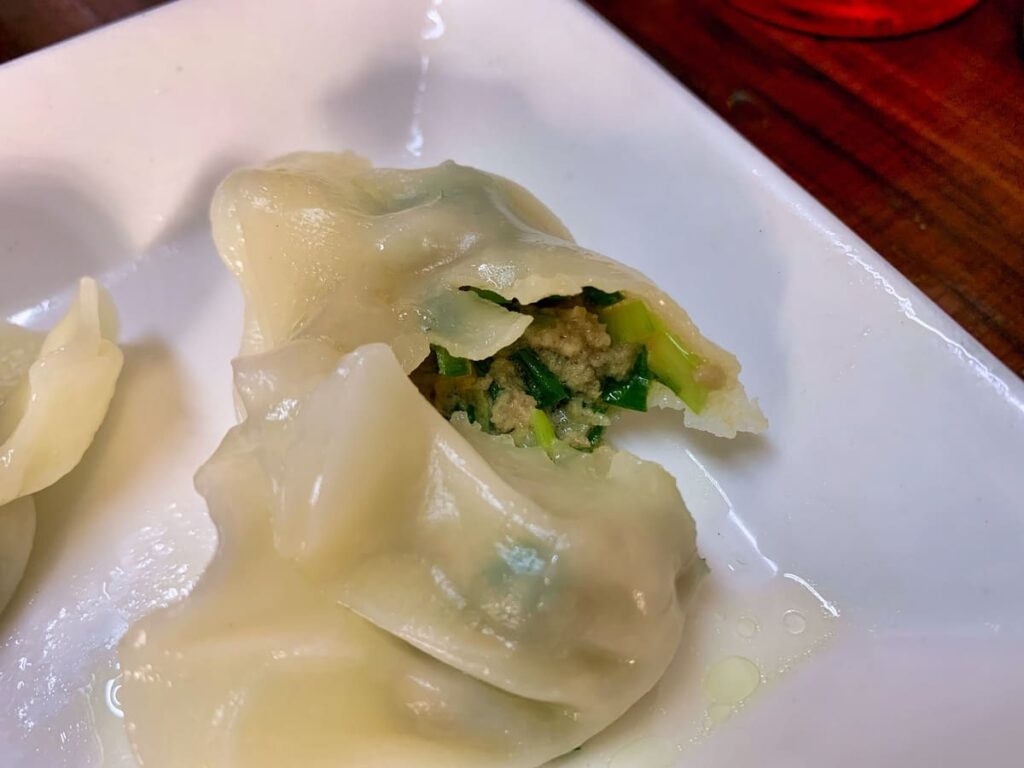 The filling is like this, with 60-70% meat and the rest vegetables such as chives. The skin is thinner than that of other restaurants' dumplings, but you can enjoy the unique texture of dumplings. When you chew them in your mouth, the juices from the inside of the dumpling and the flavor of Shaoxing wine waft from your mouth to your nose…….another item that is a perfect snack with beer.
Gyoza (crescent-shaped pan-fried dumplings stuffed with minced pork and vegetables)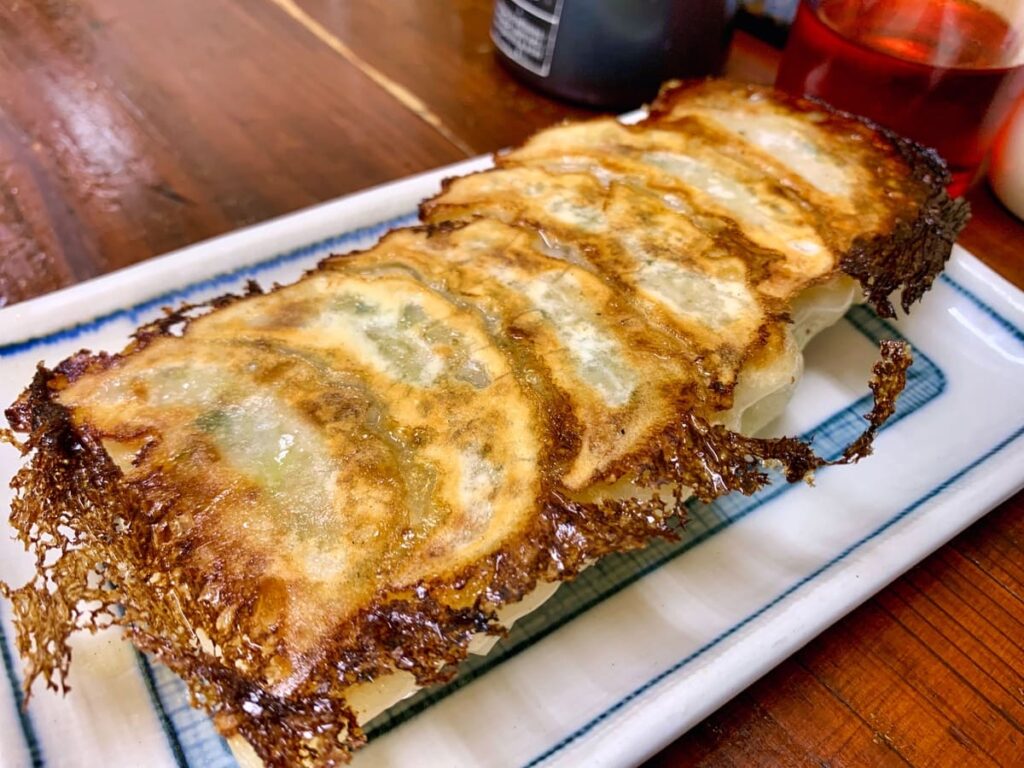 And last but not least, there was this yaki-gyoza (grilled gyoza). It is hard to tell from the picture, but each gyoza is about one size bigger than Hyotan gyoza and Akaman gyoza, which are considered the two big leaders of Kobe gyoza. The price for 6 pieces is 290 yen (tax included), so it is outstanding in terms of cost performance.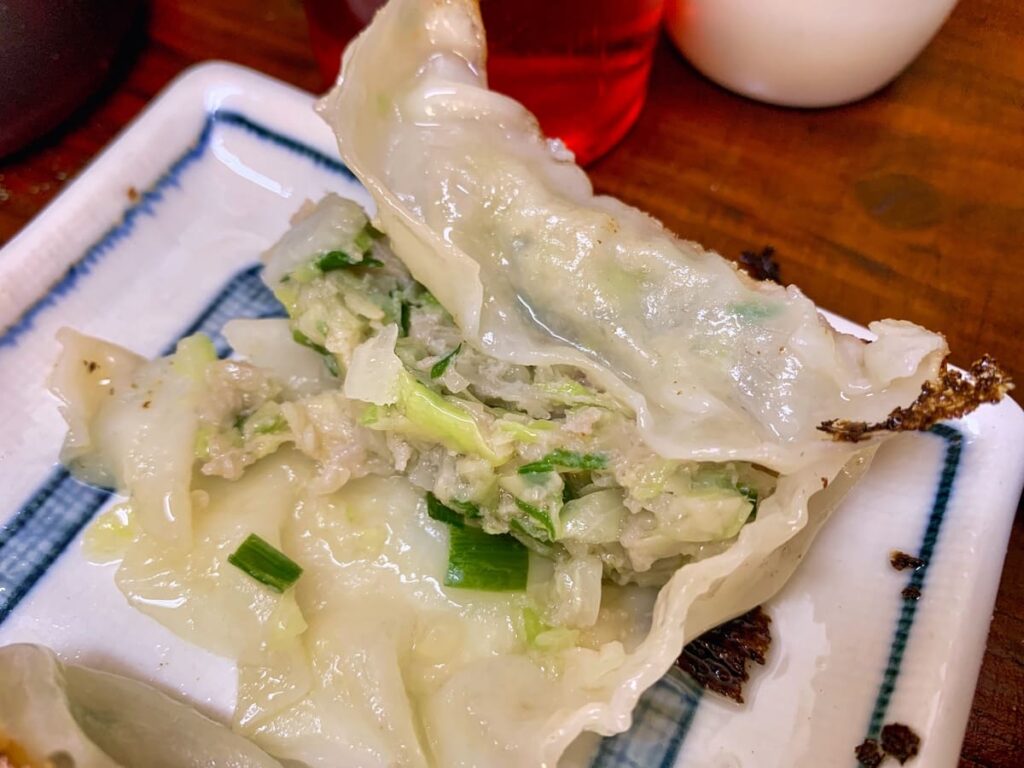 However, the skin of this yaki-gyoza is extremely thin and floppy, and the closure is loose, so just a little pinching with chopsticks causes it to tear, or the closure peels off and the bean paste scatters from inside. It was very difficult to eat. The bean paste was about half pork and half vegetable, and I could feel its stickiness or fineness on my tongue, but it was also very oily because it was covered with a lot of oil from the baking process. To put it bluntly, the way the dumplings were made this time was very crude. Well, if we call it "Asian" in a way, it would be a perfect description…
After finishing the three dishes like this, we paid the bill. I was very thankful that I could get change for 2000 yen even if I added a draft beer to the bill, but I wish they had served the three dishes in reverse order… A bad impression of the last dish would have made a bad impression of the whole.
Finally, I have two things to add. First, the gyoza of Gyoza Restaurant Man-en is not the Kobe specialty, Miso Dare Gyoza. So, if you are looking for Kobe's specialty, Miso Dare Gyoza, I recommend you to go to other gyoza specialty restaurant. Also, isn't it a little too early to have a one-hour seating limit and last order for drinks is 30 minutes before? I can understand if it is a dish that takes a while to be served, but it is a drink that can be served right away…if the message is so thoroughly and implicitly "leave in one hour! I can't eat in peace and honestly, it's hard for me to use the restaurant if the message is implicitly "leave in an hour! So, I guess I can only recommend this restaurant to locals who understand the whole situation and can use it…
Examples of other menu items at Gyoza Restaurant Man-en Sannomiya (prices include tax)
Special Bean-curd soup seasoned with red pepper 590 yen
Fried rice 600 yen
Fried young chicken 620 yen
Stir-fried shrimp with chili sauce: ¥650
Chicken on a stick salad – ¥650
Chinese stir-fried meat with green pepper ¥700
Braised Beef in Szechuan Style – Clay Pot Style – 1,200 yen
Incidentally, Man-en Sannomiya Branch also offers frozen gyoza to-go and mail order…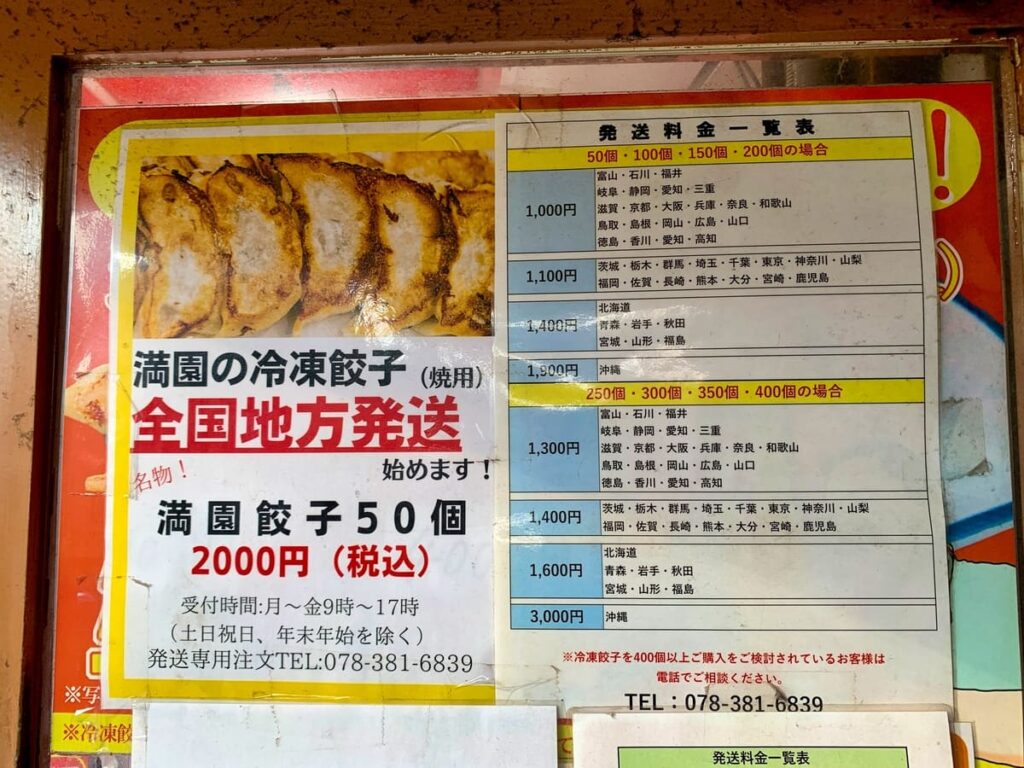 The nearby Motomachi store is also open for lunch… To access the Gyozaya Manzon Sannomiya store, it is a 3-minute walk from Kobe Municipal Subway Kaigan Line Kyukyoryuchi Daimarumae Station.
Gyoza Restaurant Man-en also operates a Motomachi store, which is right near the Sannomiya store we introduced this time. According to Tabelog, the Man-en Motomachi branch is also open for lunch from 11:30 to 15:00, so if you're looking for a delicious Chinese lunch in the Motomachi area, consider using the Motomachi branch as an option. Anyway, if you search on the internet, it turns out that the Sannomiya store we introduced this time is the second store of Gyoza Restaurant Manen. What was the first store like? I'm sure it has already closed for some reason, but I can't find any information when I search online…If you have any information, please let me know in the comments section below. mosquito? Now, here are the store details. Check here for store data…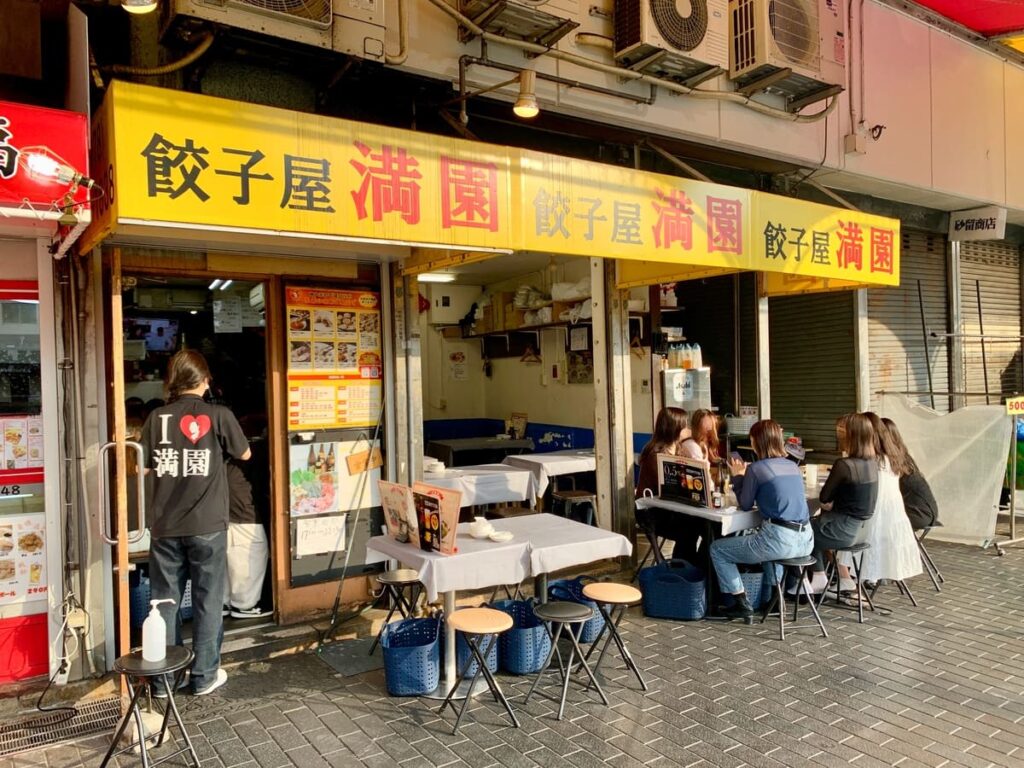 Gyoza Restaurant Man-en Sannomiya store (2nd store) Out of 5
Address: Center Plaza West Building 1F, 2-11-1 Sannomiya-cho, Chuo-ku, Kobe, Hyogo 650-0021
Phone number: 078-331-1838
Business hours: 17:00-0:00
Regular holidays: Irregular holidays
Parking: None
Credit card payment: Cash payment only
It is a 5-minute walk from Motomachi Station on the JR Kobe Line, and a 7-minute walk from Sannomiya Station and Kobe Sannomiya Station on the Hankyu Railway.
(Visited 9 times, 1 visits today)