As of July 2023, there are 44 Ramen Jiro restaurants in Japan (the latest number can be found here), and the Ramen Jiro Sapporo branch introduced here is the only one in the northern part of Japan allowed to operate under the "Jiro" sign. The owner, who trained at the Mita main store and the Sakuradai Ekimae store, opened his own shop at the west exit of Sapporo Station on March 31, 2013. He has made a solitary effort to convey the deliciousness of "Jiro" to Hokkaido residents who had never heard of it at the time, and his efforts have resulted in the restaurant becoming one of the top three most popular restaurants in Hokkaido in the Ramen Database, a well-known ramen review website.
I had already decided to go to Ramen Jiro Sapporo on my next visit to Sapporo. I went there one day in July 2023. Actually, I had a rather unexpected experience this time. What was this unexpected experience? If you are curious, please continue reading…
The rules in the restaurant are quite strict… Ramen Jiro Sapporo is a restaurant like this.
I arrived at Ramen Jiro Sapporo at around 10:15 on a Saturday morning. It was 45 minutes before opening time, so I was safely in pole position. However, a minute or two later, customers started to gather little by little and the line got longer. I could not properly count how long the line was at the opening time, but it must have been over 20 people. Therefore, in order to shorten the waiting time, I think it is better to come to the restaurant some time early and wait in line.
According to the Tabelog, Ramen Jiro Sapporo has 15 seats at the counter only. The restaurant is spacious and clean, and there are benches for waiting inside the restaurant behind the counter seats that can seat 7-8 people. Behind the bright red counter that symbolizes Jiro, a slightly stern-looking owner and two blonde women were working with minimal conversation. This kind of pressure is "a thing" at Jiro.
However, Ramen Jiro Sapporo is also known for its very strict rules. There is a warning posted in the storefront that reads…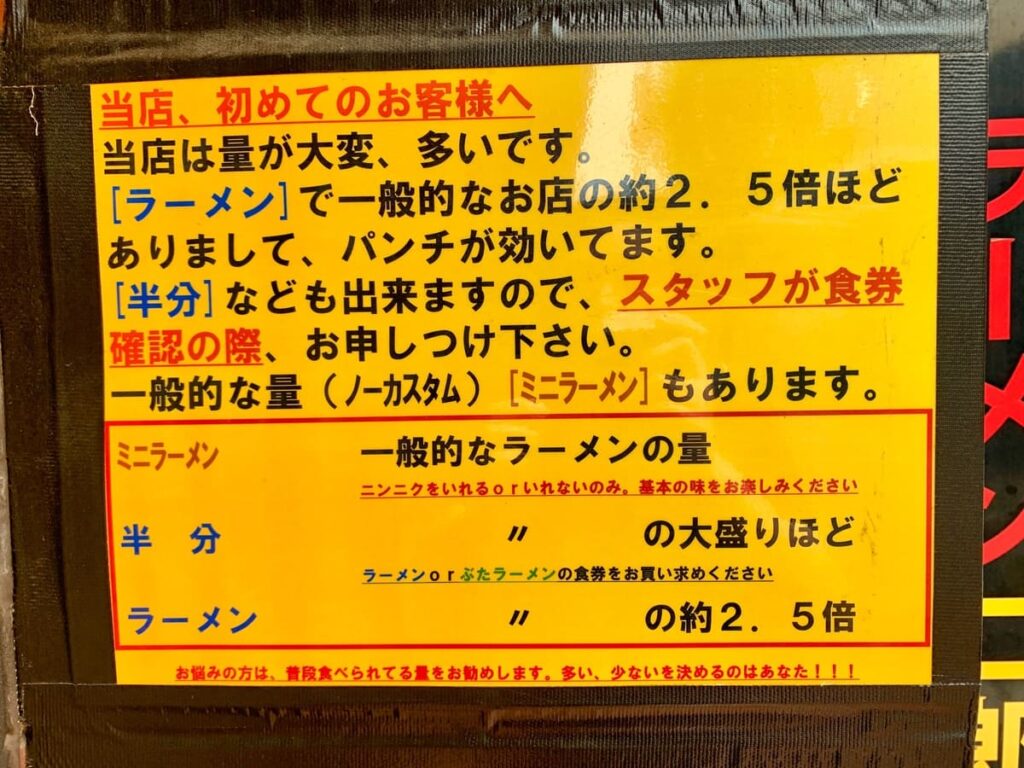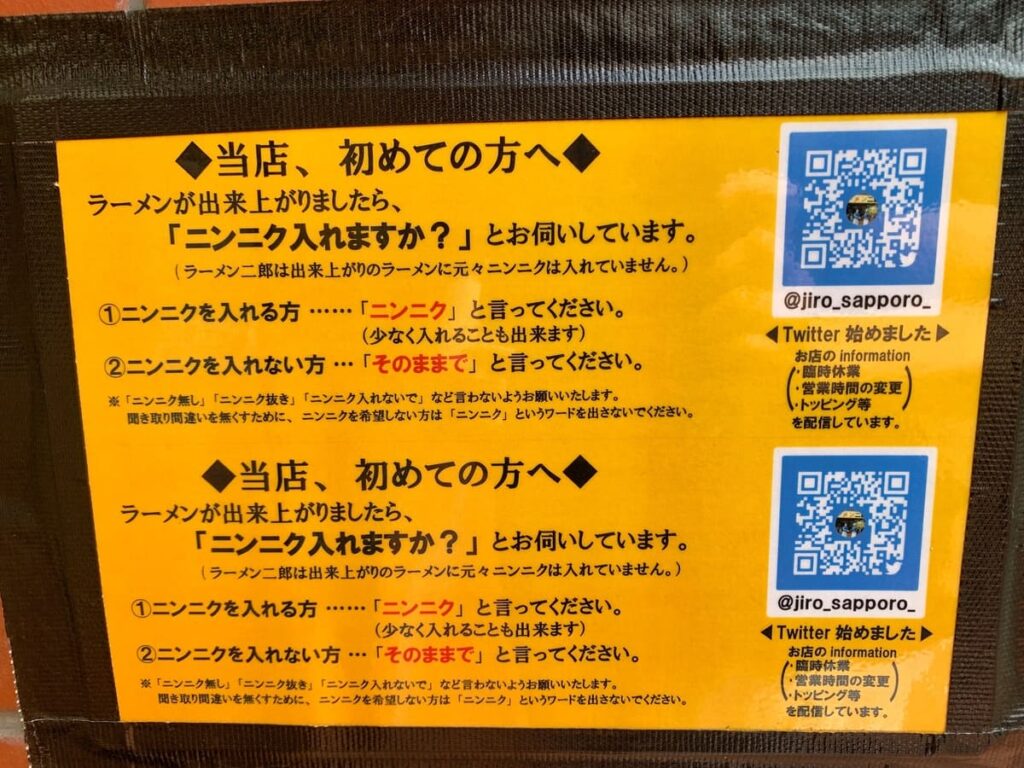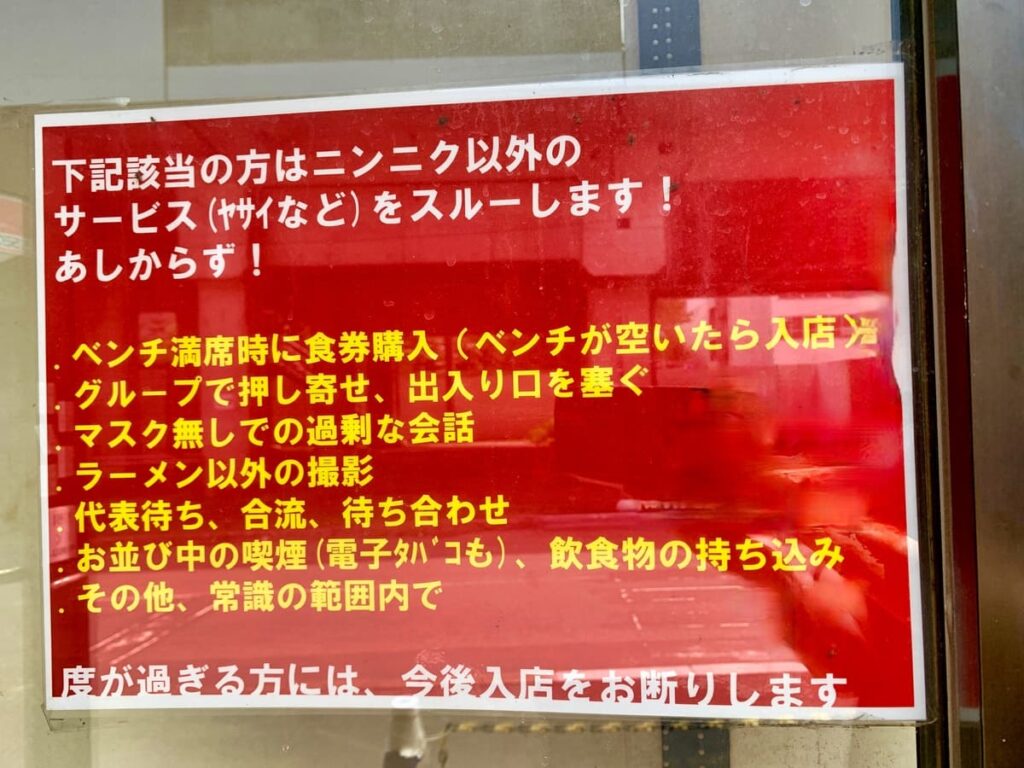 If you fail to follow the rules, you will be asked to leave the store immediately + not allowed to enter (note: only drinks bought from the vending machines in the store can be brought in). Looking at the restaurant's Twitter page, it appears that security cameras are attached to the storefront, and the owner also checks your behavior after you leave the restaurant. So when you visit Jiro Sapporo, please be careful not to deviate from good manners. However, it does not mean that the basic customer service attitude is strict, so as long as you act normally, there is no problem at all…
I ordered "Sonomama" without toppings at Ramen Jiro Sapporo, but when I actually tried it, it was so unexpected…
This time I ordered my ramen as usual at Ramen Jiro Sapporo, but this time things were a little different from usual. Before I explain it, let me first share a picture…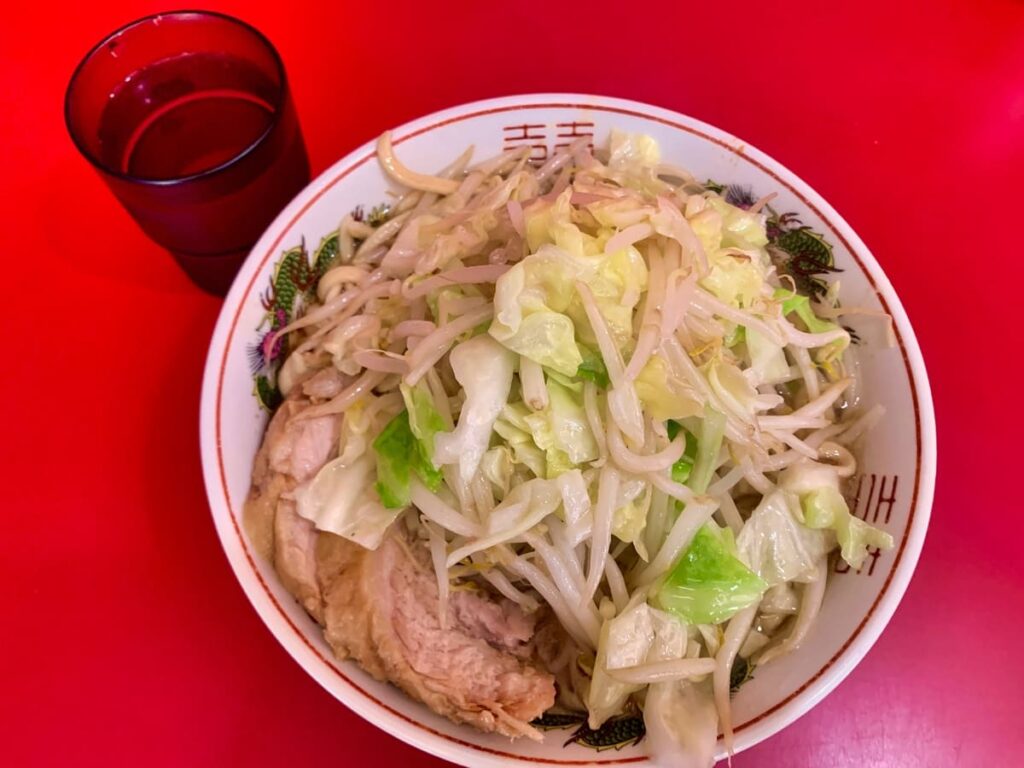 How is it different from usual? Well, this time I chose "as is" with no toppings (see the article on Ramen Jiro Kyoto Branch for details on how to call for toppings). I really wanted to go all out as usual, adding vegetables, abra, and garlic, but the truth is that I had a toothache that day and had a dentist appointment after lunch. But I had a toothache that day and had a dentist's appointment after lunch, so I couldn't go all out and eat garlic before I had my teeth examined. I had always wanted to call "as is" at Jiro, but I never thought I would be able to do it like this…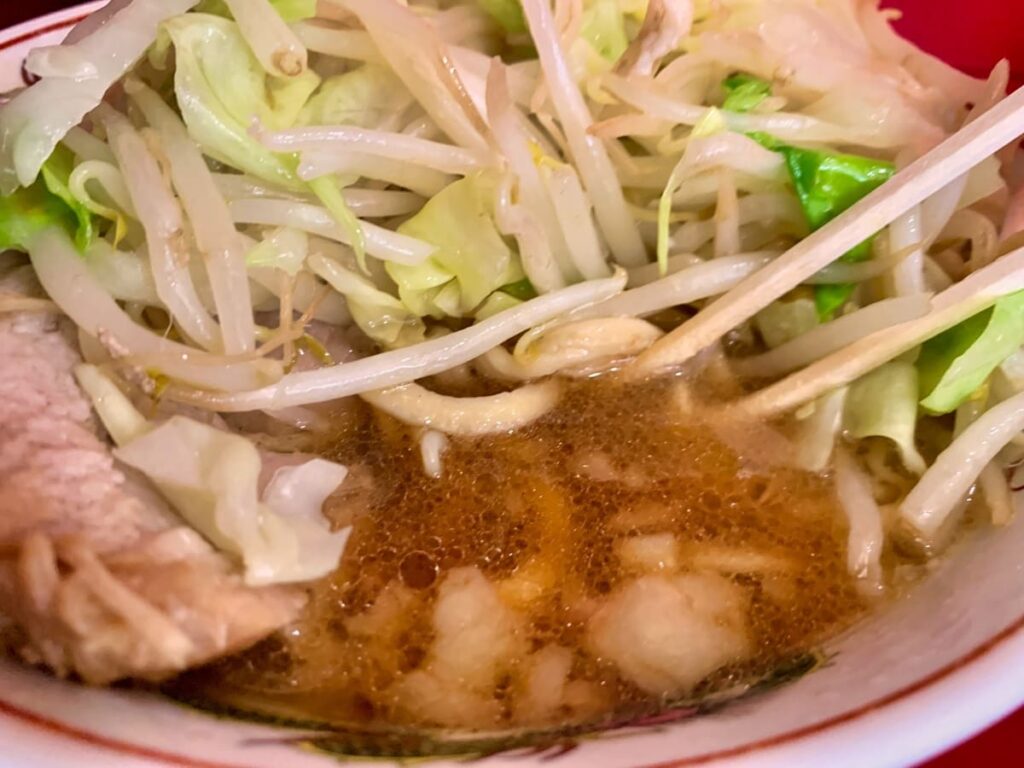 So, in fact, I was feeling a little down until I put my mouth on the ramen. But after taking a sip of this non-emulsified soup, the unexpected taste blew away my depression. Compared to other restaurants, the soup at Jiro Sapporo is by far the mildest. The pork fat is all over the soup, but there is no sense of pork violence, and the soy sauce flavor is in harmony with the pork bone broth… I never thought the word "harmony" would be the first word that comes to mind when thinking of Jiro or Jiro-inspired ramen. This soup is so good, even if you think of it as a normal pork and soy sauce ramen soup.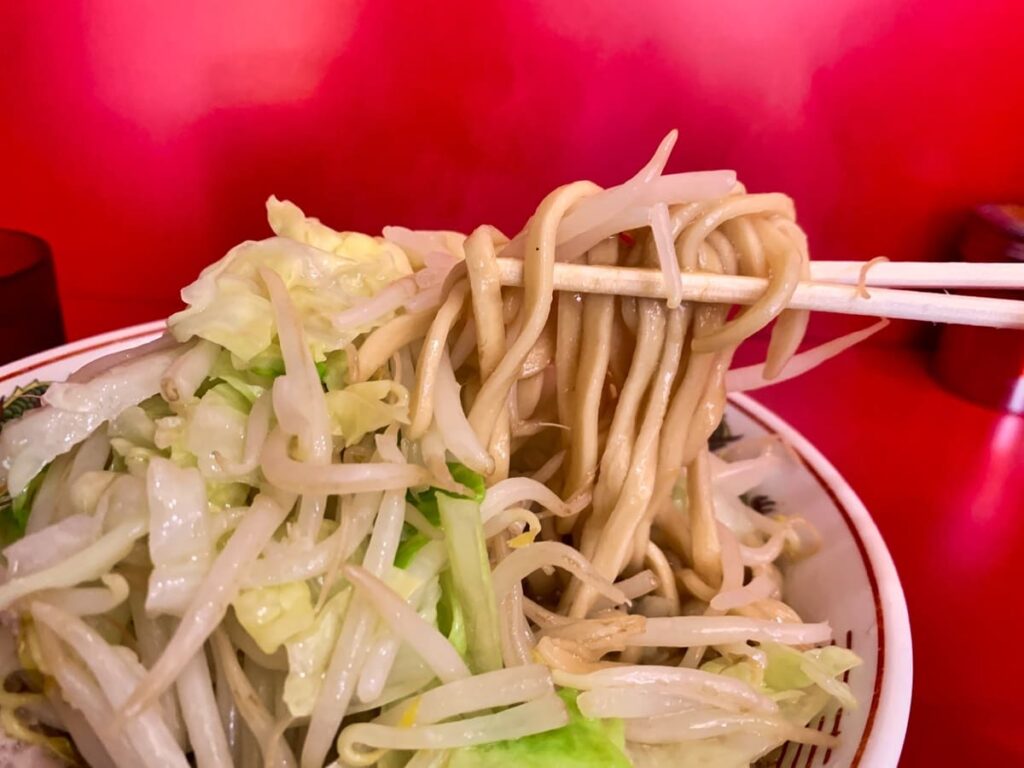 The noodles are so tough and tough that they look like "Jiro! The noodles are tough and tough. I think they are harder than the noodles I've had in the past. If you are in perfect physical condition, you will welcome it! But this time, I had a hard time finishing it because my teeth were sore. I managed to finish the noodles by swallowing them without chewing them as much as possible. The volume of the noodles was about average to a little less than other Jiro/inspired restaurants I have experienced. If you are accustomed to eating Jiro-inspired noodles, you may be able to finish it without any problem even if you don't choose "less noodles" or "half noodles".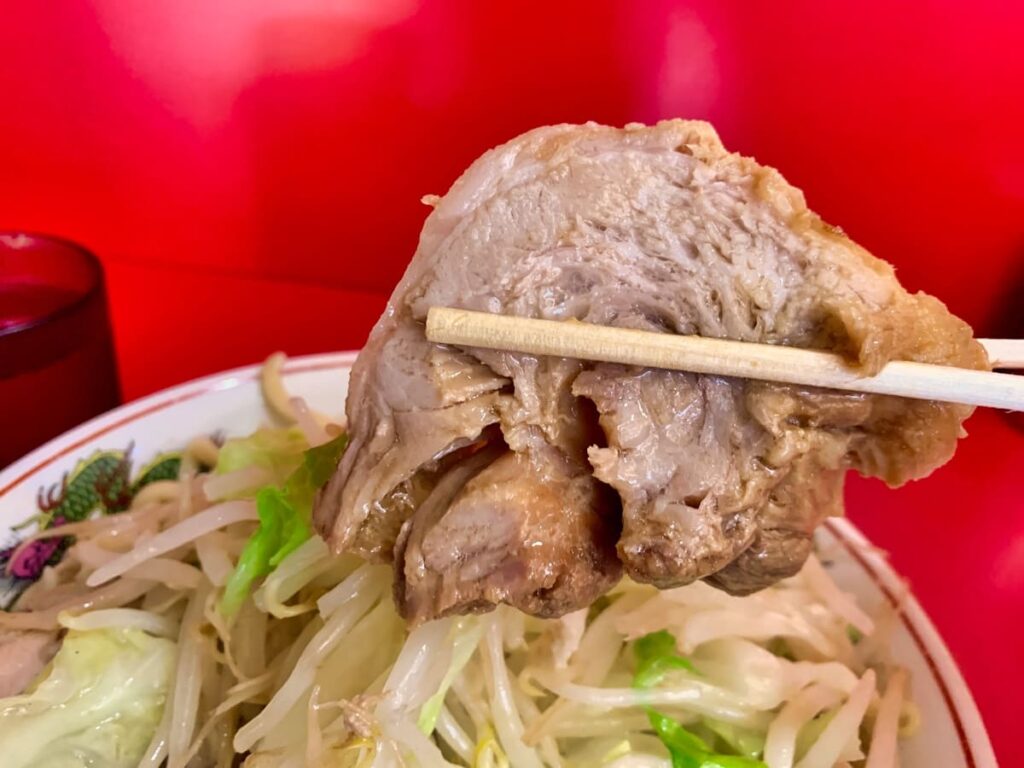 The pork (chashu pork), another difficulty when one has a toothache, may have been a fluke this time, but it was cut thinly for Jiro, and the impact was undeniably weak. But this time, my teeth were sore, so this helped. It was cooked until it was tender enough, and I was able to finish it even with my toothache. However, if you are in the mood to eat a lot of pork at Jiro, it would be better to order more pork from the beginning.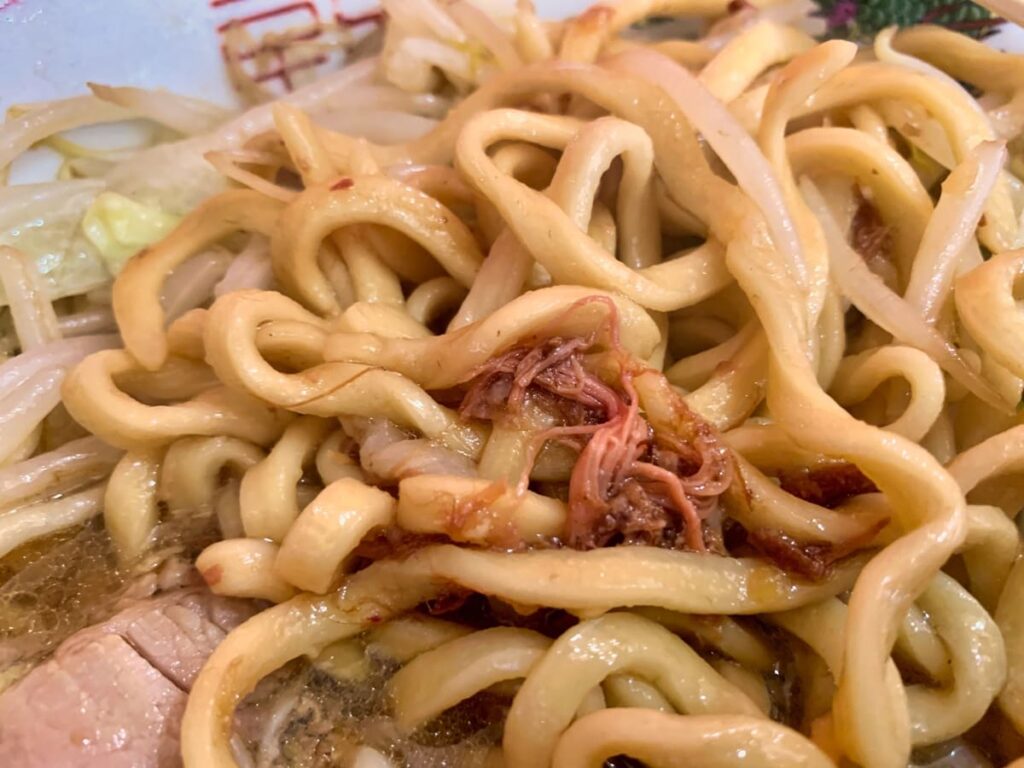 After eating some of the noodles and turning the bowl over, a large amount of dried bonito flakes came out from the bottom of the bowl. Perhaps this is one of the secrets to the mild soup that is so unlike Jiro's. Anyway, the soup was so tasty that I even felt like doing the forbidden "finish all the soup" at Jiro. This time, due to unavoidable circumstances, I had to choose "as is," but as a result, I am glad I left it as it was.
This is the kind of ramen served at Ramen Jiro Sapporo, and it is indeed one of the top-ranked ramen restaurants in the Ramen Database. The mild pork and soy sauce soup was so outstanding that I almost forgot that this was Jiro's restaurant.
In addition, the noodles were hard-boiled and the crunchiness of the vegetables was outstanding, and I was able to eat them without getting crumbly even after turning them upside down, so I especially recommend this dish to those who value chewiness. Even those who have previously thought that Jiro- and Jiro-inspired ramen was "bad" should give the default ramen here a try.
Example of Ramen Jiro Sapporo menu (prices include tax)
Ramen noodles 900 yen
Mini (1 piece of pork) 790 yen
Extra pork (2 pieces) 200 yen
Negi-ginger 100 yen
Raw egg 100 yen
Tamachi (onion kimchi) 100 yen
Onion and dried bonito flakes 100 yen
If you are lucky, you can get tsukemen or soup-less noodles? Access to Ramen Jiro Sapporo is a 6-minute walk from the nearest station, JR Sapporo Station.
At Ramen Jiro Sapporo, if you are lucky, you will be able to order Tsukemen or Soup Noodle Noodle. The information is not official, so please ask the staff, but the most popular information on the Internet is that Tsukemen is available only during lunch time and Shirunashi is available only on weekdays and nights. When I visited the restaurant, the ticket machine was "sold out" of both items, so unfortunately, I was not able to try these limited menus…but if you have a chance, I would be very happy if you could try these limited menus and write your impressions in the comments section below. I would be very happy if you could try them and let me know what you think of them in the comments section below.
Here are the details of the restaurant. Check here for store data…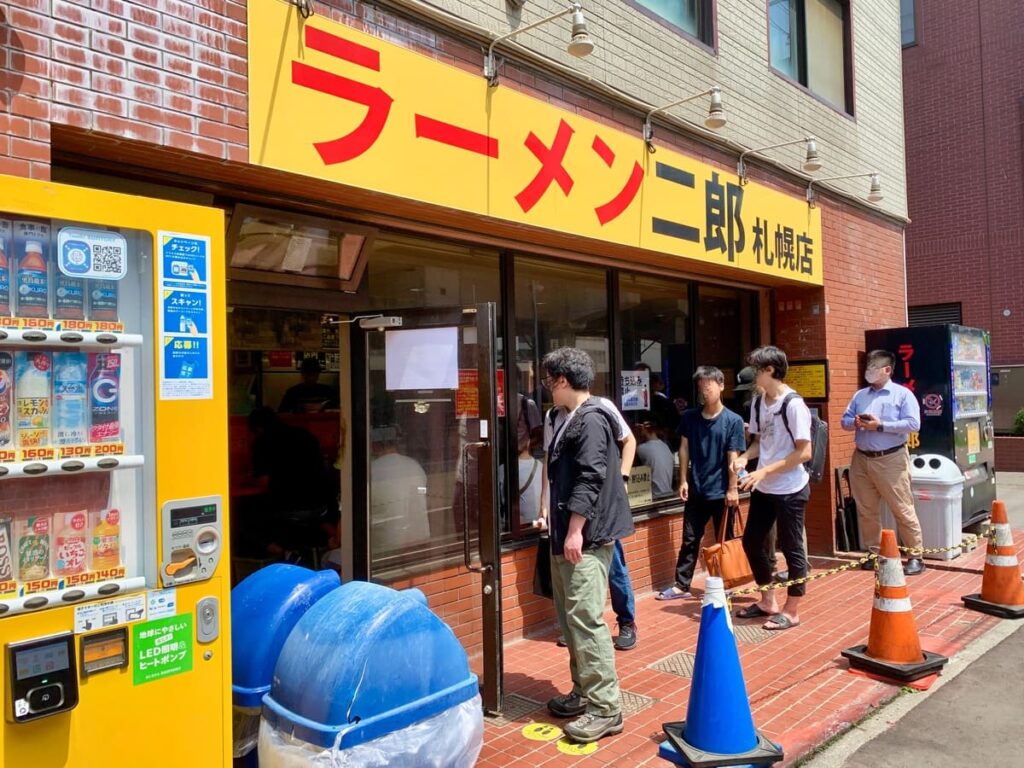 Out of 5 points
.
Address: 8-8-11 Nishi, Kita 6-jo, Kita-ku, Sapporo, Hokkaido 060-0806, Japan
Phone number: Not open to the public
Business hours: 11:00-14:00, 17:00-20:30 (11:00-15:00 on Saturdays)
Closed: Sunday
Parking: No parking
Credit card payment: Not accepted (meal ticket system)
P.S. If you are looking for delicious ramen in Sapporo, please stop by this article…
(Visited 13 times, 1 visits today)