Currently in the Hanshin area, a hamburger specialty restaurant called Tsunoda Meat is gaining momentum. On July 7, 2010, we opened our first store in a residential area of Amagasaki as a "hamburger restaurant for the masses who can enjoy Wagyu beef hamburgers." Since then, business has steadily increased, and together with the affiliated curry shop Tsunoda Curry and the Western restaurant Tsunodaken, we now operate 14 stores in Kawanishi, Kobe, Toyonaka, Ibaraki, etc. (as of July 2023) the current).
Among the stores of the Tsunoda Meat Group, there is only one store called Tsunoda Meat LODGE that operates in a style different from other stores. The restaurant is located in a wooden house in the suburbs, far from the city center of Takatsuki, and despite its location with poor transportation, many customers arrive in their own cars, especially on weekends, even before the restaurant opens.
This time, I used Tsunoda Meat LODGE with my family (plus a dog) during lunch time on the weekend. What kind of shop was this popular shop in the suburbs of Takatsuki City?
Tsunoda Meat LODGE is the only restaurant in the Tsunoda Meat chain that has a pizza menu.
Tsunoda Meat LODGE will be visible on the right as you head north on the road that runs along the Akutagawa River from downtown Takatsuki. It stands just where the surrounding houses disappear and the view switches to the mountains, and the red exterior walls make it highly visible, so unless you're extremely careless, I don't think you'll miss it and walk past it.
According to Tabelog, Tsunoda Meat LODGE has a total of 36 seats. There are seats on the first floor, seats on the second floor, and terrace seats, and only the terrace seats allow pets. There was a small free space in front of the terrace seats, so I was able to play with the dog while waiting, so I didn't get bored. Also, although it may not be a spectacular view, the view around the restaurant is open, so the terrace seats, especially on sunny days, give you a sense of openness and make you feel comfortable.
Tsunoda Meat LODGE is the only restaurant in the chain that offers a pizza menu. There aren't that many types of pizza, but there is a pizza oven in the kitchen on the first floor, and they serve freshly baked pizzas that are not homemade. It might also be a good idea to sit on the terrace and enjoy drinks outdoors, like a pizza party. Well, if you want a hamburger steak, you can also eat it at the Tsunoda Meat Emil Takatsuki branch located at Hankyu Takatsuki City Station…
Tsunoda Meat LODGE store limited pizza menu (prices exclude tax)
Margherita 1350 yen
Genovese (limited quantity) 1550 yen
Bambino 1250 yen
Formaggi 1600 yen
Prosciutto 1450 yen
Homemade demi-glace: Tsunoda Meat How does the standard hamburger steak menu you eat at LODGE taste?
Well, what I ordered this time at Tsunoda Meat LODGE was the standard hamburger menu, homemade demi-glace (price 1100 yen + tax). If you only order this, you will be ordering a single item, so if you want to eat rice or bread, you will need to add the rice set (price 450 yen + tax)…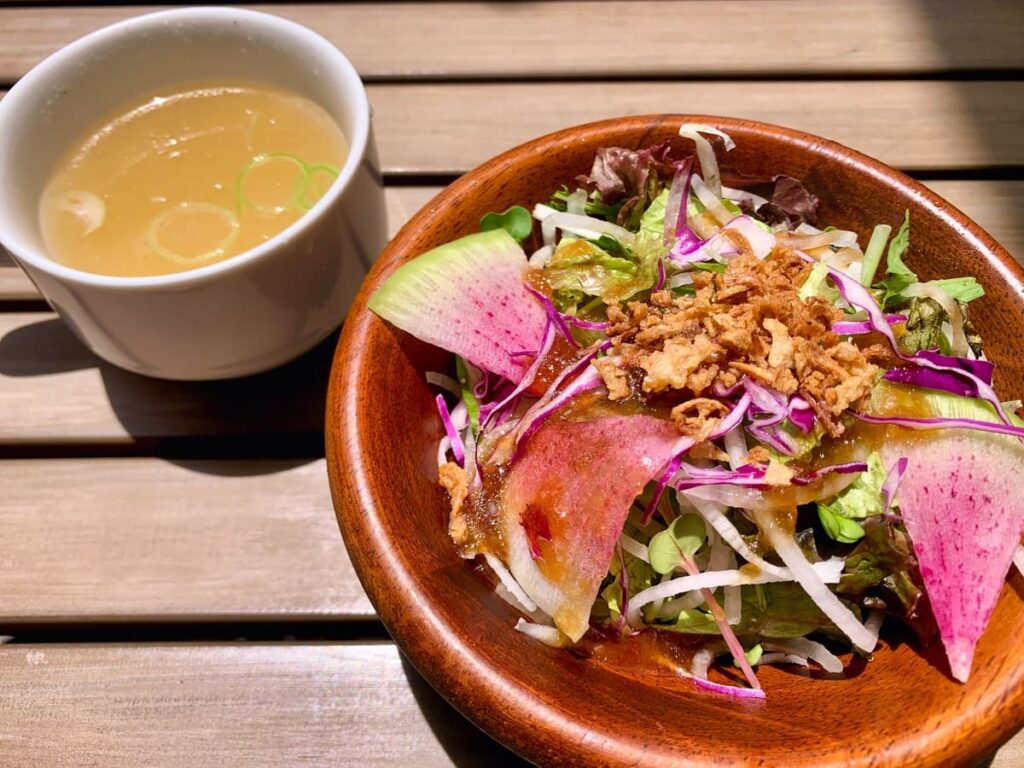 When you finish ordering, the mini salad and soup that come with the rice set will be brought to you. Just when I finished consuming the salad…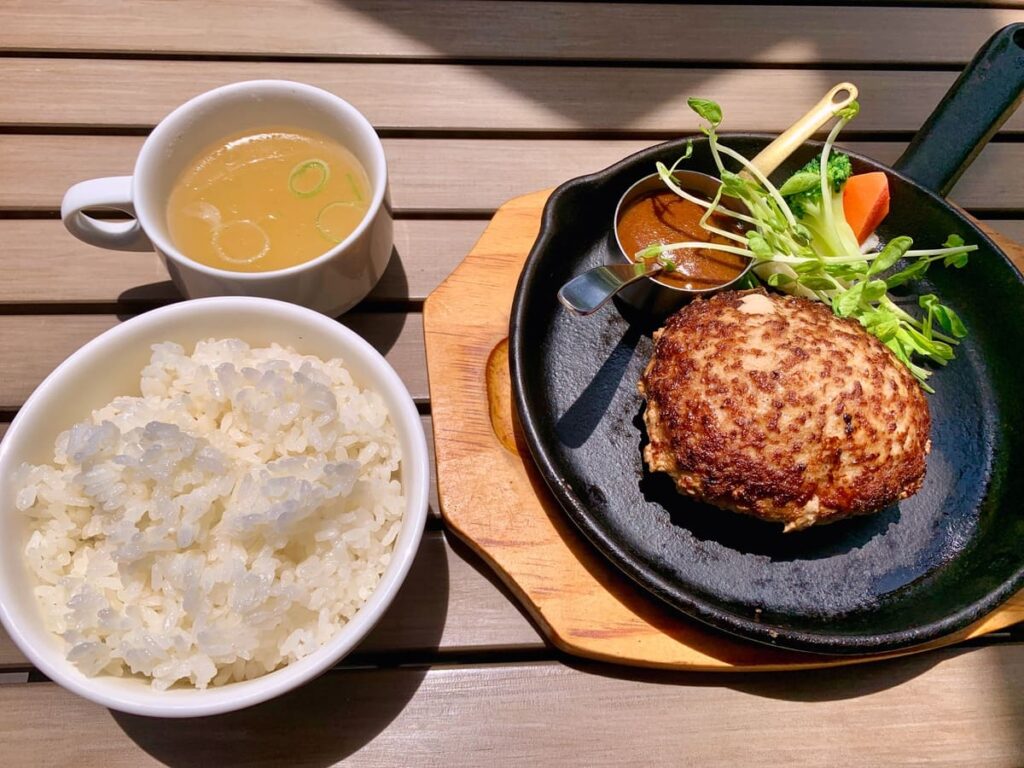 Introducing skillet-grilled hamburgers and white rice! What do you think? Can you tell with this image? The hamburger is so puffed up that it looks like it's about to burst. When I saw this figure, it hit me. This hamburger is the same as the hamburger from that restaurant. so…
I took a video of the chopstick holder! As expected, the hamburger was full of juicy meat, just like Tokura, a popular hamburger specialty restaurant in Kyoto…Well, to be honest, I was expecting a little more gravy, but this overflowing hamburger was more than enough.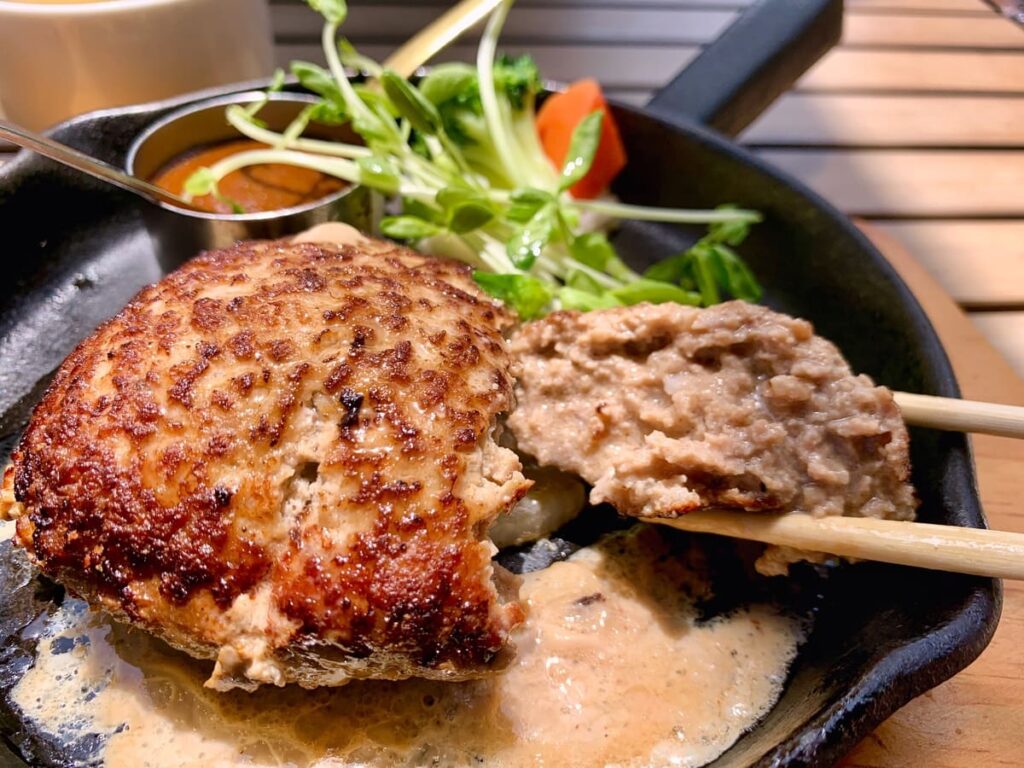 When I actually tried it, it was a hamburger with a fluffy texture just as it looked. Even after the meat juices had run out, it remained sticky on the cut side, and as soon as I put it in my mouth, the flavor of the meat and the aroma of the charred surface spread to my tongue and nose. It feels like it goes down your throat along with the meat juices. You could call it a drinkable hamburger'' or aself-soup hamburger"… Either way, it's incredibly juicy. The meat is so flavorful and the hamburgers are so juicy that it's easy to see why they're so popular that they're opening more and more affiliated stores mainly in the Hanshin area.
On the other hand, the demi-glace sauce that seasoned this hamburger steak was quite sweet. Of course, the sauce itself has a rich flavor, but the sweetness had an even stronger impact, and personally, I had the impression that it was a flavor that children would like. I think this homemade demi-glace is definitely a dish that you can feed to your child who loves hamburgers without any worries. On the other hand, for adults, seasonings such as salt, pepper, other spices, and wasabi soy sauce may be more suitable.
How about combining it with sightseeing at Settsu Gorge? To access Tsunoda Meat LODGE, take Takatsuki Municipal Bus No. 33 bound for Hagiya from Settsu-Tonda Station on the JR Kyoto Line and get off at Kaminasawara bus stop, then walk 10 minutes.
It is recommended to visit Tsunoda Meat Lodge like this in conjunction with sightseeing at Settsu Gorge. Settsu Gorge is a famous spot for cherry blossoms in the spring and colored leaves in the fall, and is easily accessible from the city center, making it a perfect relaxing spot where you can enjoy playing in nature throughout the year. There is also a space for small children to play, so it's the perfect place for the whole family to come for a drive and have some fun. Eating a hamburger on the way home after playing a lot can be a great day for small children.
Now, here are the store details. Check here for store data…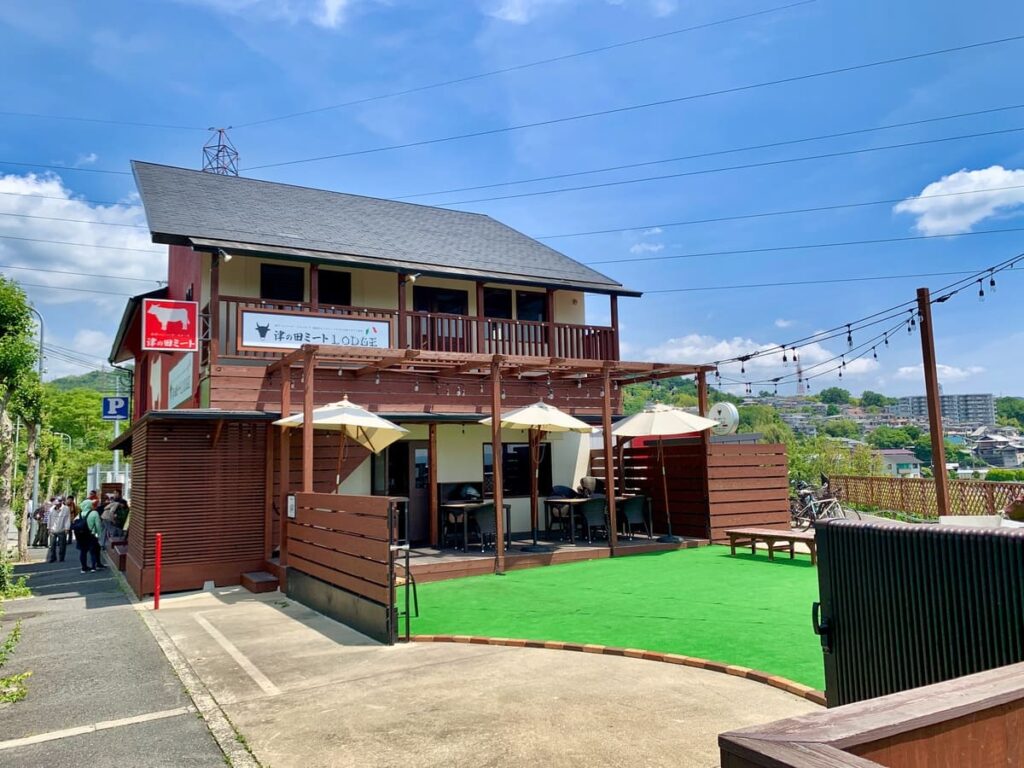 Tsunoda Meat LODGE Out of 5
Address: 5-70-16 Nanpeidai, Takatsuki City, Osaka 569-1042
Phone number: 072-697-1189 (online reservations available)
Business hours: Lunch 11:00-15:00 (until 15:30 on weekends and holidays), Dinner 17:00-21:30
Closed: Tuesday, Wednesday
Parking lot: 15 spaces available
Credit card payment: Possible
(Visited 1 times, 1 visits today)