If you arrive at Tokyo Station early in the morning by night bus or Shinkansen and feel like having breakfast, why not go to a restaurant called Yaesu Hatsufuji at the Yaesu Exit of Tokyo Station? Around Tokyo Station, famous restaurants such as Rokurinsha, Sendaitan, and Rikyu, which are popular for their tsukemen, also have morning service, but unlike these restaurants, Yaesu Hatsufuji offers a home-style breakfast. You can eat at a reasonable price.
When I arrived at the store 10 minutes before opening time, there were already a few people waiting for their breakfast just like me. We all dream of a gourmet breakfast served by a famous restaurant, but it's also nice to start the day with a hearty breakfast…
Full activities from breakfast to lunch to the pub at night… Yaes Hatsufuji is a restaurant like this…
Yaesu Hatsufuji is an izakaya located in the Yaesu Underground Mall (commonly known as Yaechika) located under the Yaesu Exit of JR Tokyo Station. Although its main business is an izakaya, it is open from 7 a.m. until closing time, serving breakfast (7:00-11:00), lunch (11:00-16:00), and alcoholic beverages. This is a restaurant that is fully operational, changing the menu offered depending on the time of day, from 16:00 to closing time.
According to the store's official page, Yaesu Hatsufuji has a total of 68 seats, including counter seats. It's a relatively large store in the basement, so you can relax even if you have big luggage. It has a pub-like atmosphere that makes it easy to get into, and I'm sure you'll be fine even if you're bringing small children with you.
Yaesu Hatsufuji's morning pork soup set meal is fragrant and has a lot of ingredients… What do you mean it's cheaper than the natto set meal?
Now, let me introduce you to the pork soup set meal that I ordered at Yaesu Hatsufuji. As expected, it was on the breakfast menu, and it was brought right in front of me after I ordered…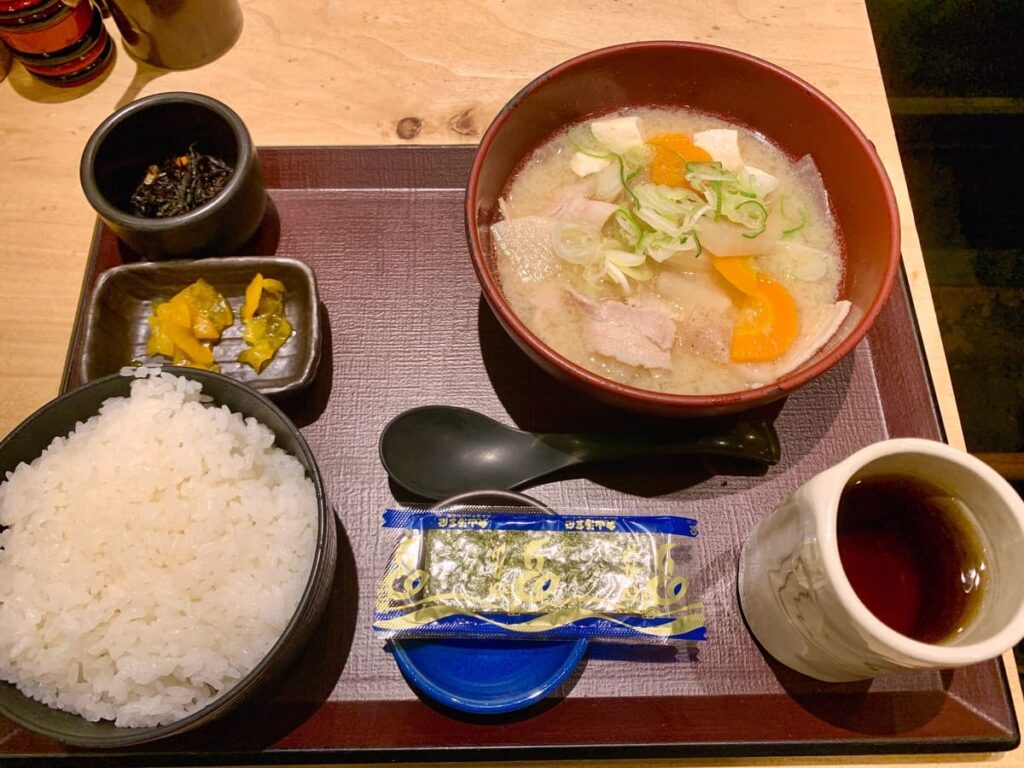 Like this, in addition to pork soup and rice, the set comes with pickles, a small side dish, and seasoned seaweed. You can also get a large serving of rice for free, which is great when you want to pack in plenty of nutrients from the morning.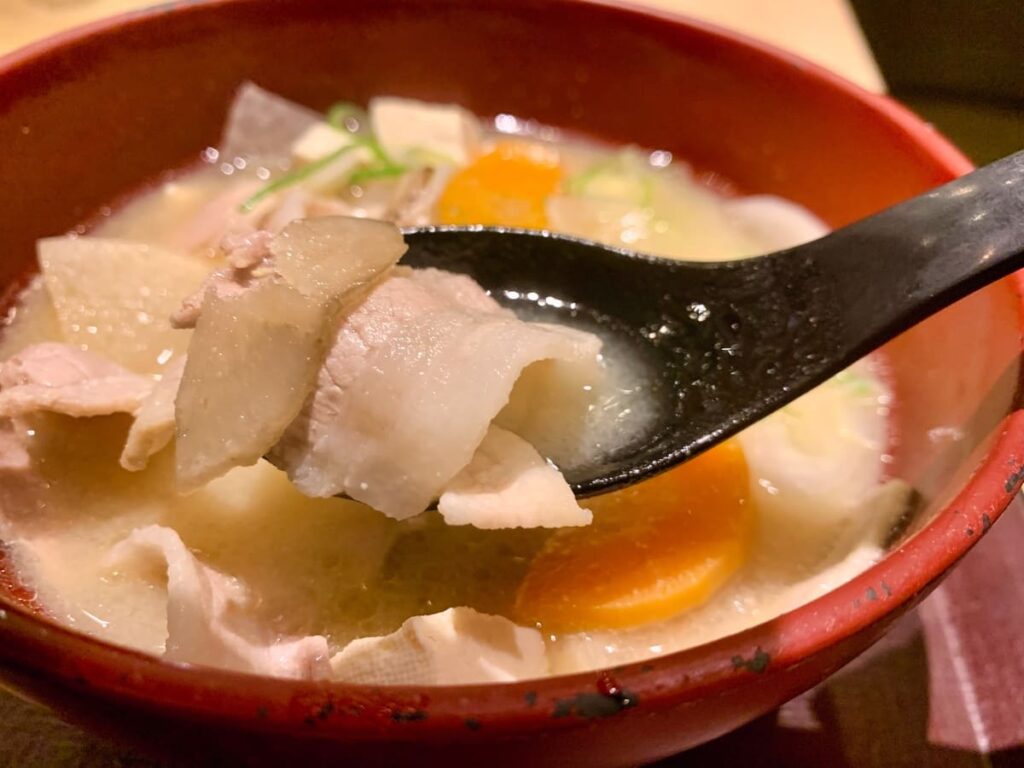 Now, let's have some pork soup…The base is a sweet white miso soup, and when you put it in your mouth, the fluffy aroma of sesame wafts up to your nose. Are you using sesame oil? A fragrant and flavorful miso soup. In addition to pork, there are many other ingredients inside, such as carrots, daikon radish, and burdock. The overall volume is solid, so you can get all the nutrients you need for the day's activities starting in the morning.
Yaesu Hatsufuji's pork soup set meal like this is definitely a great value. If you can eat a set meal like this in the morning, you'll be able to get off to a good start at work that day. Breakfast here is recommended for businessmen and businesswomen who work near Tokyo Station. Still, it's a mystery that this pork soup set meal is 100 yen cheaper than the natto set meal. I wonder if they use such good natto? If you have tried the natto set meal, please let us know the details in the comments section below.
Yaesu Hatsufuji's breakfast set menu (prices include tax)
Grilled salmon set meal 690 yen
Meat and tofu set meal 640 yen
Natto set meal 720 yen
Ginger grilled set meal 720 yen
Tamagoyaki set meal 680 yen
Pork soup set meal 620 yen
Fried egg set meal 640 yen
The lunch menu, including the popular seafood bowl, is also reasonably priced…Yaesu Hatsufuji is a 1-minute walk from the Yaesu Central Exit of JR Tokyo Station.
At Yaesu Hatsufuji, the kaisendon (seafood bowl), which is limited to 30 servings every day after 12:00, is also quite popular. You can enjoy more than 10 types of fresh seafood at reasonable prices, so businessmen and office ladies from the area gather here especially on weekdays for the seafood bowl. If you visit a store and there's seafood bowl left, you're lucky that day. Order now before it's sold out. Well, even if it's already sold out, there are many other filling and reasonably priced lunch menus, so I don't think you'll be disappointed…
Now, here are the store details. Check here for store data…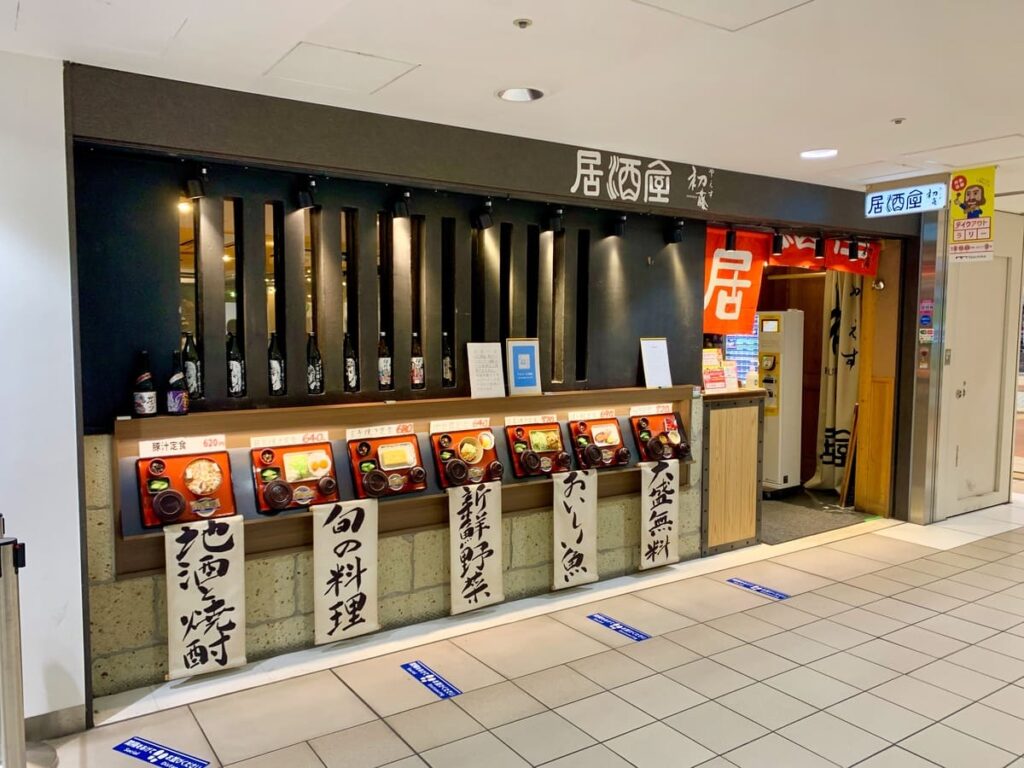 Yaesu Hatsufuji Out of 5
Address: Yaesu Underground Mall North 1, 2-1 Yaesu, Chuo-ku, Tokyo 103-0028
Phone number: 03-3275-1676
Business hours: 7:00-22:00 (closes at 22:30 on Fridays, 21:30 on weekends and holidays)
Regular holidays: No holidays (temporary closures may occur)
Parking: None
Credit card payment: Possible (electronic money and transportation ICs are also supported. Breakfast is meal ticket system)
(Visited 2 times, 1 visits today)