In Sapporo, which is probably the most competitive area for miso ramen in Japan, Mendokoro Shirakaba Sanso is popular among locals as a classic miso ramen restaurant. Established in 1997 in Makomanai in the southern part of Sapporo, this store has a steady stream of customers arriving in their own cars and motorcycles, even though it is located in a suburb that is not easily accessible even for Sapporo residents. .
What kind of miso ramen can you eat at Shirakaba Sanso, a popular miso ramen restaurant? As usual, I was greedy and went to Makomanai on the first night of my business trip to Sapporo. This shop is located just on the border between the city and the mountains. When I actually went there, I found the store quite interesting from the outside…
You can eat as many boiled eggs as you like for free…Noodle restaurant Shirakaba Sansou Makomanai Head Shop is like this…
Go straight on the road in front of Makomanai Subway Station, turn left at National Route 453, and walk along the road until you see a large log house-like building on the right side of the road. This is our destination, the Makomanai head shop of Shirakaba Sansou, a noodle restaurant.The large log house-like building matches the surrounding landscape and creates a mountain hut-like atmosphere. When you actually go there, it's not that difficult to access, but it's strange because just looking at the exterior makes you feel like you've worked so hard to get here.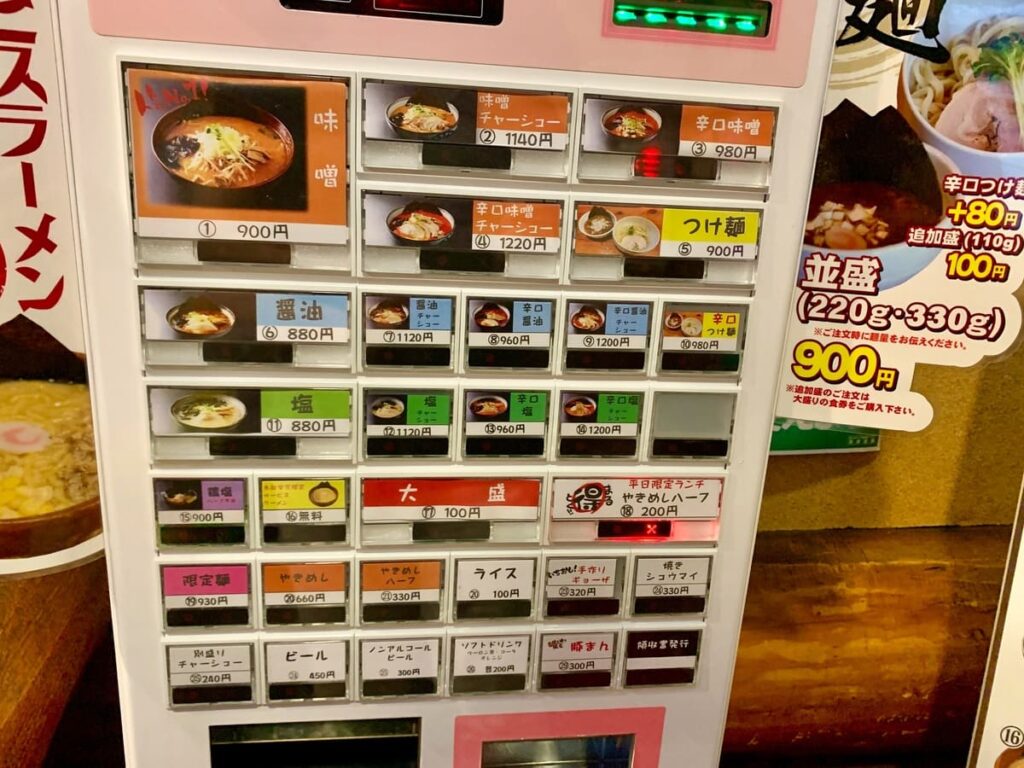 After passing through the entrance, I bought a meal ticket from the ticket vending machine on the right hand side, and then went into the store…When I went inside, I noticed that the space inside the store wasn't that big. This may be due to the preconception that Hokkaido is a vast land. Tabelog states that Shirakaba Sansou Makomanai Head Shop has 22 seats, but at the time of our visit, there were 30 seats with 6 counter seats and 6 table seats. But don't worry, the space isn't too tight and you can enjoy sipping ramen without worrying about the customers next to you.
Now, let me introduce something that cannot be avoided when talking about Mendokoro Shirakaba Sanso. Here it is…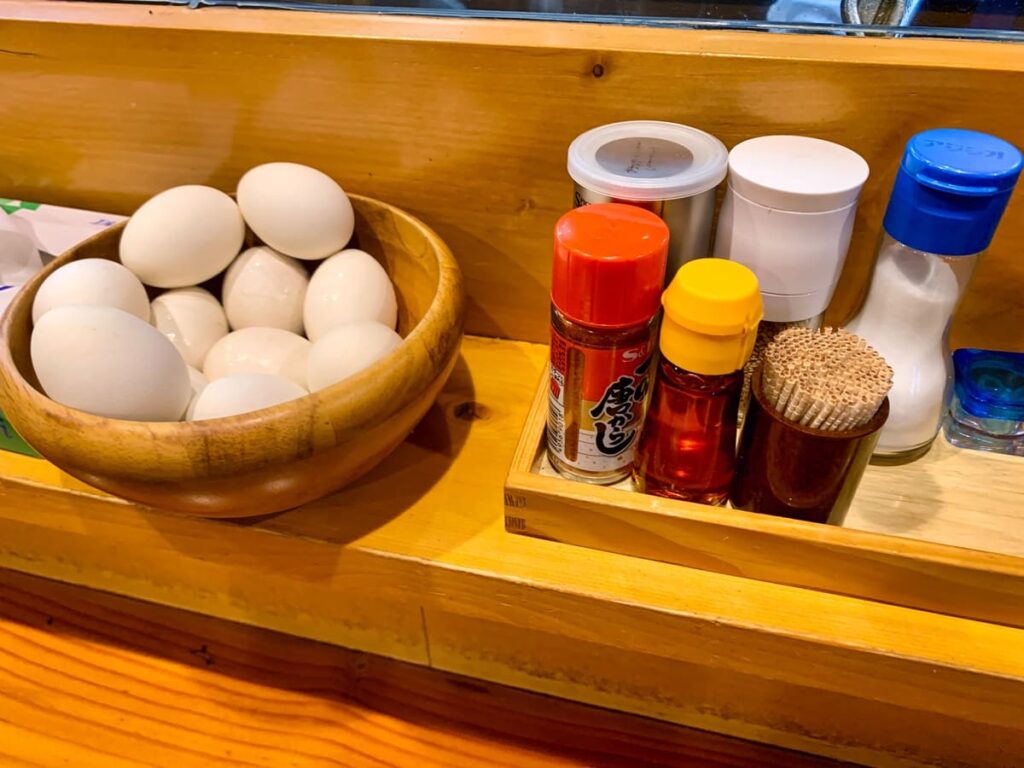 A large amount of boiled eggs next to the seasoning group. In fact, it's free no matter how many you eat. Isn't this surprising? I'll say it again. It's free no matter how many you eat. In the midst of the news that "egg prices are soaring," is it possible to survive with a service like this? As a customer, I'm more worried. You can sprinkle salt on the ramen before serving, or add it to the ramen instead of boiled eggs. If you have such great value service, you'll want to go there even if you skip the ramen…
Try "Miso Char Siu", the most popular menu item at all Shirakaba Sansou Makomanai Head Shop.…
Now, let me introduce you to the miso char siu that I ordered that day, the most popular menu item at all Noodle Shop Shirakaba Sansou stores. It took about 30 minutes from handing over the ticket to receiving the bowl, and for a ramen restaurant it seemed like it took quite a while from ordering to serving the bowl. It was nice to have free boiled eggs…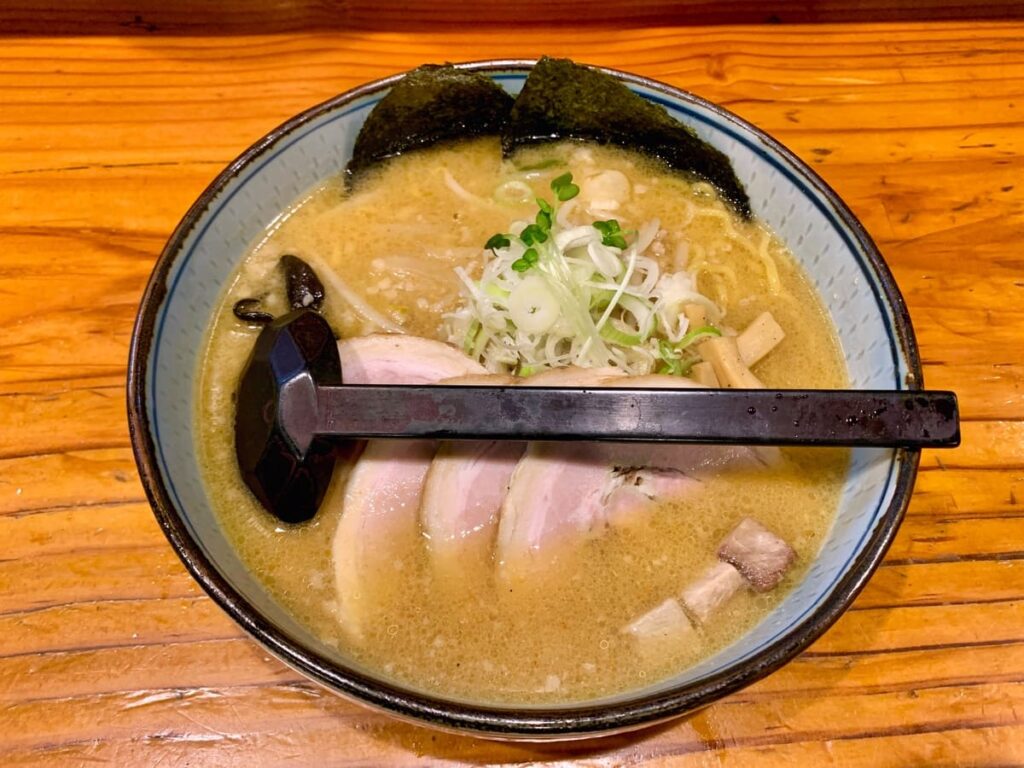 The soup has a slightly white miso color, and the toppings include four slices of rare-colored chashu pork, a block of chashu pork, chopped green onions, grilled seaweed, and menma. It looks like an orthodox miso ramen, and it has a certain sense of stability.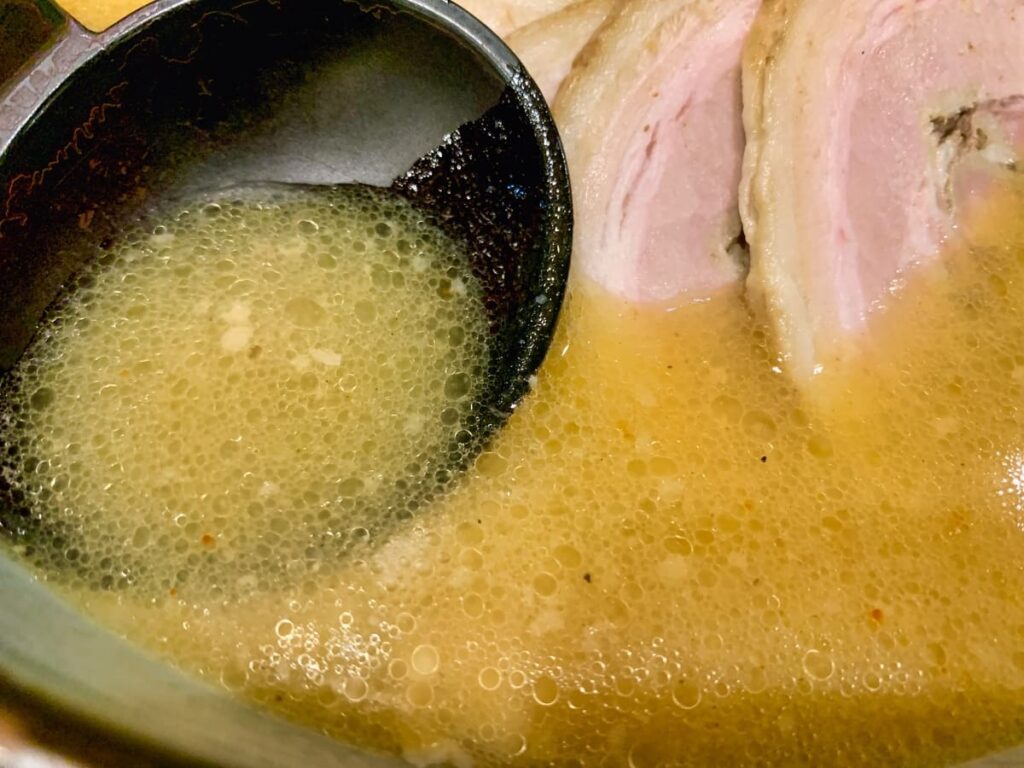 So let's start with the soup…it was a little surprising. Miso ramen generally has a strong impression of having a strong flavor, but this soup is quite light and refreshing. The soup is like miso mixed with a sufficient amount of tonkotsu hot water soup, and just a little chili pepper added to tighten the flavor, so it feels like the miso is used more for flavoring than as the main ingredient. . At best, you could say it's a "gentle soup," but on the other hand, you could also say that it lacks impact as a miso ramen.
According to the shop's website, this soup also contains oyster sauce, sesame oil, and garlic. However, I couldn't really taste any of the ingredients. Does this mean it's a harmonious soup where nothing stands out, including the main ingredient, miso? In fact, the homepage says, "Everything is balance," so I guess it's safe to say that this light, balanced soup is what Shirakaba Sansou is aiming for.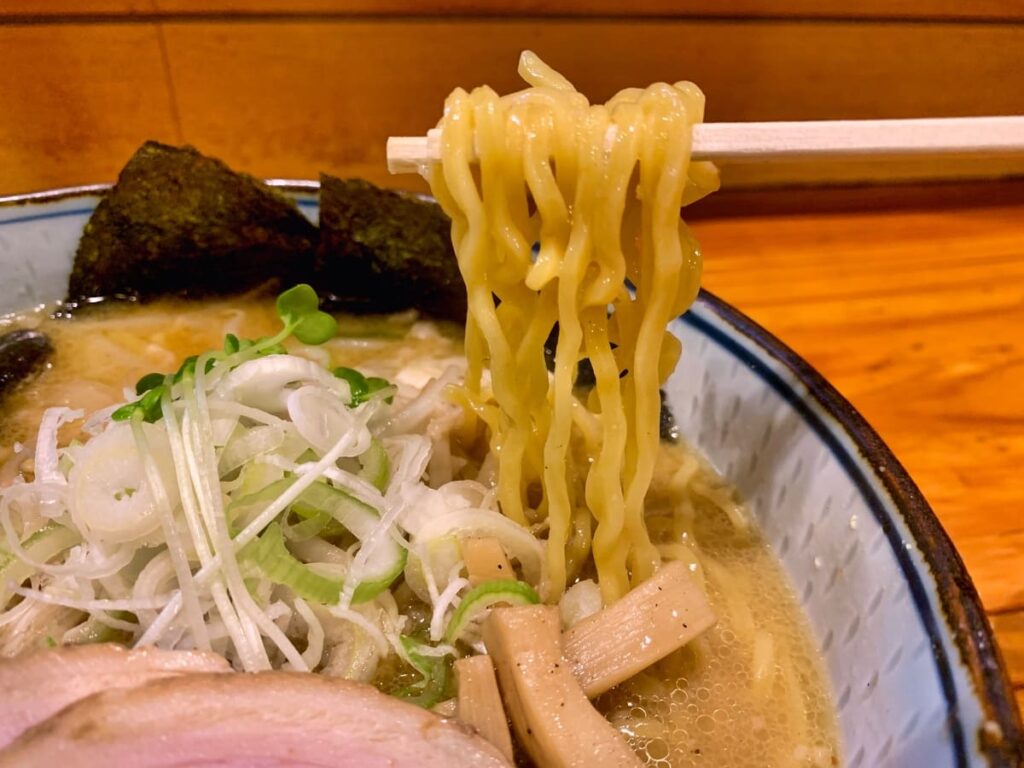 On the other hand, the noodles for this soup are medium-thick curly noodles made by Morizumi Seimen, a prestigious company in Hokkaido. It sucks up the soup well, and in the mouth, the curls lightly irritate the mucous membranes of the tongue and cheeks, while the chewy chewiness gives off a considerable presence. Since the soup is mild, the presence of the noodles stands out even more. Thanks to this, you can feel satisfied that you "ate a good bowl of ramen" after a meal even if you eat a normal portion of ramen.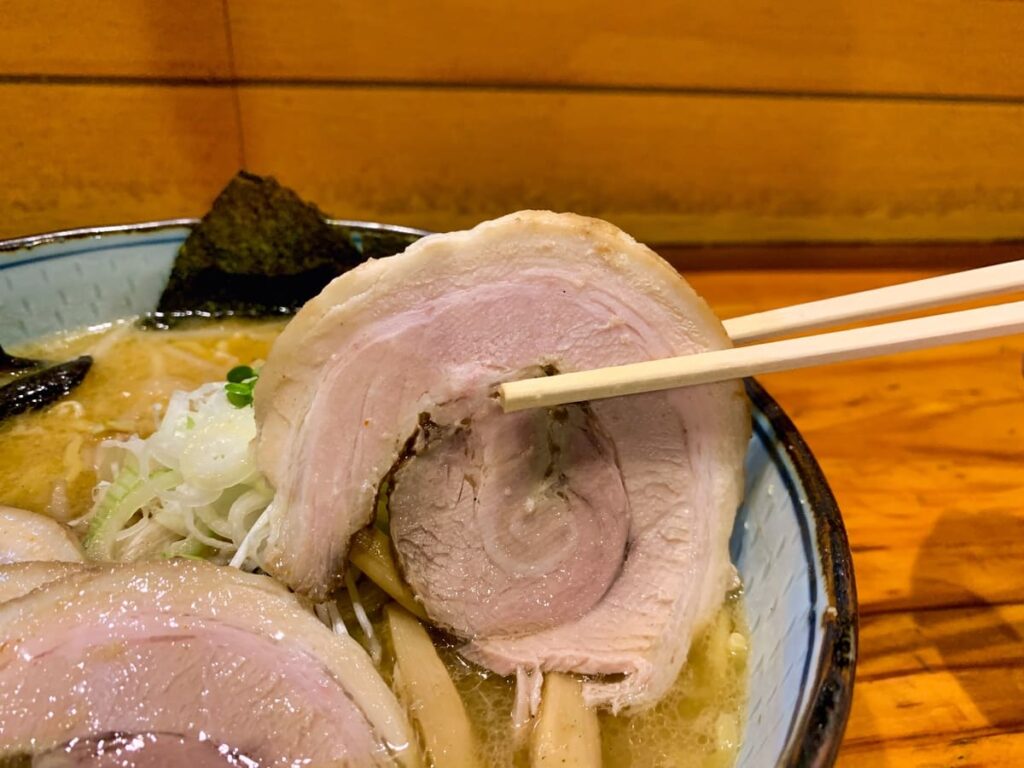 And then there was the pork belly chashu topped with 4 pieces…It looked like it was greasy, but it was surprisingly light and refreshing. It's thinly sliced and soft, so it's very easy to eat, and I think it goes well with light soups.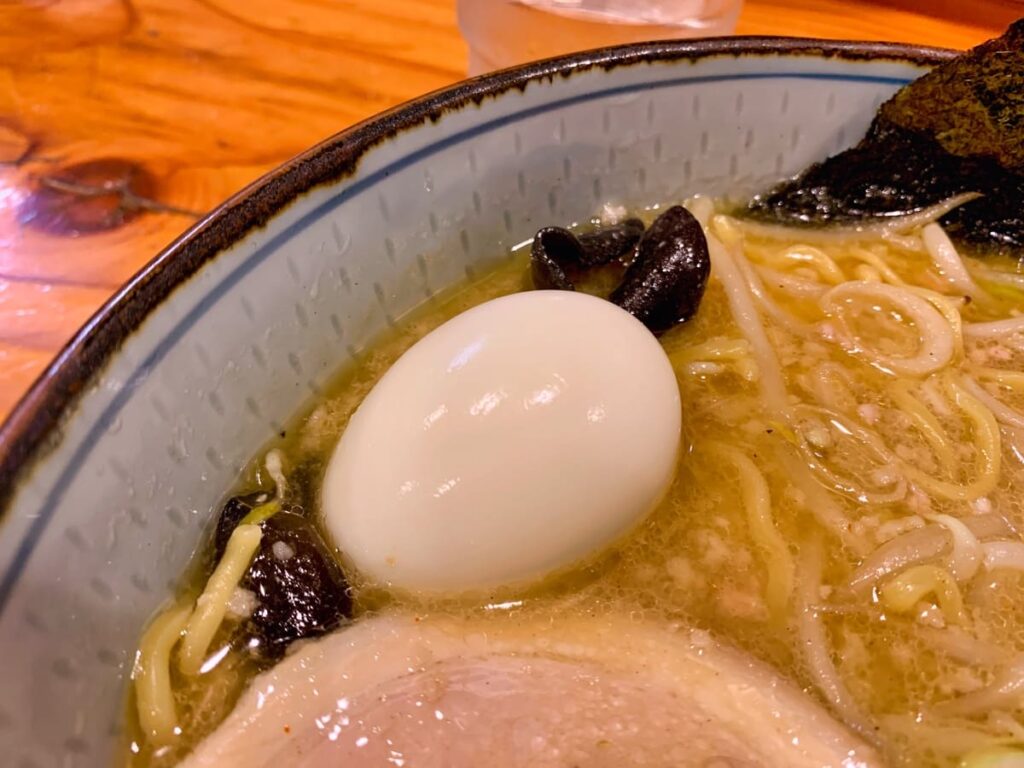 Finally, I thought, "This has to be done after all!" and threw a boiled egg into the soup. In the end, I ended up consuming three boiled eggs that day, two while waiting and one in my ramen. I think I ate a little too much…I'm sorry, the staff. But I find myself reaching for it unconsciously. It was truly divine service.
This is how I finished the most popular menu at Mendokoro Shirakaba Sansou, Miso Char Siu. To be honest, I was a bit taken aback by how mild it was, but I thought it was a cup that would be easily accepted by general customers who don't belong to the so-called rawota (ramen otaku) crowd. It is certainly understandable that it is called "royal road type". I think this miso ramen is pretty good when you want to never miss out on Sapporo miso ramen…
Other menu examples from Mendokoro Shirakaba Sanso Makomanai Main Branch (prices include tax)
Miso 900 yen
Soy sauce 880 yen
Salt 880 yen
Chicken salt 900 yen
Yakimeshi 660 yen
Handmade Gyoza 320 yen
Pork bun 300 yen
There is also free ramen (free!) for preschoolers.
There are a total of 7 affiliated stores mainly in Sapporo city…Access to Noodle Restaurant Shirakaba Sansou Makomanai Head Shop is a 12-minute walk from the nearest station, Makomanai Station on the Sapporo Municipal Subway Namboku Line.
In addition to the Makomanai main store introduced this time, Noodle Restaurant Shirakaba Sansou has seven stores in total, mainly in Sapporo, including Hitsujigaoka and Shinkawa stores. We have locations at the Hokkaido Ramen Dojo in New Chitose Airport, the gateway to Hokkaido, as well as Ganso Sapporo Ramen Yokocho and Sapporo Ramen Republic in central Sapporo, so this restaurant is easy to use not only for locals but also for tourists. . The Hitsujigaoka store, located near the Hitsujigaoka Observation Deck, a tourist attraction famous for its full-length portrait of Dr. Clark, is also popular with tourists. Miso ramen is popular among Sapporo residents, so why not try it while sightseeing in Hokkaido?
Now, here are the store details. Check here for store data…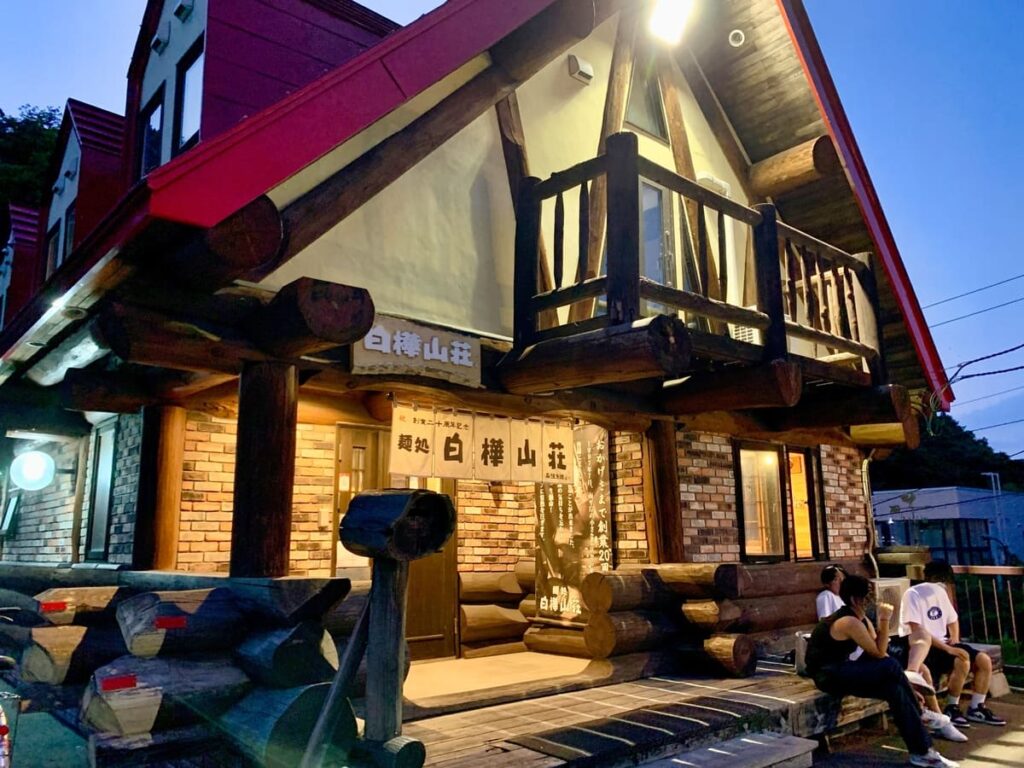 Noodle Restaurant Shirakaba Sansou Makomanai Head Shop Out of 5
Address: 3-1-40 Makomanai Kashiwaoka, Minami-ku, Sapporo, Hokkaido 005-0022
Phone number: 011-522-6276
Business hours: 11:00-21:00
Closed: Year-end and New Year holidays only
Parking: Yes
Credit card payment: Not possible (meal ticket system)
P.S. By the way, Mendokoro Shirakaba Sanso's miso ramen has been commercialized and can be purchased online from Amazon and Rakuten. I'll post a link, so if you're interested, why not give it a try?
P.P.S. If you are looking for delicious ramen in Hokkaido, please stop by this article…
(Visited 1 times, 1 visits today)