Sumire, one of Sapporo's most popular miso ramen restaurants, was founded in 1989 as an offshoot of Sapporo Junren, a legendary Sapporo miso ramen restaurant that continues to operate today. Junren was originally started by Sumire's owner's mother, and in order to fulfill her mother's wish, Sumire opened a store on Nakanoshima, the same land where Junren was founded. After many twists and turns, both stores now operate as completely separate stores, but there is no one who can deny the deep connection between the two stores.
Junren and Sumire have such a deep connection…The one who is generally better known is Sumire, who once opened a shop at the Shin-Yokohama Ramen Museum and achieved great success. What does the miso ramen you can eat at Sumire taste like? In order to verify it, I went to Nakanoshima where the main store is located…
It is recommended to visit the store early, especially if you are using your own car… Sumire Nakanoshima main store is like this …
I left the hotel to arrive at the Sumire Nakano Shimamoto store 45 minutes before the store opened on a certain weekend. I got off at the nearest subway station, Nakanoshima Station, and walked toward the store while referring to Google Maps, but I was simply surprised to see that the store that appeared in front of me was completely different from what I had imagined. I mean…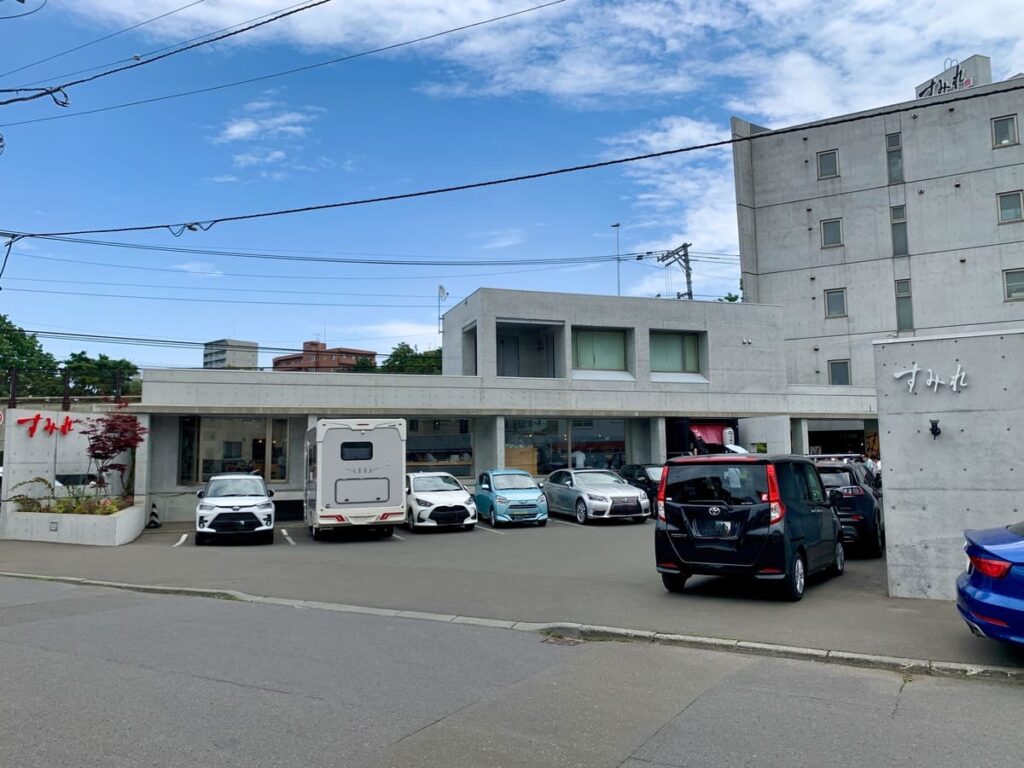 For some reason, the store is located in a building that looks like a luxury condominium where wealthy people live. At first, I thought, "Are there even celebrities lifing here?" The parking space on the premises is spacious, and the scale is unimaginable in the urban centers of Tokyo and Osaka. In addition to a store with a total of 49 seats (of which 5 counter seats) according to Tabelog information, there is a Sumire SHOP" where you can purchase souvenir ramen and original goods in a building that is too unusual for a ramen shop like this. It has been…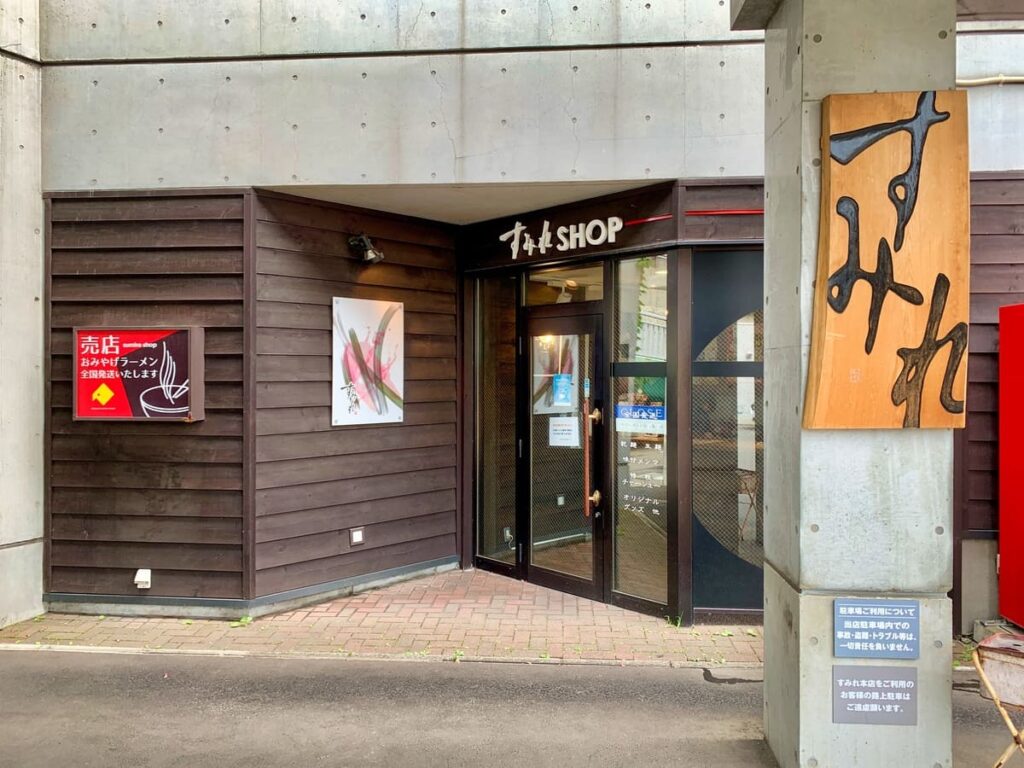 Well, when I actually arrived at the store, there was one customer standing in front of the store, and several other people waiting in their cars in the parking lot. I was second from the front, so I was guaranteed to get in on the first round, but the way the line grew from there until the store opened made me think, "It's such a popular store!"
As the opening time approached, more and more customers arrived in their own cars, and by the time I started lining up for 20 minutes, the parking spaces on the premises were already full. After that, the number of cars that came to the store continued, and they parked wherever there was space, such as on the side of the road or in front of the garage. By that time, the number of customers lining up had become impossible to visually measure; by the time the store opened, there were easily over 50 people, and the store was already full, with another 20 people waiting inside or at the store. I had to wait outside…
Because of this, especially if you are thinking of visiting the store by private car, we recommend that you visit the store as early as possible. You must be careful not to run out of parking spaces and cause trouble to your neighbors…
At the popular Sapporo miso ramen restaurant, Sumire Nakanoshima Main Branch, you can try the original menu, "Miso." Well, how does it taste?
This time, I ordered miso (price: 1,100 yen including tax), which is the original menu of the store at Sumire Nakanoshimamoto branch. I waited less than 5 minutes after ordering, and the ramen that was brought to me looked like this…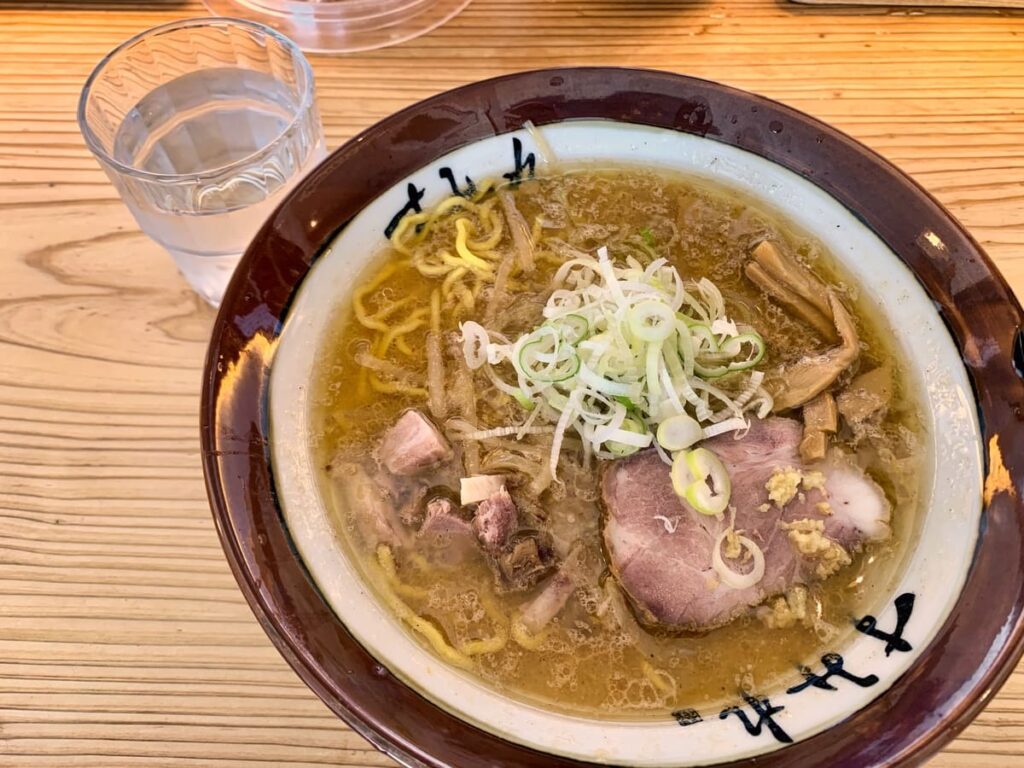 It doesn't look very impressive, but the scent is extremely strong. A fragrant aroma wafts from the bowl. In fact, I could even smell the miso ramen of the customer 1 meter next to me who had finished their bowl first…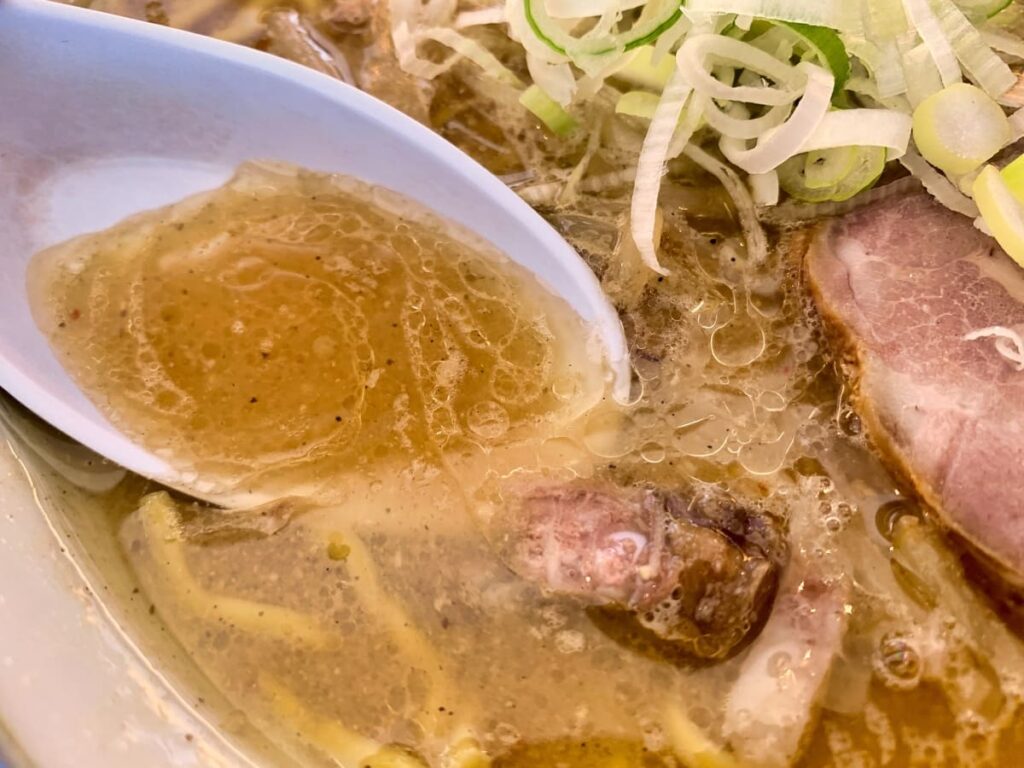 Now, let's start with the soup…The soup has so much lard that it forms a film, so the first bite is quite oily. And, because of that, there isn't much steam coming out of the bowl, but the soup is actually quite piping hot. First of all, you need to be careful not to burn your tongue.
However, once you get past the heat, you'll find a rich miso flavor that doesn't overpower the richness of the lard…maybe there's a hint of garlic as well? You can also feel the spiciness. Some people may not like the rich lard and find it "unpalatable," but I love the taste and aroma.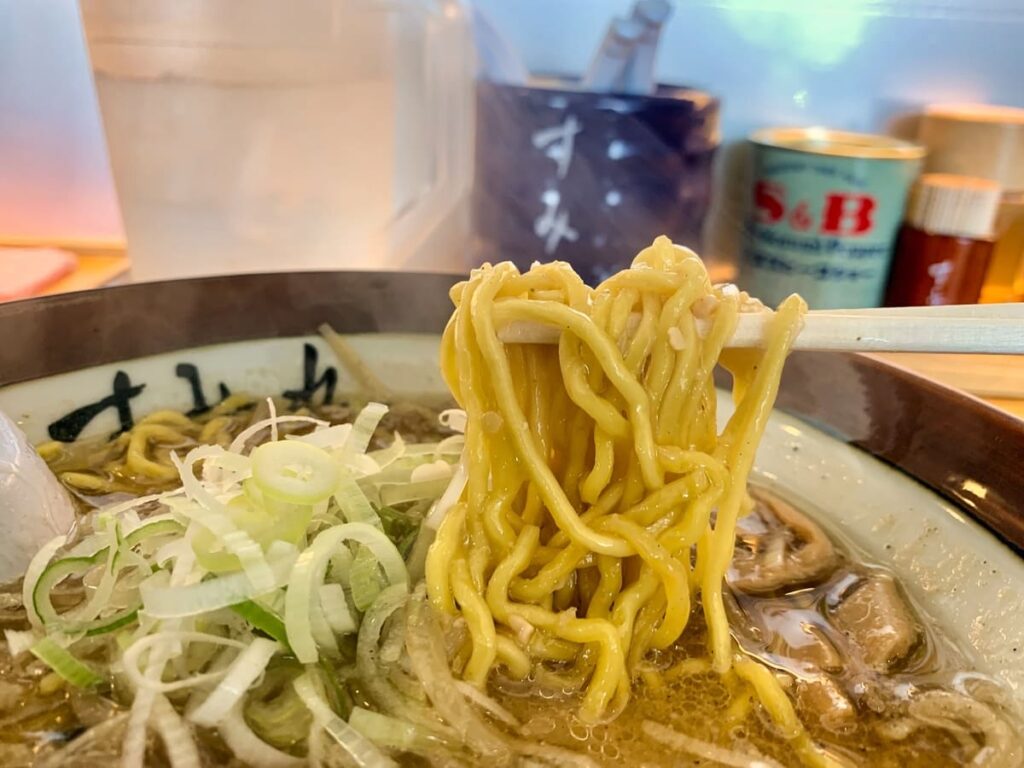 The noodles for this are medium-thick curly noodles with egg made by Sapporo's prestigious Nishiyama Seimen. They used to use Morizumi Seimen noodles, but this seems to have changed a few years ago. If you are particular about your noodles, please take note. The noodles are boiled to a firm consistency, and the plump curls pleasantly stimulate the mucous membranes of your cheeks, giving you a very hard chew with each bite. It has a strong presence that rivals the rich miso soup…I think I can understand why this ramen has become the representative Sapporo miso ramen.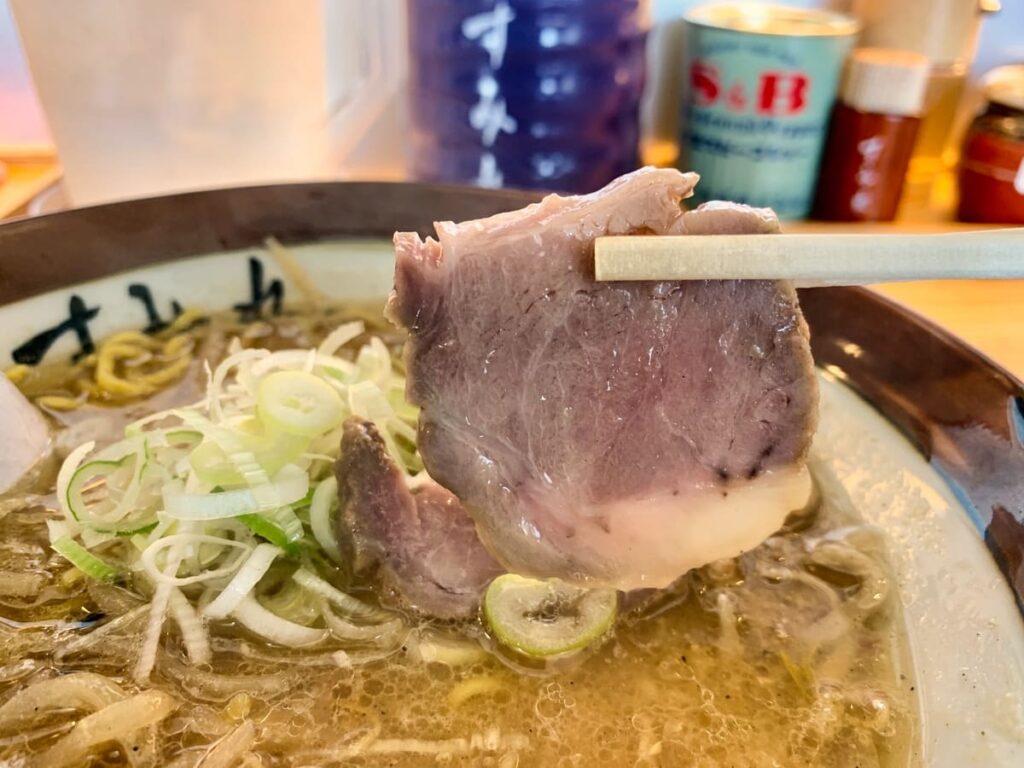 Now, this miso ramen contains one slice of chashu pork and a small amount of block pork, but this chashu is so soft that when you hold it with chopsticks, it succumbs to gravity and easily falls apart. When you put it in your mouth, it instantly falls apart, releasing the delicious flavor of the red meat and slipping down your throat. Compared to soup and noodles, this char siu has a weaker impact. When I ate it, I felt that the ephemerality of the chashu pork was also great.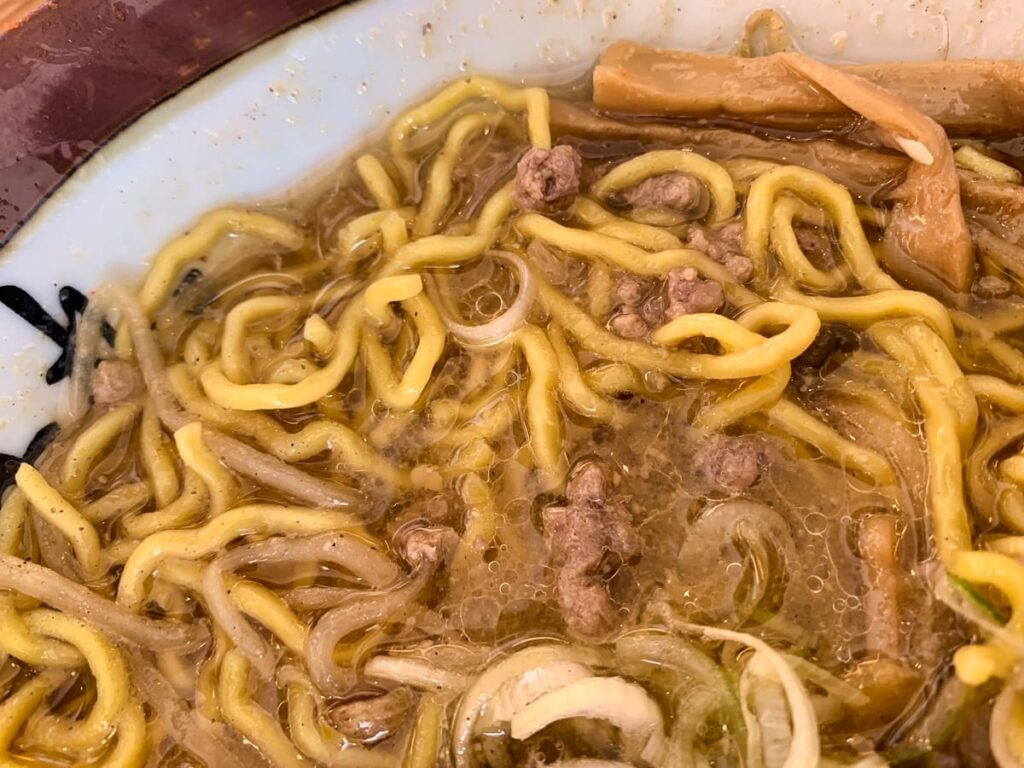 As I continued to eat the noodles, a large amount of minced pork came out from inside. Apparently this is the true identity of the fragrance. Minced pork goes well with miso ramen, right? The chewy texture and the meat juices that slowly ooze out, along with the fragrant aroma that spreads from your mouth to your nose…the taste has changed drastically from the lard taste in the first half, and you'll be able to keep eating until the end without getting bored. I can.
The miso ramen at Sumire Nakanoshima branch looked like this, and it was a rich ramen with a strong impact, in contrast to the miso ramen at Shirakaba Sanso that I ate two days ago. After all, the key point is the large amount of lard. I feel like the impression of the taste will change greatly depending on whether you accept this or not. Well, the lard has an oil film that creates a heat-retaining effect, so I think it's good that it doesn't get cold easily, especially during the cold winter months. Let's take that as "Sapporo" miso ramen…
Other menu examples of Sumire Nakanoshima main store (prices include tax)
Soy sause 1100 yen
Old style (light soy sauce) 1100 yen
Salt 1100 yen
Miso kimchi 1400 yen
Minced meat rice 350 yen
Rice rice 500 yen
Fried rice 800 yen
Note: You can order a large bowl of noodles for an additional 200 yen, and char siu noodles for an additional 300 yen.
There is also a branch in Susukino and Yokohama…To access the Sumire Nakanoshima main store, it is a 9-minute walk from the nearest station, Nakanoshima Station on the Sapporo Municipal Subway Namboku Line.
Sumire, a popular Sapporo miso ramen shop, is open at four locations in addition to the Nakanoshima branch that we introduced this time, Susukino branch, Satizuka branch, and Yokohama branch. If you have a shop near you, please try the taste of one of Sapporo's best miso ramen. You can also order raw noodle-type bag noodles online from Amazon and Rakuten, so if you can't go to the store, why not try them online? I have posted a link to the mail order page below, so please use it if you like.
Now, here are the store details. Check here for store data…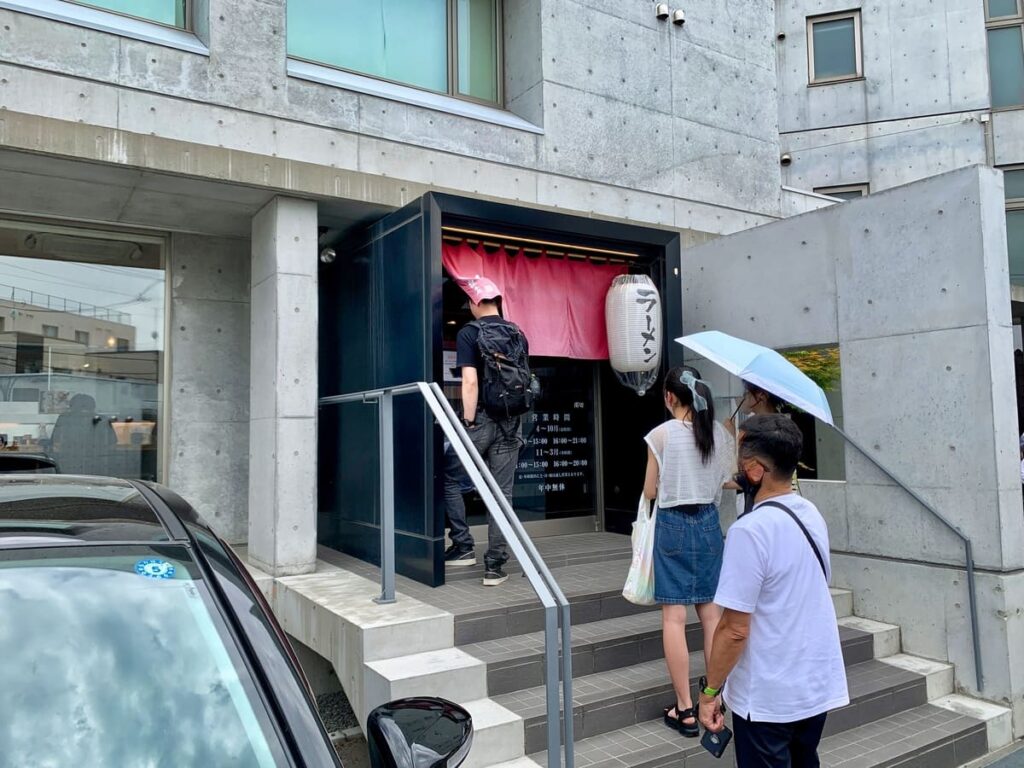 Sumire Nakkanoshima Main Store 
Out of 5
Address: 7-28 Nakanoshima 2-jo, Toyohira-ku, Sapporo, Hokkaido 062-0922
Phone number: 011-824-5655
Business hours: 11:00-15:00, 16:00-21:00 (closed at 20:00 in winter, open all day on weekends and holidays)
Regular holiday: No holidays
Parking: Yes
Credit card payment: Not possible (electronic money and transportation ICs are supported)
(Visited 8 times, 1 visits today)