Oniyanma, a stand-up Sanuki udon specialty store that was born in Gotanda in 2010 and is causing a stir in Tokyo's udon industry, opened its first store outside Tokyo's 23 wards on July 9, 2022. The place of interest is Kichijoji, which was ranked number one in the 2022 ranking of the best places to live in Tokyo. Kichijoji has long been known as one of Tokyo's best gourmet towns, so it's only natural that a chain store like Oniyanma would consider opening a store there.
One evening after I went to West Tokyo for business, I felt like having a quick bite of Sanuki udon on the way home, so I got off the Chuo Line at Kichijoji Station and went to the new Oniyanma Kichijoji store. The store is located along Inokashira Street, just outside the south exit (park exit) of Kichijoji Station. People who live around Kichijoji Station will be happy to be able to eat the popular standing Sanuki udon near the station…
It's a stand-up udon restaurant, but the interior is relatively relaxing… Oniyanma Kichijoji branch is like this
Like other affiliated stores, Oniyanma Kichijoji store has a system where you purchase a meal ticket from the ticket vending machine at the store before entering the store.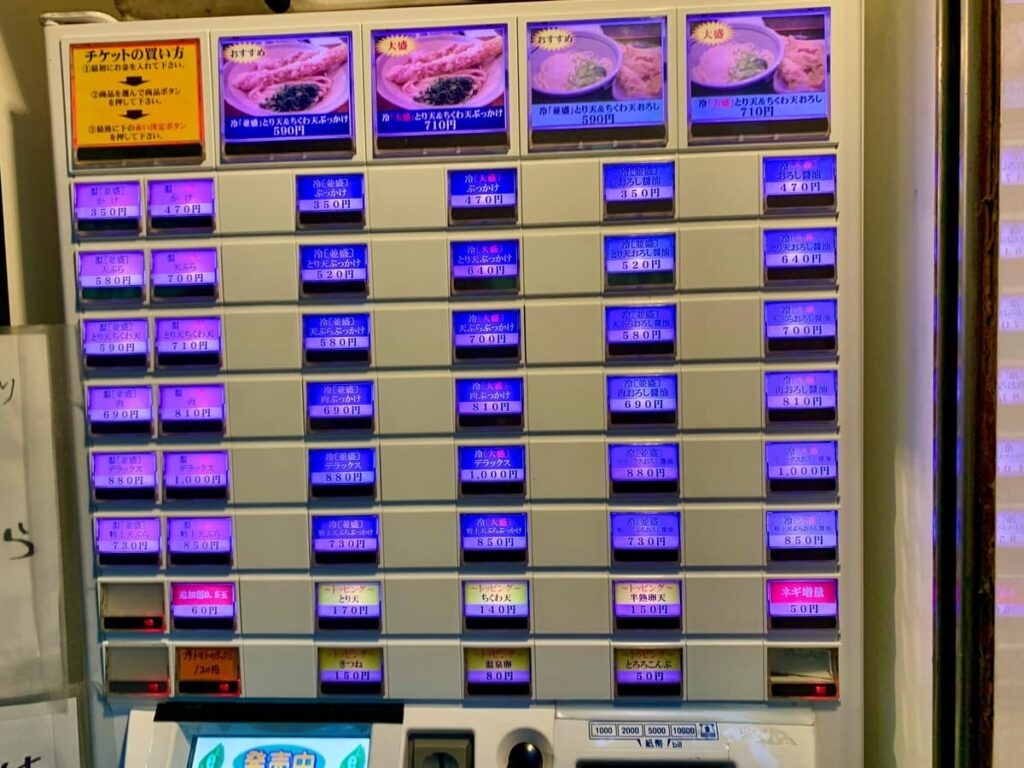 The interior of the store is designed so that the kitchen is in the center and the seating area surrounds it in a U-shape.As you face the front of the store, you enter through the entrance on the left and immediately order Sanuki udon from the serving port on the right. A system has been established in which customers move in a one-way flow: they pick up their food, go ahead, slurp their udon noodles at the standing table, return their dishes to the return slot, move on, and exit through the exit on the right. This flow line is common to all Oniyanma stores, and most tasks other than cooking are self-service. In a sense, it can be said that the system is simpler than the standing soba restaurant in the interior.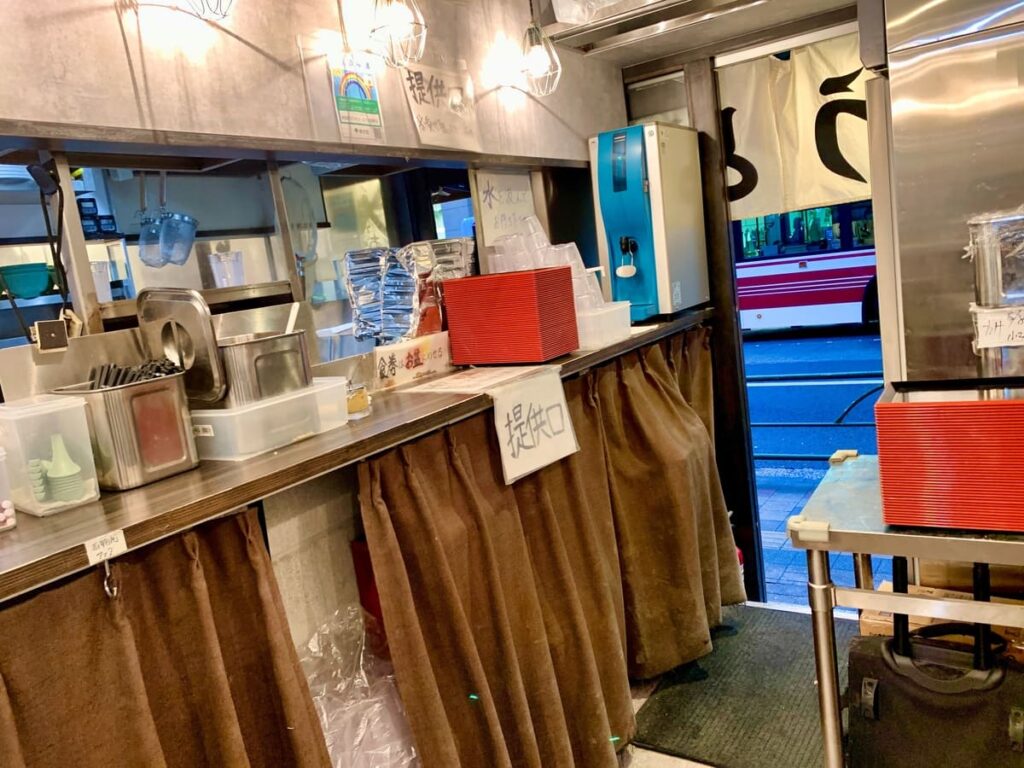 Inside the Oniyanma Kichijoji store, there is counter space for a total of 14 people. There is enough space to pass behind customers sipping udon, so it's still relatively relaxing, although not as much as the Shinbashi store. I think you can store your luggage without it being too much of a nuisance if you carry it around to work. If you're a quick eater, you'll be able to come out within 5 minutes of entering the restaurant, so it's perfect for a light meal when you're feeling peckish.
The quality of the udon is stable…Eating chilled tori tempura grated soy sauce at Oniyanma Kichijoji branch
Well, this time I ordered a regular-sized chilled tori tempura grated soy sauce (520 yen including tax) at Oniyanma Kichijoji branch. The udon that came out looked like this…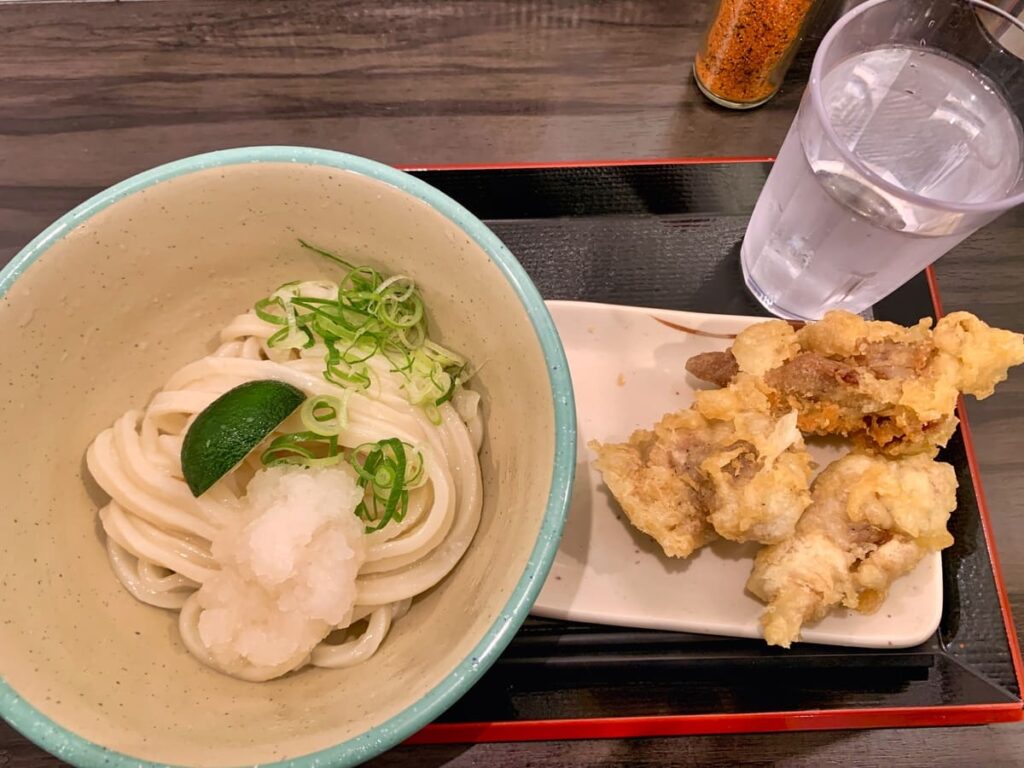 The udon bowl contained grated daikon radish, chopped green onions, and vinegared oranges, and on a separate plate were three egg-sized pieces of chicken tempura. The size of the udon noodles this time is average, so it may not seem like it has enough volume, but don't worry, it's not as small as the Sanuki udon at other restaurants.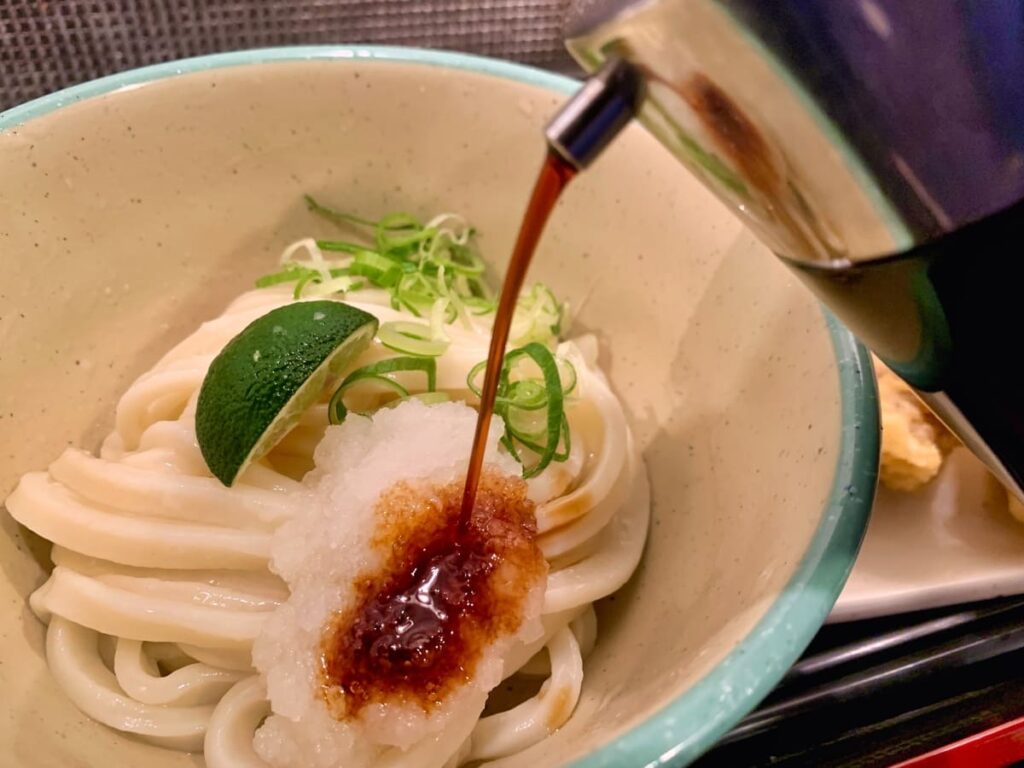 Sprinkle the dashi soy sauce provided at the table over the udon noodles and mix it up…The surface is smooth, and you can enjoy both firmness and firmness at the same time. quality. The crunchiness of the grated daikon radish and the flavor of the soy sauce are added to the noodles, greatly amplifying the pleasure of the noodles going down your throat. Even after the udon passes down your throat, the scent of soy sauce and wheat wafts towards your nose.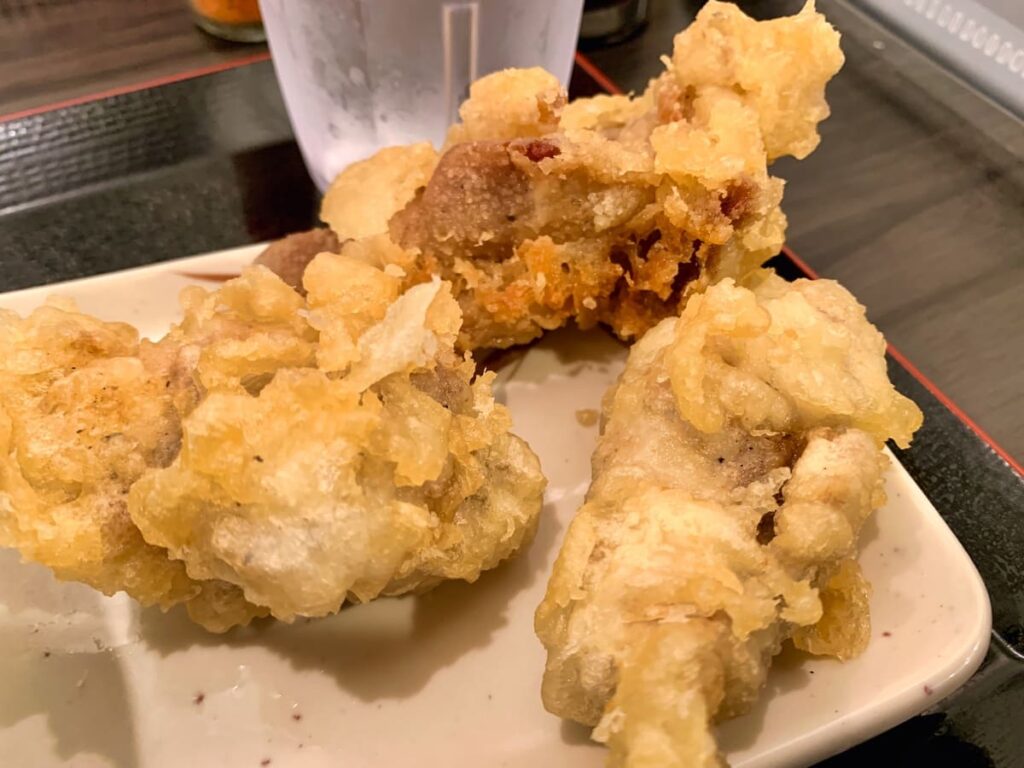 The chicken tempura, on the other hand, has a slightly thicker batter, allowing you to enjoy the crunchy texture and juicy meat juices from the thigh meat. This time, we are not making udon noodles with dashi soup, so we cannot eat the tempura by dipping it in the soup stock, but this chicken tempura is lightly seasoned with soy sauce, so you can eat it as is without adding anything. Of course, you can eat it by dipping it in dashi soy sauce, or you can also eat it by squeezing the vinegar citrus that comes with the udon. It comes with three pieces of chicken tempura, so you can enjoy a variety of seasonings with this one dish.
It's not just about udon, but the quality of food at chain restaurants can vary depending on the restaurant, but I think it's safe to say that at Oniyanma Kichijoji, you can enjoy Sanuki udon of the same quality as at the Gotanda main store. Masu. In Kichijoji, there is a competing store called Ibuki Udon, which is also a Sanuki udon specialty store, but we would like to see them work together to increase the popularity of Sanuki udon in Kichijoji.
It seems that all menus can be taken out…To access Oniyanma Kichijoji branch, it is a 1-minute walk from Kichijoji Station on the JR Chuo Line (Keio Electric Railway Inokashira Line), the nearest station.
This is what Oniyanma Kichijoji store looks like, but it seems that all menu items are available for takeout. Moreover, you can choose between fresh noodles and boiled noodles depending on your needs. I wonder if Oniyan offers take-out udon noodles at other restaurants I've been to… To be honest, I don't remember, but Kichijoji is a commuter town, not a business district, so it's aimed at people who can cook at home. I think it makes sense to sell fresh noodles to take home. If you live in Kichijoji and feel like eating delicious Sanuki udon at home, please try the takeout from Oniyanma Kichijoji branch.
Now, here are the store details. Check here for store data…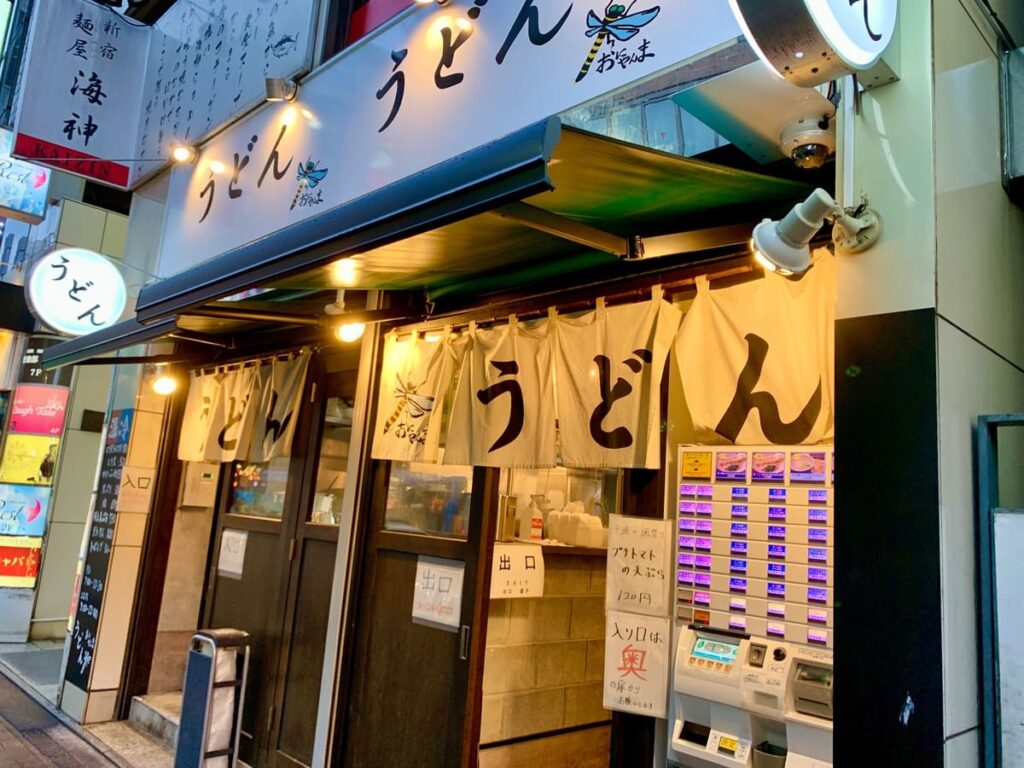 Oniyanma Kichijoji Out of 5
Address: Kumamoto Building 1F, 1-5-9 Kichijoji Minamicho, Musashino City, Tokyo 180-0003
Phone number: Not disclosed
Business hours: 7:00-22:30
Regular holiday: No holidays
Parking: None
Credit card payment: Not possible (meal ticket system)
(Visited 9 times, 1 visits today)