There is a sushi restaurant called Sushi Kourin that started operating in Shibuya, Tokyo in April 2021, and was suddenly listed in the Michelin Bib Gourmand in 2022. This restaurant opened as the third branch of Sushi Sotatsu in Hatsudai, which is also a Bib Gourmand restaurant. Although it is a young shop that has only been open for two years, reservations are already quite difficult.
I found out about this restaurant on YouTube, so I immediately took out my smartphone and made a reservation for my next visit to Tokyo. Fortunately, I was able to find a seat, and one weekend night I went to Oku-Shibuya where the restaurant was located…
Recommended when you want to go on a date… Sushi Kourin, a restaurant listed in the Michelin Guide in Shibuya, is like this…
When I made my reservation around 8pm, the 12 seats at Sushi Kourin's counter were almost full. I sat down at the only empty seat and calmed myself down with some oolong tea.
Looking around, I noticed that a large percentage of the customers at that time were young people who looked like they were in their 20s. There were people eating alone with a glass of Japanese sake in their hands, and two people who looked like they were on a date… It really felt like normal young people casually coming to enjoy sushi. The plain wood counter, similar to those used in high-end sushi restaurants, gives off the atmosphere of "sushi that doesn't turn around," but the owner is very friendly, so it doesn't feel oppressive at all. Even if you've never eaten sushi at a counter before, you can feel at ease here.
It's a restaurant like that, so I really recommend it when you want to go on a date. You can enjoy the same style as a high-end sushi restaurant, and the prices are reasonable. Well, it's going to be a difficult restaurant to make reservations for. If you are reading this article and are interested, please take a look.
Sushi Kourin's sushi menu costs up to 980 yen each! Moreover, it seems that you can even take out…
Sushi Kourin's menu is…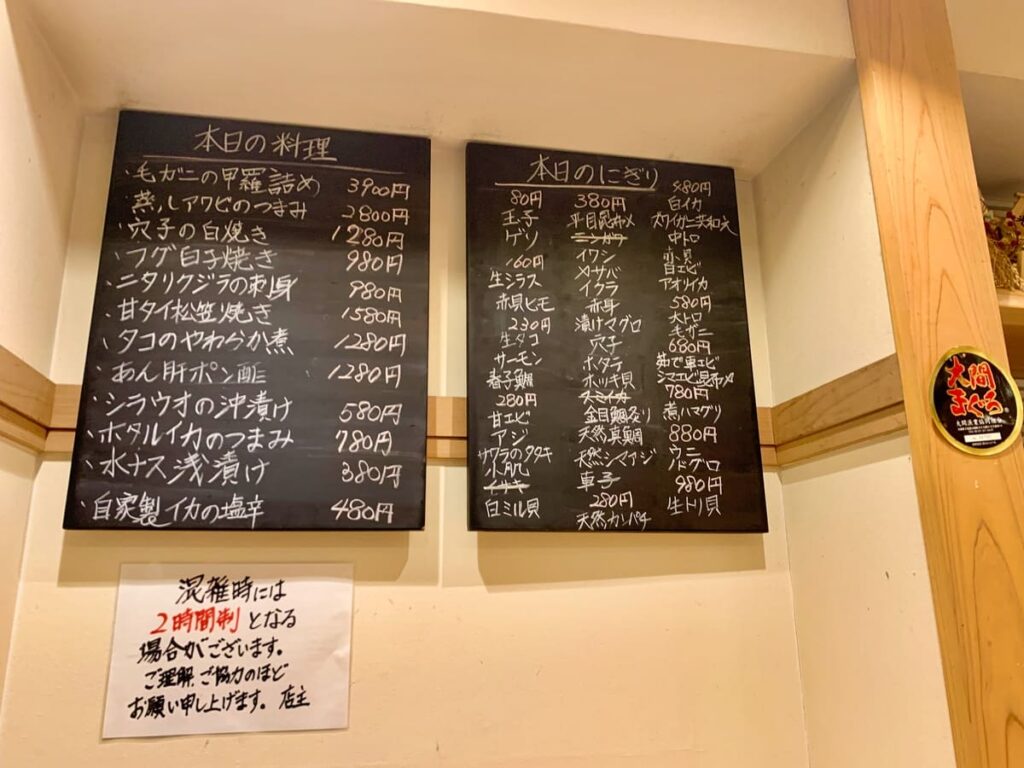 Like this, the cheapest nigiri is just 80 yen! The most expensive item is 980 yen, and all prices are clearly displayed (prices do not include tax. There is a separate seat fee of 480 yen per person). With this, you can feel safe and order according to your financial situation. Unless you're a big eater, you probably won't eat more than 10,000 yen when you eat your fill of sushi.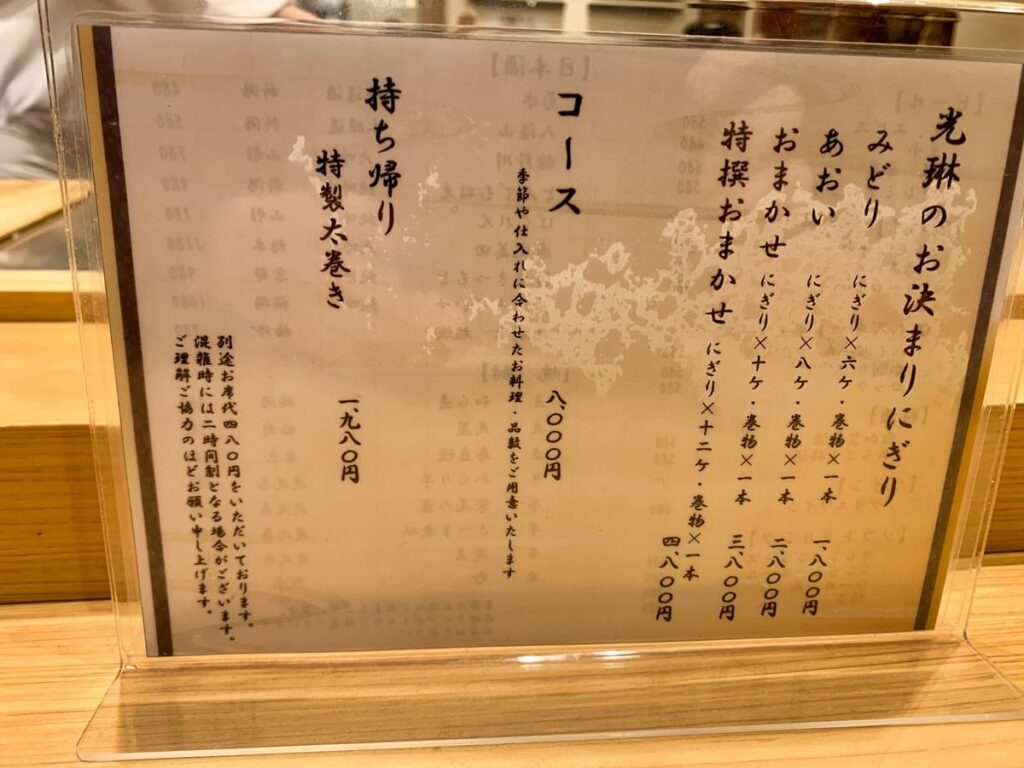 Also, when ordering the sushi, the special omakase, which includes 12 pieces of sushi and a roll, is reasonably priced at 4,800 yen. With this, you don't have to wake up early in the morning and wait in line at Sushi Dai or Daiwa Zushi at Toyosu Market. Moreover, it seems that Sushi Kourin is also available for takeout. If you can't make a reservation, you may be able to take it home and eat it at your home or hotel…
What is Sushi Kourin's omakase course like? You can eat all this for just 8000 yen…
Now, let me introduce the omakase course (price: 8,000 yen + tax) that I ordered at Sushi Kourin in the order in which it appeared…
Ichiban soup stock of freshwater clams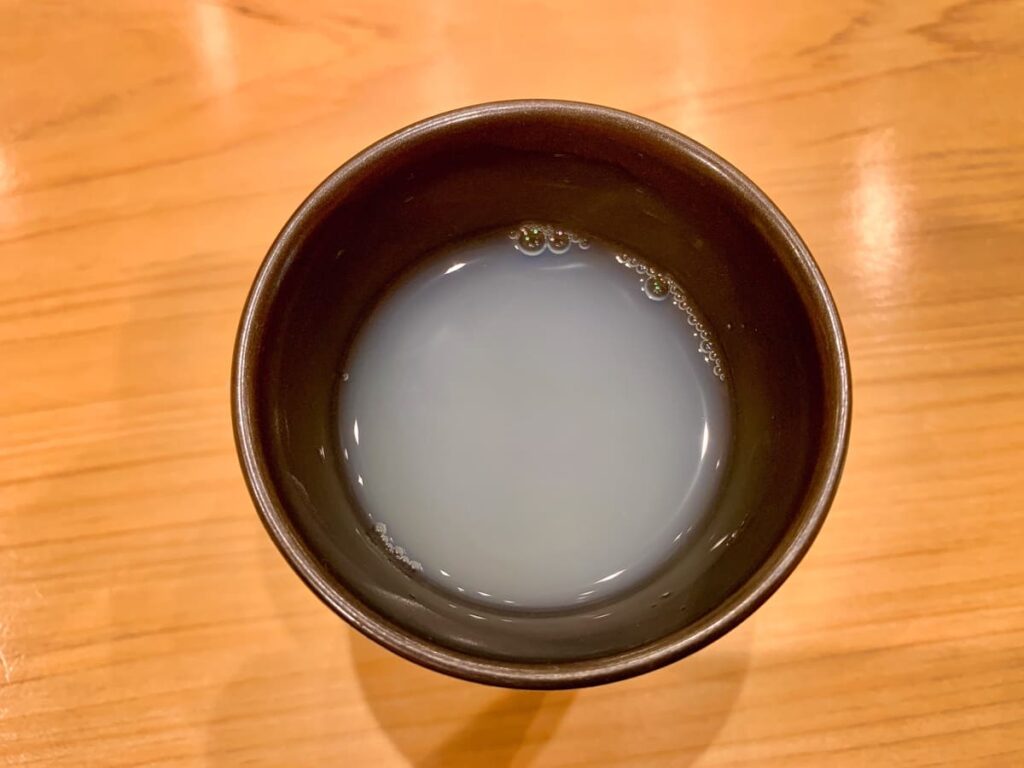 As an appetizer, the first dashi soup of the clam came out. As you can see, the clam stock is very rich! However, it was easy to drink as there was little astringency.
Mozuku vinegar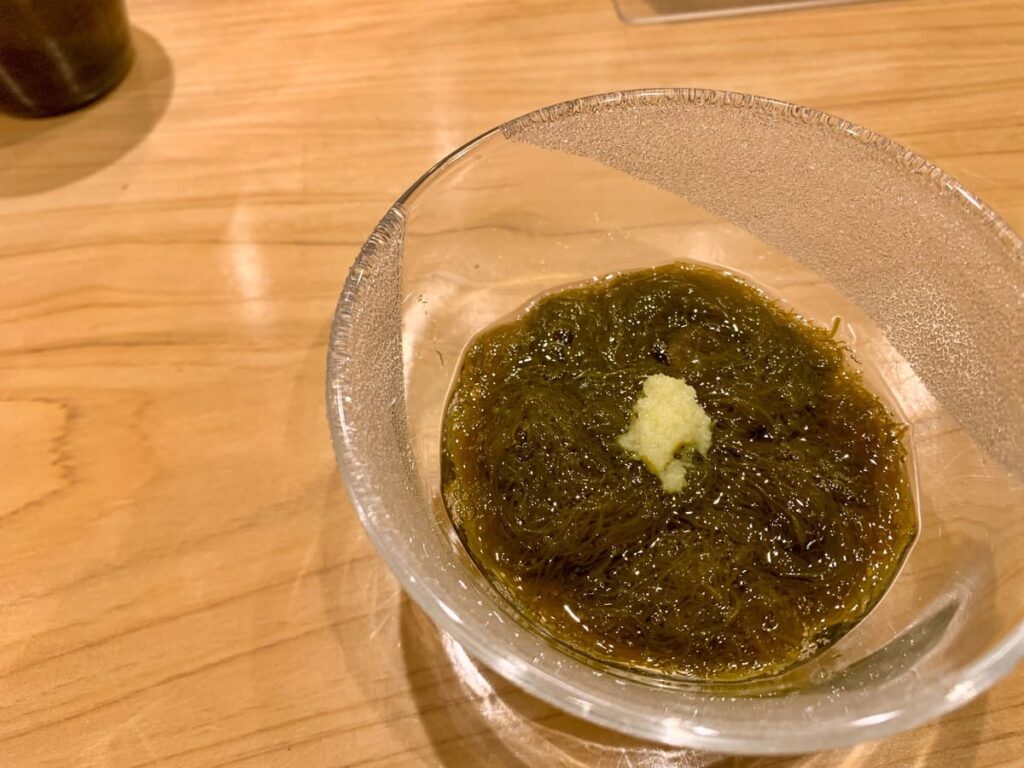 Next came mozuku vinegar. The sourness of the vinegar was modest, and the taste and texture of the mozuku itself was strong.
Seared Spanish mackerel and Bryde's whale sashimi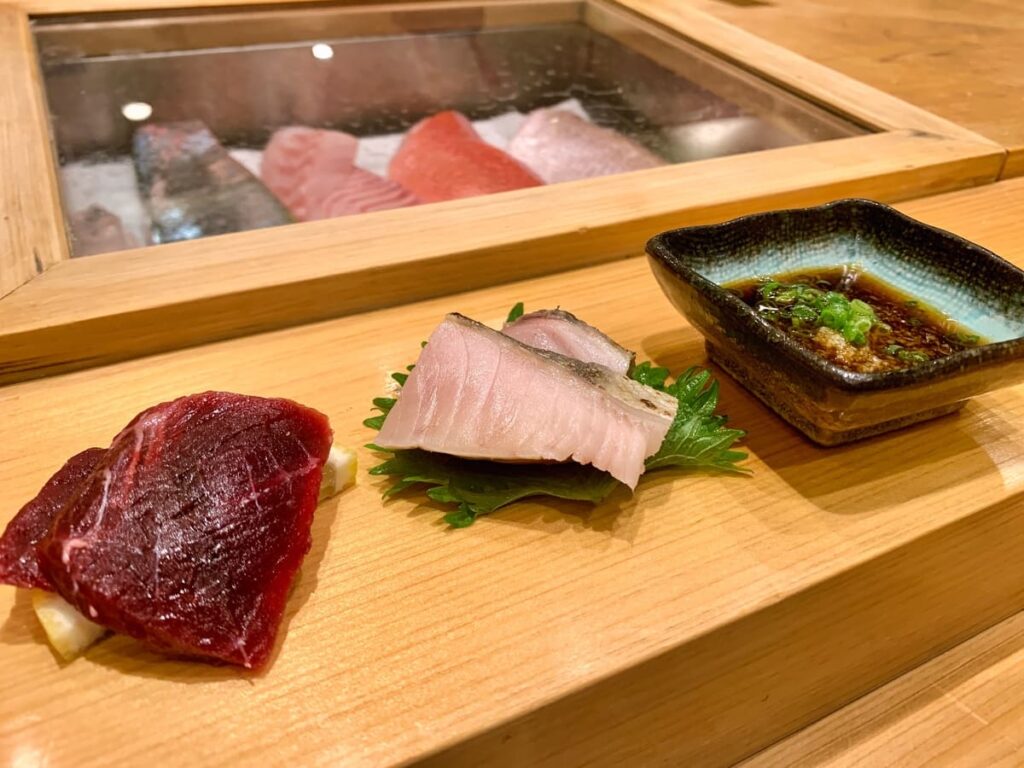 The third item is seared Spanish mackerel and Bryde's whale sashimi. Served with soy sauce and chopped onions. The aroma of Japanese mackerel grilled with straw wafted from my mouth to my nose, and my head felt crispy. The meat of Bryde's whale was soft and easy to eat without any taste.
Flounder with kelp and bigfin squid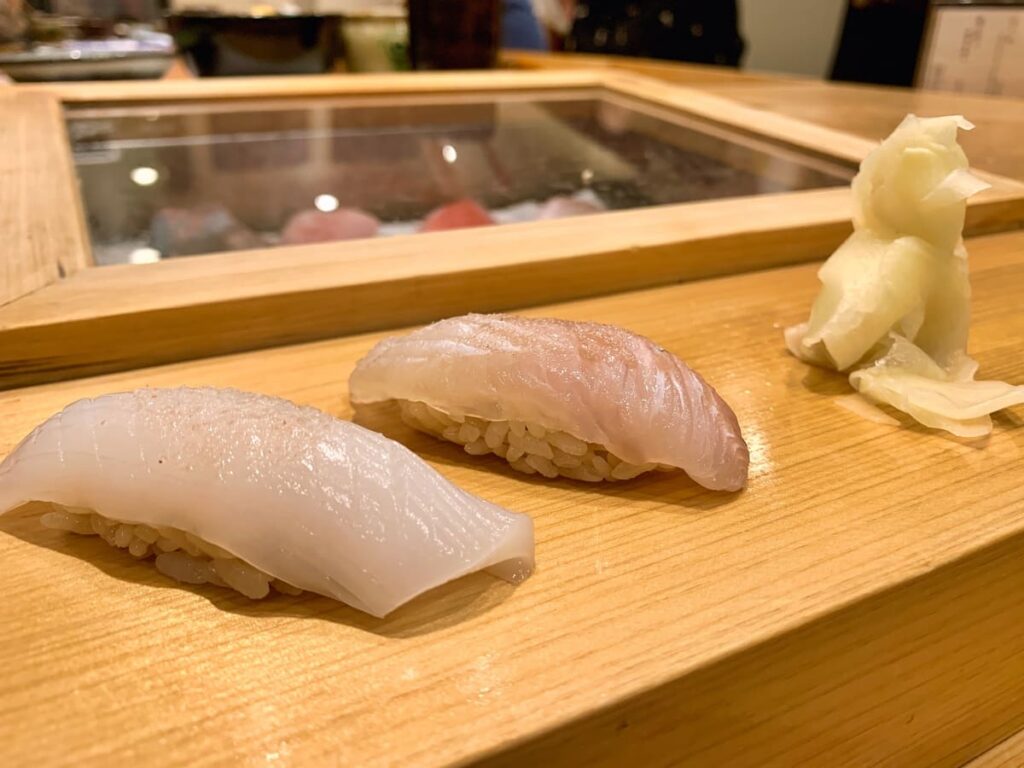 The nigiri sushi starts from here. At Sushi Kourin, they serve two pieces of nigiri like this. First of all, flounder with kelp and bigfin squid. Every time you bite into the flounder, you can taste the flavor inside. Bluefin squid, on the other hand, is thick and allows you to enjoy the crunchy and sticky texture of the meat at the same time. It was lightly seasoned with salt and lemon juice.
Firefly squid snack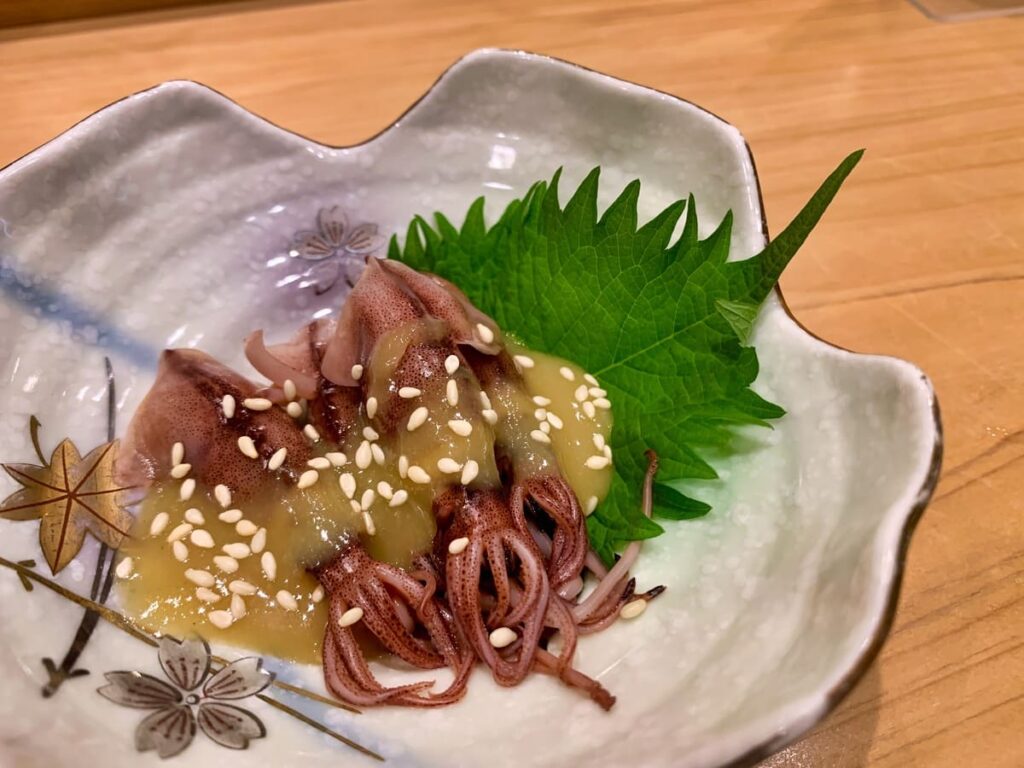 I thought the nigiri would continue like this, but then a snack of firefly squid from Toyama came out. The firefly squid is lightly grilled, and just like the seared Spanish mackerel, when you put it in your mouth, it has a fragrant aroma. The seasoning is nuta vinegar and white sesame…I didn't drink alcohol this time, but this is a great dish to go with alcohol.
Shrimp and sardines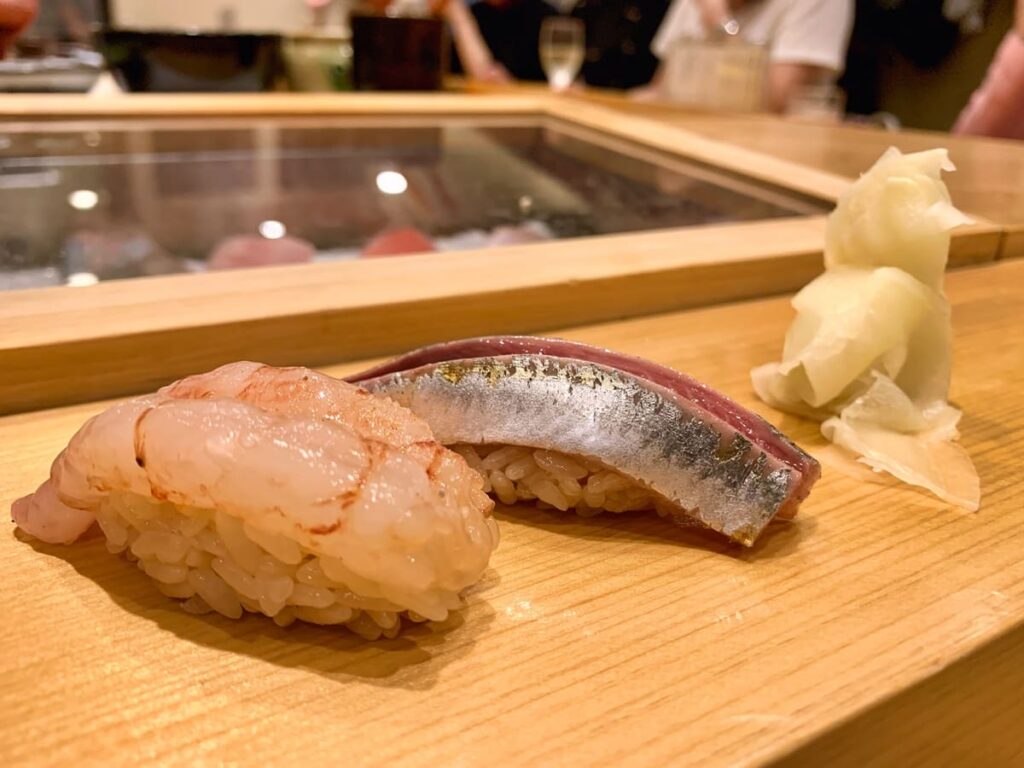 Back to the nigiri and the shrimp and sardines. The plump striped shrimp is seasoned with salt and lemon, and the grassy sardines are seasoned with soy sauce.
Isobe-yaki scallops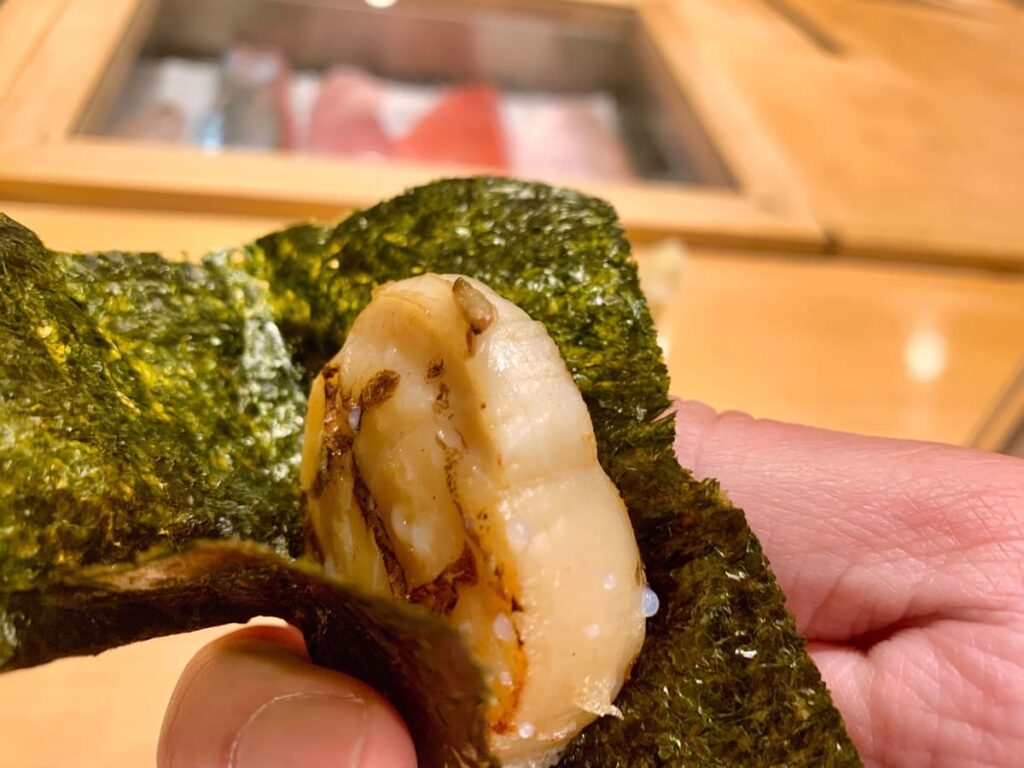 Just as I finished eating the striped shrimp and sardines, the owner handed me Isobe-yaki scallops. The scallops are thick and chewy, and when you bite into them, the flavor of the scallops gradually spreads in your mouth, and the aroma of the seaweed spreads from your mouth to your nose.
Medium fatty tuna and white clams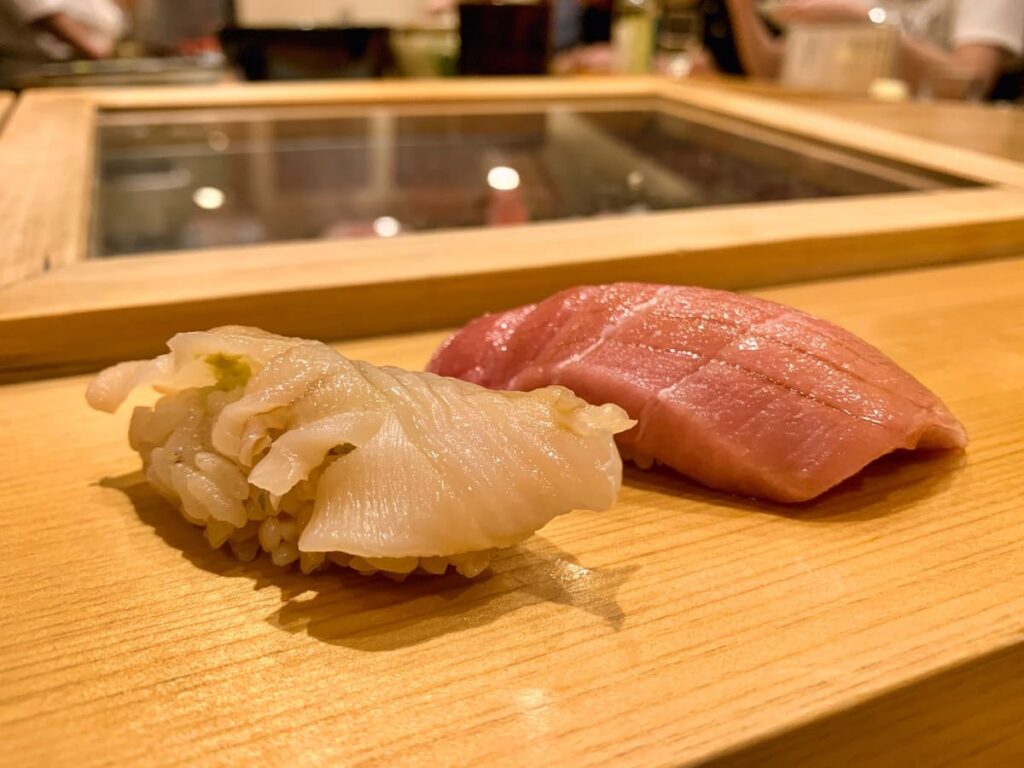 The highlight of the nigiri sushi that came out here was the medium fatty tuna. This time it seems to be tuna from Iwate Prefecture. The medium-fatty tuna, where you can enjoy the sweetness of the fat and the elasticity of the meat at the same time, was quite an interesting contrast to the pale, crunchy texture of the white clams.
Grilled mafugu milt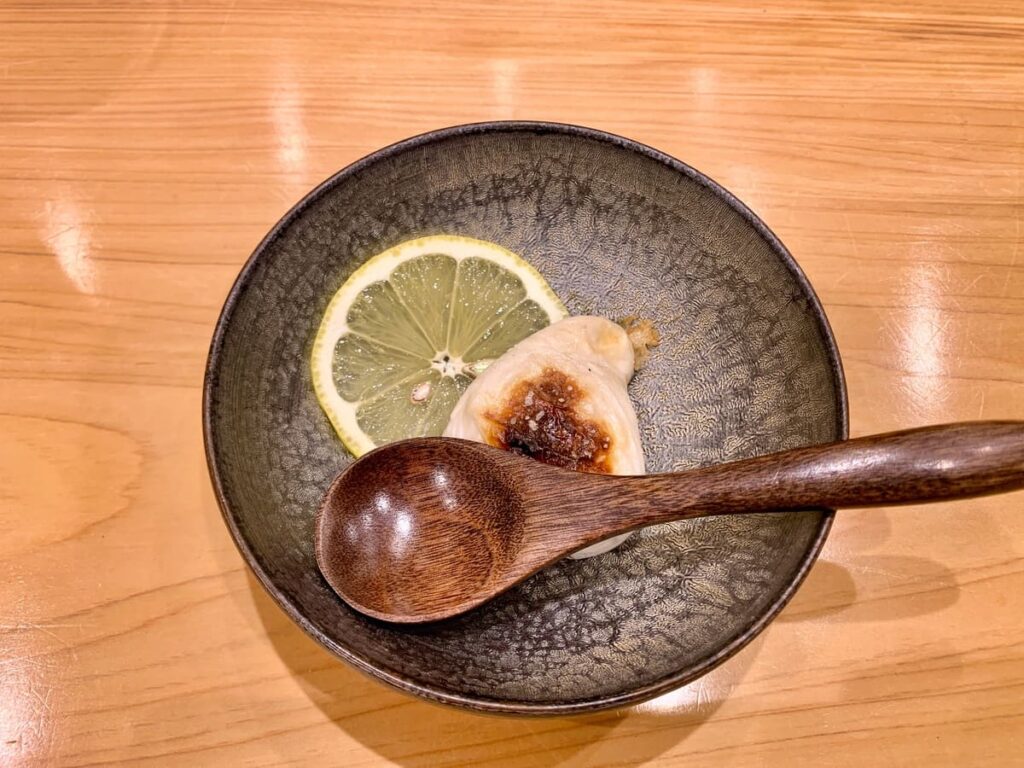 Grilled pufferfish with milt…I haven't had pufferfish milt since Koise, a sushi restaurant in Yamagata. As you can see, the surface is fragrant, and the milt extract flows out from inside.
Mantis shrimp and striped horse mackerel seasoned with vinegar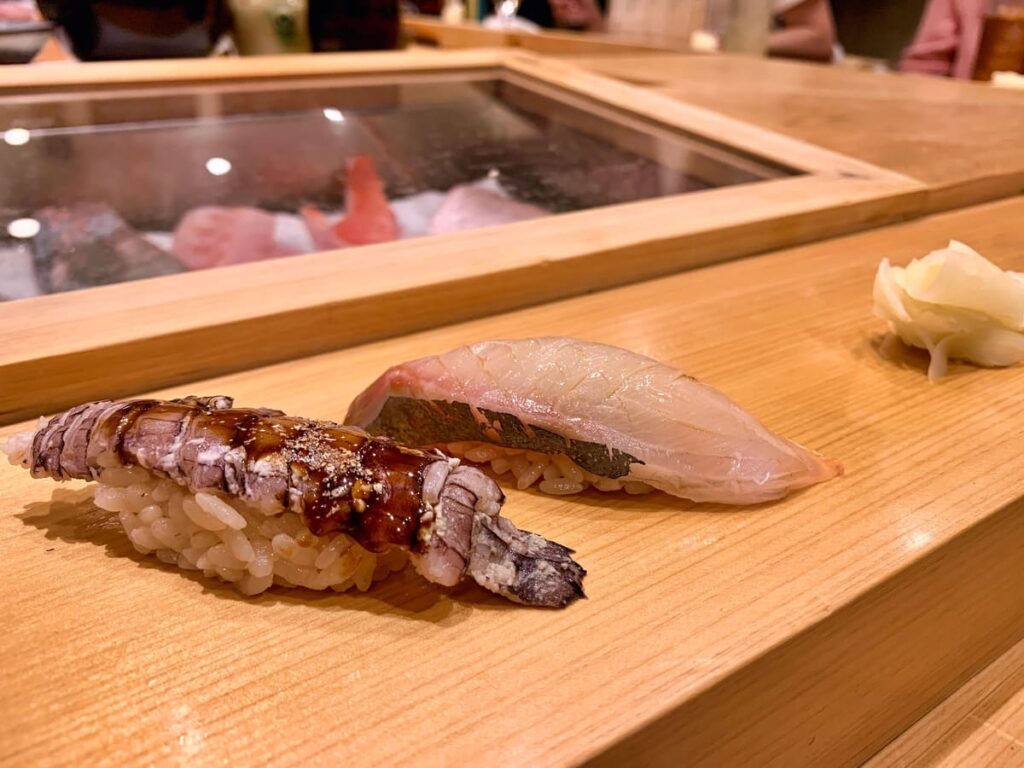 A handful of mantis shrimp and vinegared striped horse mackerel. Did you know that mantis shrimp are disliked because of their appearance, but they are actually a luxury item? It smells like shrimp, but the flesh is soft and elegant. Don't be picky about it, try eating it blindfolded at least once. On the other hand, striped horse mackerel has a firm and consistent taste. The vinegar is effective and you can eat it without feeling grassy.
Hairy crab snacks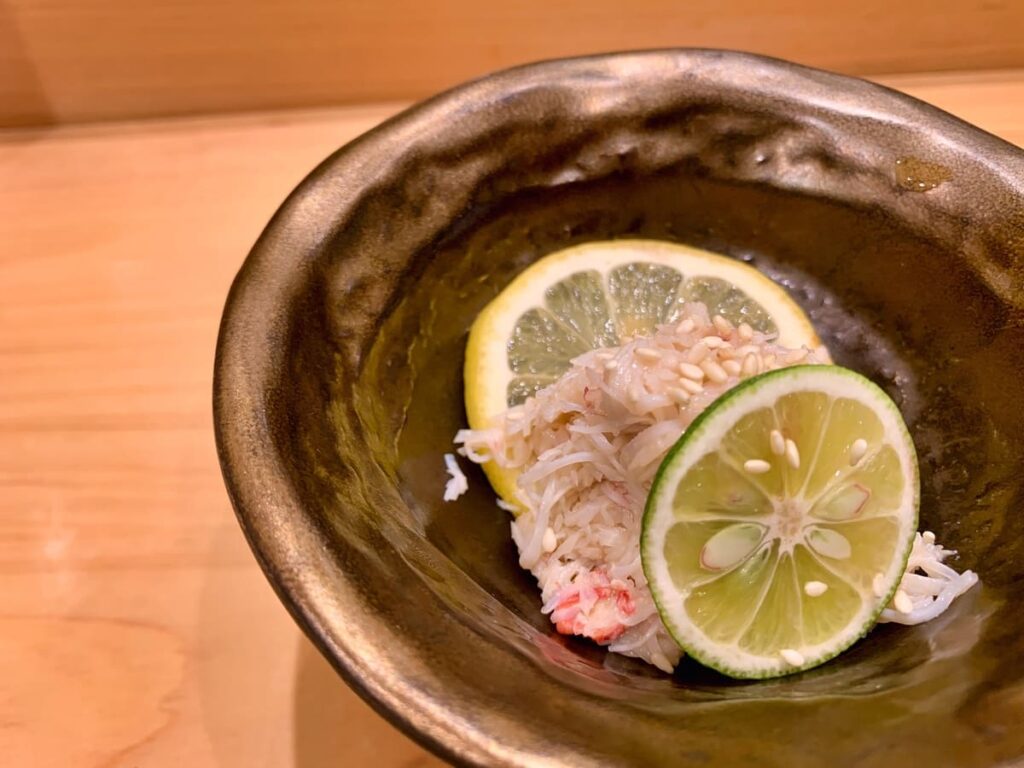 It looks like the course is almost over, but here comes the hairy crab snack. Enjoy the refreshing taste of citrus juice.
Saikyoyaki silver cod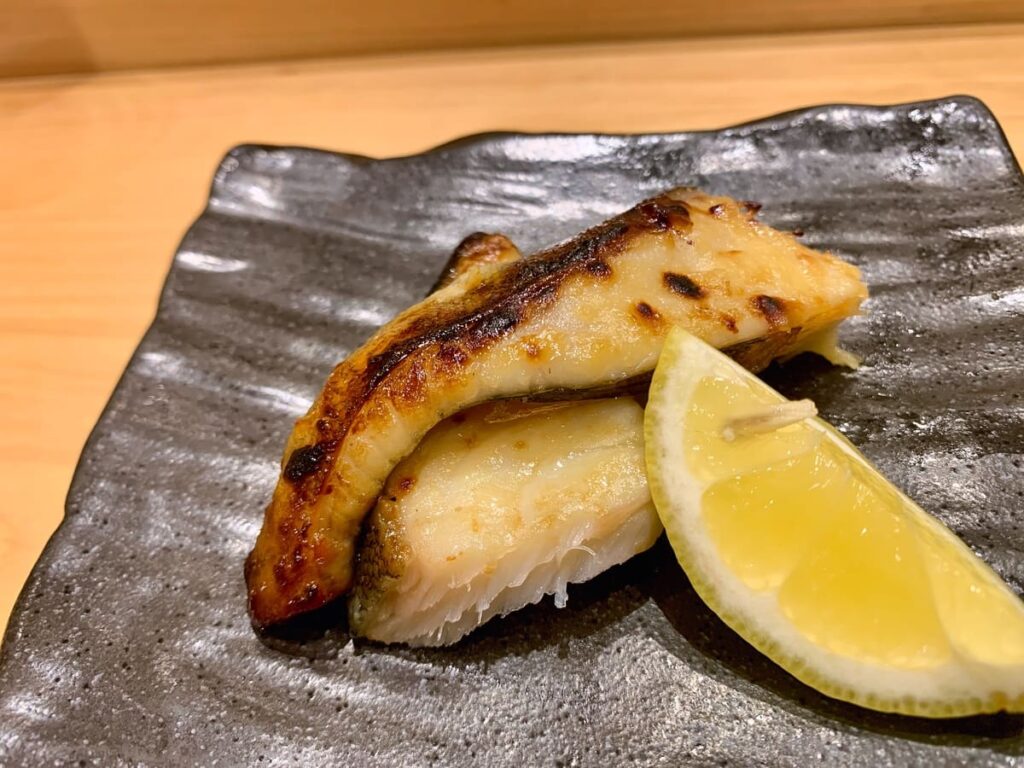 Next, I thought it would be nigiri, but then a side dish, Saikyoyaki silver cod, came out. I wonder if it's been since Kyoto Ichi no Den that I've eaten Saikyoyaki at a restaurant. The body of the silver cod is fluffy and soft, and the fat is the best. I really want some sake.
Engawa and Thick fried egg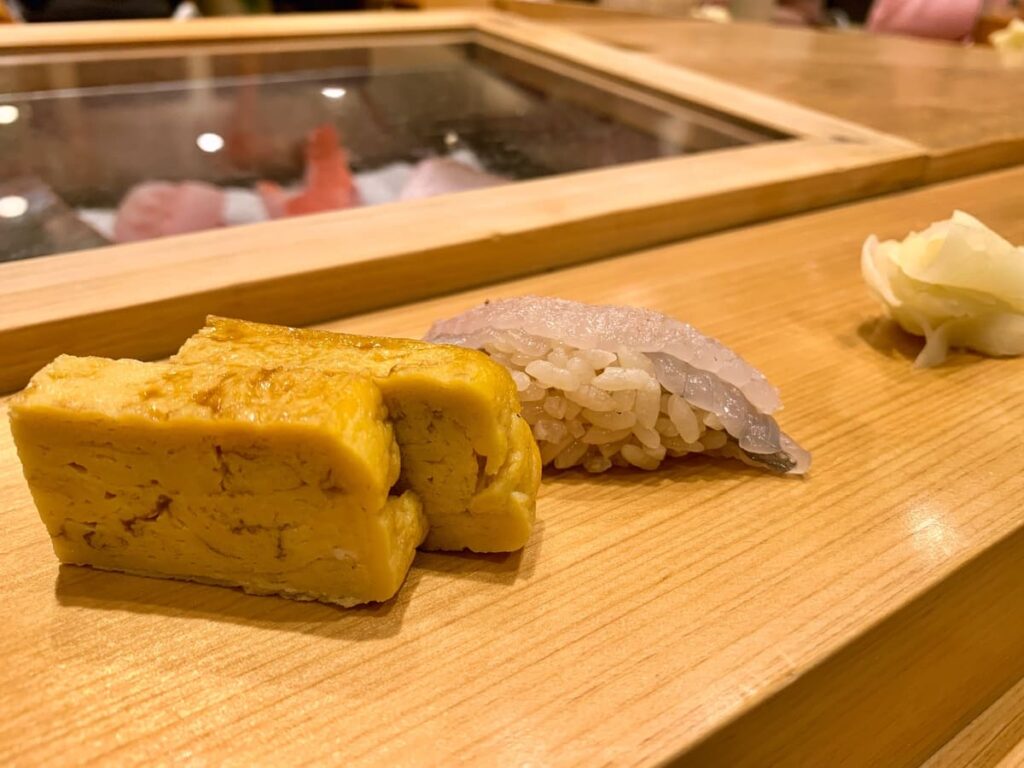 Here, the last nigiri of the course, engawa, appears. It's very crunchy, and the sweetness of the meat gradually oozes out every time you bite into it. The seasoning is simple, just salt. In contrast to the fatty silver cod, it is refreshing.
Above are the appetizers, 9 pieces of nigiri sushi, 7 a la carte dishes, and…
Tekka roll, cucumber rolls…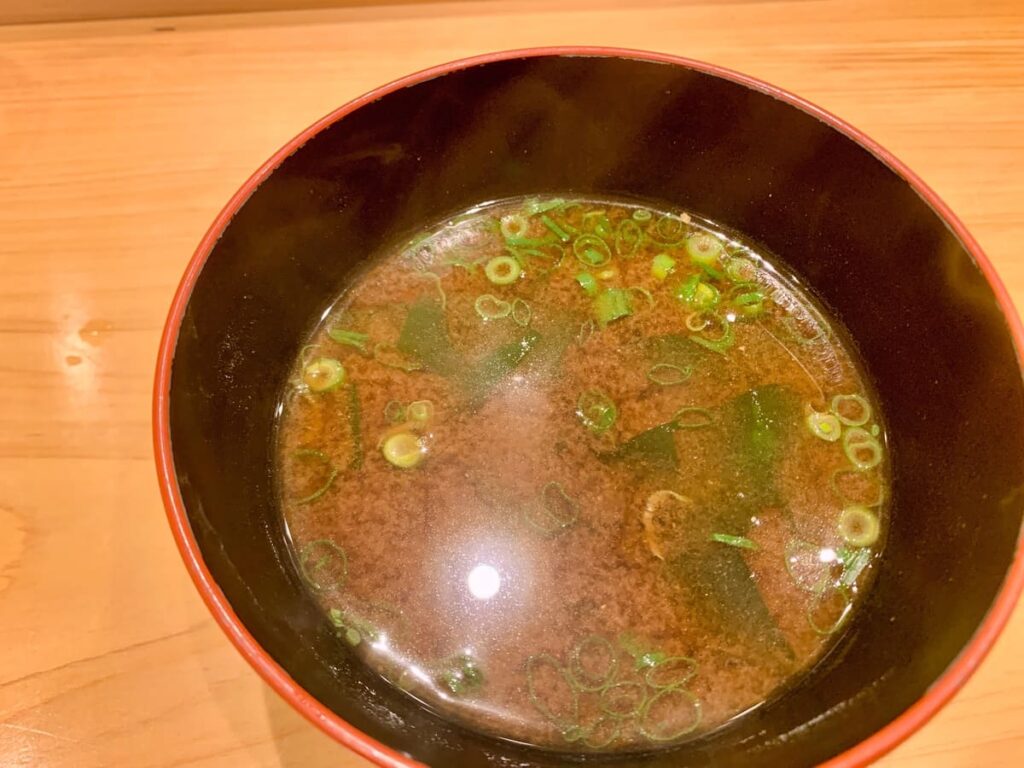 And the red seaweed soup came out and the course ended. how is it? This price of 8,000 yen + tax is definitely a good deal, right? At this price, I think you can think, "Let's go out and eat at least once a month!" It's not a high-end sushi restaurant, but I'm sure you'll be satisfied.
My only concerns are that the red vinegar in the sushi rice was a little strong, in my opinion, and the seasoning was a bit inconsistent. However, in front of this overwhelming cost performance, that is a trivial matter, and it does not in any way lower the value of Sushi Kourin's course. I think this restaurant is the perfect place to debut "non-turnable sushi" that you can eat at the counter. I would like young people who want to stretch out a bit to take advantage of stores like this.
I'm happy to be able to make online reservations…To get to Sushi Korin, it's a 7-minute walk from the nearest station, Shibuya Station on the JR Yamanote Line.
I'm glad that you can reserve seats online at Sushi Kourin like this. All you have to do is complete the procedure at a time that suits you. This eliminates the hassle of having to schedule your call time to the store, or in some cases having to make multiple calls. Why not try making a reservation for Sushi Kourin online right away? I've included a link for reservations below, so if you're curious about the restaurant after reading this article, please feel free to use it.
Now, here are the store details. Check here for store data…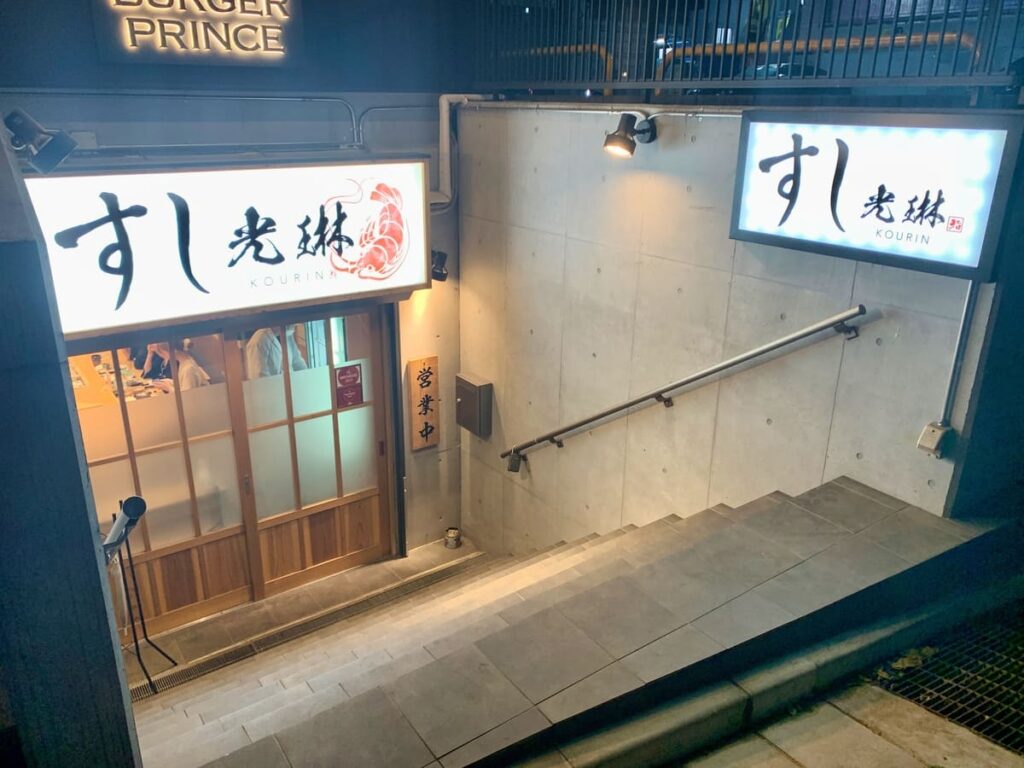 Sushi Kourin Out of 5
Address: B1F, Umezawa Building, 11-10 Kamiyamacho, Shibuya-ku, Tokyo
Phone number: 050-3171-3411
Business hours: 15:00-22:00
Regular holiday: No holidays
Parking: None
Credit card payment: Possible
予約する
t is a 12-minute walk from Yoyogi-Hachiman Station on the Odakyu Line and a 15-minute walk from JR Harajuku Station.
P.S. If you are looking for delicious Japanese food in Tokyo, be sure to check out this article…
(Visited 11 times, 1 visits today)