Abura soba was originally a local B-class gourmet dish that originated in the Musashino area of Tokyo, but it spread to central Tokyo from the late 1990s to the 2000s, and is now a popular menu item that can be eaten all over the country. Although it is called "Abura" soba, it actually has far fewer calories than regular ramen, so even women and people on a diet can enjoy it.One of the advantages of Abura Soba is that it is delicious. Ramen, tsukemen, and abura soba…the choice of flavors is increasing, which is great for us foodies, right?
If you want to eat abura soba in Kansai, perhaps the most popular abura soba specialty restaurant is Kirinji, which we will be introducing this time. It is an affiliated store of Tsukemen Suzume, a popular tsukemen specialty store with its main store in nearby Shinsaibashi, and has expanded to 22 stores in just under 10 years, including the main store in Osaka, which was founded in 2014, including Umeda, Tennoji, Kobe, and Tokyo. It is rapidly growing into one of the best abura soba chain stores in Kansai…
A true specialty store where the only noodle menu you can choose from is abura soba…Kirinji Osaka main store is like this
A true specialty store where the only noodle menu you can choose from is abura soba… Kirinji Osaka main branch is like this I visited Kirinji Osaka main branch around 7:30 on a Saturday night. As I headed south along Sakaisuji from the direction of Nihonbashi, I saw a sign with the word "Yura" written in red letters just before Ebisucho Station. The inside of the restaurant has the atmosphere of a typical ramen shop, with a total of 16 seats, including 8 at the counter and 2 tables for 4 people. It's a restaurant where you don't want to linger, but rather eat quickly and leave immediately. However, I was a little surprised to find that the person who seemed to be the manager running the store was quite elderly.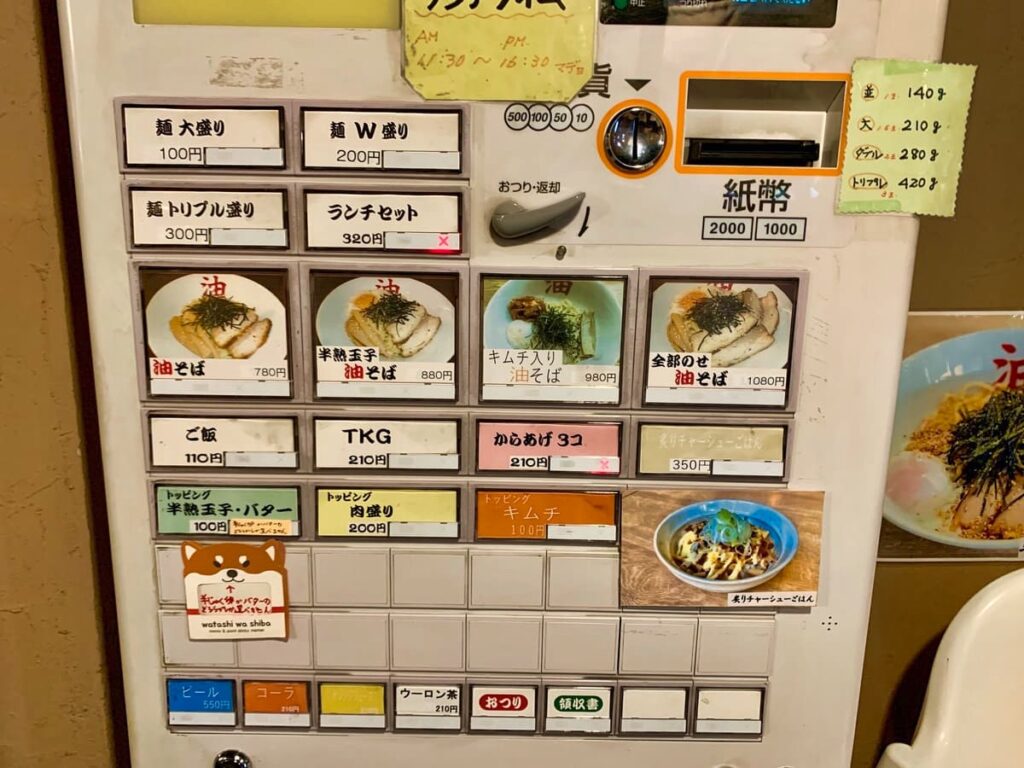 The menu at Kirinji Osaka main branch is like this. With only abura soba on the noodle menu, it can be said that this is a true abura soba specialty store. The amount of noodles can be increased from normal (140g per noodle) to large (1.5 noodle + 100 yen), double (2 noodle + 200 yen), and triple (3 noodle + 300 yen) for an additional fee. All that's left is the toppings. The default soba noodles are soft-boiled eggs, kimchi, and butter…try to customize the toppings to suit your tastes.
Kirinji Osaka Head Shop's Abura Soba Menu (Price includes tax)
Abura soba average 780 yen
Soft-boiled egg oil soba average 880 yen
Abura soba with kimchi (average) 980 yen
All-topping oil soba average 1080 yen
All-Topping Abura Soba: Kirinji's Abura Soba, one of the most popular Abura Soba chain restaurants in Kansai, is the best I've ever eaten…
This time, I ordered the regular abura soba triple at Kirinji Osaka Head Shop, and after a while I decided on the all-topped abura soba. It was appealing to go big like Taoka's Abura Soba Onimori, but on this day, the charm of having all the toppings on top of it all was even more appealing.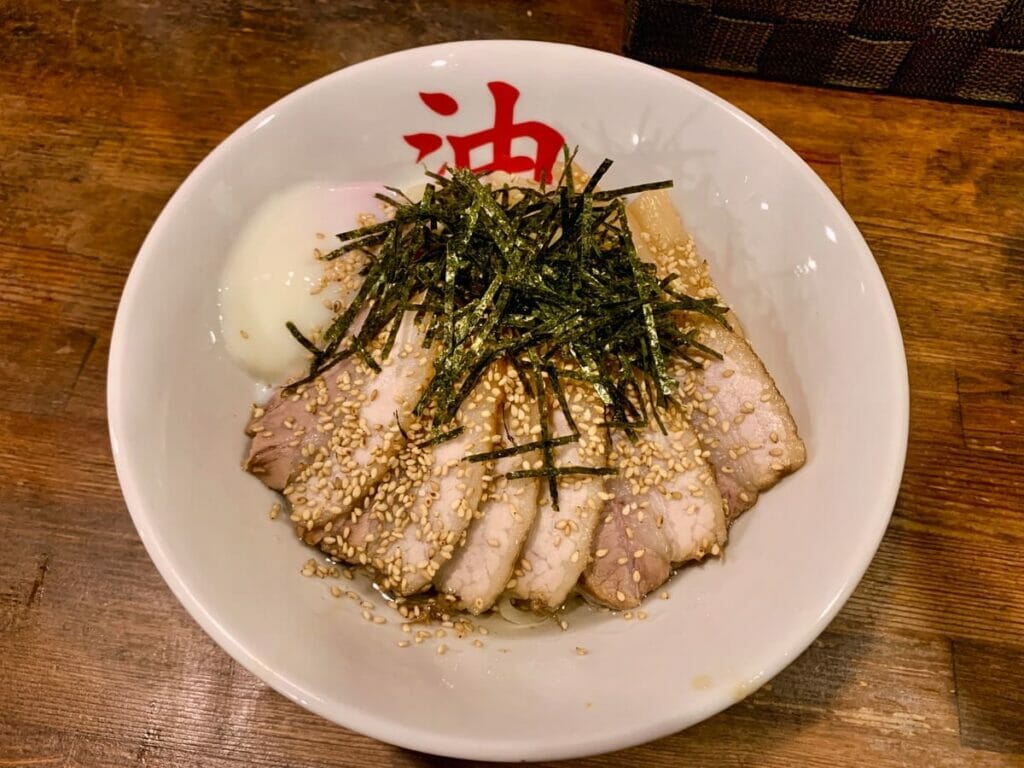 After ordering and waiting for less than 10 minutes, the all-topping abura soba was served in front of me. The surface of the bowl was covered with 7 slices of thinly sliced pork belly pork, warm egg, menma, and chopped seaweed, making it a gorgeous dish, but when I saw it, I thought, "Huh? No kimchi even though it's all on top?" Since it says "all on top", I wish it would have included kimchi, even if it's just a little…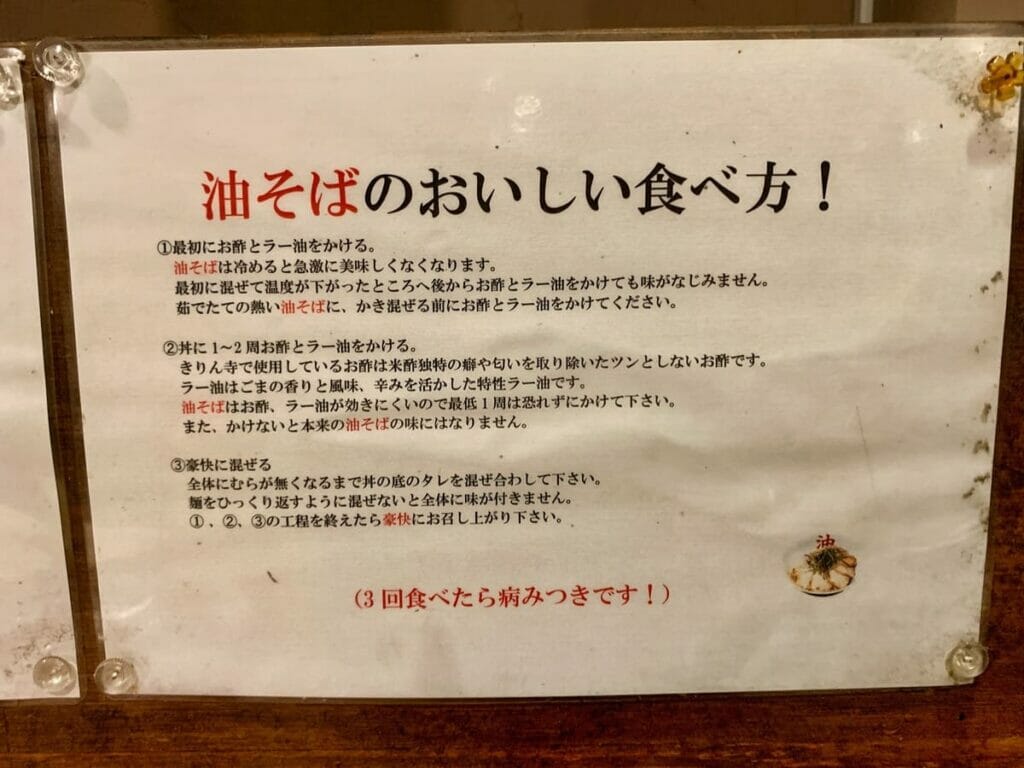 That being said, let's get to the actual food. Following these instructions, this time I will mix the chili oil and vinegar by swirling them around from the beginning. But what is the difference between ① and ② in this explanation? Does that mean I should add chili oil and vinegar to the noodles and bowl separately?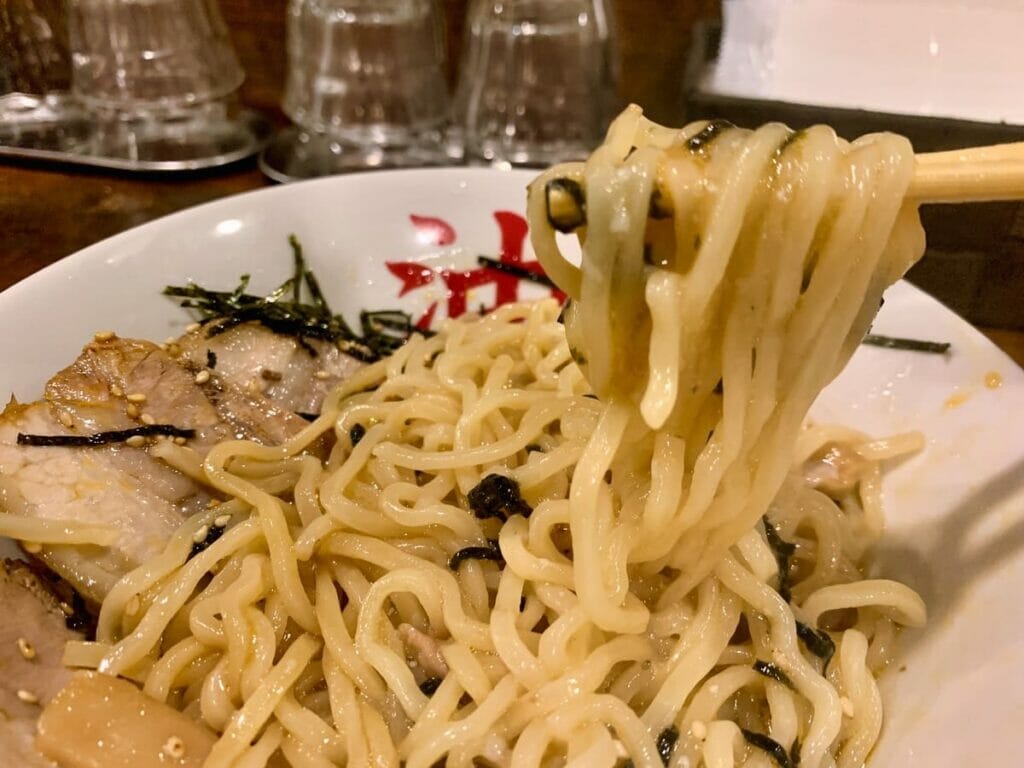 After that, stir to mix everything together, including the soy sauce that is sleeping at the bottom of the bowl…something like this. When making soba with oil, don't skimp on chili oil or vinegar. It's common with other stores' abura soba that the flavor doesn't develop unless you pour it over the bowl for about two weeks. Especially if it comes with a hot egg, the taste will be diluted, so you may want to add another week at a time.
The taste of the sauce is very orthodox, with the taste of straight-up abura soba. I don't really notice the flavor of lard, but occasionally the white sesame seeds hit my teeth, and the pleasant aroma of sesame wafts through my mouth and into my nose. At Kirin-dera, they seem to be particular about using a smooth oil with zero cholesterol, which may be the reason why the texture is so light that it goes down easily. The flavor will also change depending on the amount of chili oil and vinegar added, but personally I recommend adding more chili oil to bring out the stronger aroma.
On the other hand, the noodles are thinner than regular abura soba noodles…not the chewy, curly noodles like Kibou Shinpu's abura soba noodles, but straight, medium-thin noodles with a soft, chewy texture. Since the noodles are straight, they absorb less of the sauce, giving the overall impression of a lighter flavor. If I were to describe both the noodles and the sauce in one word, it would be like "abura soba that has been updated to Kansai specifications."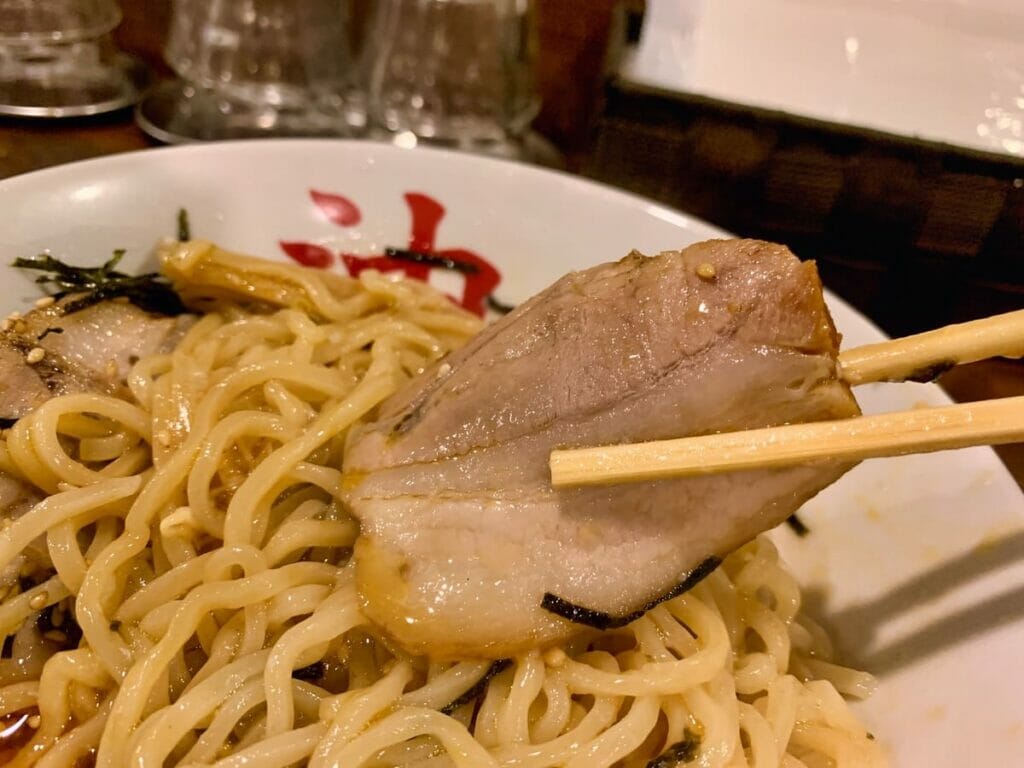 The main topping, char siu, is also a light type with less fat. Meat lovers will be happy that there are 7 pieces in the package, but since the meat is thinly sliced, you'll get hungry pretty quickly.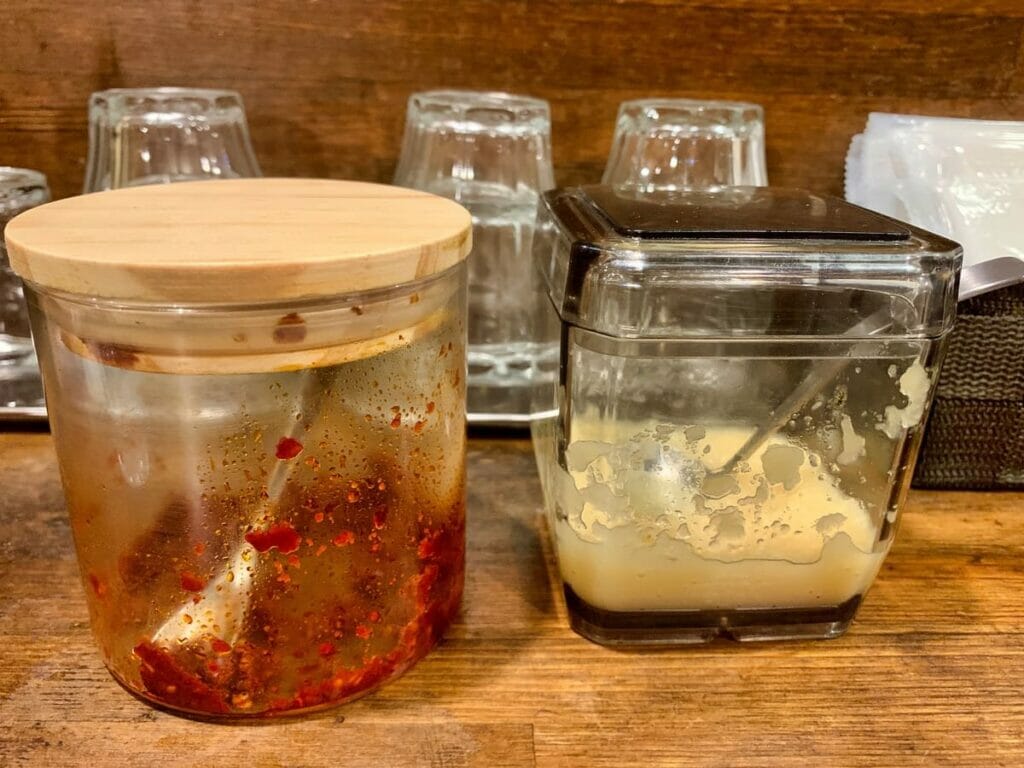 Like this, the overall impression of Kirinji Osaka Head Shop's Abura Soba is simple… Out of all the Abura Soba I've eaten so far, it has the least impact, and this is about it for the people of Osaka. While I thought it was just right, I also felt like it could use a little more. It might not be enough to make you feel full with just one cup. On the other hand, I think it would be perfect if you were to eat it as a finishing touch after drinking alcohol. If you prefer a stronger flavor, you can add the mustard miso and grated garlic provided at the table.
How about a great value lunch set at lunchtime? To access Kirinji Osaka Head Shop, it is a 1-minute walk from the nearest station, OsakaMetro Sakaisuji Line Ebisucho Station.1分
At lunchtime, Kirinji Osaka Main Branch offers a great value lunch set (price: 320 yen including tax) that comes with "white rice of TKG" and "3 pieces of fried chicken". When you feel like going a little hearty, why not try this lunch set with your favorite abura soba? In particular, fried chicken is not available during evening business hours, so this set menu is a must-see for fried chicken lovers. If you have a chance to visit the store during lunch, please try the fried chicken as well as the abura soba.
Now, here are the store details. Check here for store data…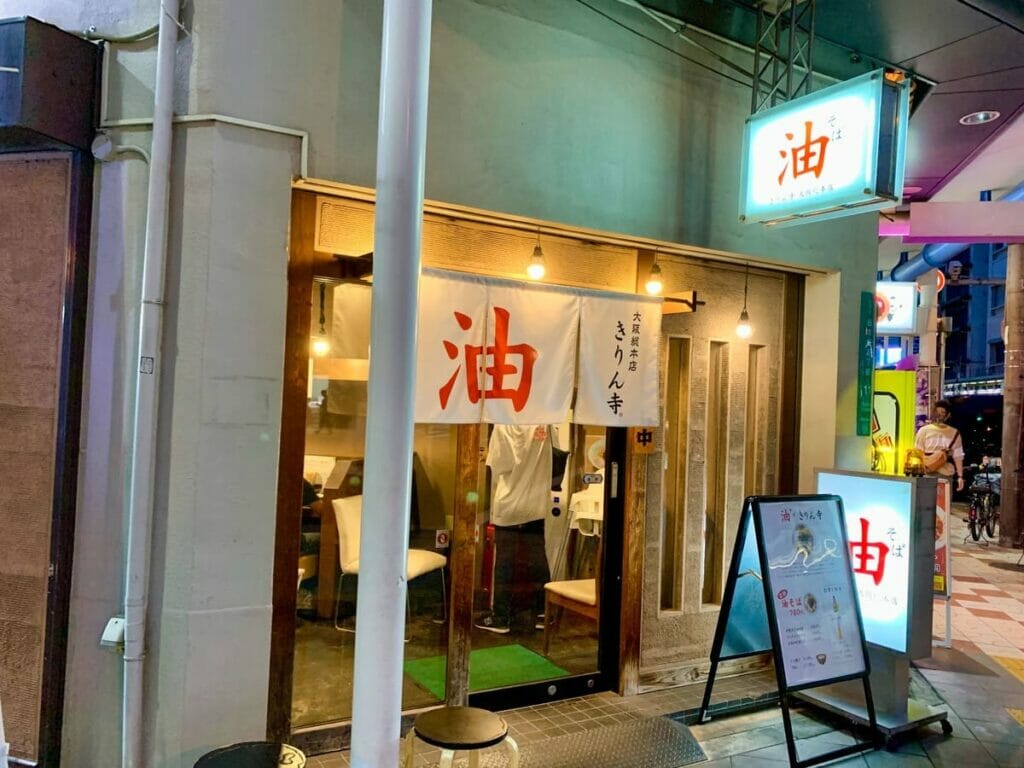 Kirinji Osaka Head Shop Out of 5
Address: 5-11-12 Nihonbashi, Naniwa-ku, Osaka, Osaka 556-0005
Phone number: 06-6633-3037
Business hours: 11:30-16:30, 18:00-22:00
Regular holiday: No holidays
Parking: None
Credit card payment: Not possible (meal ticket system)
It's about a 10-minute walk from Nihonbashi Electric Town, and a 15-minute walk from Namba Station on the OsakaMetro Midosuji Line.
P.S. If you are looking for delicious ramen in Osaka, please stop by this article…
(Visited 3 times, 1 visits today)