Tonjiru (Pork soop) is a typical dish eaten outdoors in the cold winter…It's not a high-class dish that would be marked by Michelin, but for us Japanese people, it's one of the comforting dishes that we sometimes find ourselves craving.
I heard that there was a pork soup set menu restaurant called Gochiton that specializes in pork soup, and I was curious about what kind of pork soup they could eat, so one night I went to Yoyogi, Tokyo, where the main store is located. . How is it different from the pork soup you eat at home? It is curious…
Challenging pork soup menu that you can't make at home… Gochiton Yoyogi Head Shop is like this…
Gochiton Yoyogi main store is a pork soup set menu specialty store that opened in March 2017 with the theme of "pork soup that is a feast for eating vegetables." According to Tabelog information, the number of seats is relatively small at 20 in total, but it has a bright, family-restaurant atmosphere that makes it easy to use for a wide range of people, from solo travelers to families.
The menu at Gochiton Yoyogi main store is…a lineup that makes you think, "As expected of a restaurant that specializes in pork soop…". There are a total of 7 types of regular menu items, but some menus have a miso change from barley miso to rice miso, and some menus incorporate miso butter corn and green curry that are too scary to make at home… At the time of writing this article, they are also offering a limited-time menu called Barley Miso Chilled Pork Soup Set Meal," and just looking at the menu you can feel the challenging attitude of the management. I love shops like this. What does green curry pork soup taste like?
Gochiton pork soup set regular menu (prices exclude tax)
Gochiton pork soup set meal 780 yen
Vegetable feast pork soup set meal 880 yen (Fried horse mackerel set 1000 yen)
Spicy miso jjigae pork soup set meal 880 yen
White miso soy milk pork soup set meal 930 yen
Miso butter corn pork soup set meal 930 yen
Rice miso green curry pork soup set meal 950 yen
Grilled spare ribs pork soup set meal 1030 yen
By the way, with Gochiton's Tonjiru set meal, you can choose the amount of rice from 3 levels for free: large, medium, and small.
Gochiton Tonjiru Set Meal: I tried the standard menu first without feeling like I wanted to challenge myself…and how did it taste?
Resisting the temptation of such a challenge menu, this time I ordered the Gochiton Tonjiru Set Meal (I chose barley miso) from the standard menu at Gochiton Yoyogi Head Shop. I was a little surprised, but the pork soup here is not made in advance. Of course, some preparation is done, but the pork soup is made for each person after you order.
That's why I waited about 10 minutes after ordering, and the Gochiton Tonjiru set meal that came out in front of me looked like this…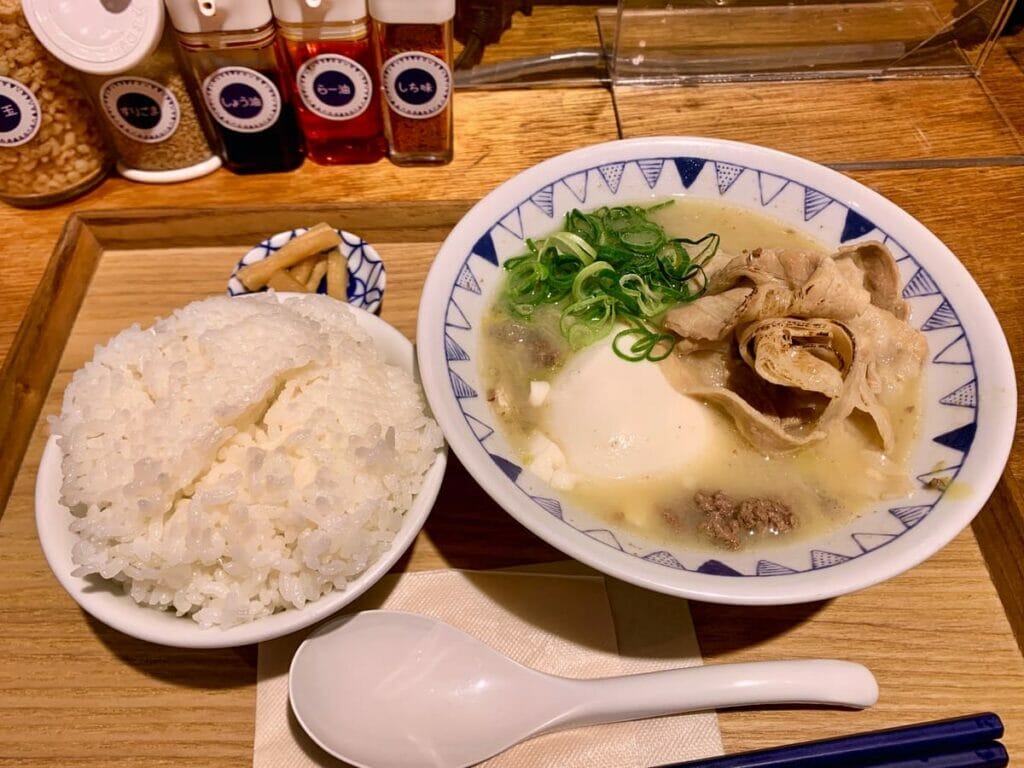 The pork soup was served on a plate rather than a bowl. Pork and silken tofu make up about 3/4 of that, which makes me drool, especially when I'm craving protein.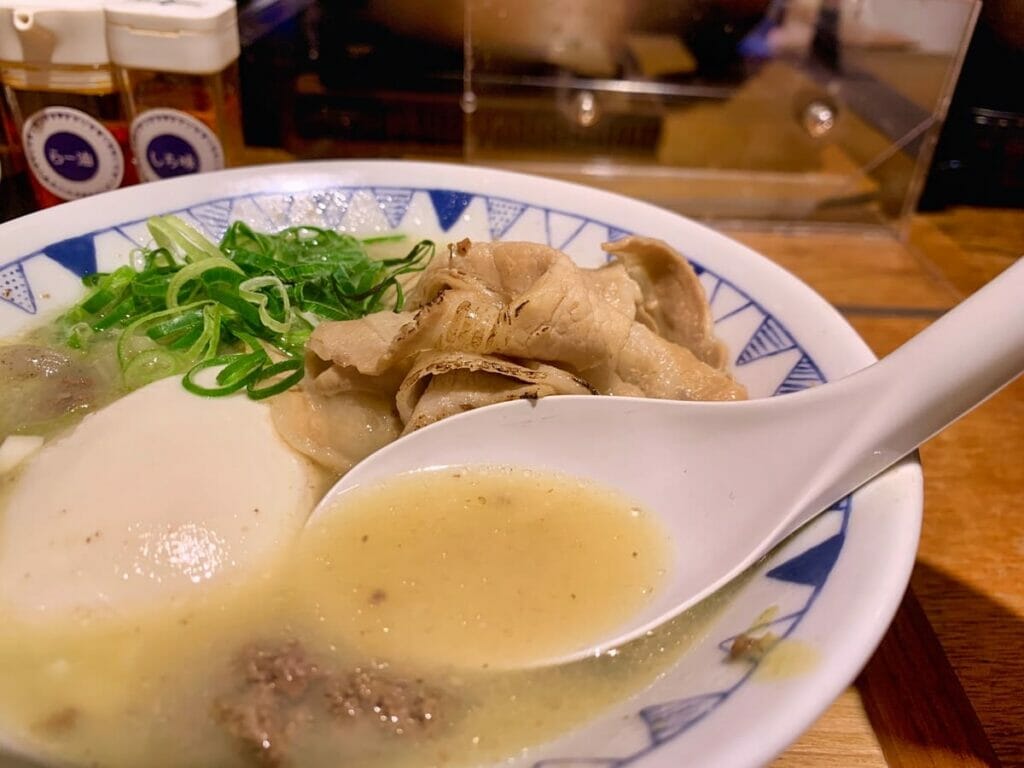 Now, let's have some… This miso soup has a gentle sweetness derived from barley miso, but unlike pork soup made at home, the flavor of the pork is modest, and the overall taste is light and refreshing. This is because the pork used in this pork soup set meal is shabu-shabued in a separate pot before being added to the miso soup. During this process, excess fat is removed, so the pork tastes lighter. However, since it is grilled on a burner to finish, the aroma maintains the impact of replacing the fat.
There's quite a lot of pork in it, so you won't have the same sad feeling you had with Katsudon Takatsu's pork soup, which is sad because there's no pork in it. However, on the other hand, there were too few vegetables (I felt like there was only a small amount of Chinese cabbage and burdock), so I felt it was lacking in that sense. People tend to pay attention only to the meat, but when someone says to me, "Vegetables are also important in pork soup…" I realized this obvious fact.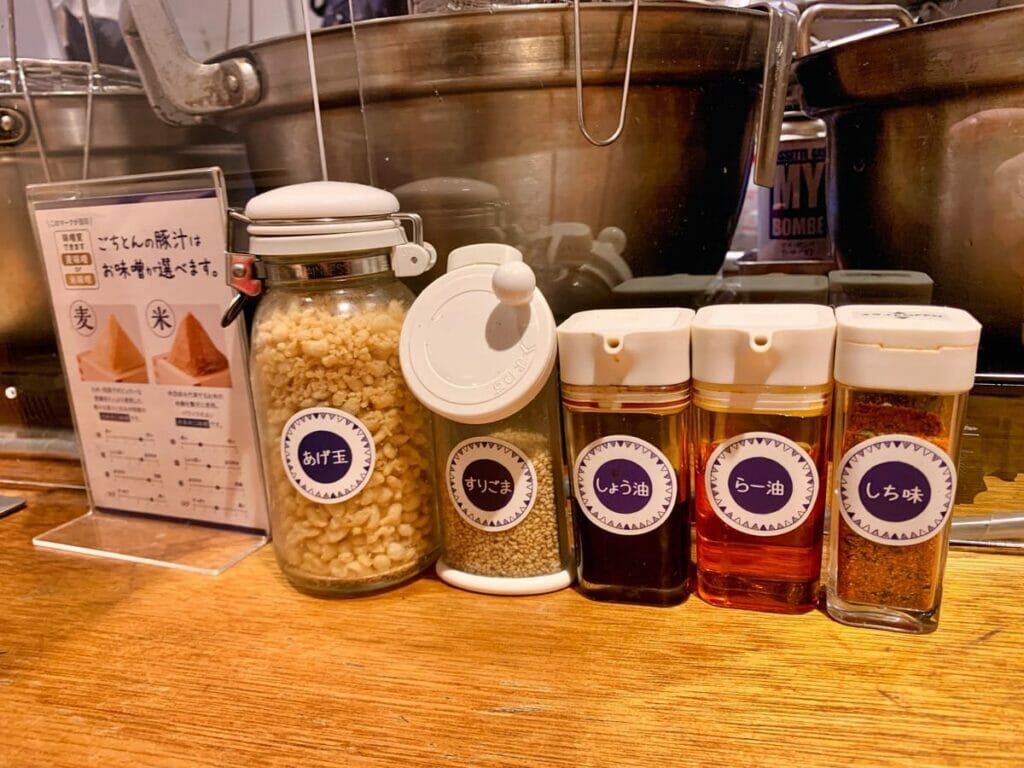 I was a little confused because the vegetables in this gochiton pork soup set meal were unexpected. Next time, I think I'll order the "Vegetable Feast Pork Soup Set Meal" to make sure I'm getting enough vegetables. However, since they claim to be a pork soup specialty store, I felt that they had a few specialties that you wouldn't normally find with home-made pork soup. I think the calorie count is greatly reduced by the preparation of the pork, so I think even people on a diet can eat this without any worries.
That's right, Watabe from Unjash has praised this gochiton pork soup in the past, and the recipe was apparently even shown on a TV show. I found some tips on how to make it on the internet, so I'll post the link. It would be a good idea to use this as a reference and try making pork soup at home first.
They are also opening stores in Otemachi, Shibuya, Yokohama, and Osaka Umeda! To access Gochiton Yoyogi Head Shop, it is a 1-minute walk from the nearest station, JR Yamanote Line Yoyogi Station.
Gochiton, a store specializing in pork soup set meals, has stores in Otemachi, Shibuya, Yokohama, and Umeda, Osaka, in addition to the Yoyogi Head shop introduced this time. You can eat set meals at lunch prices even in the evening, so I think this is a convenient restaurant, especially for people who live alone. If you are a pork soup fan, please try it once if you happen to pass by the store.
Now, here are the store details. Click here for store data…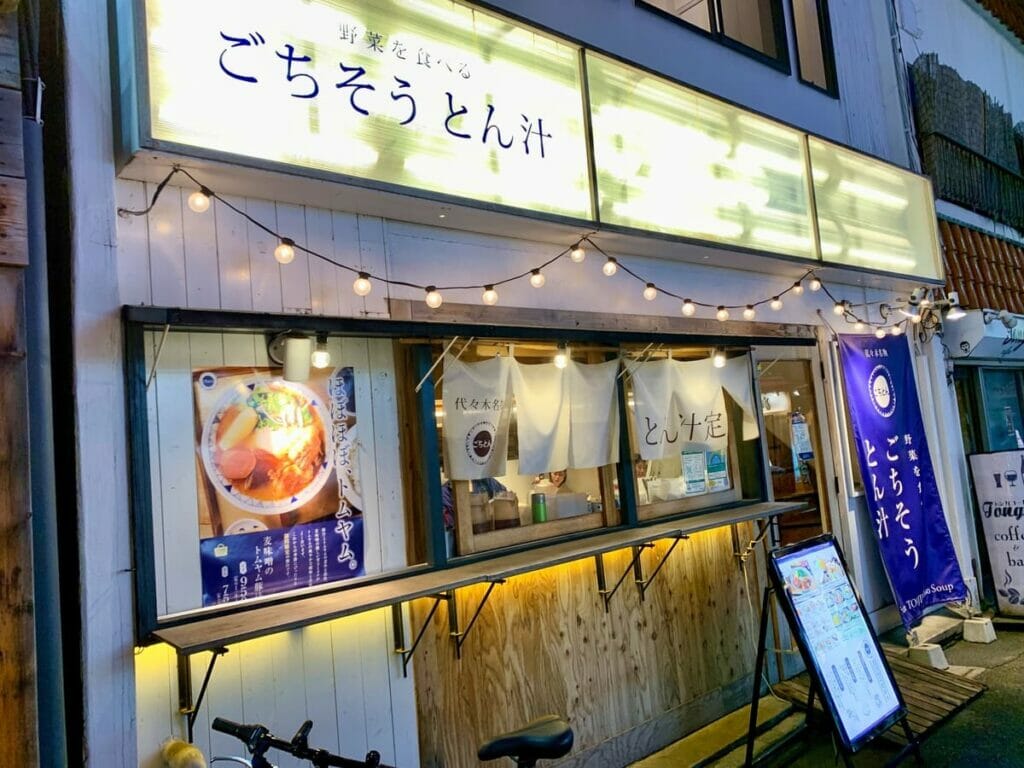 Gochiton Yoyogi Head Shop Out of 5
Address: 1-33-2 Yoyogi, Shibuya-ku, Tokyo 151-0053
Phone number: 03-6883-9181
Business hours: 11:00-22:30
Regular holiday: No holidays
Parking: None
Credit card payment: Possible (also compatible with electronic money and transportation IC)
It is an 11-minute walk from JR Shinjuku Station next door.
P.S. If you're looking for delicious Japanese food in Tokyo, be sure to check out this article…
(Visited 5 times, 1 visits today)