A major earthquake in February 2018…the local hotels that have tilted heavily, as shown in the news reports. Many donations were sent from Japan to support the recovery efforts.
Taipei to Hualien for 2 days and 1 night…safe travel without earthquake effects
Six months have passed since then. How is Hualien doing? As I was planning to visit Taipei in the fall, I became concerned about Hualien.
When a disaster strikes, there is a lot of support available, but once the heat dies down, everyone forgets about it. It is only after that that the disaster areas really start to suffer…
I have heard such stories. Then why don't you go there next time? It's a place I've never been to before, and it would be good for Hualien if I spent some money there. With this in mind, I decided to visit Hualien during my 4-day/3-night stay in Taiwan.
Bus to train transfer is convenient for access from Taipei to Hualien City
Hualien City is the best tourist destination in eastern Taiwan. The most famous of these is the Taroko Valley. I also wanted to go there, but my schedule was quite tight. Well, there is a one-day tour to Taroko Valley from Taipei, so I decided to give up on it this time! I gave up and decided to go to Hualien as usual.
How to get to Hualien from Taipei… I looked up how to get there, and found that flying is expensive and there are too few flights from Taipei to Hualien Airport, which is inconvenient. By train, it takes a little over 2 hours from Taipei to Hualien by express train. I heard that express tickets can be booked online two weeks in advance (note: link removed due to broken link). When I opened the page, I found that the seats were already full and sold out at 9:00 a.m. on the day two weeks in advance!
Taipei – Luo-Dong by bus, Luo-Dong – Hualien by express train
We had no choice but to take a bus to Hualien. However, there is no bus service between Taipei and Hualien, but rather a bus from Taipei to Luodong, where we transferred to the train to go to Hualien.
I checked out of the Taipei H Imperial Hotel a little after 7:00 a.m., which is in a great location in front of Taipei Station, but is very inexpensive (1,780 yuan per night, or about 7,120 yen per night at 4 yen to 1 yuan). Walk toward the north side of Taipei Station. There is a large bus terminal just north of the Taipei Station, from where buses to Luodong leave about every 15 minutes (according to the timetable, buses are already leaving at 5:00 AM).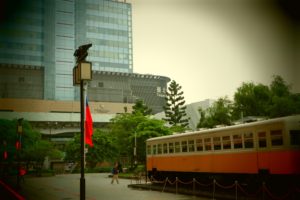 Taipei to Luodong takes a little over an hour by bus if there is no traffic jam. The Luodong train station is right in front of the bus stop, so there is no need to get lost. It was difficult to secure a ticket from Taipei, but once you get to Luodong, it is easy to get an available seat on the express train. Many passengers seem to get off the train around Yilan, just before Luodong. Thus, the one-hour trip from Luodong to Hualien is comfortable.
How to get to Lin Tian Shrine: Taxi is recommended from Fenglin Station.
But I made a quick detour before getting off at Hualien. Passing through Hualien, I went about 30 minutes south to Fenglin. To say the least, there is nothing in the countryside, but there is a shrine called Lin Tian Shrine, which was built during the Japanese colonial period and is now maintained by local Taiwanese people.
The Lin Tian Shrine was built in 1915. After the Japanese left Taiwan after the war, the shrine rapidly fell into disrepair, and the policies of the Kuomintang (KMT), which later came to power in Taiwan, destroyed many of the shrine ruins from the Japanese colonial period.
The Lin Tian Shrine was also destroyed and abandoned until just a few years ago, but in 2012, local people stood up for the restoration of the Lin Tian Shrine, and the torii gate and other parts were beautifully restored. Since the people of Taiwan have gone to such great lengths, it is impossible for Japanese not to visit the shrine.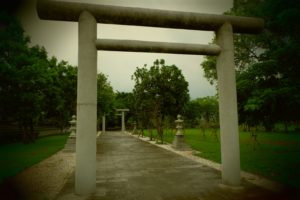 According to the map on hand, it is a little over 3 km from the Fenglin Station to the Lin Tian Shrine…a bit of a tough distance, though not impossible to walk if you put your mind to it. However, several cabs stop at the station, so you can easily get to the shrine even if you are carrying luggage. The estimated cost of a round-trip cab is a little over 200 yuan. The meter showed the fare to be 215 yuan, but the driver gave me a 15 yuan discount.
Finally, I'm off to Hualien….the great earthquake has not affected me at all, so you should definitely go there!
From Fenglin, take the train north to Hualien Station. As one would expect from an area with so many tourists, there were about 10 cab touts waiting in front of the station. However, unlike in India, they are not so aggressive in their approach. If you say "no," they will immediately back off, so don't worry.
Well, as usual, I am approached by a few touts. Since I can hardly speak Chinese, I exit the station, declining with gestures. Then…
Are you from Japan?
I turn my head in the direction of the voice. I turn around to see a mature woman.
I am a cab driver.
This is a bit of a digression, but when traveling abroad, you should never approach someone who approaches you in a friendly manner (especially in Japanese)! This is an ironclad rule of international travel. This is an ironclad rule when traveling abroad, as there is a very high probability that these people are bad people who are trying to trick you.
I personally think that Taiwan is an exception to this rule, and although I cannot say 100%, I believe that 99.9% of the people are just trying to be nice to you (of course, I cannot be held responsible for any damage you may suffer by applying this rule). So I decided to listen to this guy, and he was still a nice guy.
Day tours to Taroko Valley and Qixingtan Beach can be arranged locally.
This person is Ms. Xuejyun Guo, who runs a guest house for tourists with her Japanese husband. The husband leads optional tours as a Japanese guide, while he himself works as a cab driver, touting to guest houses and guiding local tours.
By the way, She can take you to Truku Valley for about NT$2,000 by chartered cab. You don't have to go to the trouble of making a reservation for a tour in advance, but it seems that you can make a reservation after checking the weather on the day of the tour. A one-day tour from Taipei costs about NT$4,000, so if you don't mind the effort, this is a better deal.
If you prefer to stay in a cheap accommodation like a guesthouse, this guesthouse may be recommended. Also, you may possibly need her help in some trouble. I will post the contact information I received, so you can contact her directly if you need her help.
Address:No. 218, Nanjing St., Hualien City
Phone Number:(+886) 03-8358767
Fax: (+886) 03-8357256
Cell phone: (+886) 0933-905747, 0933-484226
Email:xinyi.kuo@msa.hinet.net
Take a relaxing break at Fullon Hotel, a luxury seaside resort hotel near Hualien Airport.
Our lodging for the day is the Fullon Grand Hotel, a luxury resort hotel located a short distance from the city center (3,872 RMB per night including breakfast). We ask Ms. Guo to bring us to the hotel. From the Hualien train station, it is about a 20-minute drive (cab fare: NT$250). From Hualien Airport, it is about a 10-minute drive. There is a free shuttle bus from the hotel, but please ask the hotel directly for the schedule.
The room looks like this. You can see the Pacific Ocean beyond the balcony, so if the weather is fine, you can see the sunrise over the ocean. The bathrooms are spacious and comfortable, but there is also a large (?) bathroom on the third floor that looks like a Japanese onsen ryokan (hot spring). The bathrooms are spacious and comfortable, but there is also a large (?) bathroom on the third floor of the hotel, which is like a Japanese-style onsen ryokan.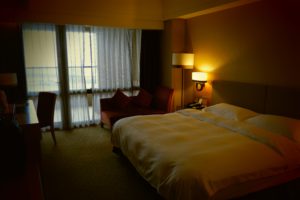 In addition to the Truku Valley, Hualien has many other tourist attractions such as Ami Cultural Village and Qixingtan Beach, but since it is a bit far from the city center and the weather was not good, I decided to stop our forced sightseeing that day and rest at the hotel until night.
From this hotel, you can take a free shuttle bus to the train station or city center, or you can sign up for a half-day tour that will take you to various tourist attractions (please consult directly with the hotel for destinations and schedules). There is nothing around the hotel, so it is not suitable for walking, but you will have no trouble at all sightseeing in the city. By the way, the breakfast buffet at the restaurant on the first floor of this hotel is quite popular.
Now, here are the details of the hotel.
Eat up B-class gourmet food at Hualien's largest night market, Dongdaemun Night Market!
Established in 2015, Dongdaemun Night Market is the largest night market in Hualien. The vast site, about two times the size of the Tokyo Dome, houses four night markets: Jiqiang Night Market, Aboriginal Ijang Street, Provincial Ijang Street, and Fumachi Night Market.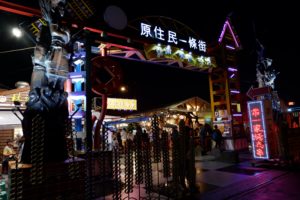 This night market is different from other night markets in Taipei in that it is just so much easier to walk around. The sidewalks are wide, taking advantage of the vast area, so there is no bumping into each other when passing by people. Even if you bring a baby stroller with you, you will have no trouble at all.
The night market is said to have as many as 400 stalls offering Taiwanese specialties such as Taiwanese sausage and stinky tofu, as well as aboriginal food and recreational target shooting. You can easily spend an hour just to take a quick look around.
Buy some snacks at the stalls and enjoy a bite to eat, or sit in the eating area and enjoy a meal while sipping on a beer…take your time and enjoy the extraordinary experience of being in Taiwan.
Below are the details of Dongdaemun Night Market.
Dongdaemun Night Market
Address:No.50, Zhongshan Road, Hualien City
Opening hours: 18:00 – 24:00
Lastly, here is one more local food stall where you can see a long line of people waiting in line at Dongdaemun Night Market.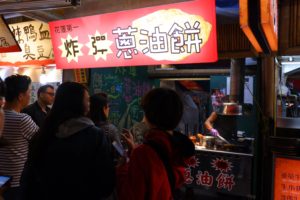 The flour dough is rolled out thin and fried in oil, and then covered with an egg that is also fried in oil. The entire dough is evenly coated with a slightly spicy soy sauce sauce, so it is not greasy at all. As you continue to eat, you will come across a half-boiled egg, and the yolk will spread over the dough, giving it a mild taste! For only 40 yuan, you can enjoy a variety of flavors.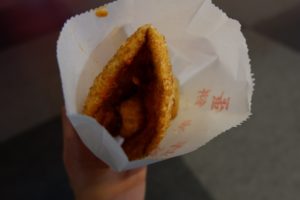 Next time I come to Hualien, I would definitely like to come during the nice weather season and visit Tarok Valley and Qixingtan Beach. Dolphin watching might be fun too. I heard that it rains a lot in summer, so next time I will probably come in winter… (Come to think of it, there used to be a movie called "Summer in Hualien".)
P.S. Surprised to stay alone in a super luxury hotel in a foreign country! What was good about it? I mean…
(Visited 1 times, 1 visits today)