At the end of August 2019, a ramen restaurant called Ramen Kudou opened in Kishibe, Suita City, which is being developed as a bedroom community. The owner of this ramen store, who was trained at a Jiro-inspired ramen store called "Ramensou Rekishi wo Kizame" also located in Suita City, has now, six months after its opening, become a popular Jiro-inspired ramen store with a long line of customers.
Among the many Jiro-inspired ramen restaurants in the Kansai region, this is a rare store that claims to be a "soft noodle specialty store. I wonder what kind of Jiro-inspired ramen with soft noodles is like? I am quite curious before I go there…
This is an explanation of how to get in line, the menu, and how to order at Ramen Kudou, a new Jiro-style ramen restaurant that opened in a new bedroom community in Suita, Tokyo (Note: added in November 2023).
At Ramen Kudo, you purchase a meal ticket inside the restaurant before standing in line and tell the waiter how much noodles you want to eat…
Points to note when purchasing a meal ticket at Ramen Kudou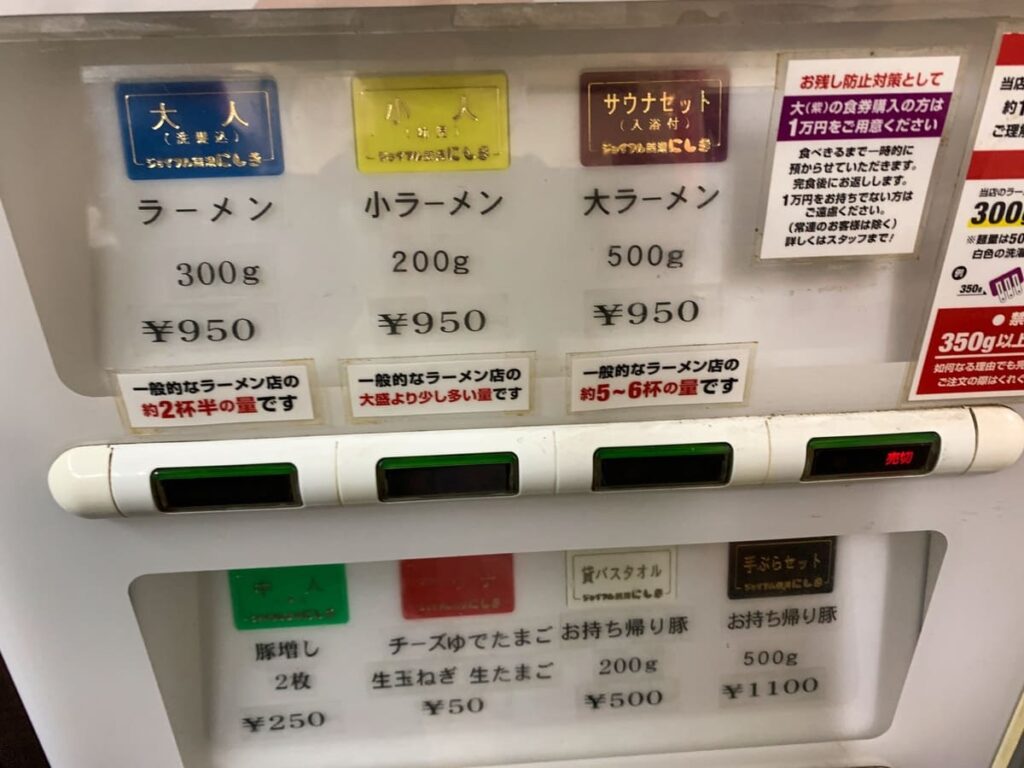 Compared to the spring of 2020, when I published this article, the price of ramen has increased by 150 yen. However, the fact that ramen is the same price regardless of the amount of noodles ordered is consistent, and this is because the restaurant does not set the price based on the cost of ingredients, etc., but rather as a "price to make customers feel full. So, although it is not widely known, Ramen Kudou actually allows customers to order additional vegetables for free, even after eating. If you are left feeling unsatisfied after finishing your noodles, do not hesitate to ask the waiter.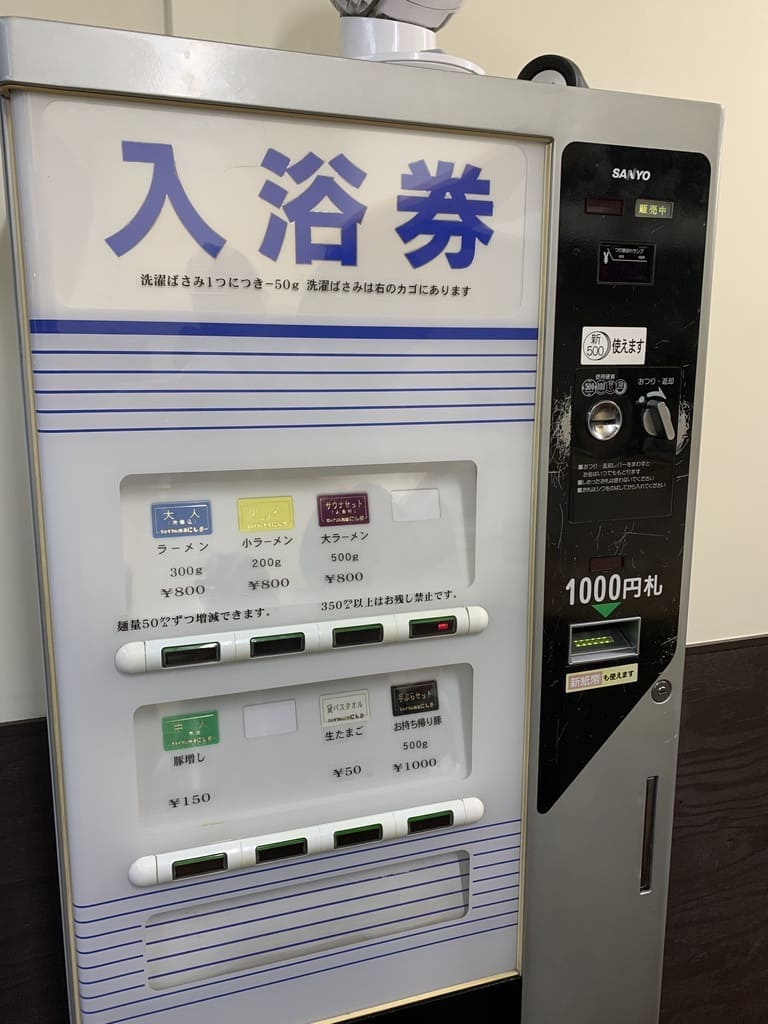 While we set such a kind price, we also have a very strict rule against leaving leftover ramen. Originally, when the restaurant first opened, there was a rule that orders of 350 grams of noodles or more could not be left over (soup could be left over), but one time a customer who knew of this rule ran away after leaving his ramen, and since then…
Since then, a new rule has been established that when you order a large ramen, you must leave 10,000 yen at the restaurant. If you finish the ramen, you will get the 10,000 yen back, but if you leave the rest, it will be confiscated. Be careful the first time you order a large ramen at Ramen Kudou…
ラーメン工藤です。

夜の部は18〜22時まで営業いたします。

昼の部で「お残し禁止」のルールを了承の上注文し残して走って逃げた方がおられました。
今後常連様以外で大ラーメンを注文するお客様には¥10,000お預かりします。完食後返金します。大変心苦しいのですがご理解の程よろしくお願いします。

— ラーメン工藤 (@ramenkudokisibe) April 12, 2022
Examples of Ramen Kudou's menu (as of November 2023, prices include tax)
Ramen (300 g ramen noodles) 800 yen → 950 yen
Small ramen (200 g ramen noodles) 800 yen → 950 yen
Large ramen (500 g ramen noodles) 800 yen → 950 yen
Extra pork (2 pieces) 150 yen → 250 yen
Fresh egg 50 yen
Take-out pork (500 g) 1000 yen → 1100 yen
In addition, boiled eggs, cheddar cheese, dried bonito flakes, etc. can be ordered as toppings. In addition, the amount of noodles can be customized to your preference in 50g increments, as each use of the wash scissors under the ticket machine can be used to reduce the amount of noodles by minus 50g…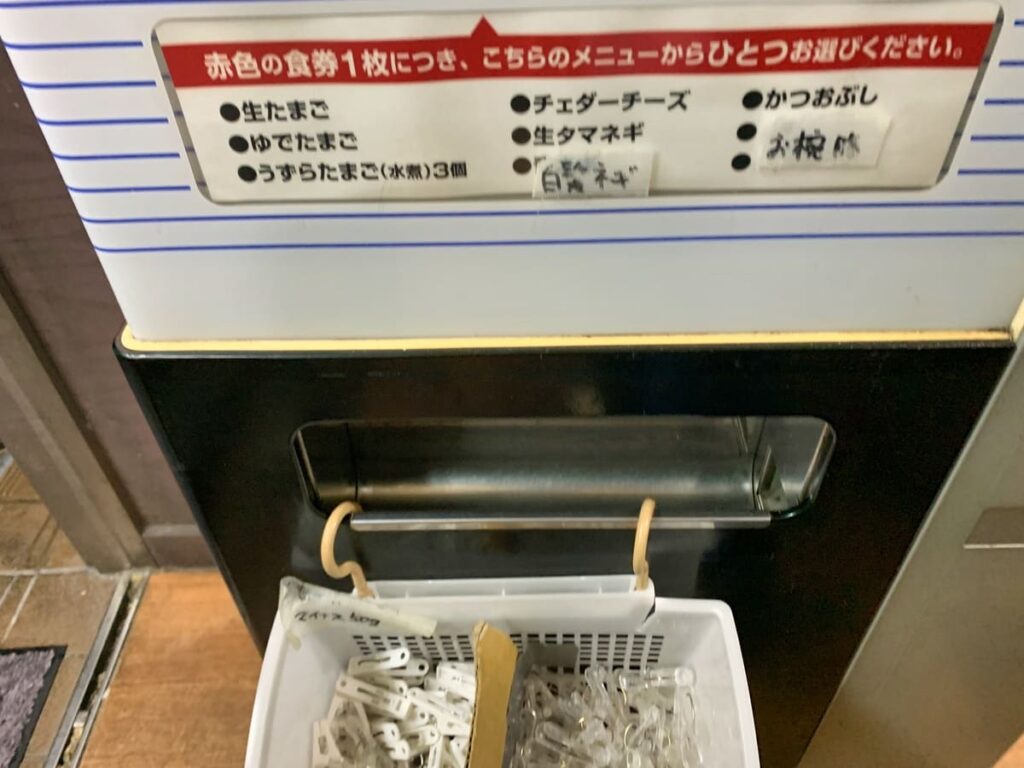 After purchasing a meal ticket, line up in the alley beside the restaurant.
After purchasing your meal ticket, line up in the alley beside the restaurant and wait to enter. Keep the meal ticket and washcloth, and when you are shown to your seat, place them on the counter to complete your order. The restaurant used to be a standing style restaurant with no chairs, but when I revisited the restaurant this time, 12 stools were placed along the L-shaped counter. However, there were only 10 seats during normal operation, and the remaining two were used for waiting customers who purchase takeout items.
Ramen Kudou claims to be a "soft noodle specialty" restaurant. I tried it!
This time, I ordered a regular size ramen (300g noodles). It took about 20 minutes after the order was placed. The noodles seemed to be ready to be cooked. At Jiro-style ramen stores, you can customize your ramen by adding garlic, back fat, vegetables, and karame (soy sauce sauce sauce) in five basic levels: no garlic, less garlic, more garlic, more garlic, more garlic, or more garlic. How much volume is this?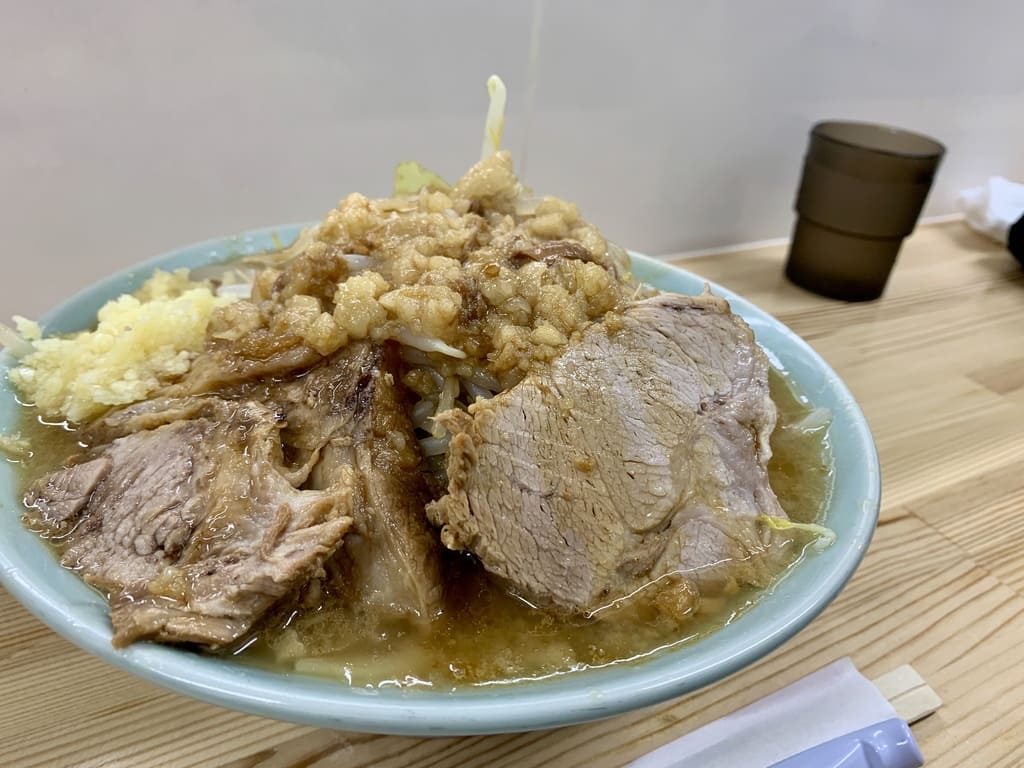 Here's what it looks like. The meatiness of the chashu pork and the back fat poured over the vegetables give Jiro-style ramen a wild flavor.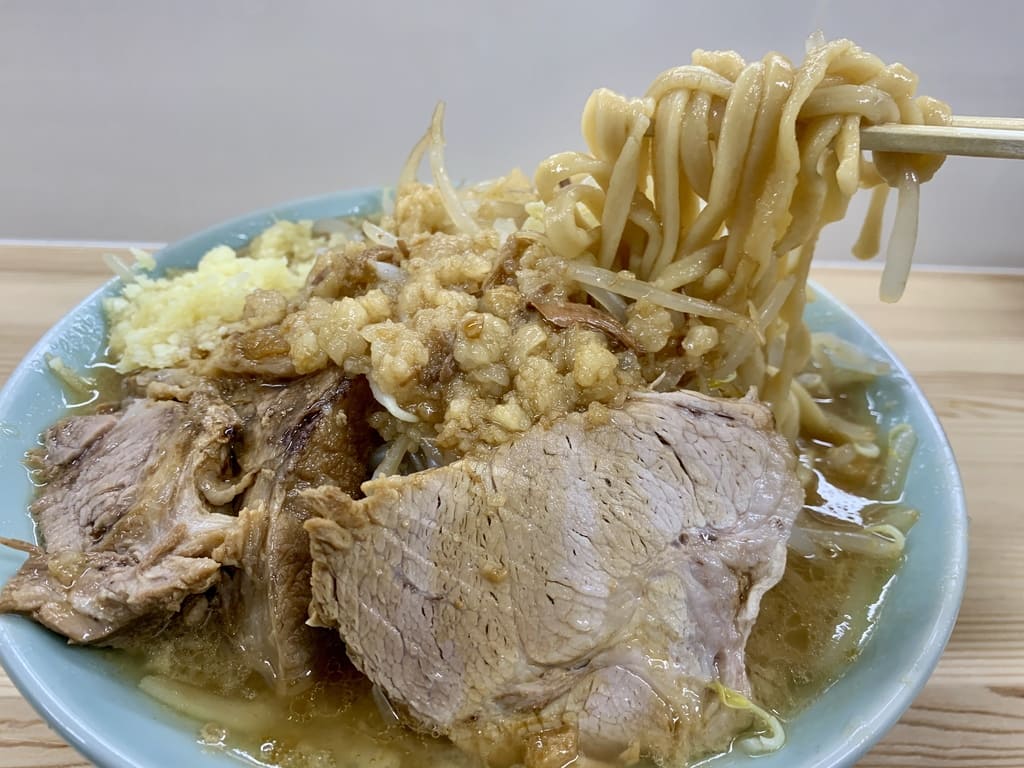 Now, let's eat it… Ramen Kudou, a noodle restaurant specializing in soft noodles, originally boils its noodles longer than other restaurants, but it seems that the boiling time was a little longer than usual on this day. The noodles were intended to be firm and easy to eat, but this time they were crumbly and soggy.
Also, the soup was a bit thin…about the right consistency to be served in a normal bowl and drunk. As a ramen soup, it seems a little undercooked…well, that just happened to be the case at this time. Jiro-style ramen is all about boldness, and you shouldn't complain about the details when eating this.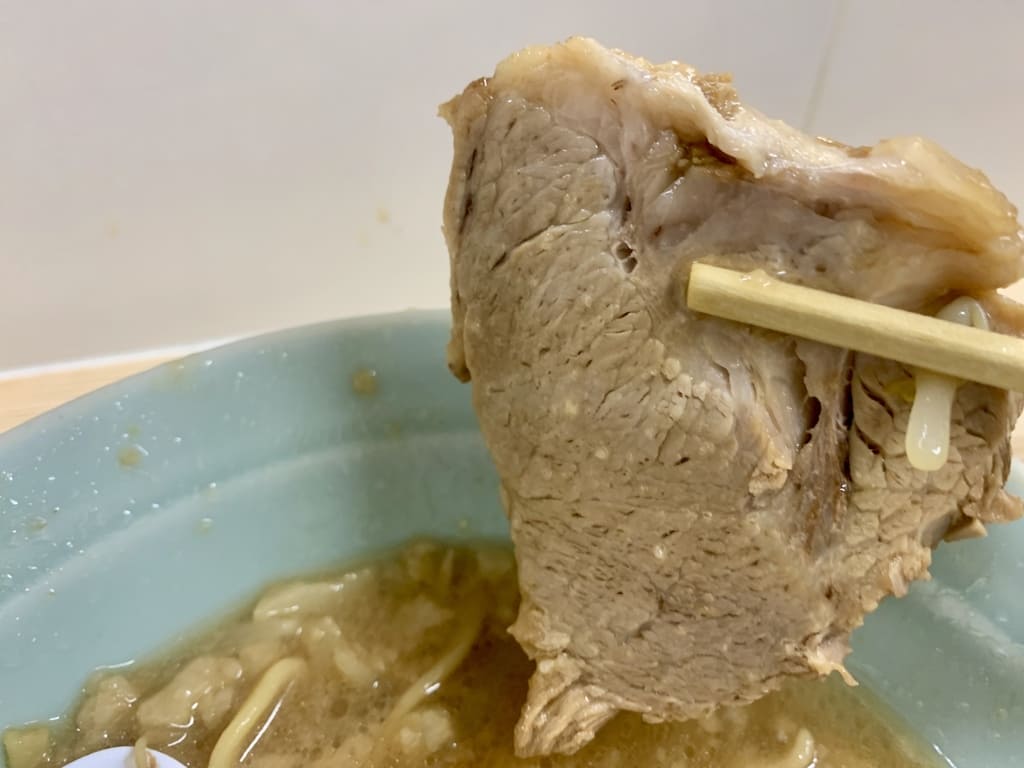 I proceeded to eat the vegetables and noodles, and finished it in about 10 minutes. In my case, I can easily finish about 300 grams of noodles, but since Jiro-style ramen noodles lift the soup quite a bit, you should expect the weight of the noodles to be much higher than initially assumed.
Frozen ramen noodles are also available to take home… Access to Ramen Kudou is a 4-minute walk from the nearest station, Kishibe Station on the JR Kyoto Line.
Ramen Kudou also offers frozen ramen to-go. Two soups, soy sauce and salt, are available, and the price is 1100 yen (tax included) with noodles and abura. You can also purchase chashu pork (take-out pork) separately in 200g minimum. Instructions on how to make the dish are included in the package. It seems that you can cook everything in a microwave oven. All you need to do is prepare the vegetables at home, and you can recreate Ramen Kudo's ramen at home! The restaurant also provides cooling agents, so it is recommended that you bring a cooling bag with you when you purchase your ramen.
Here are the details of the restaurant. Click here for store data…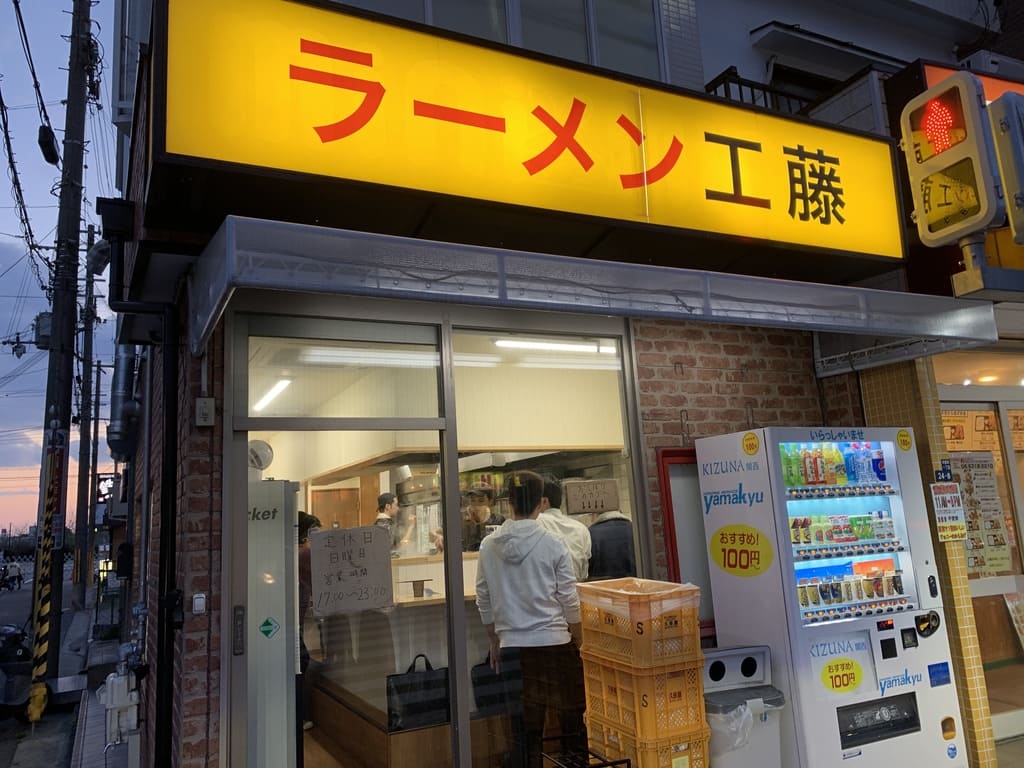 Ramen Kudou out of 5
.
Address: 1-24-8 Kishibe Minami, Suita-shi, Osaka 564-0011
Phone number: 080-3816-5458
Business hours: 11:30-14:00 (Sat. and Sun. 11:00-15:00), 18:00-22:00 (no Sunday night service)
Closed: No regular holidays
Parking: Available (free parking for 90 minutes at the nearby "Friend Mart" supermarket)
Credit card payment: Not accepted (meal voucher system)
It is only a 5-minute walk from the Hankyu Kyoto Line, Shojaku Station.
P.S. If you are looking for good ramen in Osaka, please stop by this article…
(Visited 1 times, 1 visits today)