Ramen Jiro Mita Main shop…A legend that led to the spread of many unique words in the ramen industry, such as "Jiro Kei," "Jiro Inspire Kei," "G Kei Ramen," "J Kei Ramen," "Jirorian," and "Tenji Gaeshi." shop. The company has a long history, having been founded in 1968 near Toritsu Daigaku Station in Meguro, and having moved twice since then, it has continued to operate near the current main gate of Keio University since 1996. . Actually, the name of the restaurant used to be "ラーメン次郎", but when they moved for the first time, the paint shop mistakenly write "二郎" on the signboard, so we kept using "Jiro" until now. I heard that it is.
If you like hearty ramen, you must visit Ramen Jiro Mita Main Branch, the birthplace of Jiro-style ramen, at least once. I had been looking for that chance for a long time, and one day I suddenly got the chance to take the Shinkansen to Tokyo…I thought, "I have to take advantage of this Tanabota chance!" I arrived at Tokyo Station at 11 a.m. and went straight to Ramen Jiro. I headed to the Mita main store. From JR Tamachi Station, head toward Keio University using Google Maps. When I arrived at the store around 11:30, I was curious about the line…
It's normal to wait for over an hour at lunchtime…The rules for queuing at Ramen Jiro Mida Main Shop and things to keep in mind when ordering…
As I passed through the main gate of Keio University and approached Ramen Jiro's Mita main shop, I started to see a crowd like this…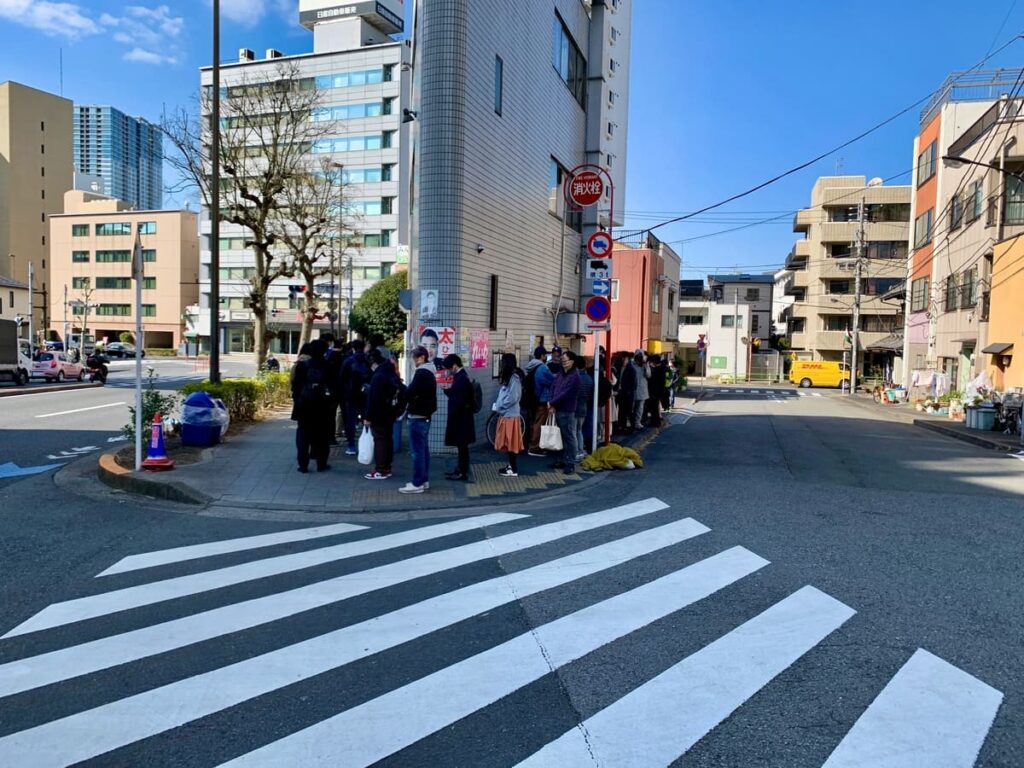 How to line up at Ramen Jiro Mita main shop
If you look at the map, there is a long line surrounding the store in a triangular area…At this time, counting from the beginning to the end of the line, there were exactly 50 customers (the customers on this day were both male and female). There was a ratio of 9:1 (student:worker ratio: 9:1). In this image, the entrance to the store is along the main street on the left, and the back entrance to the store is along the path on the right. When it's crowded, the rule is to line up like this, bending towards the back entrance of the store.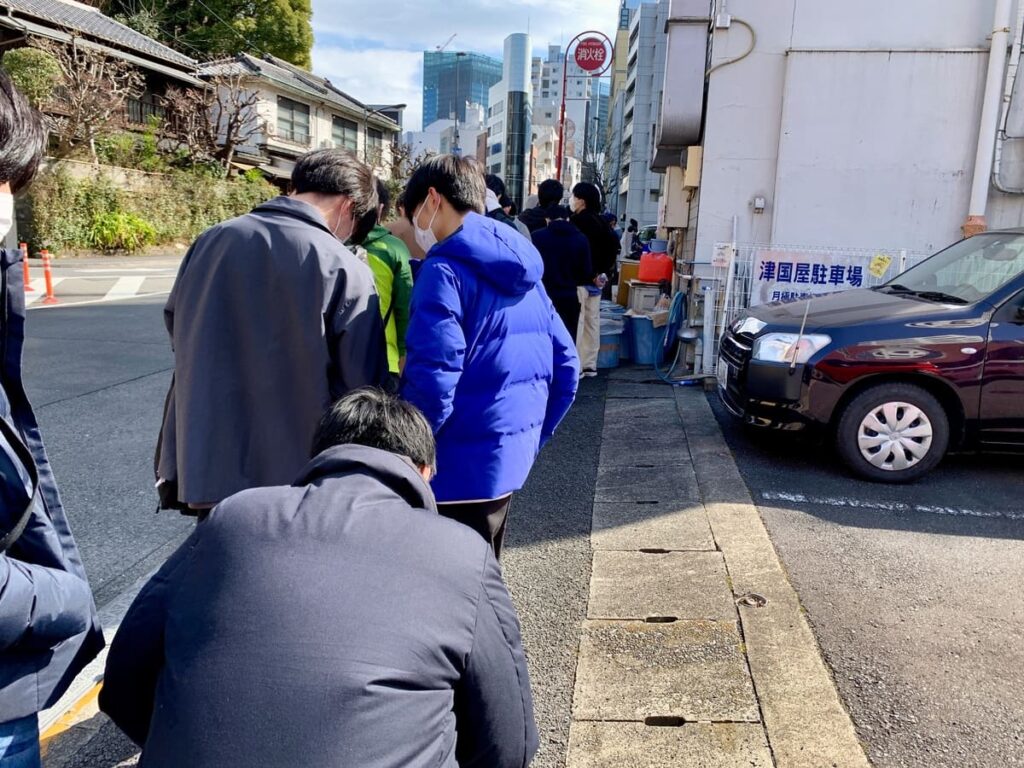 This was the last position in the queue, but this is actually not a good arrangement. This is because the right side of the image is a parking lot that has nothing to do with the store, and it will be a hindrance to people entering and exiting. In fact, a few minutes later, the owner (founder Takumi Yamada is called "the Commander" by Jirolian) came out from inside the store…
S
We were asked to rearrange. Some people may have the impression that Ramen Jiro's leader is "scary," but he was actually a very soft-spoken person.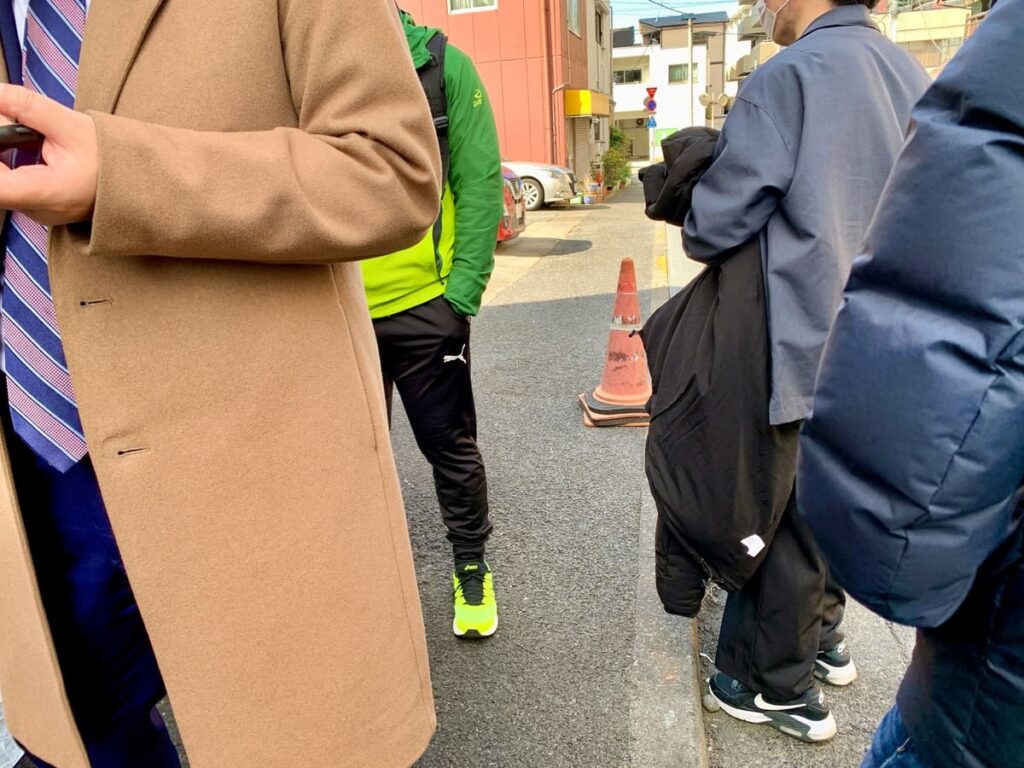 That's why I sorted it like this and waited. Is the red cone you can see ahead a mark of a bend? The store's unofficial Twitter account allows you to check the crowd status in real time, so please use it before visiting. By the way, there is no official parking lot or bicycle parking lot at Ramen Jiro Mita Main Shop. Considering the surrounding environment, we do not recommend visiting the store by bicycle or motorbike.
Ramen Jiro Mita main shop menu introduction and how to buy meal tickets
There is a vending machine like this installed at the front of Ramen Jiro Mita main shop…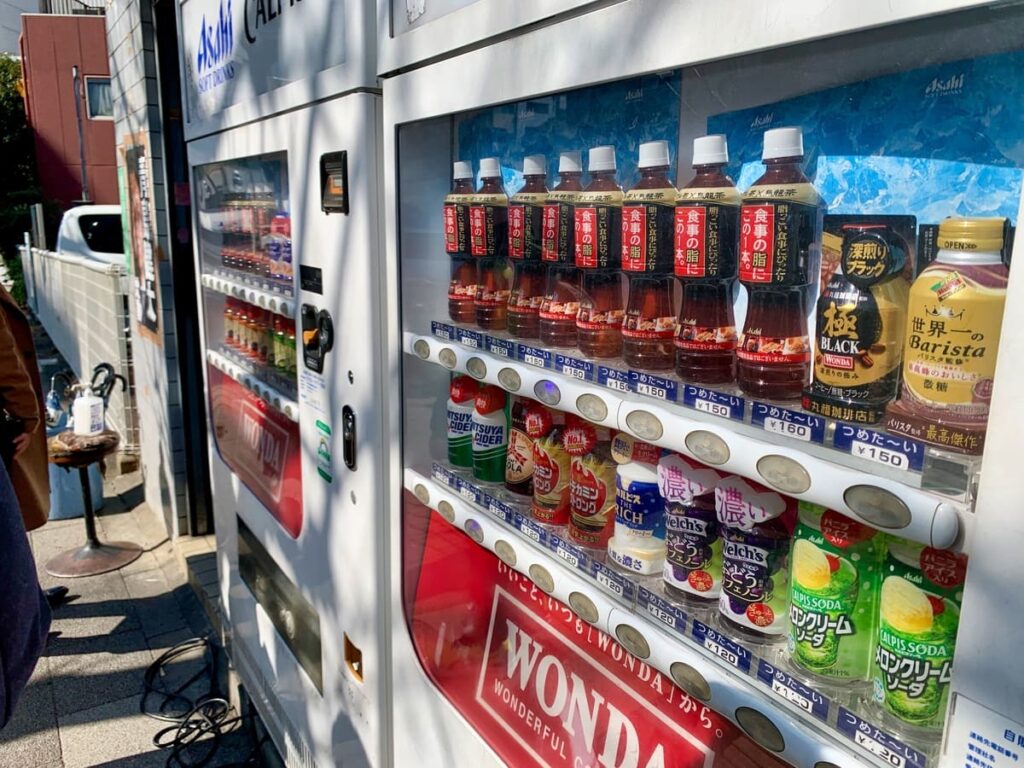 When you get to this exact position, you should be 5th to 10th from the beginning of the queue. When this time comes, you should get out of the line and enter the store, and purchase a meal ticket from the ticket vending machine (by the way, drinks purchased from this vending machine can be brought into the store).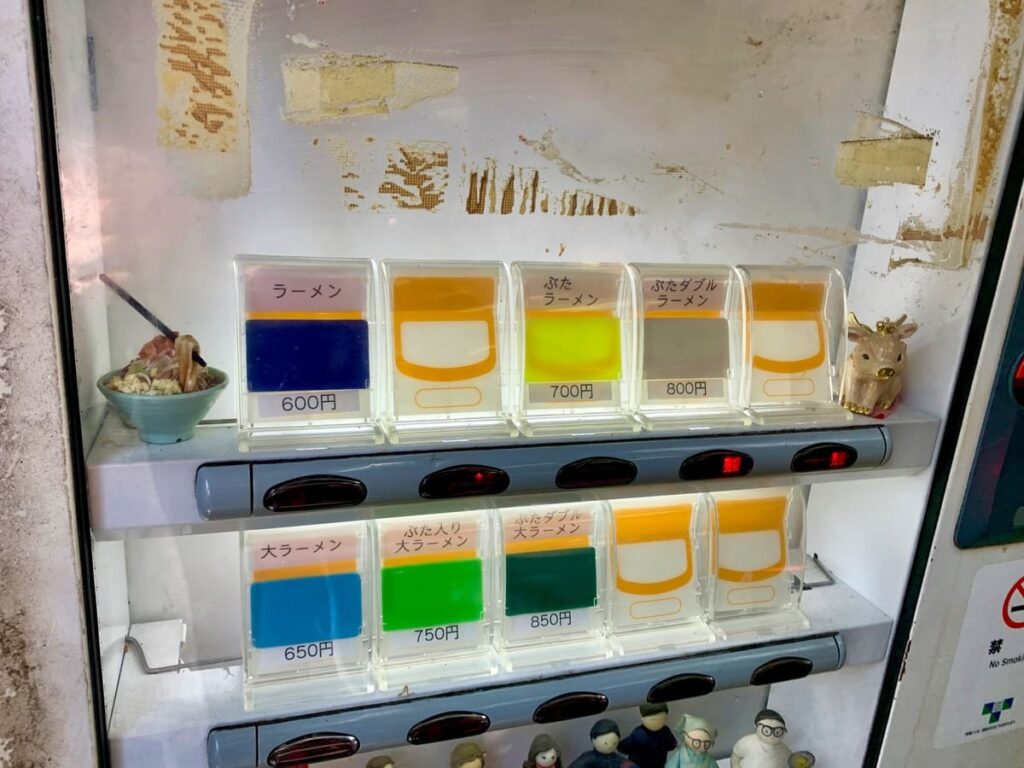 Ramen Jiro Mita Main Shop has only two types of ramen on the menu: ramen (sometimes called small ramen) and large ramen, as shown in this image of the ticket vending machine. There are two options: pork ramen with increased amount of chashu, and pork double ramen (buta double ramen was sold out on that day), and there are 2 × 3 = 6 options (by the way, above this ticket vending machine, there is a Ramen Jiro Shrine) It is also a well-known story among some enthusiasts that there is a message posted on it.)
What Jiro beginners need to be careful about is the amount of noodles. At Ramen Jiro, even a small ramen has about 300g of noodles, which is almost twice as much as regular ramen. A large ramen has about 400g of noodles, which is about three times that of regular ramen. On the other hand, if you purchase a small ramen ticket, you can choose between "Sukuname (about 250g)" and "Hanbun (about 200g)" when ordering, so make sure to order the amount that will allow you to eat the entire meal. let's.
In any case, in today's world, a bowl of ramen costs 600 yen (tax included), how good is it? Even a small ramen is a huge portion, and no one complains even if the price goes up by 100 or 200 yen.
How to order ramen at Ramen Jiro Mita Main Shop
When you are about to enter the store, you will be asked to show your meal ticket one by one from the counter inside the store. At this time, if you show your meal ticket to the counter, the noodles will be boiled for you before you actually enter the store. If you would like to have the noodles boiled or the amount adjusted, don't forget to let them know your wishes at this time.
On this day, it took about 70 minutes to get in line after waiting in line…Once you're seated, place the ticket you purchased on the counter so that the staff inside can see it.
According to Tabelog information, Ramen Jiro Mita Main Branch has a total of 13 seats, including only counter seats. However, the space in the store is quite small, and I feel like I have to ask the customers sitting for help when moving toward the exit of the store. Please note that this is not a store where you can bring very large luggage.
Now, just as the ramen is about to be completed, the kitchen…
D
A voice will be heard. When you hear this voice, it's time to "call" and customize the ramen to your liking. How to call is explained in the past article about Ramen Jiro Kyoto branch.
Ramen: It all started here…The legendary cup from Ramen Jiro Mita Main Shop, the originator of Jiro-style ramen…
Well, this time I ordered the default ramen from Ramen Jiro Mita Main Shop, which is the center of Jiro-style and Inspire-style ramen nationwide. This time, in order to try the standard flavor of the original Jiro style ramen, I set the Cole to normal condition with only garlic. No garlic is the default for all types. I've eaten here many times, including the Inspired variety, but I can't believe I didn't know about this…If you're reading this, please laugh at this idiot.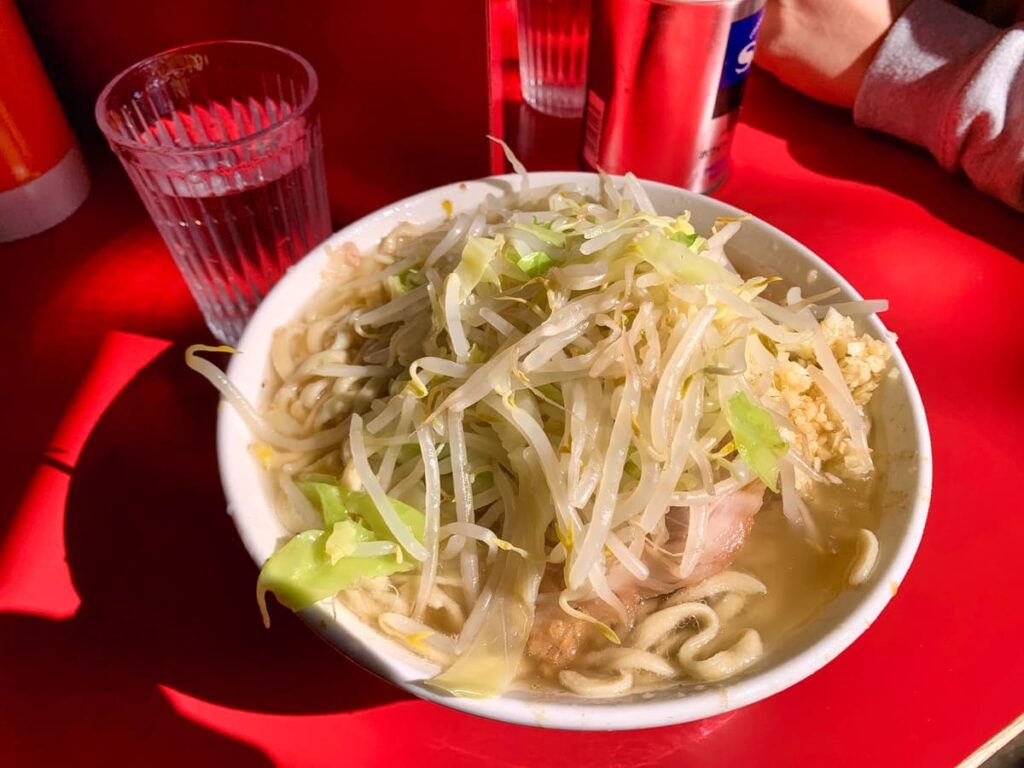 Anyway, let's start with the soup… There are a few differences between Ramen Jiro Mita Main Shop and previous Jiro-style and Inspire-style restaurants. For example, there are no spoon available at the Mita main store (other reasons include no towels, and a cup of water is provided from the kitchen"). Therefore, you cannot scoop soup into a spoon and drink it.
However, some people may notice when looking at this image, but the color of the soy sauce sauce (karame), which is familiar to enthusiasts as FZ soy sauce, is very pale. When I actually tried drinking it, although the pork fat and richness were evident, the soy sauce flavor was quite subtle. In other words, it is a non-emulsified soup that has all the flavor components of pork dissolved in the soup. I remember adding Karame to Ramen Jiro at the Kyoto store and failing, and thought, "I'm sure I'd be more addicted to it without adding Karame…", but this was shocking in the opposite sense. was.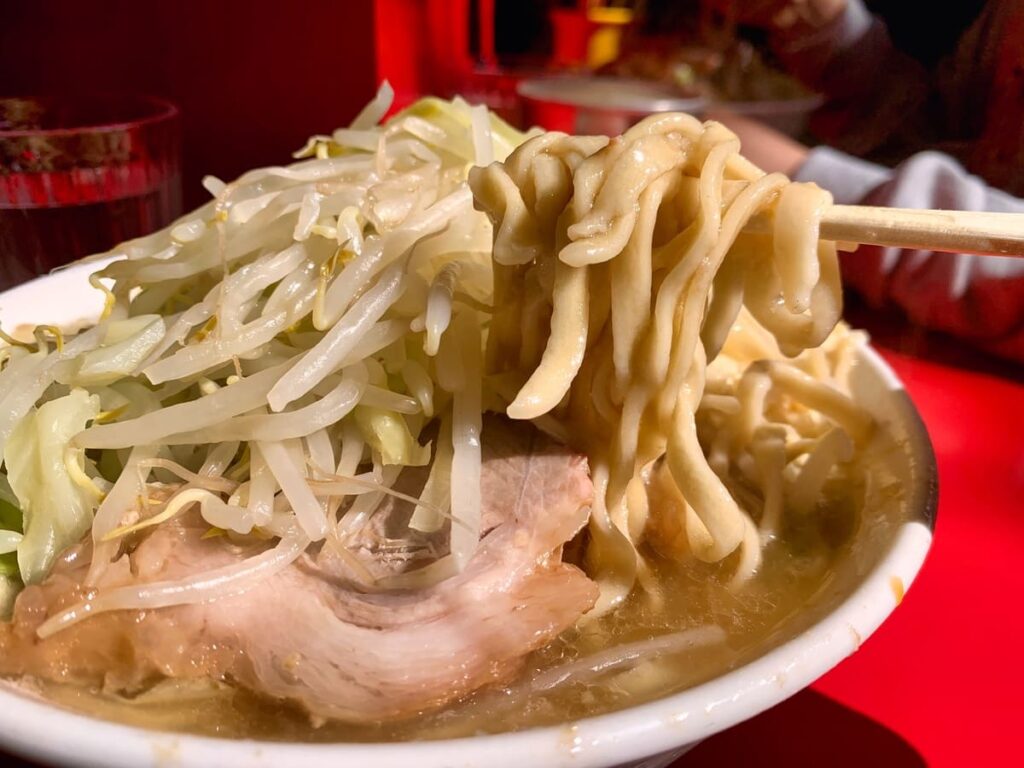 The noodles on the other hand are extremely thick noodles made with Nisshin Seifun's Aushon flour. The boiling quality is softer than expected, and you can mainly enjoy the chewy texture rather than the crispy texture. By the way, according to other food blogs, the son of the leader has a tendency to overcook the noodles. When the restaurant opens in the evening, the chef is gone and his son is in charge of cooking, so if you like your noodles on the firmer side, you may want to consider visiting the restaurant between morning and afternoon when the chef is available.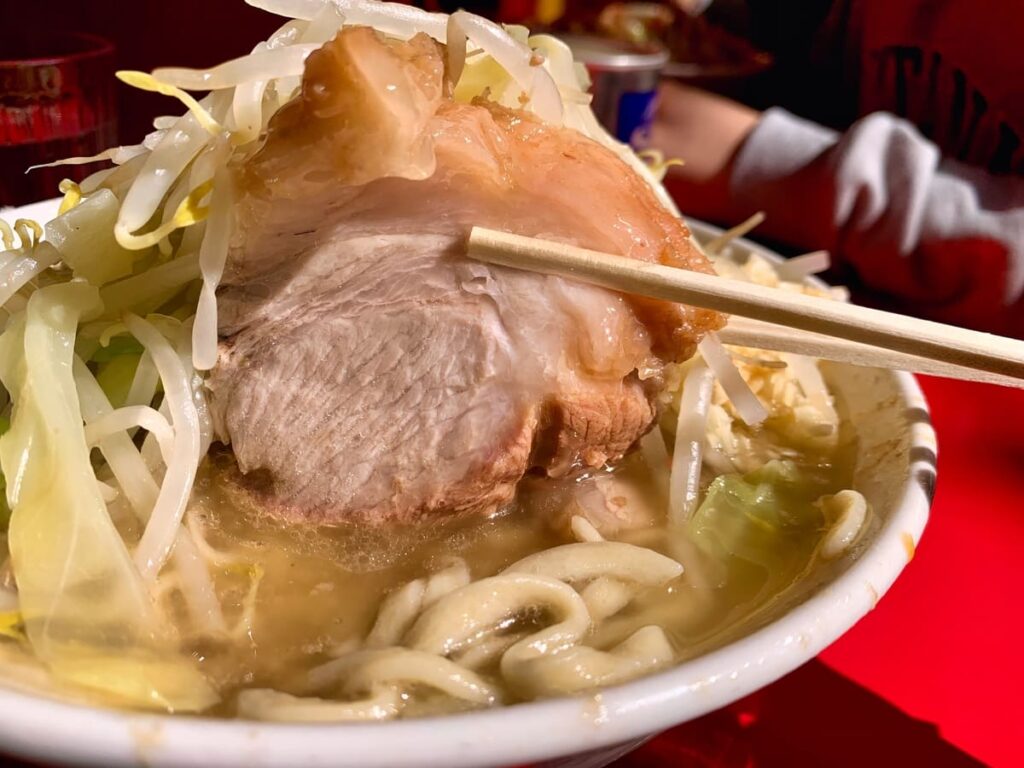 In addition, even the small ramen comes with two slices of extra-thick chashu, and the taste was consistent compared to other restaurants. It has a good balance of lean and fatty meat, and although it is thick, it is slowly stewed, making it a meat lover's delight where you can enjoy both the filling and the melty texture.
This is what Ramen Jiro's small ramen looks like at Mita main shop… On the internet, there are rave reviews for the taste of the sacred place, but there are also comments such as "It's disgusting!!" and "Mita Main Shop serves the worst ramen among the other branches", making it a mixed bag. In fact, when I tried it, I found it quite a bit strange that the soy sauce didn't have a strong sharpness…However, that can be compensated for by customizing it with calls, so personally, I don't think it's a big problem. I would think about it if this cost more than 1,000 yen for a bowl of ramen, but since they are still selling their ramen at an eye-watering price of 600 yen for a bowl of ramen, it would be a problem if you become addicted to the customization after a few visits. I guess you could call it a solution.
42 affiliated stores nationwide! To access Ramen Jiro Mita Main Shop, it is an 8-minute walk from the nearest station, Mita Station on the Toei Subway Mita Line.
Lastly, as of February 2020, when I visited Ramen Jiro Mita Main Shop, there are a total of 42 stores with Ramen Jiro signs (check here for the latest number of stores…) . All stores displaying this signboard have been approved by the general manager of the Mita main store to use the signboard.
However, in reality, each store offers ramen with a different flavor, such as making minor changes to their ramen, offering ramen without soup, or researching different toppings. That's why all ramen Jiro other than the main store, Mita Main Store, are collectively called "Jiro-kei ramen." Jiro-style ramen really has a lot of depth. Even if you like Jiro-style or Inspire-style ramen, be sure to try out the different flavors when you find a new restaurant in each area.
Now, here are the store details. Click here for store data…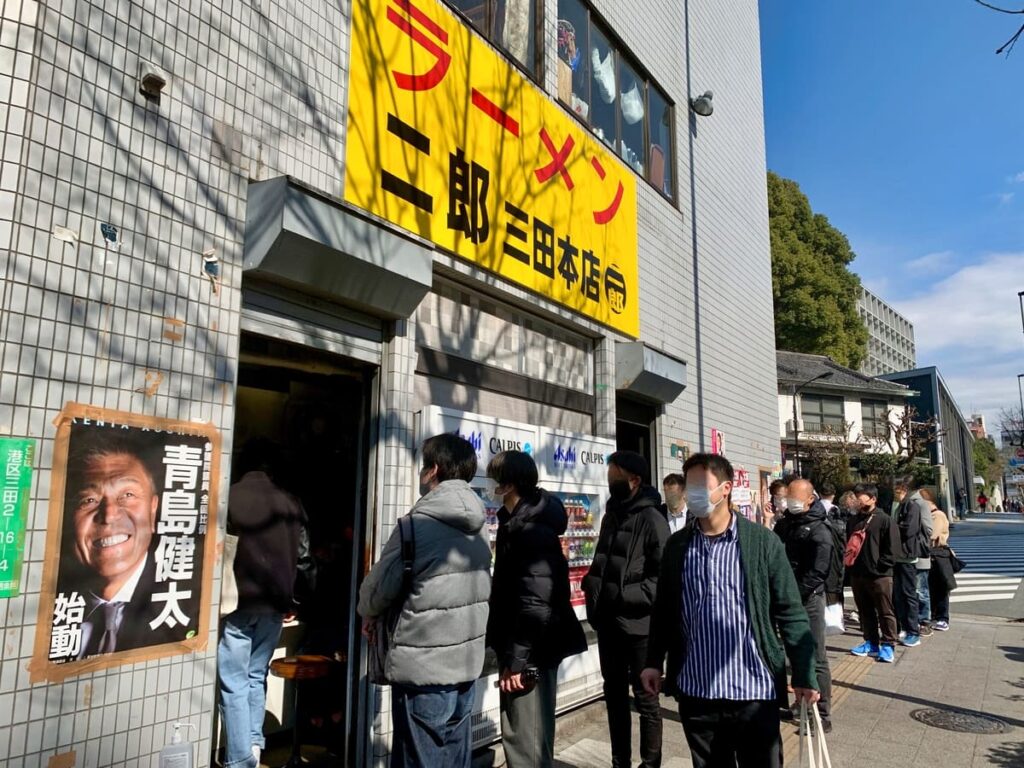 Ramen Jiro Mita Main Shop Out of 5
Address: 2-16-4 Mita, Minato-ku, Tokyo 108-0073
Phone number: Not disclosed
Business hours: 8:30-15:00, 17:00-20:00
Closed: Sundays, holidays
Parking: None
Credit card payment: Not possible (meal ticket system)
It is also a 10-minute walk from Tamachi Station on the JR Yamanote Line.
In order to give objectivity to the restaurant's evaluation, I would like to introduce reviews from other blogs…
After I finished eating, I felt like I was going to burst, and it was hard to even walk. There was a strong garlic smell in my mouth that I could never get rid of. The sudden rise in blood sugar levels makes my head dizzy and I can't think of anything for a while.

I was troubled by the aftereffects, and my honest impression was that Jiro wouldn't be good for a while.

The date changed to the next day.

The next day, when the pain from yesterday was gone, I was already craving Jiro!

How horribly addictive!

東京下町・ひとり飯:"初めて二郎を食べに行く人へ" 人生はつの「ラーメン二郎」を三田本店で食べた話
Some people seem to enjoy the blurring at the Mita main store, but I think I understand that (lol)
He then says that he will give you this amount for just 650 yen.
The spirit of the commander-in-chief is, after all, divine! !

デカ盛りとご当地グルメ食べ歩きブログ:ラーメン二郎三田本店【朝ラーメン】麺増し聖地巡礼のルール【デカ盛り】
The noodles are usually soft, but on this visit, the firmness was standard.
The soup is non-emulsified and has a slightly bland taste, but the flavor is strong and delicious!
You will be happy to be able to enjoy the original flavor of Ramen Jiro!

ボアソノライフ:【創業者が作るラーメン二郎1号店】ラーメン二郎三田本店
P.S. If you are looking for delicious ramen in Tokyo, be sure to check out this article…
(Visited 8 times, 1 visits today)