According to a search on the internet, as of October 2020, there are 42 shops across the country that are operating with Ramen Jiro signs (Click here for the latest number of shops). But strangely, there are almost no Jiro-style ramen (*Note) shops that are not Inspire-style in areas west of the Kanto region.
There is a rumor circulating on 5ch (formerly 2ch) that the reason for this is that the founder, Takumi Yamada (also known as the CEO), hates Kansai and won't allow his disciples to open stores in Kansai. …Regardless of the truth or falsehood of that rumor, Ramen Jiro Kyoto branch, the only Jiro-style ramen shop in western Japan, has been operating in Ichijoji Temple, a ramen hotspot, since April 2017.
Only one in western Japan…When you think about it, don't you think it's amazing that you can enjoy the taste of Ramen Jiro in Kyoto? If you feel the same way as me, please read this article till the end…
A little difficult for first-timers…A quick introduction to how to enter Ramen Jiro Kyoto store, the menu, and how to order.
Ramen Jiro Kyoto branch is located in a perfect location right across the street from Ichijoji Station on the Eizan Electric Railway. The owner, Mr. Miyamoto, seems to have come from the head office of Ramen Jiro, the Mita main branch, and is a direct disciple of the founder, Mr. Yamada. This seems quite promising.
How to enter Ramen Jiro Kyoto store
When you arrive at the store, there is a sliding glass door that gives you a glimpse of what's going on inside the store. You might be tempted to go inside like a normal ramen shop, but there is actually an exit door, and you cannot enter through that door. So, where is the entrance?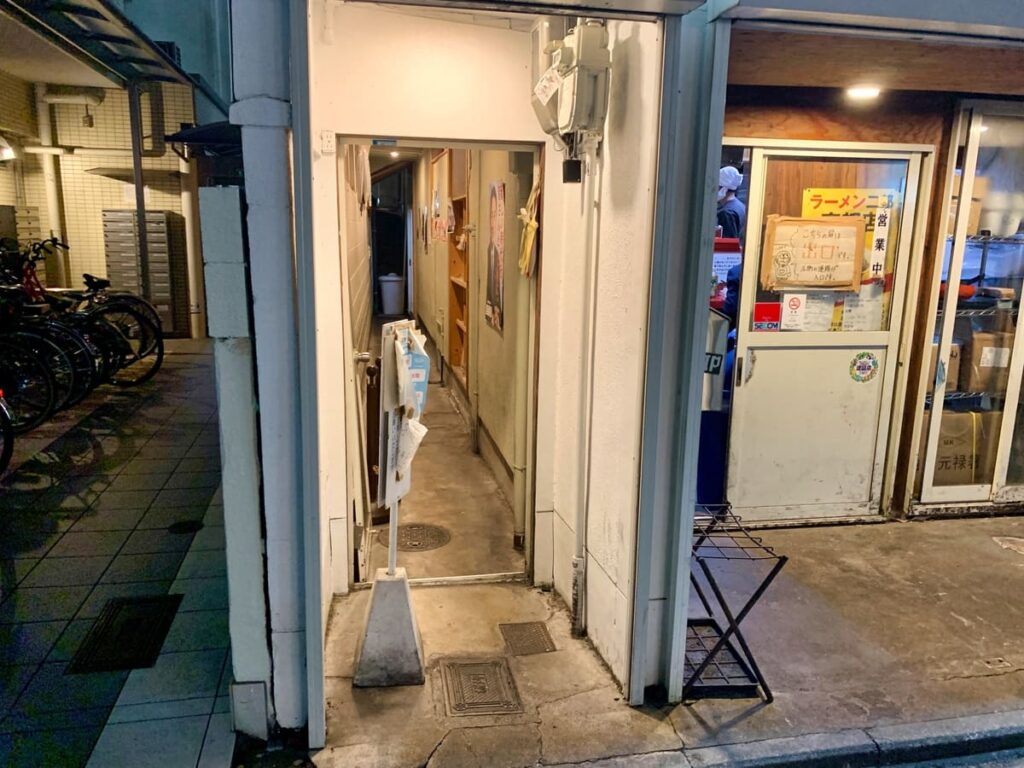 There is a narrow passageway to the left of the store, and this is the official entrance to Ramen Jiro Kyoto branch. As you go deeper here…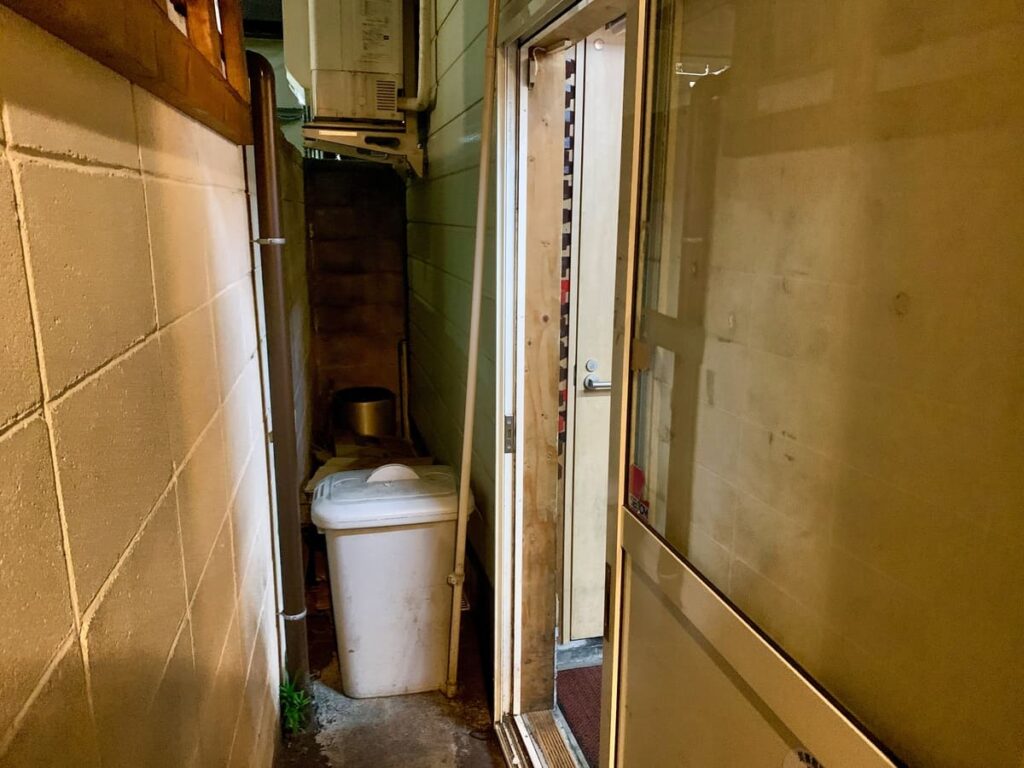 There is an entrance to the store space on the right, and as soon as you enter…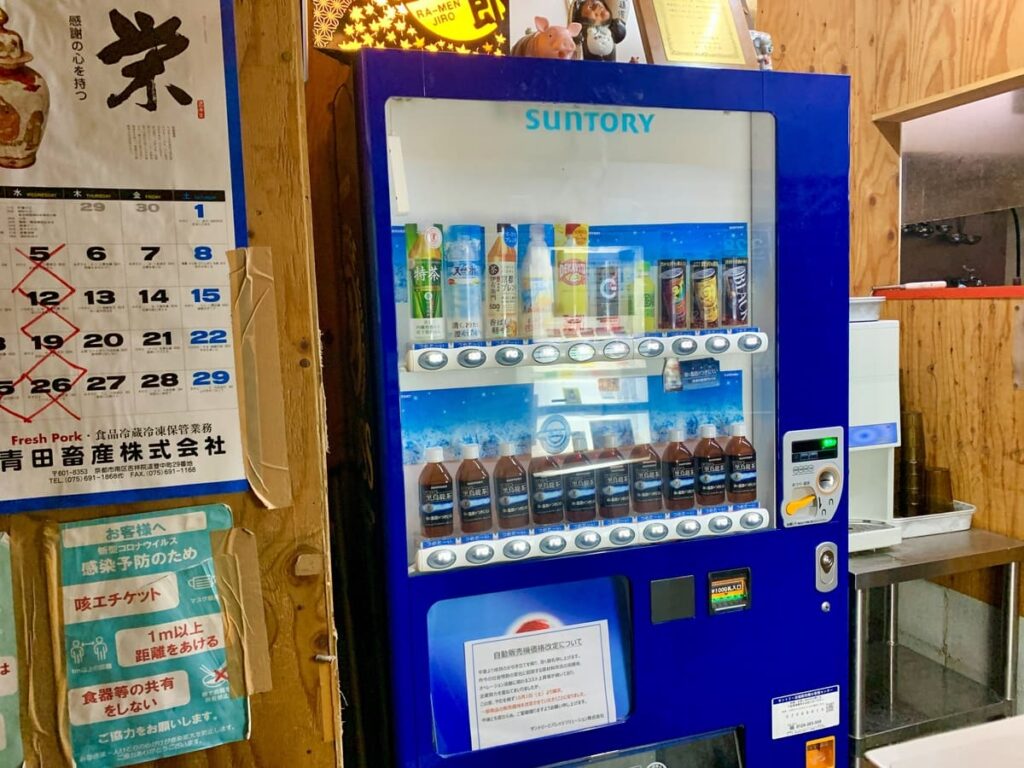 Meet the vending machine full of Suntory black oolong tea! For a moment, I was reminded of Mario Ramen, a sacred place for rich ramen in Nara Prefecture. Thank you, fellow rich ramen comrades, for caring about our bodies.
Ramen Jiro Kyoto store menu and ordering method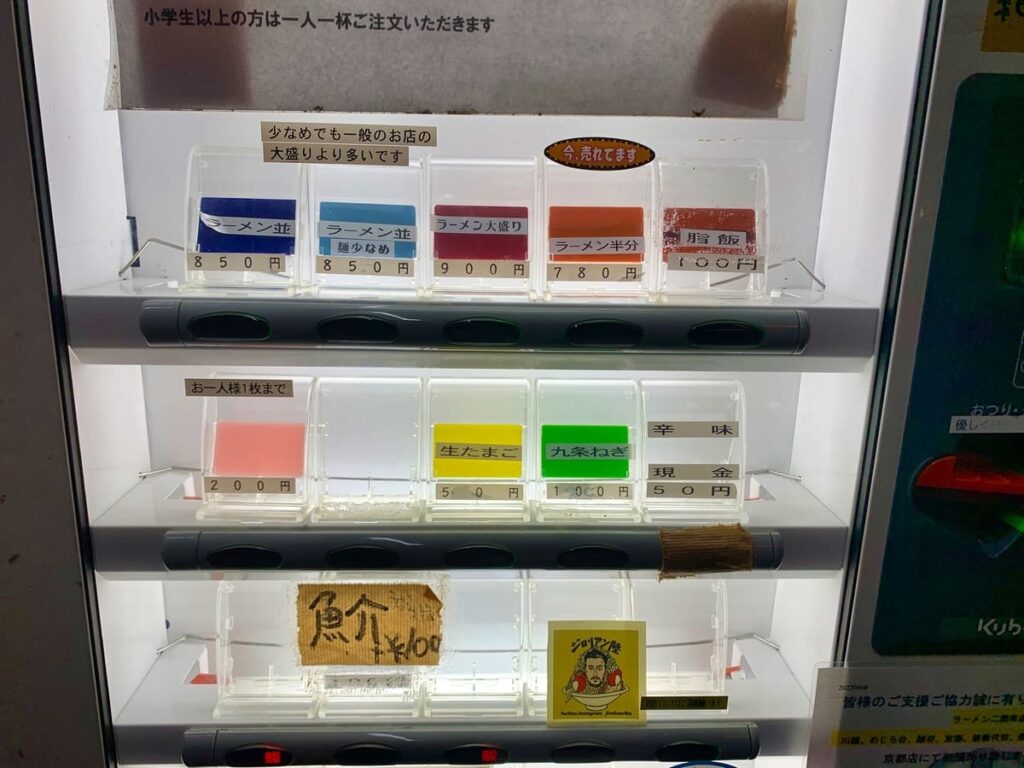 There is a ticket vending machine opposite the vending machine, where you purchase your meal ticket. Ramen Jiro Kyoto branch only has two types of menu: ramen and fatty rice. You can adjust the amount of noodles by using the ticket, and when ordering "shiru-nuki" ramen without soup, tell the staff verbally when you hand over the ticket. If you want to customize your toppings with extra pork, raw eggs, or Kujo green onions, you can buy a meal ticket in advance and hand it to the staff along with your ramen meal ticket. However, it is OK to add spiciness even after the ramen is completed, and this is the only transaction that requires cash.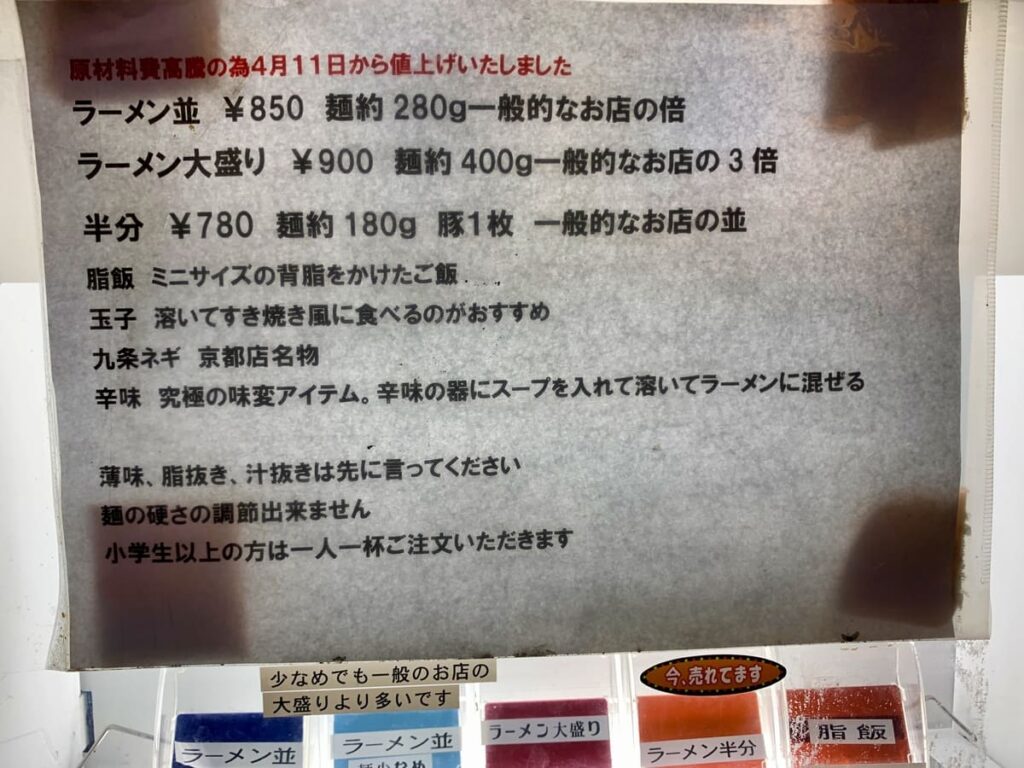 The rule is to form a line and wait in line. Cold drinks and astragalus are self-service and are located next to the vending machines, so don't forget to take them with you when you take your seat.
Finally, how to call. When the ramen you ordered is almost finished, the waiter will ask, "Would you like to add garlic?" Using this shout as a signal, you can customize it to your liking. There are four types that can be customized: garlic, vegetables, abura (back fat), and karame (soy sauce sauce), and each can be adjusted in five levels: "none," "less," "with," "increase" and "double increase." .
By the way, it is a common rule for Jiro-type and Inspire-type that anything that cannot be included in the call is set to "with." If you are trying Jiro-style ramen for the first time, we recommend that you simulate how to return this call several times in advance.
Ramen (medium size): How does Jiro-style ramen, directly from the Mita Honten branch, differ from other inspirational ramen restaurants in Ichijoji?
Now, let me introduce the first Jiro-style ramen on this blog, Ramen Jiro Kyoto branch's ramen (medium size, price 850 yen including tax). Click here for the image…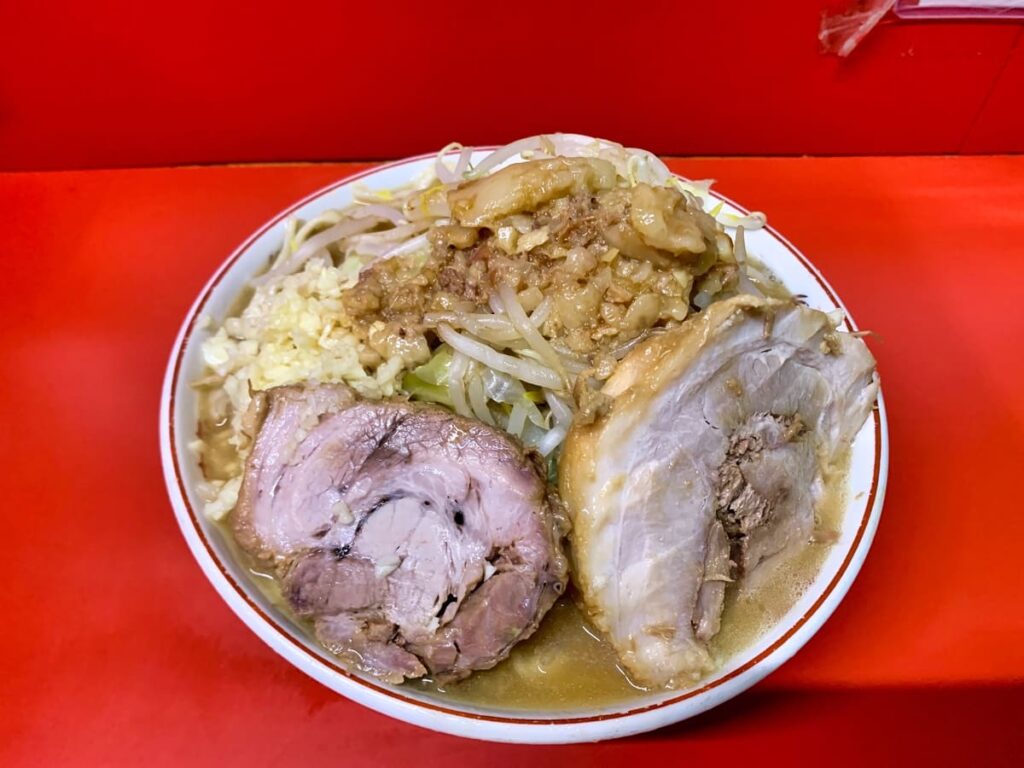 This time the call was all "better"increase" (garlic, vegetables, oil, Karame). The amount of noodles is about 280g, which is slightly smaller than the Ramen-Sou group, so it looks a little tame in terms of volume.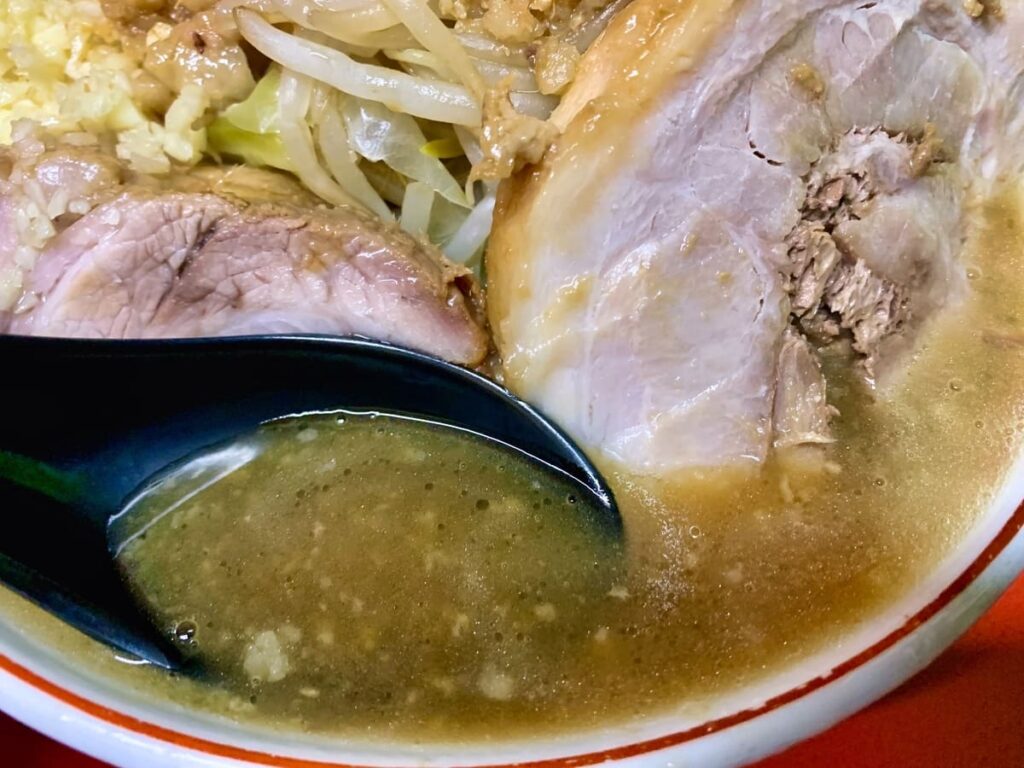 Now let's start with the soup…The cloudy soup made from emulsified pork fat is full of pork flavor and tastes as expected. On the other hand, the slightly rounded soy sauce sauce has a strong effect, and it blends well with the pork stock in a 1:1 ratio, enhancing the deliciousness. However, at first it was good, but in the second half I started to feel a little tired of eating. The addition of color backfired this time. In fact, on the counter…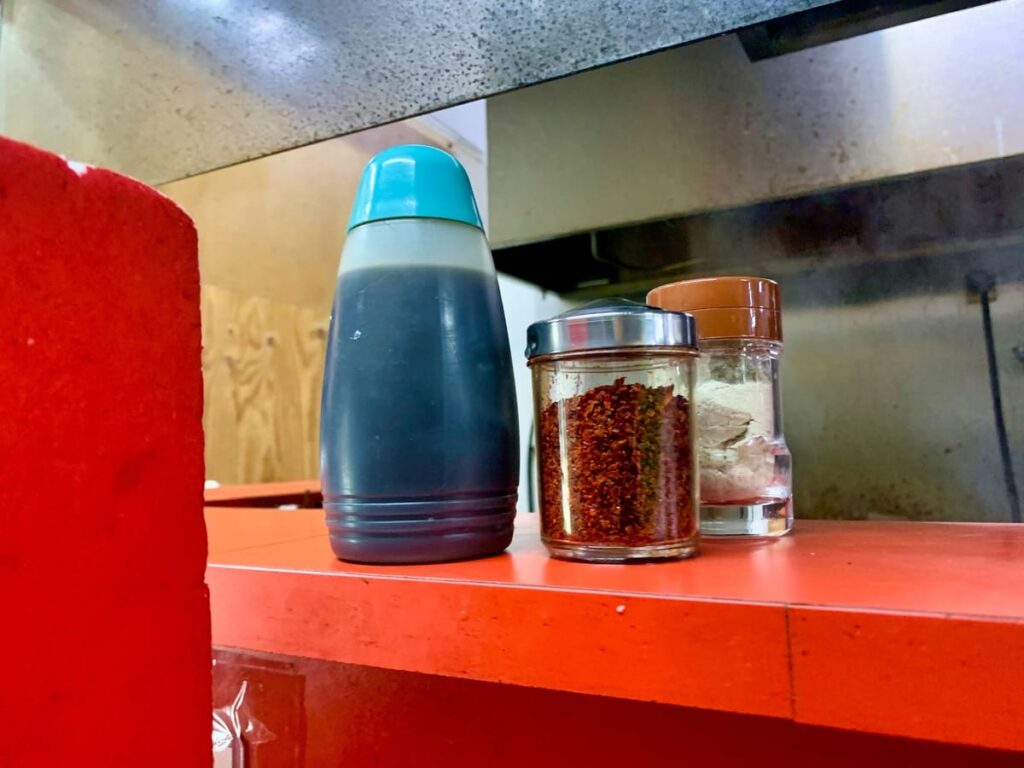 There is additional soy sauce sauce along with pepper and chili pepper, so it may not be necessary to add caramel at the time of call.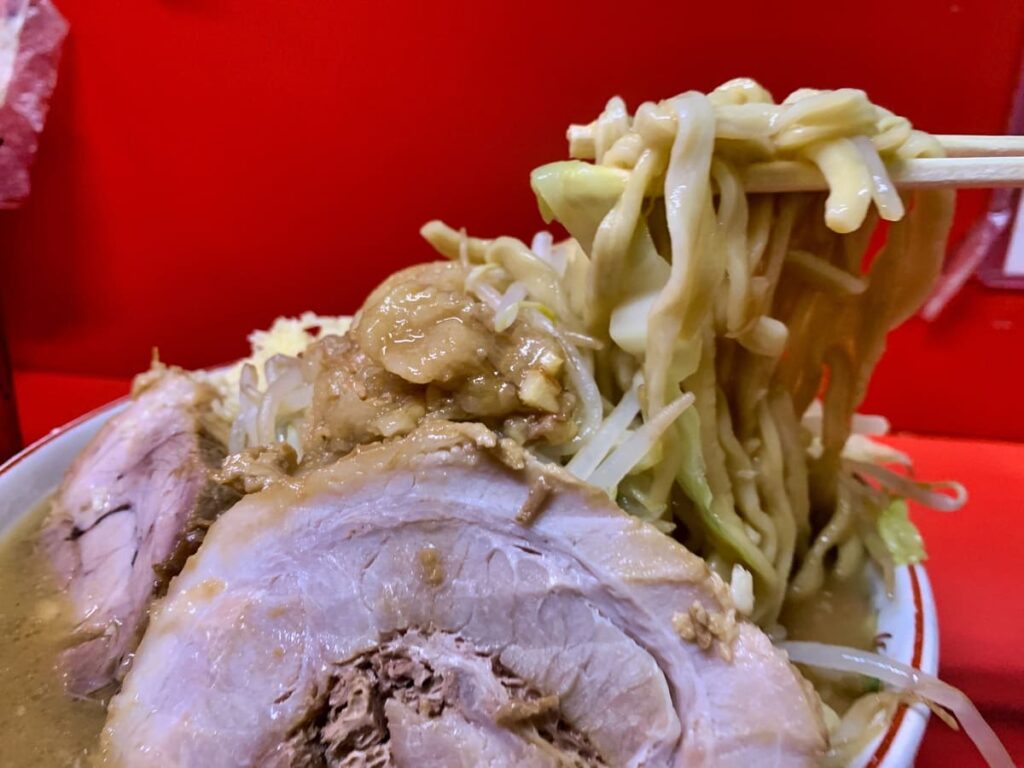 On the other hand, the extra-thick flat noodles that are pulled out from between the vegetables are boiled a little softer, so they don't have that crunchy texture, and instead you can enjoy the chewy texture of the noodles. The light wrinkles on the noodles absorb the soup well, and the rich flavor of the soup is not overpowering, but the wheat flavor is still present in your mouth.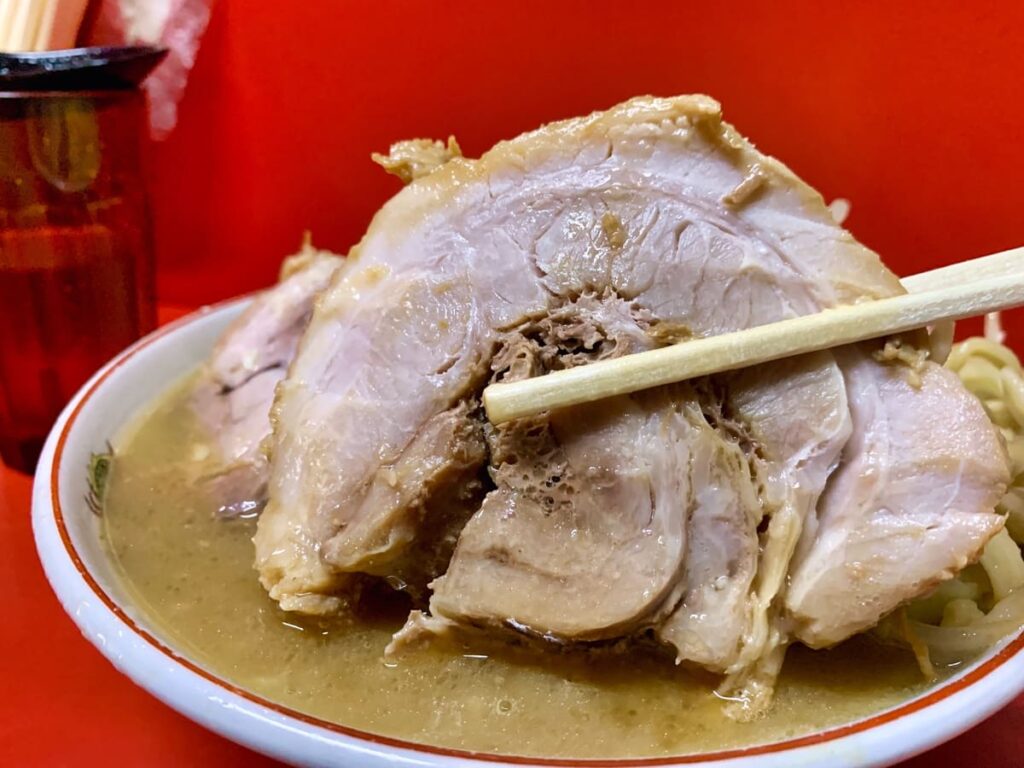 The extra-thick chashu comes with two slices by default (one can be added per person as an option), and as you can see, when you pick it up with chopsticks, it feels very heavy. However, the texture of this one is also different from that of the previous Inspire stores, and it is not a soft char siu that is on the verge of falling apart, but a heavy-class char siu with a firm chewy texture. So even if you only have 2 slices, you can still feel satisfied with eating the pork.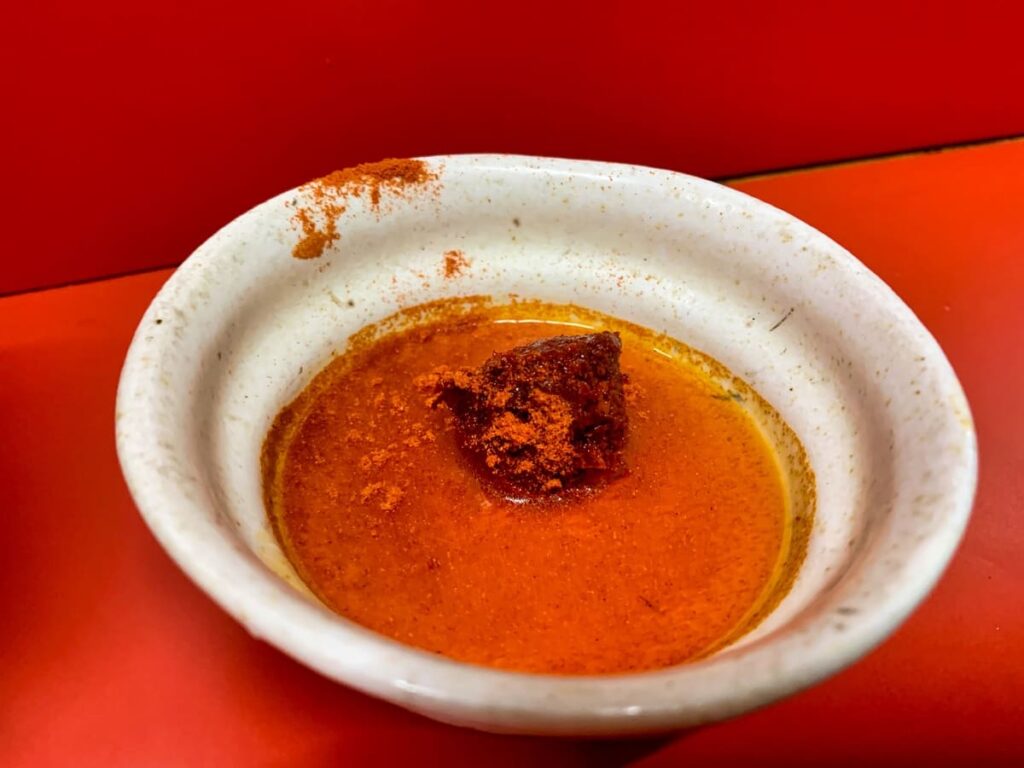 In the second half, I ordered the spiciness and it was time to change the taste. However, unlike what I expected, it came out in the form of a miso-like paste instead of powder. Pour the soup into this small bowl to dissolve the paste, then pour it back into the bowl little by little to adjust the spiciness. When you feel like eating a rich soup, use this to give it a spicy kick that will make your head crunchy. If you feel like you want to change the taste a bit, please feel free to ask the staff.
Although the ramen at the Ramen Jiro Kyoto store looked similar to the Jiro-inspired ramen from other stores, the taste was clearly different. Ramen is really profound…I'm not saying which is better or worse than the ramen from the nearby Ramen Sou Yume wo Katare or Ramen Ikedaya. Since taste preferences vary from person to person, you should choose a ramen restaurant that suits your taste.
However, if I had to mention one disappointing point, it would be that the portions are huge, so even if you come to Ichijoji, the ramen battleground, you won't be able to shop around for other ramen shops…unless you're a big eater, you won't be able to try other ramen shops that day. It looks like the tripe for one meal will be used for the Ramen Jiro Kyoto store.
The limited toppings are being announced on the shop's Twitter account…To access Ramen Jiro Kyoto branch, it's a 0-minute walk from the nearest station, Eizan Electric Railway Ichijoji Station.
One last piece of useful information. Ramen Jiro Kyoto store announces limited toppings that are not available at ticket vending machines on the store's Twitter account. Temporary closures will also be announced on Twitter, so be sure to check it before visiting the store.
Now, here are the store details. Check here for store data…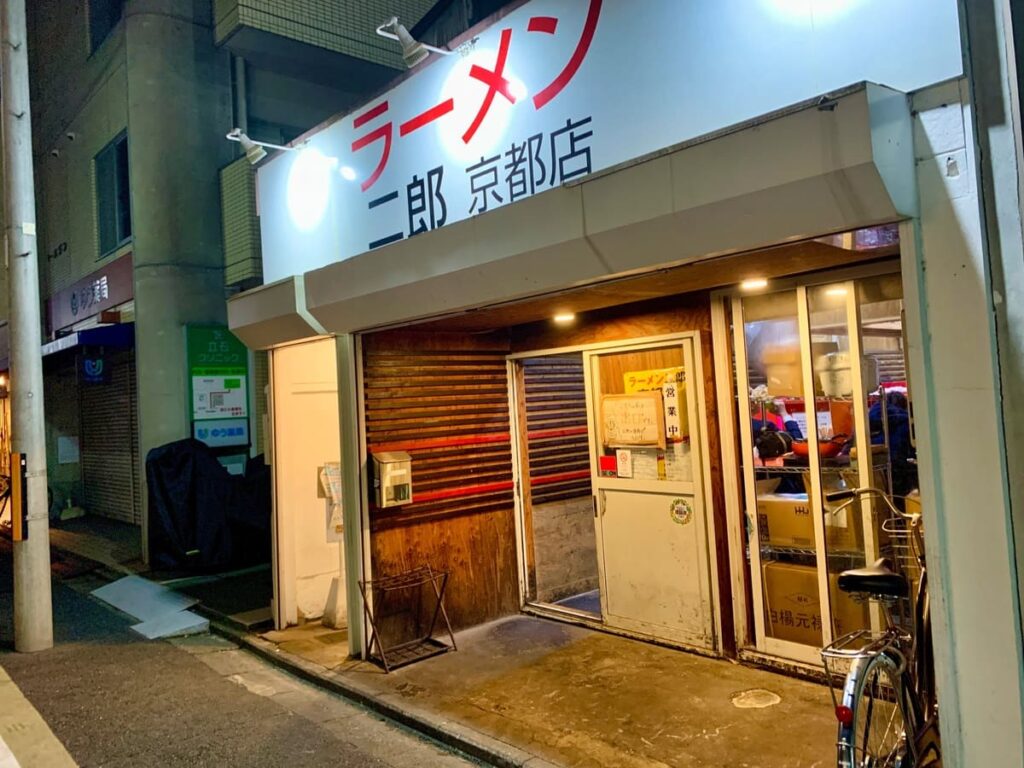 Ramen Jiro Kyoto Out of 5
Address: 4, Ichijoji Satonomae-cho, Sakyo-ku, Kyoto-shi, Kyoto Prefecture
Phone number: Not disclosed
Business hours: 11:00-14:30, 17:30-20:30
Closed: Wednesday
Parking: None (use nearby coin parking)
Credit card payment: Not possible (meal ticket system)
In order to be objective in evaluating Ramen Jiro Kyoto branch, I would like to introduce reviews from other blogs…
*Note: Difference between "Jiro-style ramen" and "Jiro-inspired ramen"
Jiro-kei ramen: Ramen Jiro's Noren-Ware store, or a store that originally called itself "Ramen Jiro ●● store" but has changed its name for some reason (or the ramen at that store). Even though the shop name has changed, it has retained the Jiro flavor, which is why it is called "Jiro-kei."
Jiro-inspired type: Refers to a restaurant (or ramen made by a restaurant) that is not directly related to Ramen Jiro, but makes ramen similar to Ramen Jiro.
In other words, the difference between "Jiro-style ramen" and "Jiro-inspired ramen" is whether or not the restaurant has direct roots to Ramen Jiro Mita Main Shop and whether or not it opened with the permission of the president.
P.S. If you are looking for delicious ramen in Kyoto, be sure to check out this article…
(Visited 7 times, 1 visits today)