When it comes to gyoza in Kobe, miso sauce is famous, and the origin of miso sauce is a restaurant called Ganso Gyoza-en in Nankinmachi, Kobe's Chinatown. Founded in 1952 after the war, this long-established shop in Chinatown has been in business for three generations to this day, and the secret miso sauce with the same taste has been passed down from generation to generation.
I wanted to try the venerable miso sauce gyoza, so I headed to Nankinmachi one weekend afternoon…
Ganso Gyoza-en usually has a reputation for lining up before the store opens in the morning, but on this day, perhaps because I arrived after lunch time, I was lucky enough to get in without having to wait. There are 4 counter seats near the entrance and 7 tables for 4 people in the back. The bright red walls of the restaurant, which is typical of a Chinese restaurant, are lined with autographs of famous people.
Contains ultra-high-quality brand beef "Kobe Beef"! I tasted and compared four styles of Ganso Gyozaen's proud "Kiwami Gyoza"
The gyoza provided by the Ganso Gyoza-en is Manchurian-style gyoza, which is different from the gyoza we usually eat. Manchuria is located in northeastern China, where many Japanese people lived during the Second World War. Ganso Gyozaen strictly adheres to this Manchurian style, and does not incorporate anything that is not part of local customs, even if it is something Japanese people like.
For example, chili oil. Japanese people like to eat gyoza by adding chili oil to vinegar soy sauce, but apparently there is no custom of using chili oil locally. Also, it seems that there is no custom of adding garlic to the bean paste, so there is no garlic in the bean paste of Kiwami Gyoza.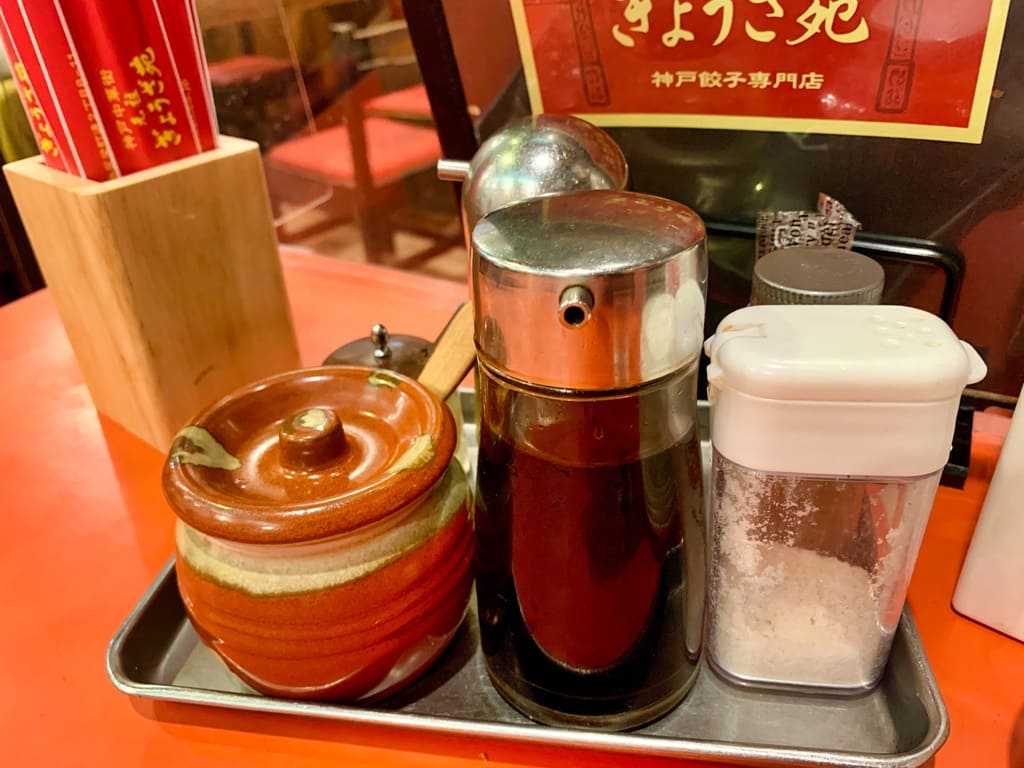 That said, the restaurant has taken into account those who like Japanese-style gyoza, and has grated garlic and chili powder among the condiments on the table. Don't worry, you can customize the sauce with these seasonings to your liking.
Now, let's compare the four styles of kiwami gyoza: grilled gyoza, boiled gyoza, fried gyoza, and soup gyoza…
Grilled gyoza (6 pieces, 430 yen excluding tax)
The top batter is the familiar fried gyoza. Click here for the image…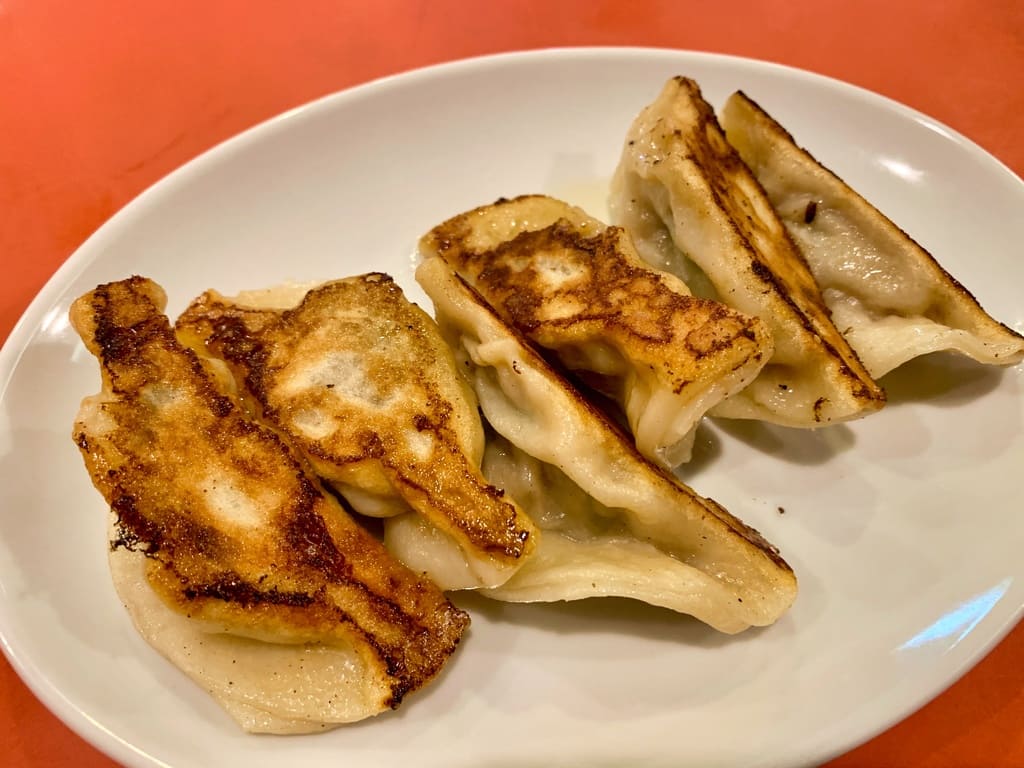 Can you tell by the image? The skin of each gyoza that lays flat one by one is thick, giving it a crisp, thick texture that you don't find in store-bought dumplings. The size is about the size of a regular gyoza, and it seems like it's quite filling.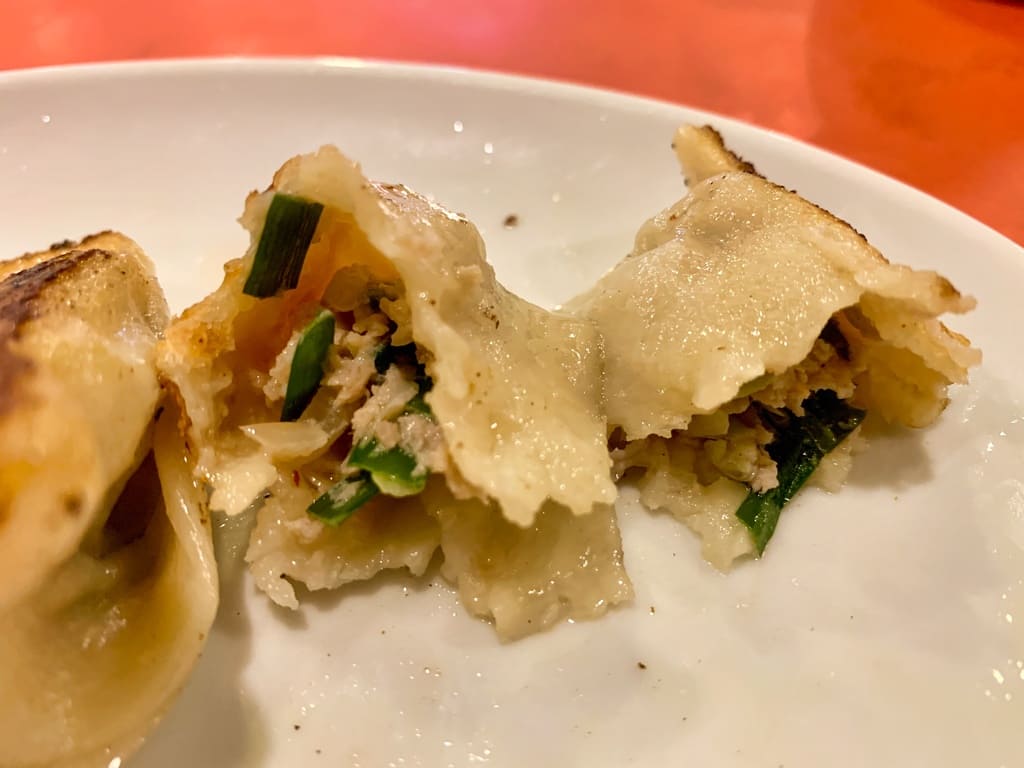 When you cut it open, the filling looks like this. This bean paste contains 9.1% of Kobe beef, a super high-quality brand of beef. The delicate blending ratio of 9.1% is the key to this gyoza, and it's like a golden ratio that brings out the flavor of the meat to its fullest without making the beef taste too noticeable. The catchphrase on the menu is "The secret ingredient is Kobe beef," and when you look at the numbers, it makes sense.
This is seasoned with a secret miso sauce or vinegar soy sauce, but at the time I didn't know how to use miso sauce at all, which led to a somewhat disappointing result. Ganso Gyoza-en recommends adding soy sauce, vinegar, and garlic to the miso sauce to customize the flavor, but I didn't know that and ended up eating the gyoza with just the miso sauce… Writing this blog… Even now, I regret it a little.
However, the destructive power of miso sauce alone was amazing. When you eat the gyoza with a secret miso sauce made by stretching miso paste that has been stretched until smooth, adding the richness of sesame seeds, and a little spiciness, you can enjoy the rich flavor of the meat and the richness of the miso sauce that penetrates through the chewy skin. The taste and the aroma of the peanut oil used to fry the dumplings combine to create a sensation that rushes into your mouth. So far on this blog, I have introduced miso sauce gyoza restaurants such as Mr. Gyoza and Gyoza Hohei, but the gyoza at these restaurants have a rather delicate Japanese taste. From the perspective of the destructive power of umami, there is a world of difference between these gyoza and other gyoza.
No, you certainly don't need garlic with this. Also, the miso sauce has a slight spiciness, and the peanut oil is also fragrant, so there is no need for chili oil. This is Manchurian-style dumplings. Although they are similar to Japanese-style gyoza, they are completely different. I'll put aside the small quibbles like "There's no miso in Manchuria!" and simply say that the delicious food is delicious.
Boiled dumplings (6 pieces, 430 yen excluding tax)
Next comes the boiled dumplings. In Japan, gyoza usually refers to fried dumplings, but in China, gyoza refers to boiled dumplings. So when talking about Manchurian-style dumplings, you can't leave out this boiled dumpling…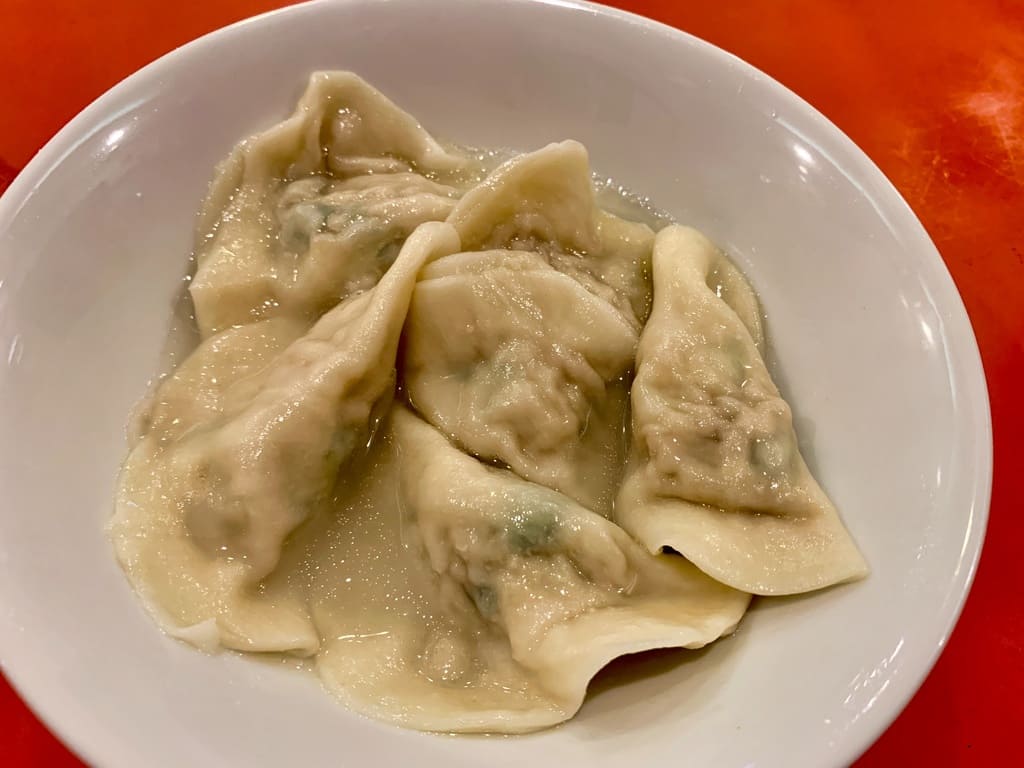 Boiled dumplings are boiled in boiling water and have a jiggly texture on the skin. In China, different gyoza are often used for boiled gyoza and fried gyoza, but at Ganso Gyoza-en, the same gyoza is used for all four types of gyoza.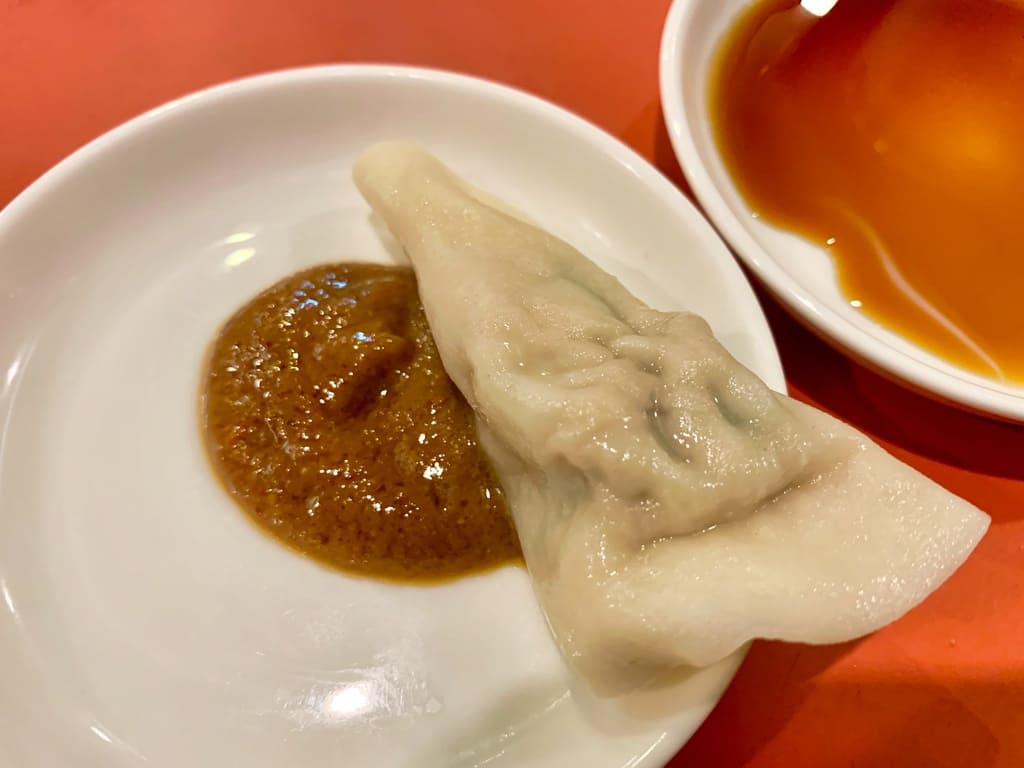 So, when I dipped this in my secret miso sauce and popped it into my mouth…the skin was 2 to 3 times more chewy than Japanese-style gyoza, and I enjoyed the texture of the skin even more than I could with fried gyoza. The flavor of the meat bursts out from inside, and when combined with the secret miso sauce, it sublimates into an exquisite taste. Although it doesn't have the aroma of grilled gyoza, boiled gyoza has a far more chewy skin. If you want to eat thick-skinned Manchurian-style dumplings, boiled dumplings may be the best.
Fried gyoza (5 pieces, 430 yen excluding tax)
The third dish to appear is fried gyoza. It is a familiar item on izakaya menus in Japan. Check here for the image…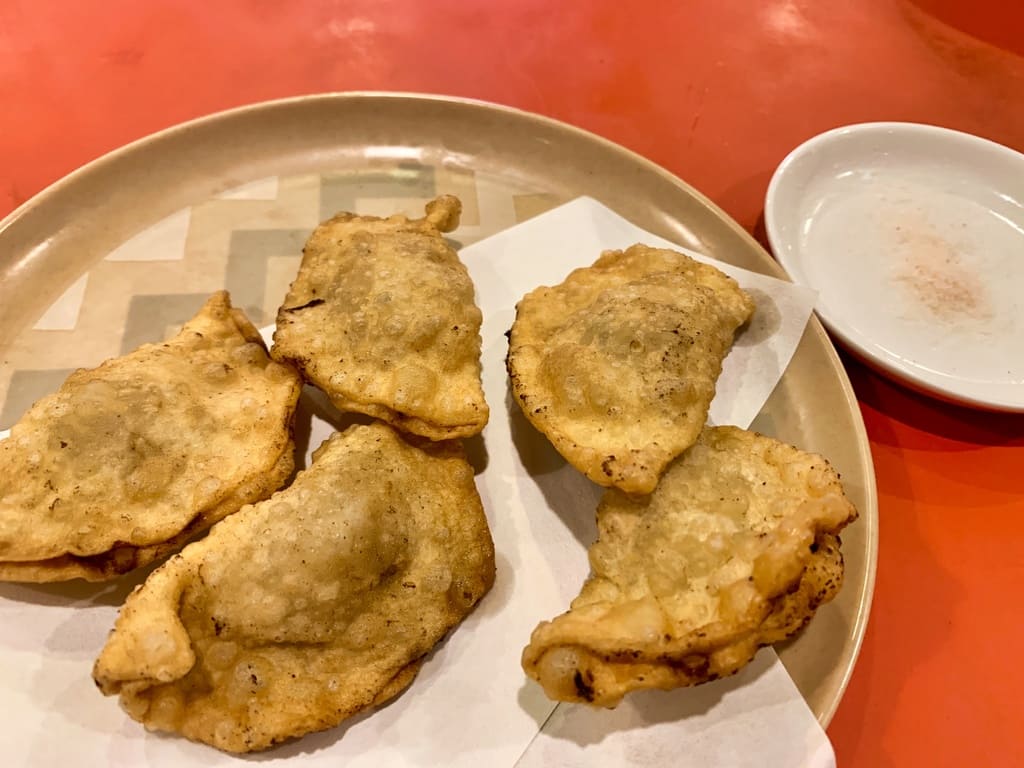 The staff recommends that you season these fried gyoza, which are golden brown all over, with rock salt.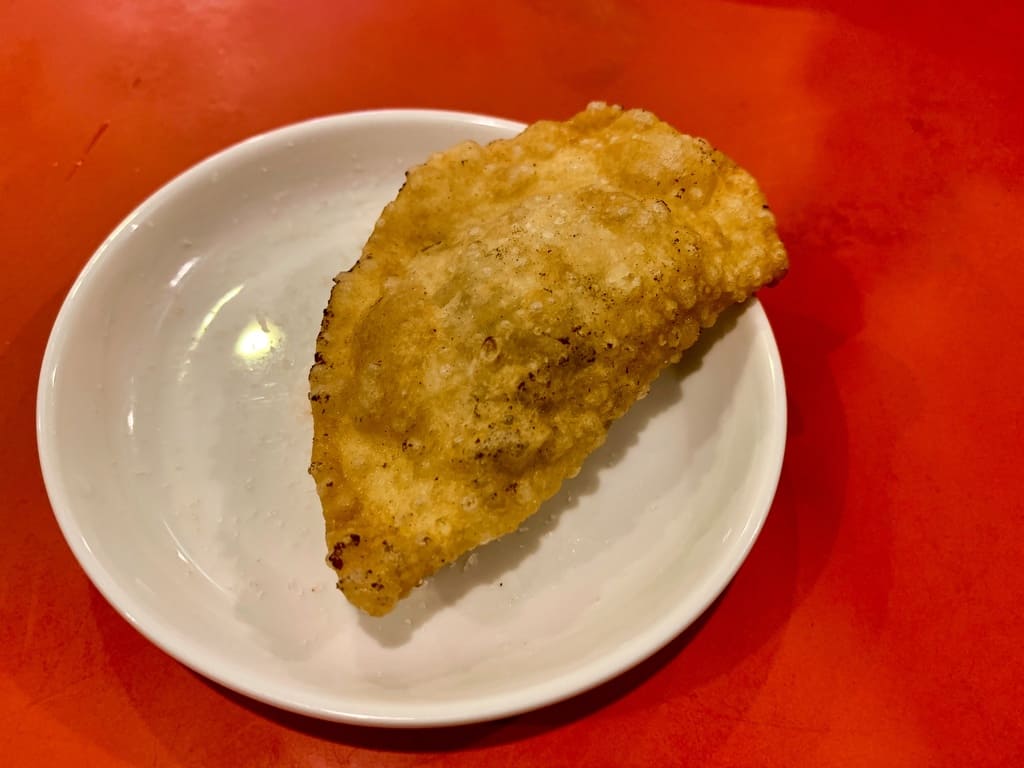 Following the clerk's advice, I added some pink rock salt and popped it into my mouth.The first sensation I felt was the rough texture of flour on the surface of the skin. Although it is fried in oil, it is not greasy at all as the oil is drained perfectly. It has a rather dry taste, and the gap between it and the perfectly jiggly soup dumplings is very interesting.
From the inside, you can still feel the overwhelming flavor of the meat…but it's strange because when you eat it with rock salt instead of miso sauce, the flavor of the meat becomes quite refreshing. In terms of flavor impact, it can't compete with grilled gyoza or boiled gyoza, but if you pair it with beer, this is probably the best.
Soup dumplings (5 pieces, 650 yen excluding tax)
And finally, the last appearance, soup gyoza. The price has increased dramatically from the other three types, and each dish costs 650 yen excluding tax…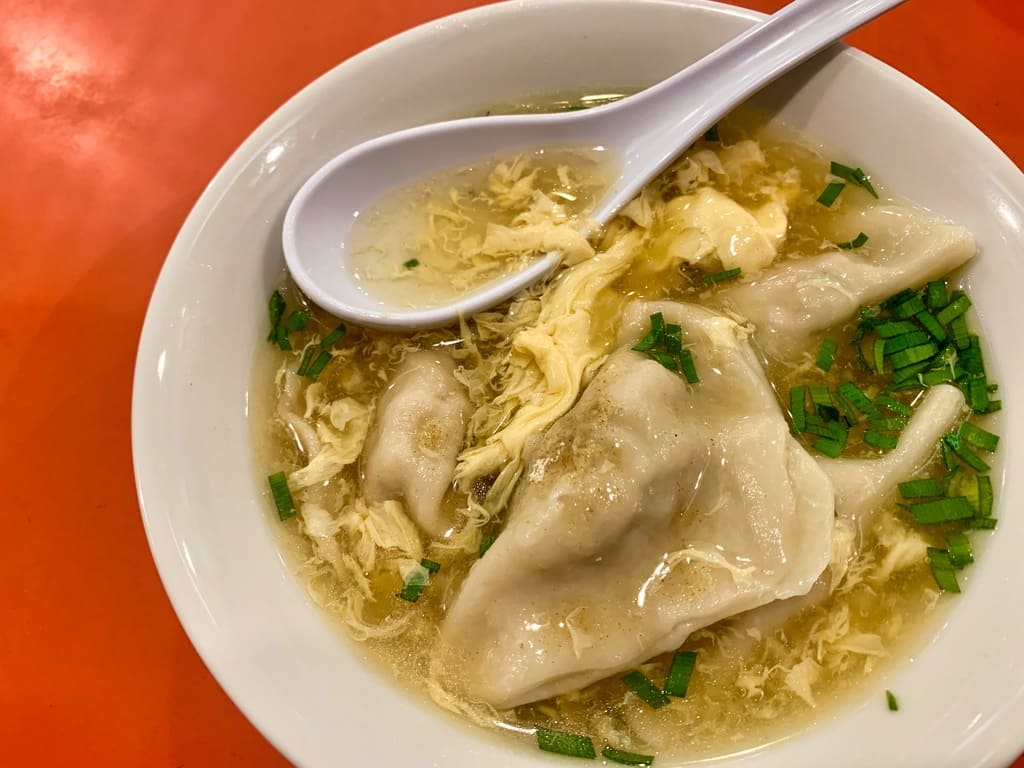 Five dumplings soaked in egg soup. Like boiled dumplings, the skin looks jiggly.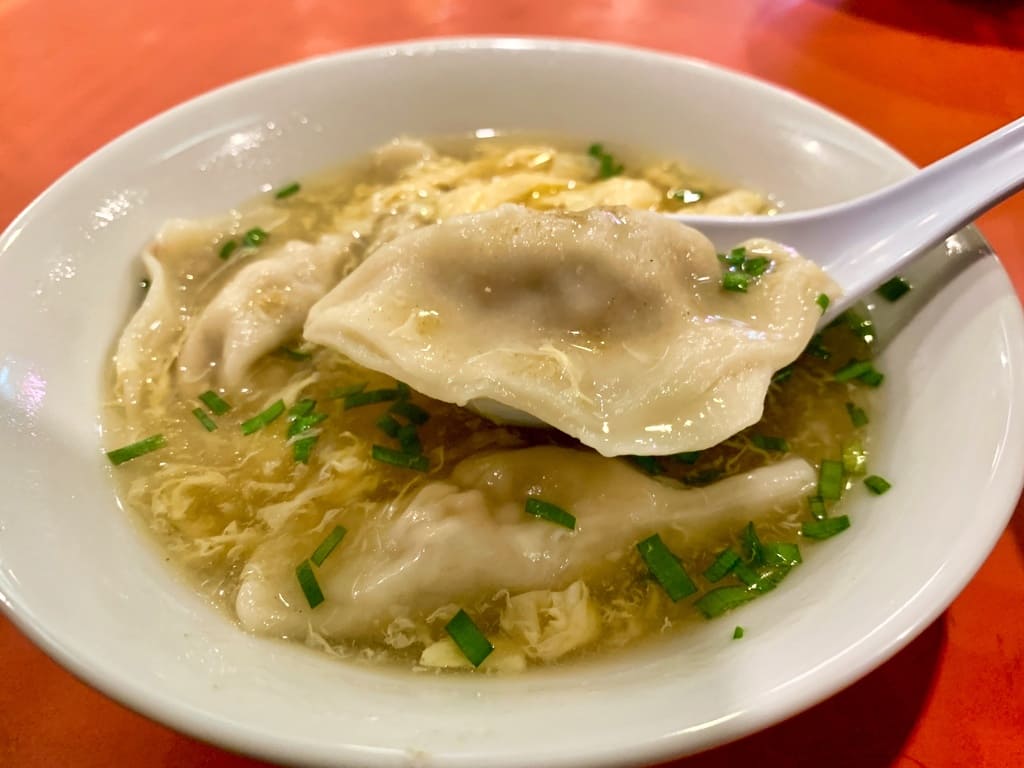 Boiled dumplings are eaten with chicken soy sauce and slightly spicy soup. This is also different from soup gyoza, which is made with miso sauce to amplify the flavor, and is shaped so that you can enjoy the taste of the soup gyoza itself. These soup dumplings allow you to thoroughly enjoy the chewy skin and the juicy meat inside, so even if you're feeling a little unwell, you'll be able to enjoy these soup dumplings with ease.
Above, we introduced four types of Manchurian gyoza that you can eat at Ganso Gyoza-en. All of them are very unique and it's hard to choose one from the other, but if I had to choose the best, it would be the boiled dumplings. I'm exaggerating, but with this and the secret miso sauce, I feel like I could easily make 100 pieces.
Jia Jia noodle: A classic dish that is always available at all Manchurian dumpling restaurants… So, how does it taste?
To end the day, I ordered this jia jia noodle (price: 650 yen excluding tax). In the Manchuria region, this is a standard menu item that is always available at gyoza restaurants. In Japan, Morioka's Jajamen is famous.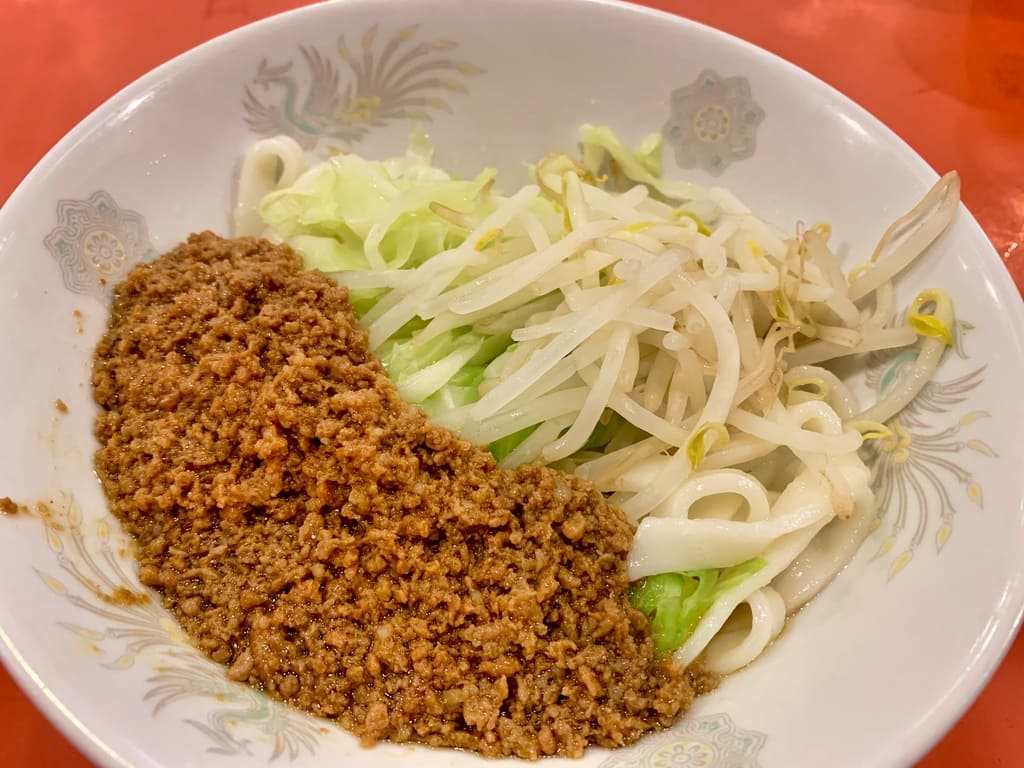 Mix this together and spread the spicy meat miso sauce evenly over the whole thing…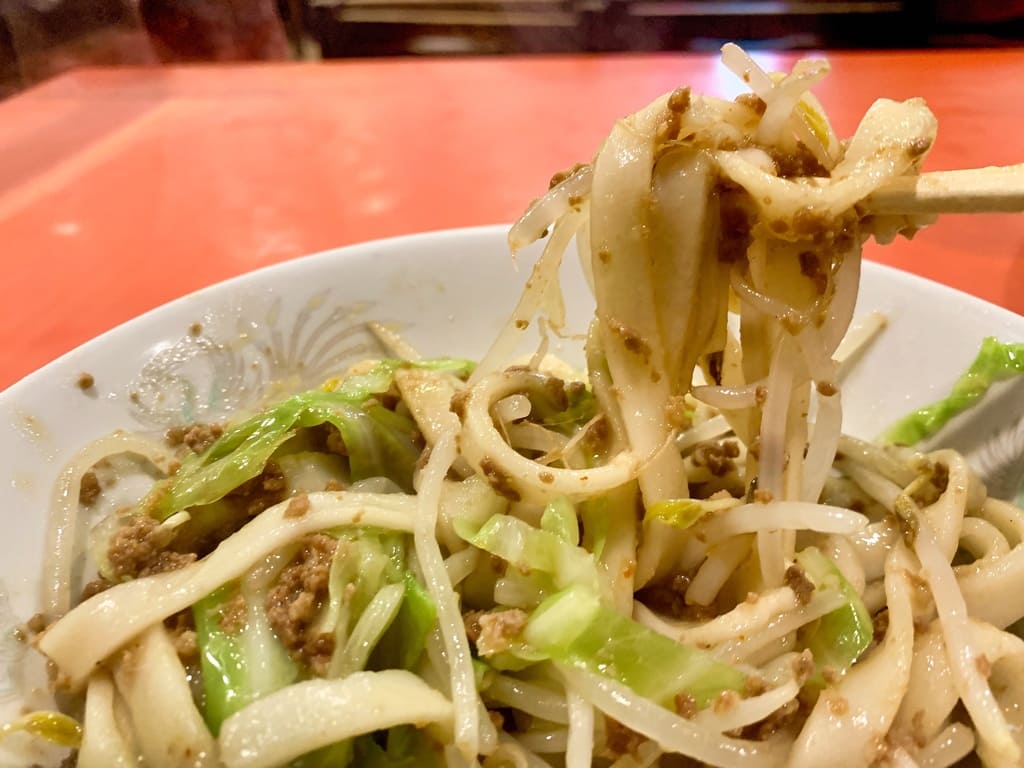 The noodles are flat noodles like kishimen, and they are cooked just a little past chewy and a little crumbly. Japanese ramen fans may think, "What is this?", but those who have eaten noodles in China may think, "Wow, this is it!"
In contrast, the cabbage and bean sprouts are crunchy and pleasant. The spicy miso sauce has a relatively light seasoning, so you can enjoy it smoothly until the end without feeling too strong. It's a perfect dish to eat as a side dish.
Jajamen can be eaten as a set with fried dumplings at a reasonable price during weekday lunchtimes. If you can come to the store during this time, the lunch set of gyoza and jajangmen is a must-try.
Available for mail order and take-out! To access Ganso Gyoza-en, it is a 3-minute walk from the nearest station, Motomachi Station on the JR Kobe Line (Hanshin Electric Railway).
The Kobe beef-filled Kiwami gyoza from Ganso Gyoza-en that we introduced this time is available for Rakuten mail order and take-out. If you are a gyoza lover who has never tried Manchurian gyoza, why not take this opportunity to try it once?
Now, here are the store details. Check here for store data…
Ganso Gyoza-en Out of 5
Address: 2-8-11 Sakaemachi-dori, Chuo-ku, Kobe City, Hyogo Prefecture
Phone number: 078-331-4096
Business hours: 11:45-15:00, 17:00-20:30 (open all day on Saturdays and Sundays)
Closed: Monday
Parking: None (use nearby coin parking)
Credit card payment: Possible (also compatible with PayPay)
---
Make a reservation
---
It is also a 10-minute walk from Sannomiya Station, which is one station next to Motomachi. By the way, if you want Kobe Gyoza or Vegetable Gyoza that don't have Kobe beef in them, you can get them through hometown tax payments…
P.S. If you are looking for delicious Chinese food in Hyogo, please stop by this article…
P.P.S. If you prefer Japanese-style gyoza, this cheap and delicious restaurant is for you…
(Visited 10 times, 1 visits today)